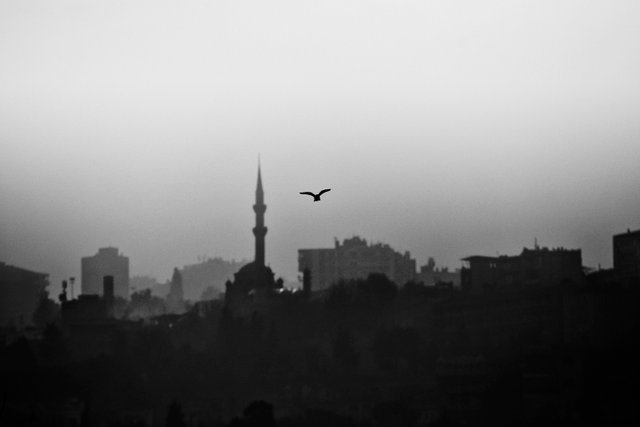 Man said to woman:
I love you,
but how,
as squeezing my heart like a vitreous thing in my palm,
bleeding my fingers,
as breaking,
as going mad...
Man said to the woman:
-I love you,
but how,
deep for kilometers, straight for kilometers
one hundred percent, one thousand and five hundred percent,
unlimited percent...
Woman said to the man:
I looked
with my lip, with my heart, with my mind,
as loving, as bewaring , as bending
to your lip, to your heart, to your mind
Whatever I am saying right now,
you have taught me like a whisper in the dark..
And from now on,
I know:
That the earth-
like an alighted faced mother-
is breastfeeding her last and the most beautiful son...
But what can I do,
my hair has tangled around
the fingers of dying one,
It is not possible to release my head!
You,
have to walk
as looking at the new born
child's eyes
you,
have to walk
as leaving me...
Woman stopped talking.
THEY HUGGED
A book fell off to the ground
a window was closed
THEY BROKE UP... "NAZIM HİKMET RAN"
source: https://lyricstranslate.com/en/bir-ayrili%C5%9F-hikayesi-brake-story.html

Ben Ceren ,

All photos , story and drawings are belongs to me. @originalcontent - @originalworks If you like my works please resteem and upvote.. Thank you for your support and valuable comments on my art.