Good evening my dear readers of this wonderful community of STEEMIT in this opportunity I want to continue sharing more with you about my beloved UNET (National Experimental University of Tachira) my alma mater. In this opportunity I will show you from one photograph one of my favorite spaces within this wonderful university campus, it is nothing more and nothing less than its great library. This building within the building typologies is educational, it not only provides service to this site but it is open to the entire Tachirense community in general.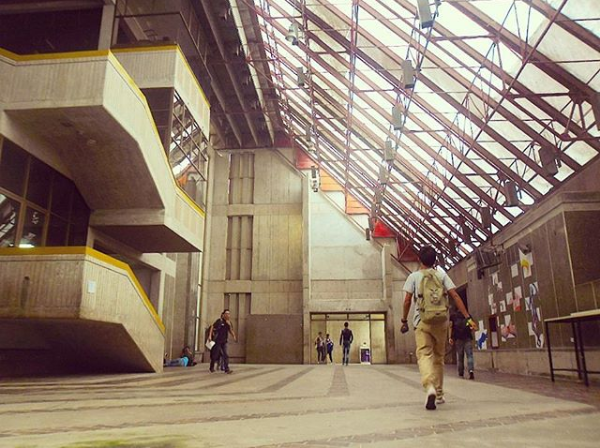 Photograph 1. The letters of oblivion (Hall of the library)
In addition to fulfilling its role as a space for learning and culture becomes a behavioral scenario, those who know it and make life within it can affirm what I write. In this place there are and generate endless activities related to the academy but that may also be outside the scope of it and what I mean by this; because of its conception, language and spatial quality it becomes one of the most pleasant and entertaining spaces within the university campus to share, interact, study and because not to sleep (many times I have passed through the place and I have seen students resting and enjoying the warm thermal comfort that the concrete of its structure produces).
At the same time it is observed in its interior (apartments) a library alone in the laziness, forgotten within the boom of the loss of the love of reading this not only is appreciated in the diversified level this is a chain that comes from the basic level. It is something very unfortunate that is directly linked to the cultural level we have as a society in all areas of it, if we do not cultivate the habit of reading in our children their future is lost.
Photograph of my authorship taken from a Samsung Es91 14.2 Mp Full HD 5x Zoom Camera.
"Some books are tested, others devoured, very little chewed and digested." Sir Francis Bacon.