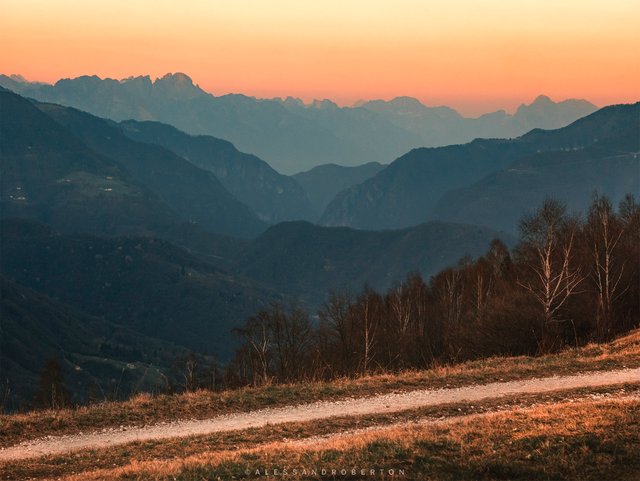 On Sunday morning I woke up with the desire to take a nice hike.
My parents wanted to come with me so I decided on an itinerary... which turned out to be more challenging than expected!
I drove to the top of Mount Tomba and parked near a local restaurant.
As soon as I arrived I realized that I was not the only one who wanted to go for a walk! :-D
ITA
Domenica mattina mi sono svegliato con la voglia di fare una bella escursione.
I miei genitori volevano venire con me così ho deciso un itinerario...che si è rivelato più impegnativo del previsto!
Ho guidato fino alla cima del Monte Tomba e ho parcheggiato vicino a un ristorante del posto.
Appena arrivato ho capito che non ero l'unico ad aver voglia di fare una camminata! :-D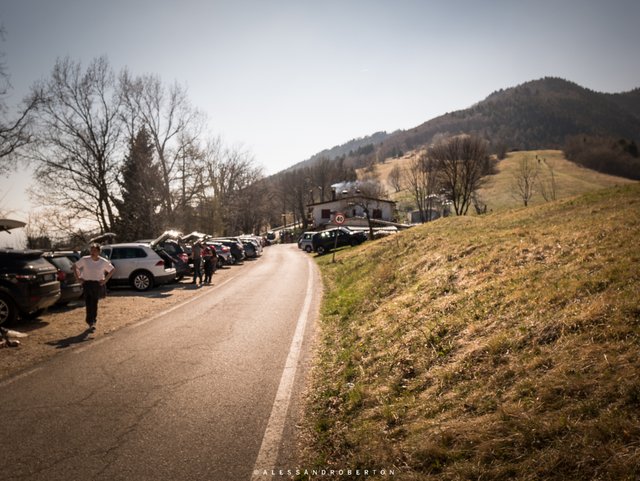 There were people like us who were preparing for the hike.
I've never seen so many people around here.
ITA
C'era gente come noi che si stava preparando per l'escursione.
Non ho mai visto così tanta gente da queste parti.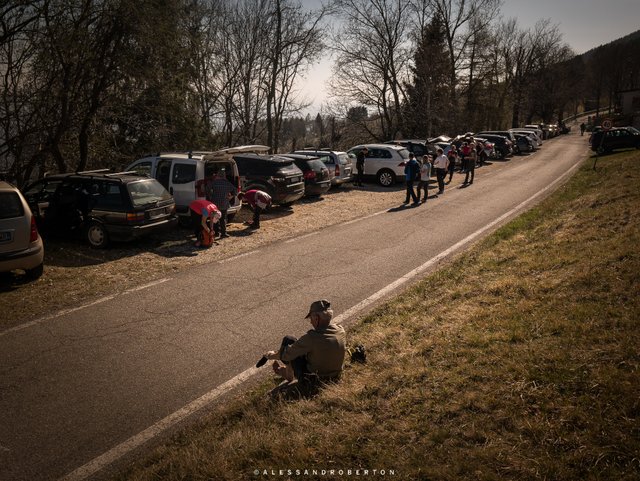 The path began on a meadow on the top of a hill. Slight slope, perfect for starting to warm up the muscles.
ITA
Il sentiero iniziava su un prato sulla sommità di una collina. Poca pendenza, perfetto per iniziare a scaldare i muscoli.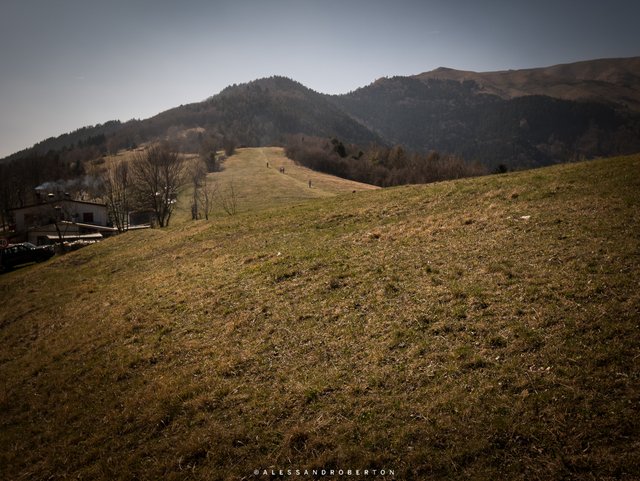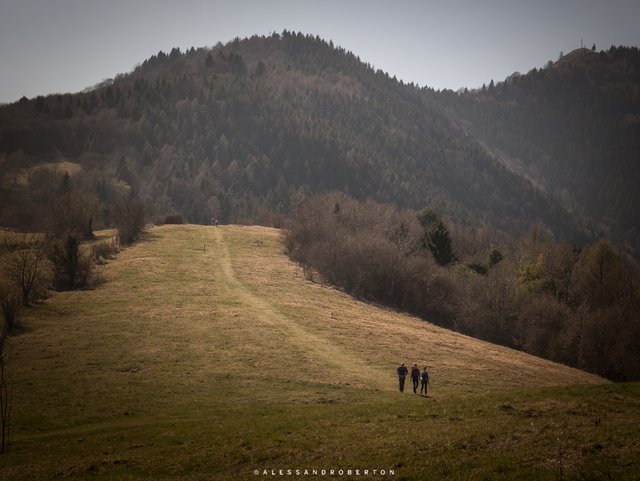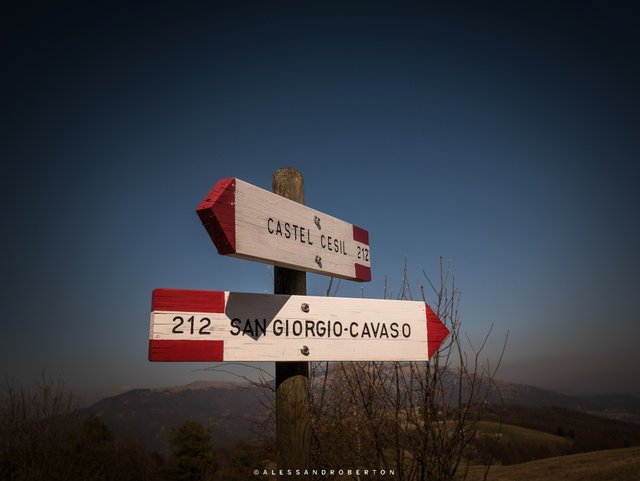 After about twenty minutes the climb got steeper and I kept an eye on my dad, somehow I felt responsible, I chose the path!
Dopo una ventina di minuti la salita si è fatta più ripida e io tenevo continuamente d'occhio mio papà, in qualche modo mi sentivo responsabile, avevo scelto io il percorso!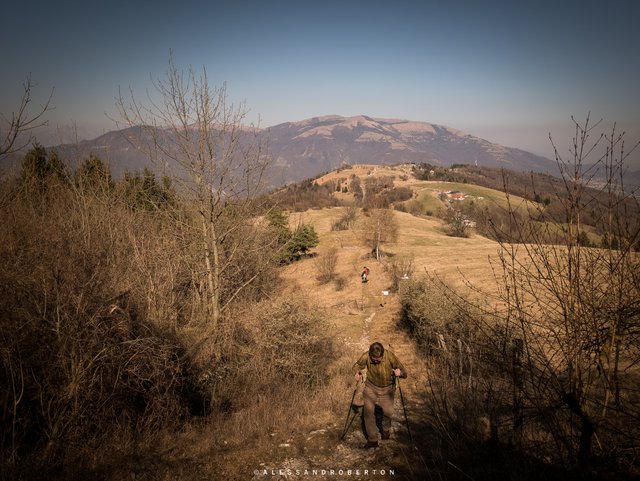 As we calmly walked we took the opportunity to admire the beautiful flowers grown along the way.
ITA
Mentre con calma camminavamo coglievamo l'occasione per ammirare i bellissimi fiori cresciuti lungo il percorso.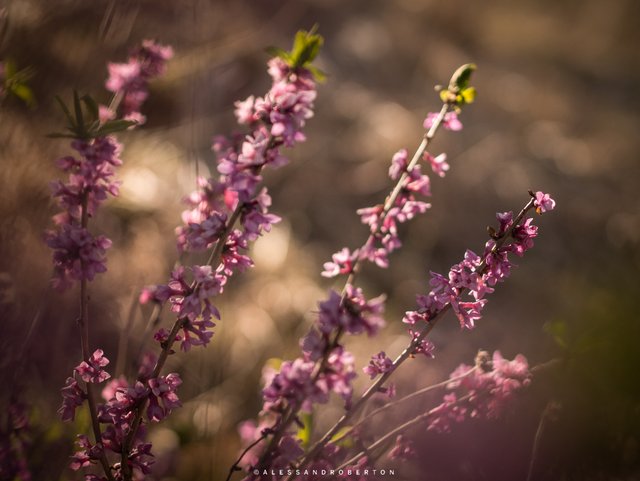 We were climbing the mountain from the east while in the west we could admire the surrounding mountains, the plain and the Piave river.
We were starting at an altitude of 850 meters above sea level and we were already facing a really challenging climb.
ITA
Stavamo risalendo il monte da est mentre a ovest potevamo ammirare le montagne circostanti, la pianura e il fiume Piave.
Eravamo partiti da un altitudine di 850 metri sul livello del mare e stavamo già affrontando una salita davvero impegnativa.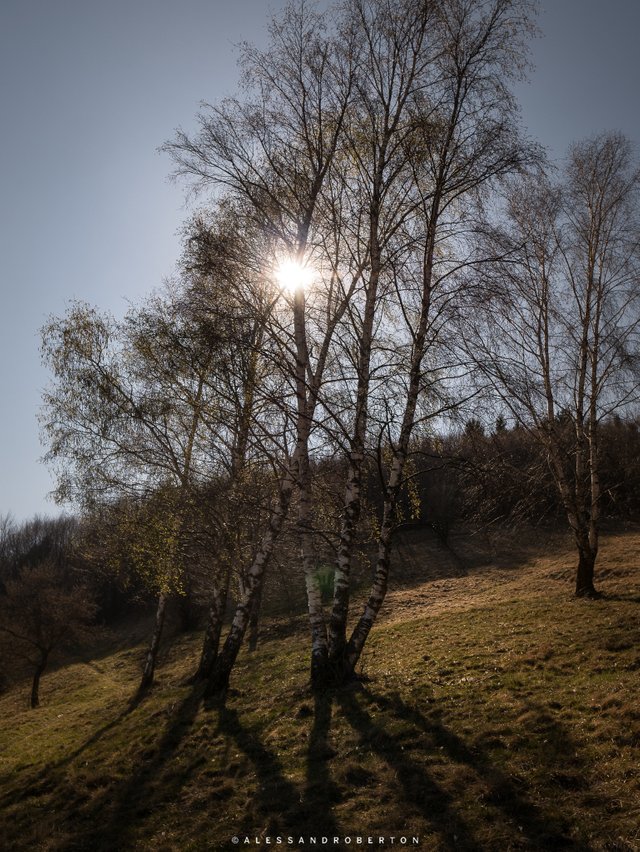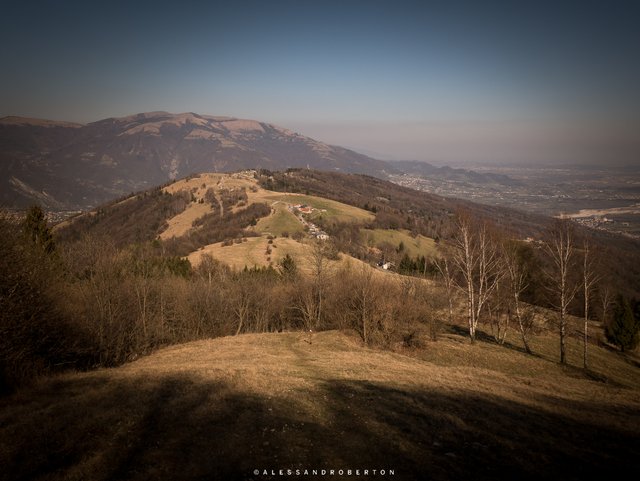 A wooden bench tempted us, it would have been nice to sit but we couldn't, we had a goal and we couldn't stop! :-D
ITA
Una panchina di legno ci tentava, sarebbe stato bello sederci ma non potevamo, avevamo un obiettivo e non potevamo fermarci! :-D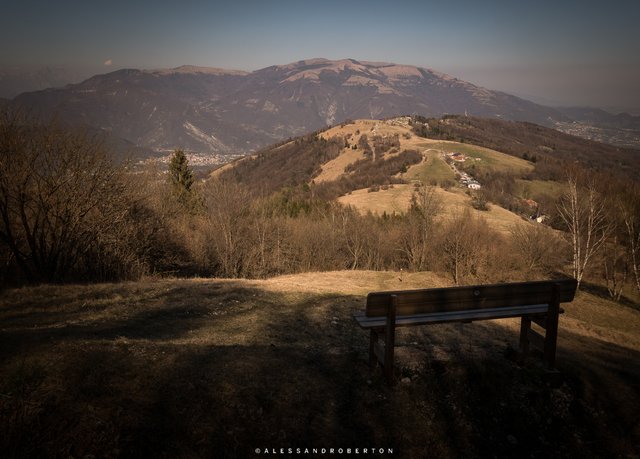 At one point we entered the woods and there was an incredible climb.
We met a couple of people, I photographed them to make you understand how challenging the climb was...
ITA
Ad un certo punto siamo entrati nel bosco e c'era una salita incredibile.
Abbiamo incontrato una coppia di persone, le ho fotografate per farvi capire quanto fosse impegnativa la salita...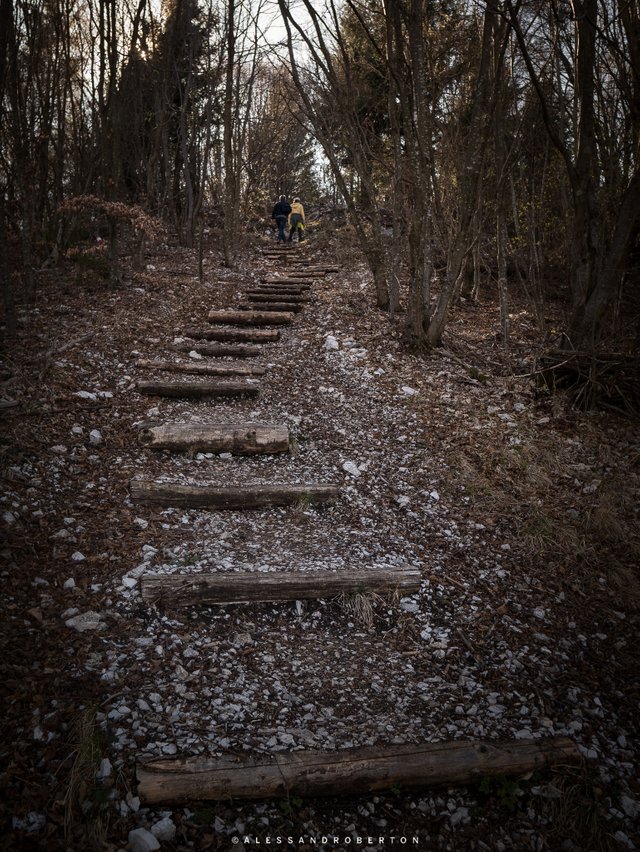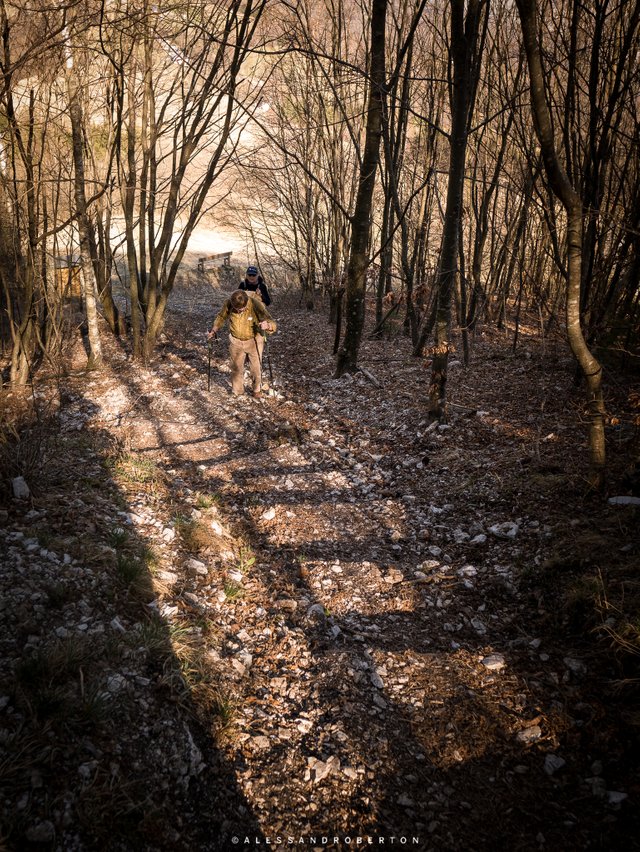 The itinerary we did develop along the military trenches of the First World War.
In some sections there were posts dug in the rock but for safety they had been closed.
ITA
L'itinerario che abbiamo fatto si sviluppa lungo le trincee militari della prima guerra mondiale.
In alcuni tratti c'erano delle postazioni scavate nella roccia ma per sicurezza erano state chiuse.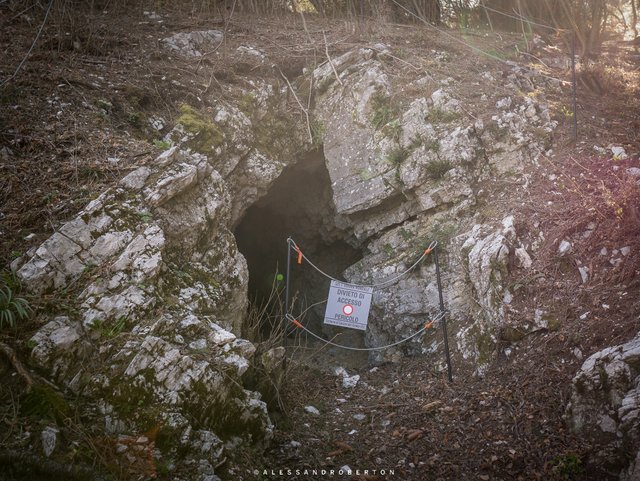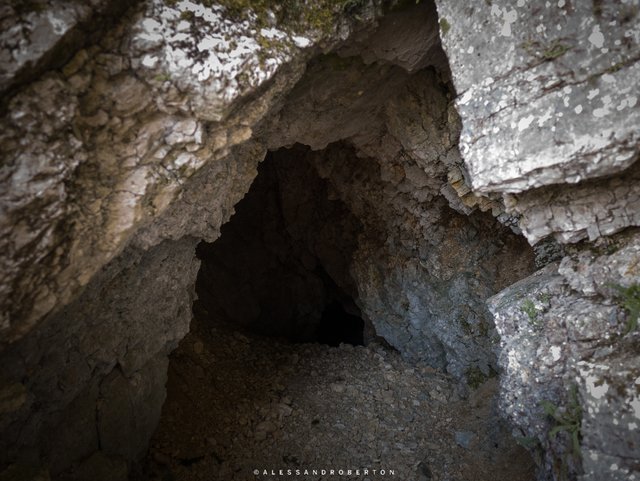 During the walk, wooded areas alternated with areas without trees where the landscape could be seen more easily.
ITA
Durante il cammino si alternavano zone boschive con zone prive di alberi dove il paesaggio si vedeva con più facilità.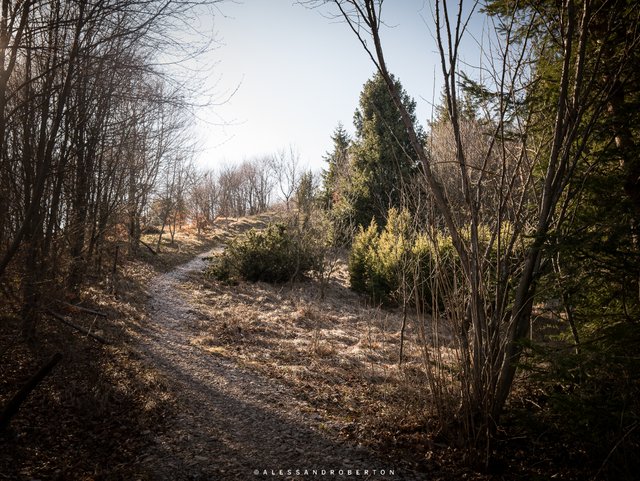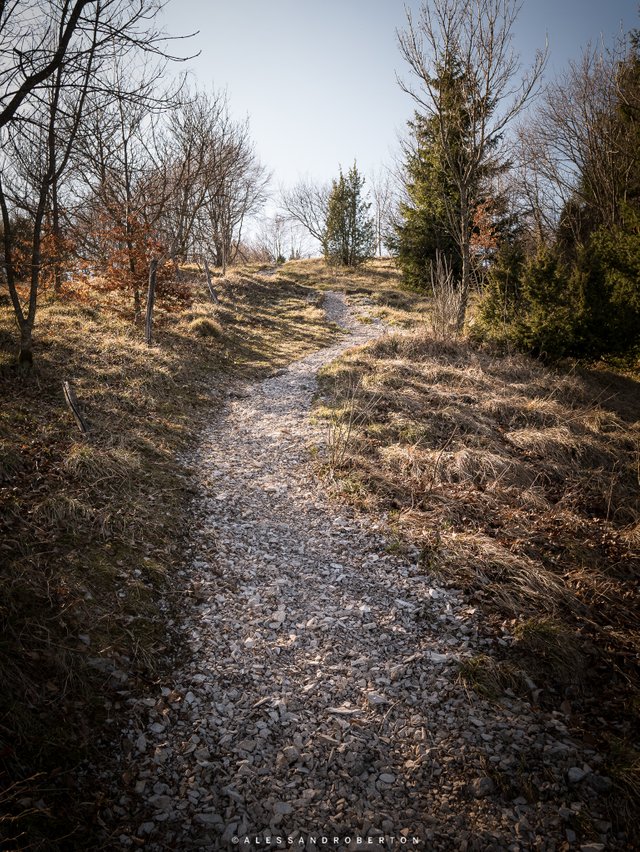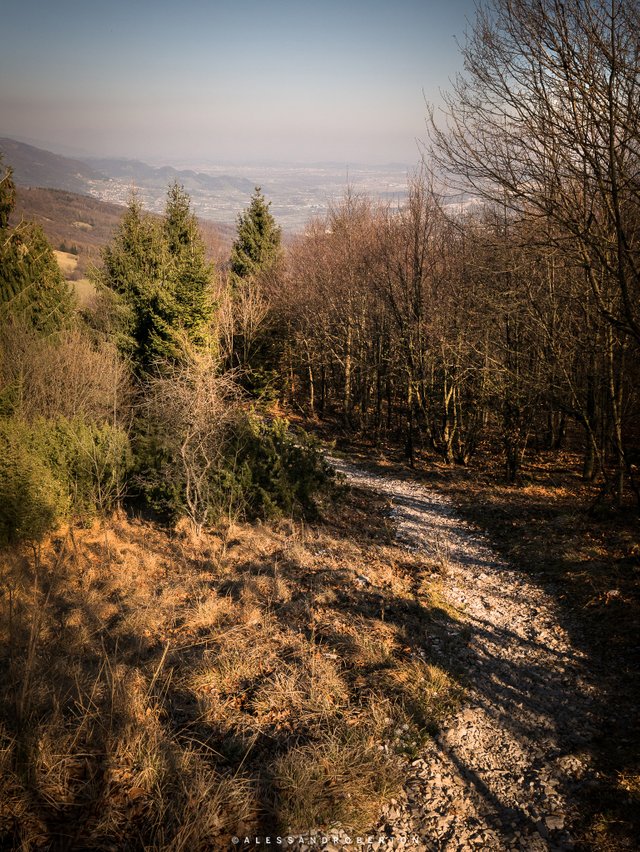 My father climbed slowly, but with his gait he never stopped and continued with a steady pace.
Meanwhile, the climb continued to be difficult and I was beginning to feel a little guilty ... maybe it was a bit too difficult as a hike.
ITA
Mio papà saliva con passo lento, però con la sua andatura non si fermava mai e proseguiva con ritmo costante.
Intanto la salita continuava ad essere difficoltosa e io cominciavo a sentirmi un po' in colpa...forse era un po' troppo difficile come escursione.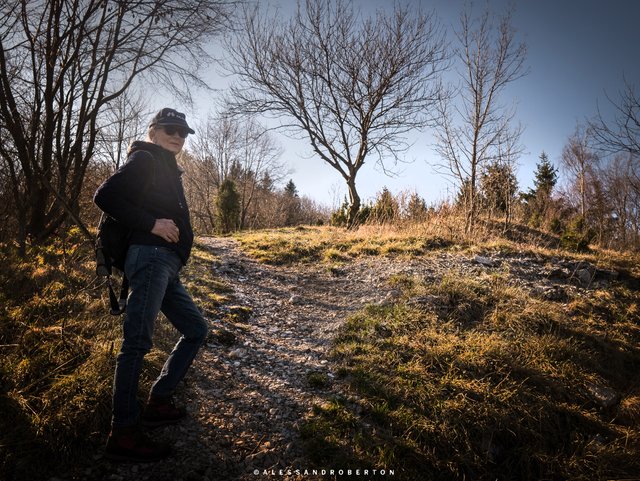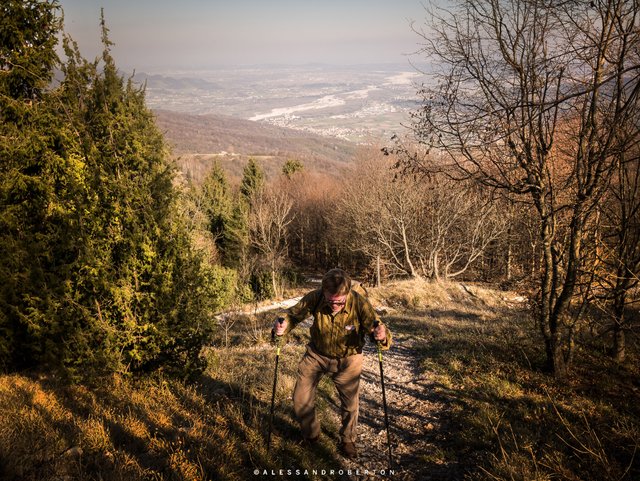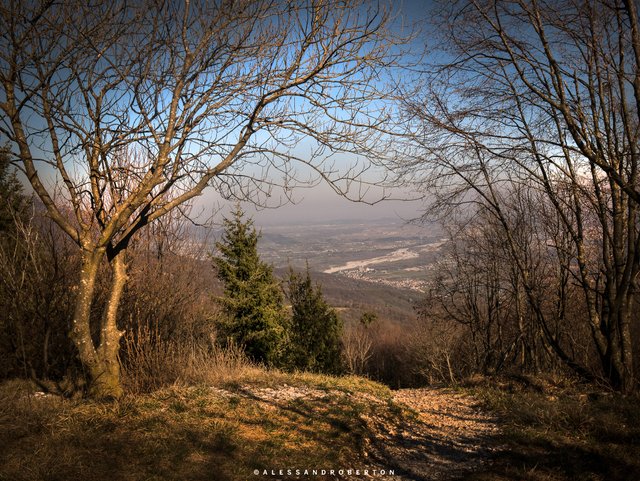 Finally here is the sign indicating Castel Cesil, I thought there was not much missing... I was wrong!!
ITA
Finalmente ecco il cartello che indicava Castel Cesil, pensavo non mancasse molto...mi sbagliavo!!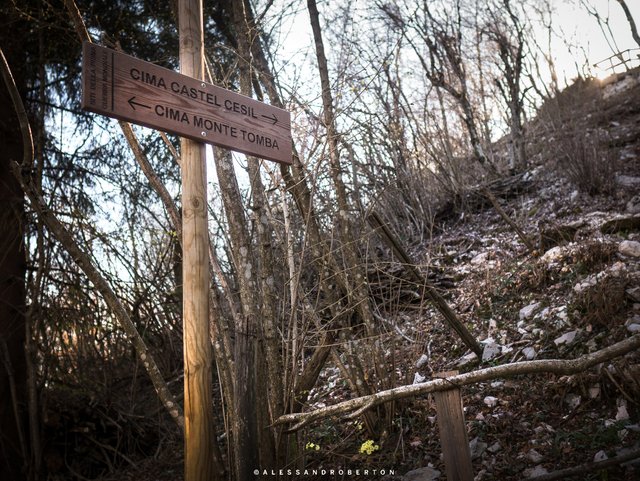 There was a wooden fence on the top, I really thought we had arrived at Castel Cesil! ... How deluded that I was :-D
ITA
C'era uno steccato in legno sulla cima, pensavo davvero che fossimo arrivati a Castel Cesil!...Che illuso che ero :-D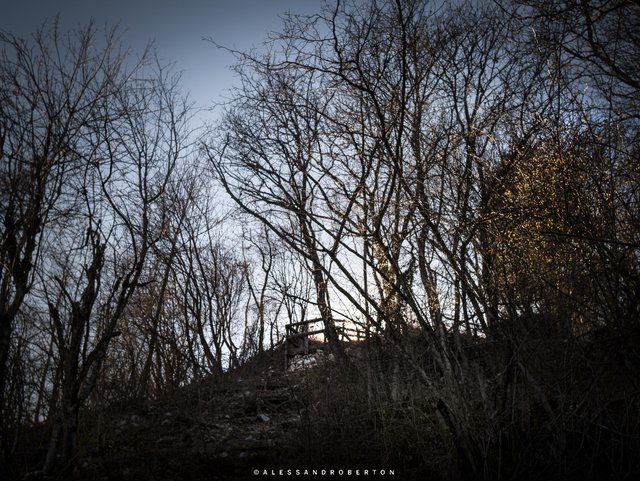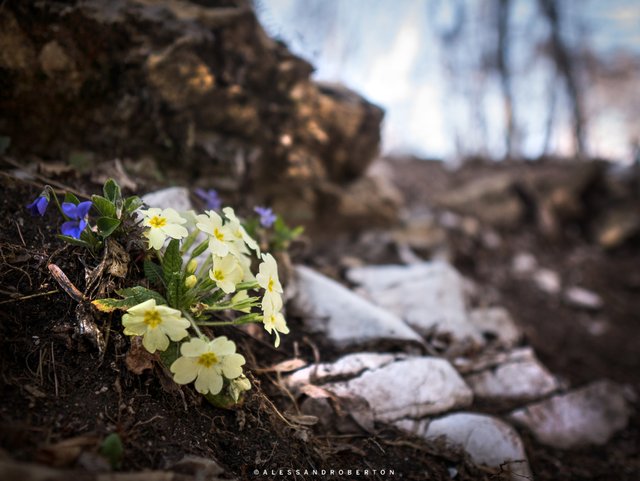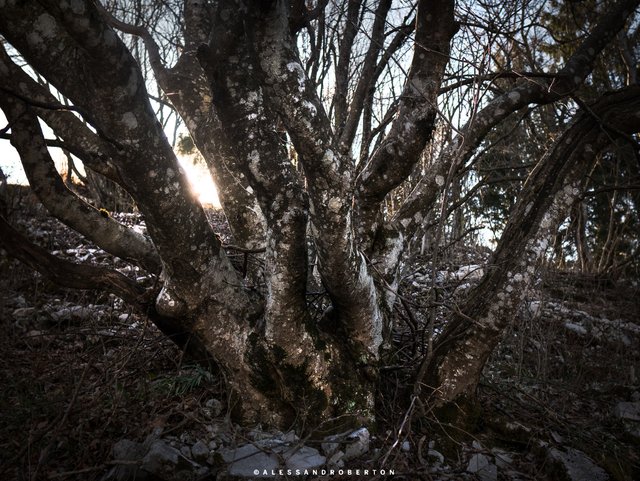 My parents were both born in 1945... they are trained, but the excursion was becoming difficult.
I trust you that I was worried...
ITA
I miei genitori sono entrambi nati nel 1945...sono allenati, però l'escursione si stava facendo difficile.
Vi confido che ero preoccupato...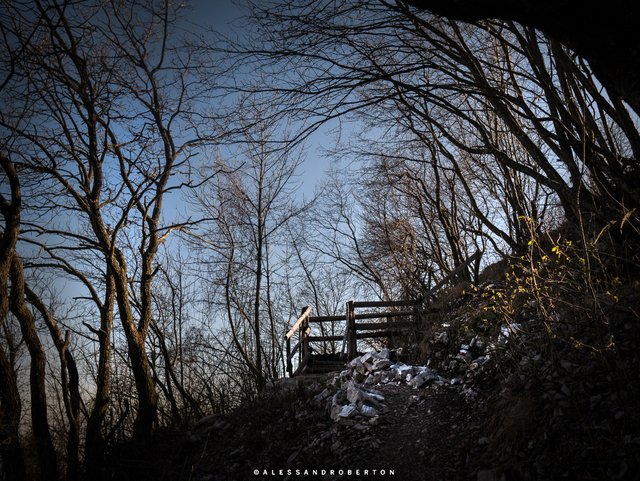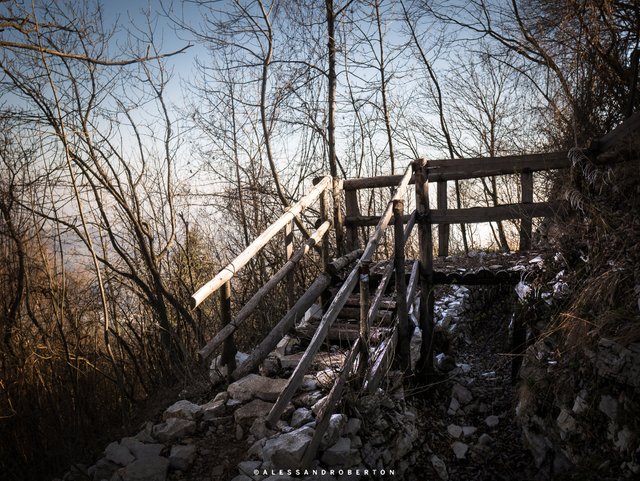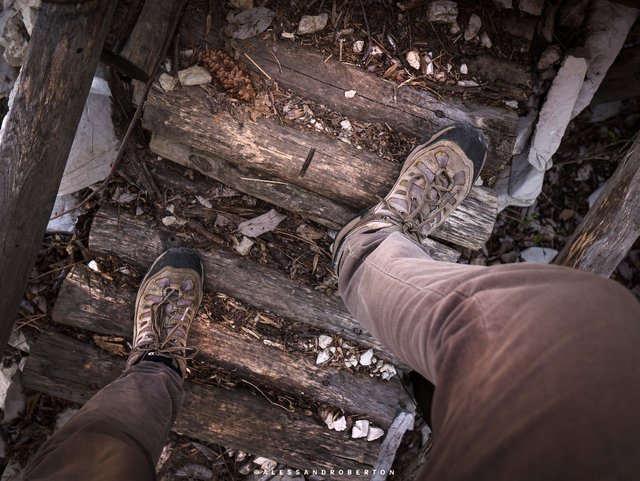 A couple of times I also asked my dad that if he wanted we could go back, but he didn't want to, he said he was having fun :-D
ITA
Un paio di volte ho anche chiesto a mio papà che se voleva potevamo tornare indietro, però non voleva, diceva che si stava divertendo :-D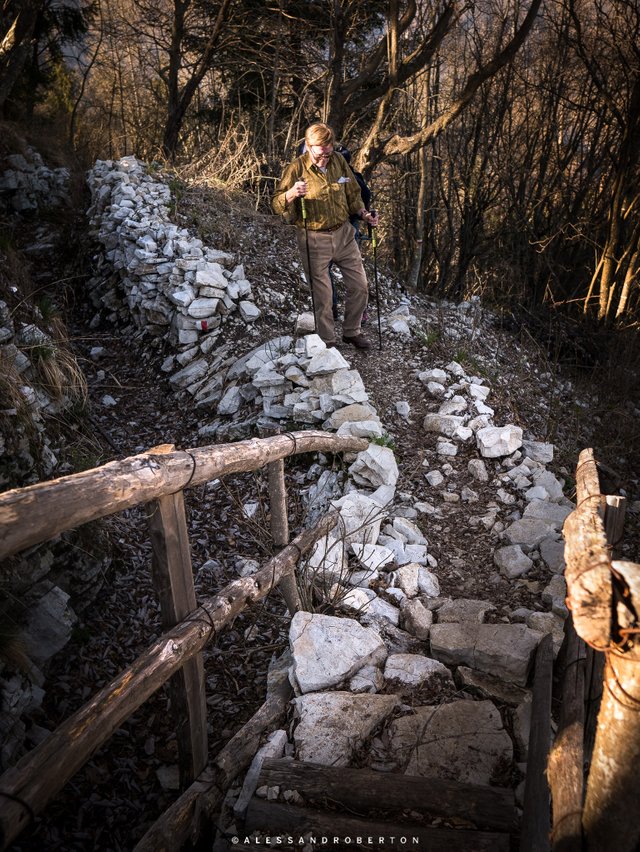 When I thought I had arrived at the top I was wrong, there were only two wooden benches ... it was necessary to continue! :-D
ITA
Quando ormai pensavo di essere arrivato in cima mi sbagliavo, c'erano solo due panchine di legno...bisognava proseguire! :-D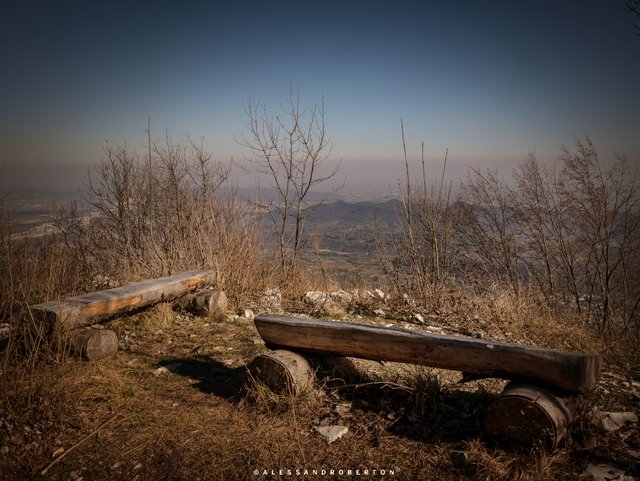 Fortunately, in the next stretch there was no climb so we walked more serenely.
ITA
Per fortuna nel tratto successivo non c'era pià salita quindi abbiamo camminato con più serenità.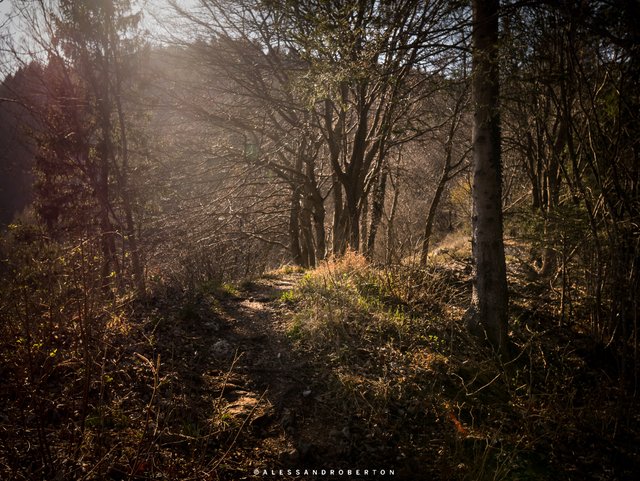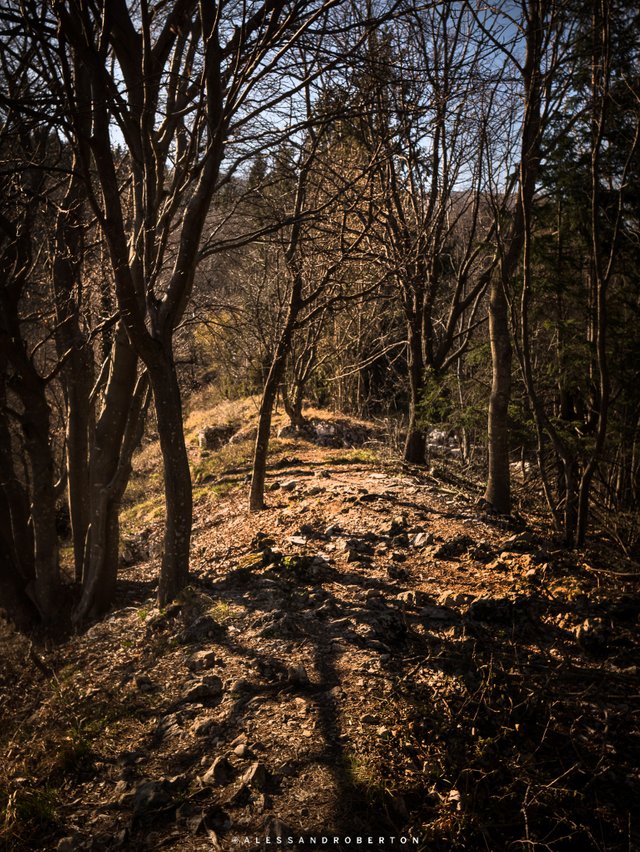 Here is the sign, we have certainly arrived! I thought... but this time too I was wrong :-D
ITA
Eccolo il cartello, siamo sicuramente arrivati! Pensavo...invece anche questa volta mi sbagliavo :-D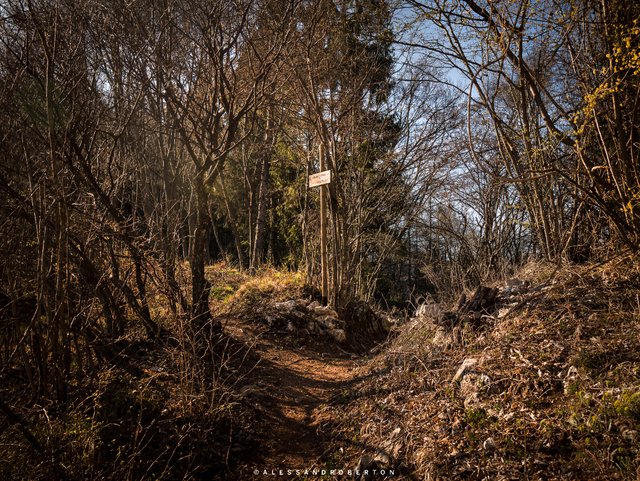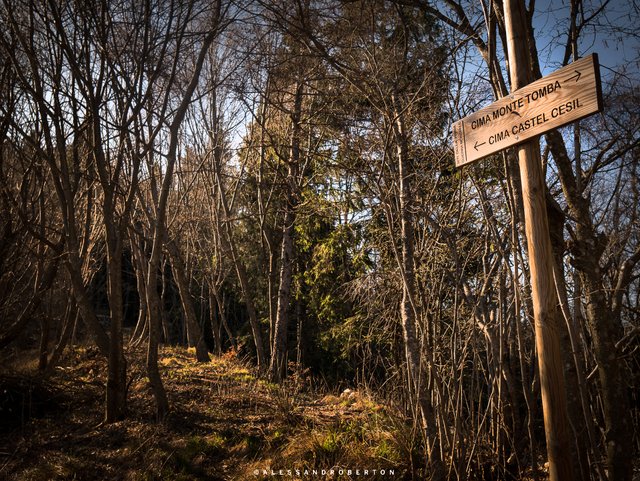 A nice wooden bridge accompanied us in a more rocky area... the excursion continued :)
ITA
Un simpatico ponte in legno ci accompagnava in una zona più rocciosa...l'escursione continuava :)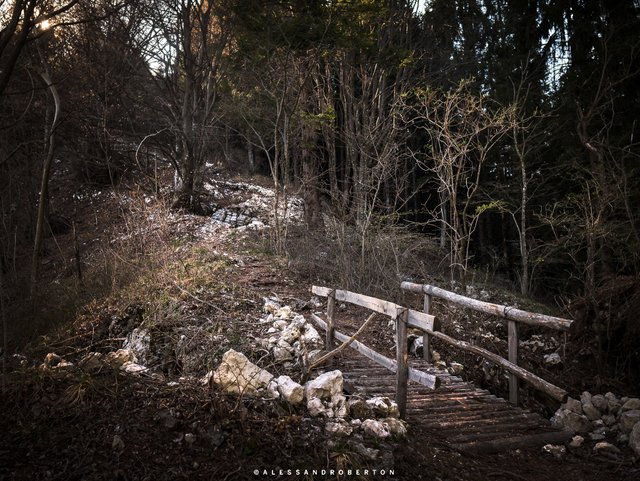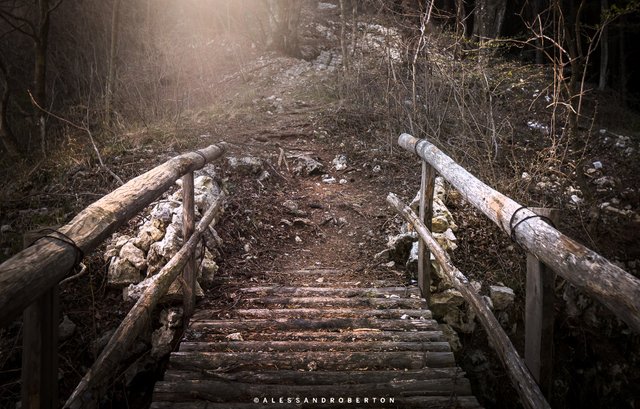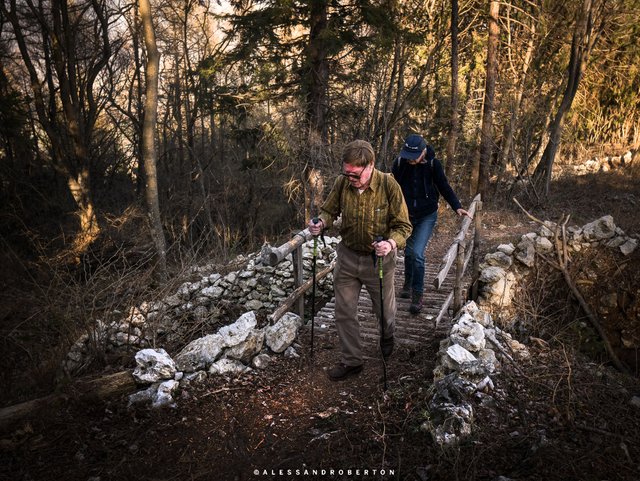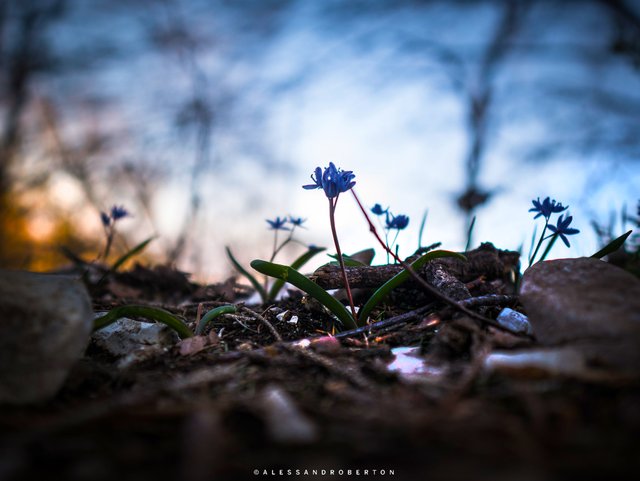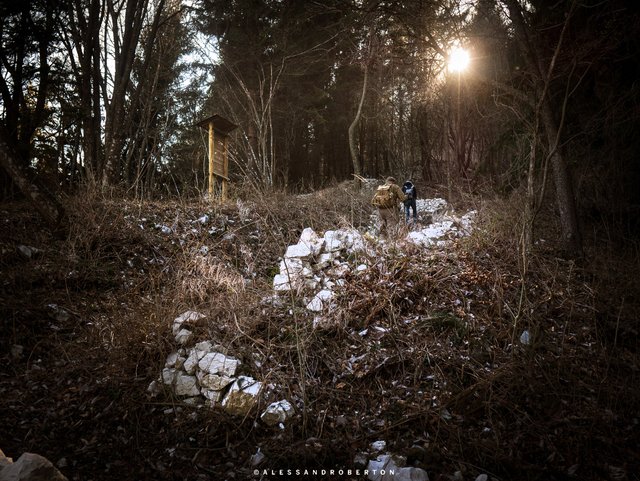 This sloping forest made us give up for a few minutes ... we didn't know if it was worth continuing.
We said to each other, let's try and if we haven't arrived in Castel Cesil in 15 minutes, let's go back!
ITA
Questo bosco in pendenza ci ha fatti desistere per qualche minuto...non sapevamo se valeva la pena proseguire.
Ci siamo detti, proviamoci e se fra 15 minuti non siamo arrivati a Castel Cesil, torniamo indietro!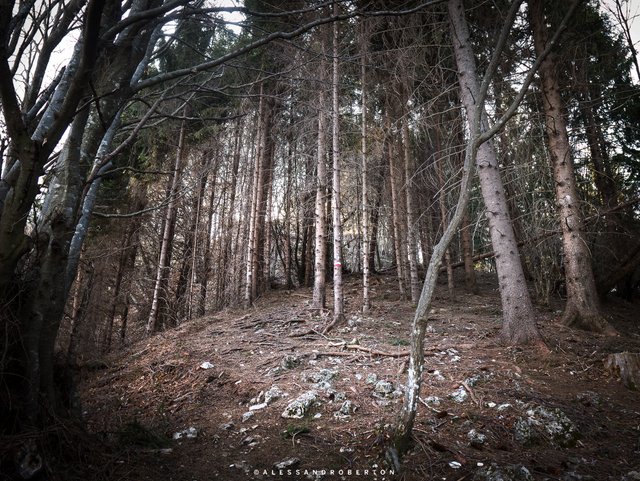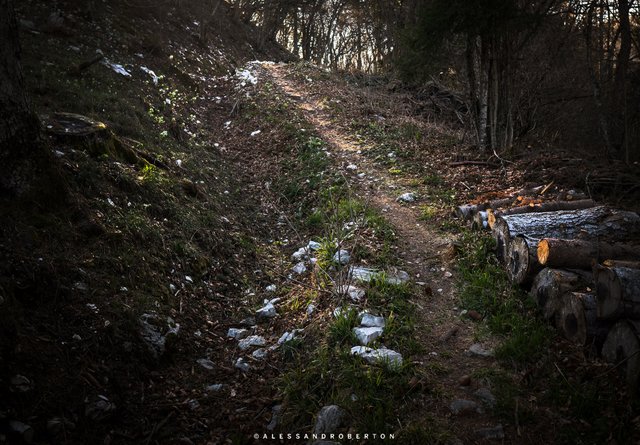 So suddenly an informative sign on Castel Cesil !! We had arrived!!
ITA
Così all'improvviso un cartello informativo su Castel Cesil!! Eravamo arrivati!!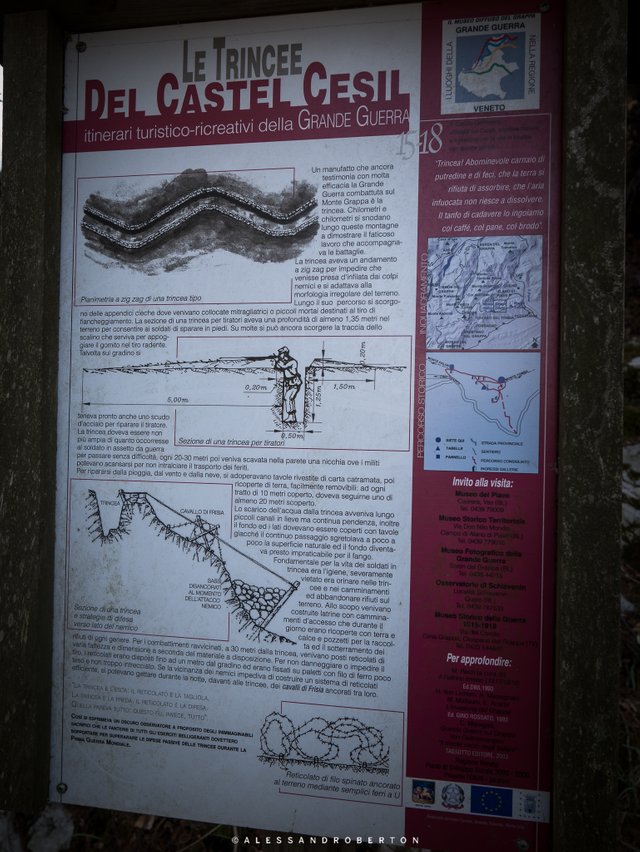 I was happy and relaxed, I saw a bench so this time I decided to sit down and take stock of the situation!
Now we have to go back!!
ITA
Ero felice e rilassato, vidi una panchina così questa volta decisi di sedermi e fare il punto della situazione!
Ora bisogna tornare indietro!!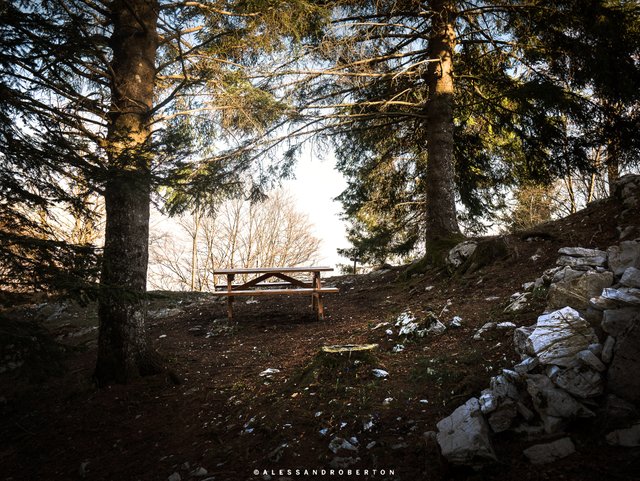 We had done 280 meters in altitude and I thought I had made at least twice that !!
The reason was that the difference in height developed over a small space so the climbs were very steep.
ITA
Avevamo fatto 280 metri di dislivello e pensavo di averne fatti almeno il doppio!!
Il motivo era che il dislivello si sviluppava su poco spazio quindi le salite erano molto inclinate.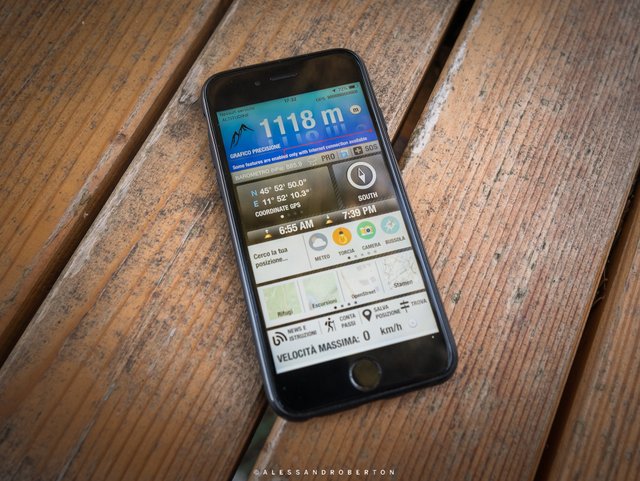 While we were sitting we see a cross just above us so we decide to go and see...
ITA
Mentre eravamo seduti scorgiamo una croce poco sopra di noi così decidiamo di andare a vedere...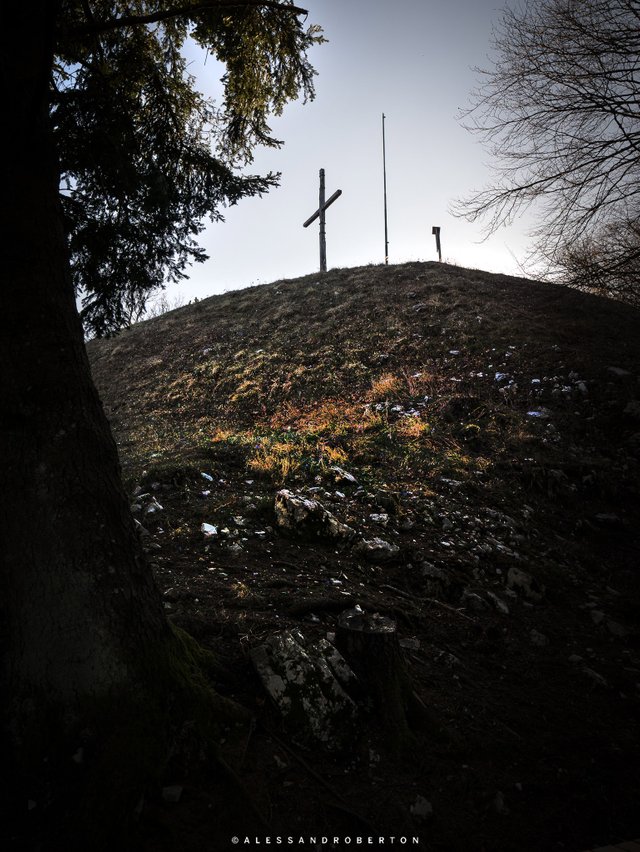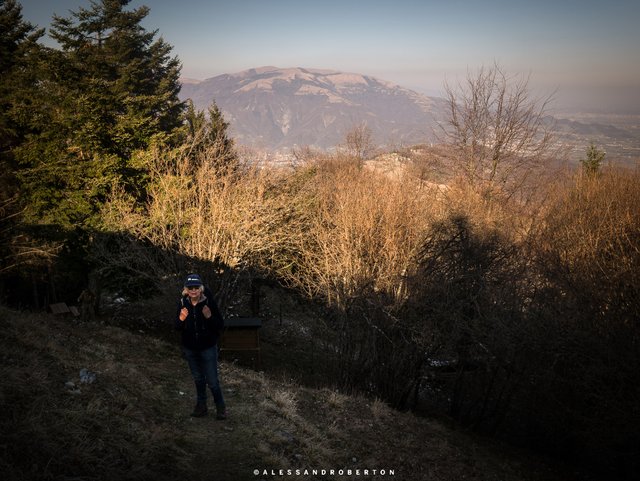 Calmly we arrived at the top and the scenery was beautiful!
ITA
Con calma siamo arrivati in cima e il paesaggio era stupendo!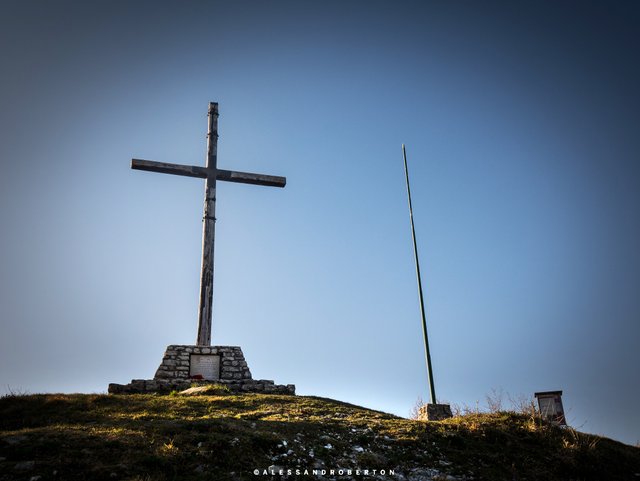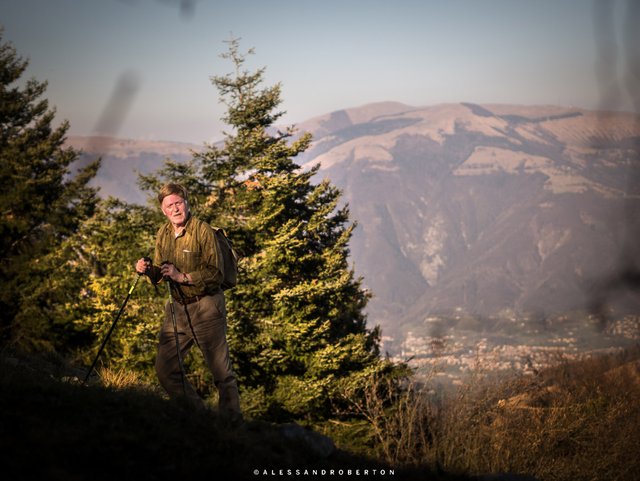 At the base of the cross, there was an effigy:
"A perennial reminder of those who, although of different nationalities, suffered to exalt the supreme ideal of freedom".
Thinking about the present day, this sentence is very current...
ITA
Alla base della croce, c'era un'effige:
"A perenne ricordo di quanti, pur di nazionalità diversa, hanno sofferto per esaltare il supremo ideale di libertà".
Pensando ai giorni nostri, questa frase è molto attuale...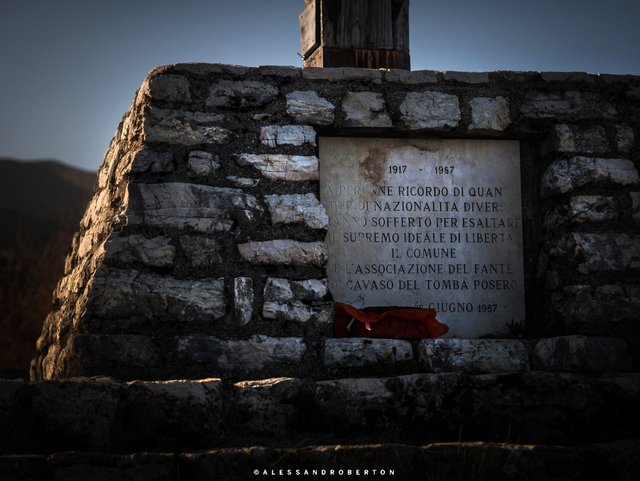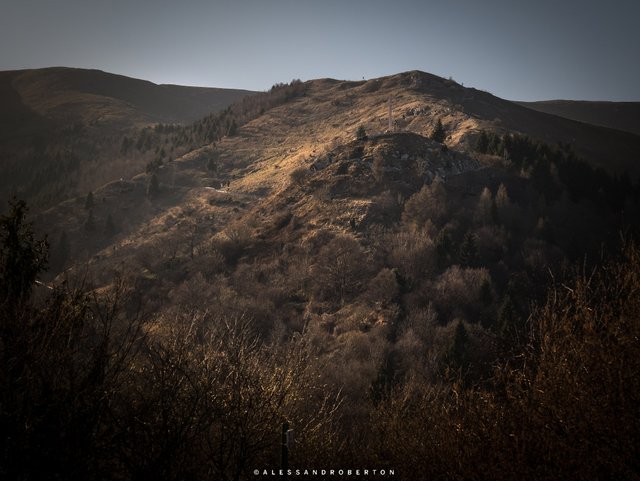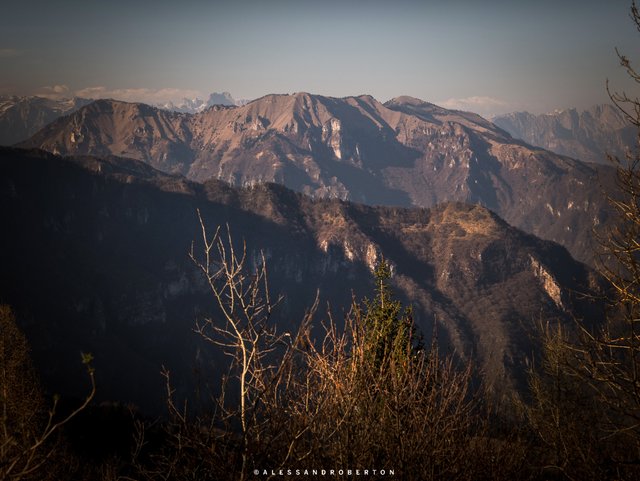 My dad always curious to know everything about a place, he reads the information sign with the names of the surrounding peaks.
ITA
Mio papà sempre curioso di conoscere tutto su un luogo, legge il cartello informativo con i nomi delle cime circostanti.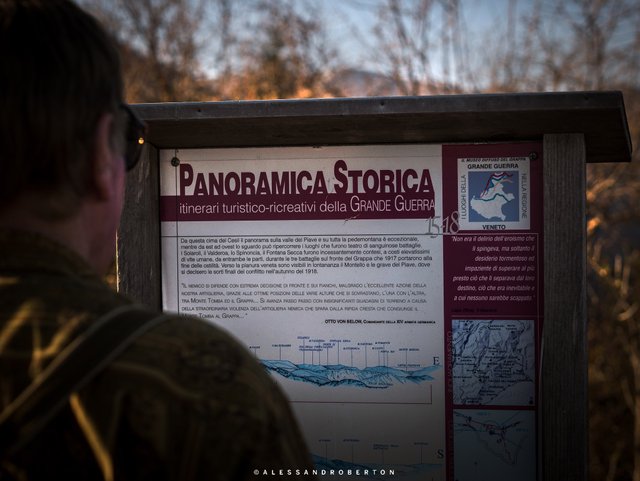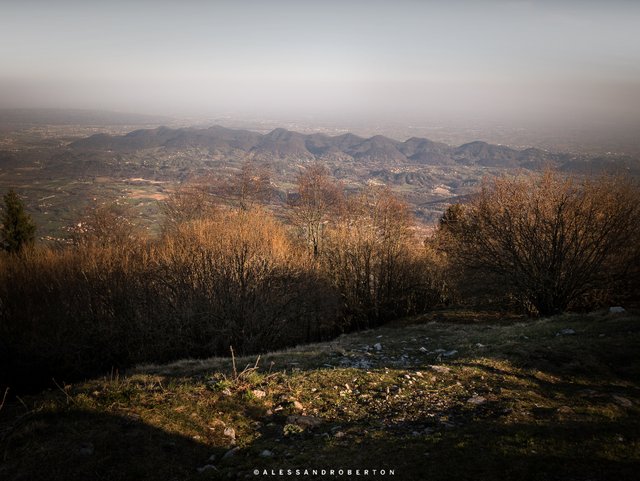 Descending from the top, we headed to quickly visit the military site of Castel Cesil...
ITA
Scesi dalla cima, ci siamo diretti a visitare velocemente il sito militare di Castel Cesil...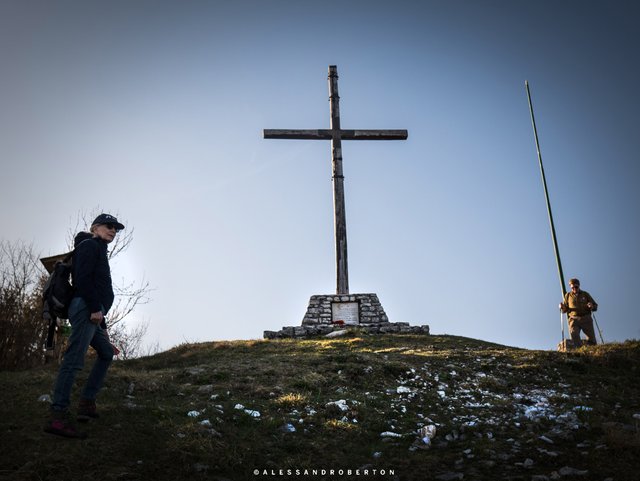 Trenches, passages carved into the rock, observation points and artillery posts, it was an incredible place ... I didn't expect to find such an important strategic point up there!
ITA
Trincee, passaggi scavati nella roccia, punti di osservazioni e postazioni per l'artiglieria, era un posto incredibile...non mi aspettavo di trovare lassù un punto strategico così importante!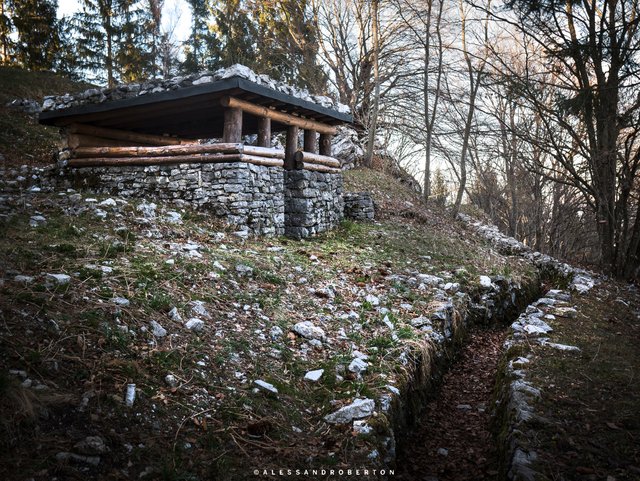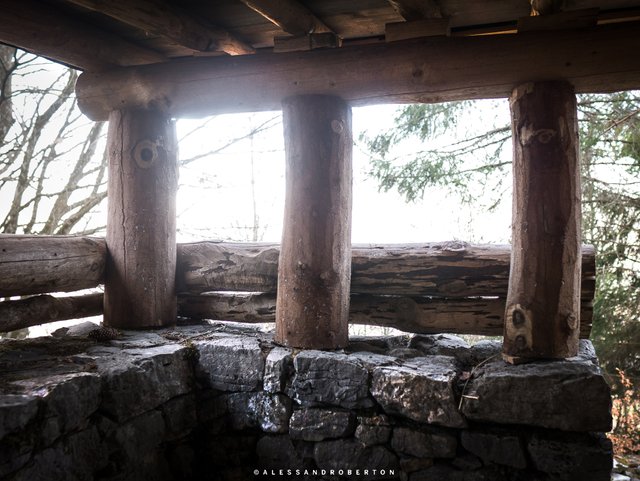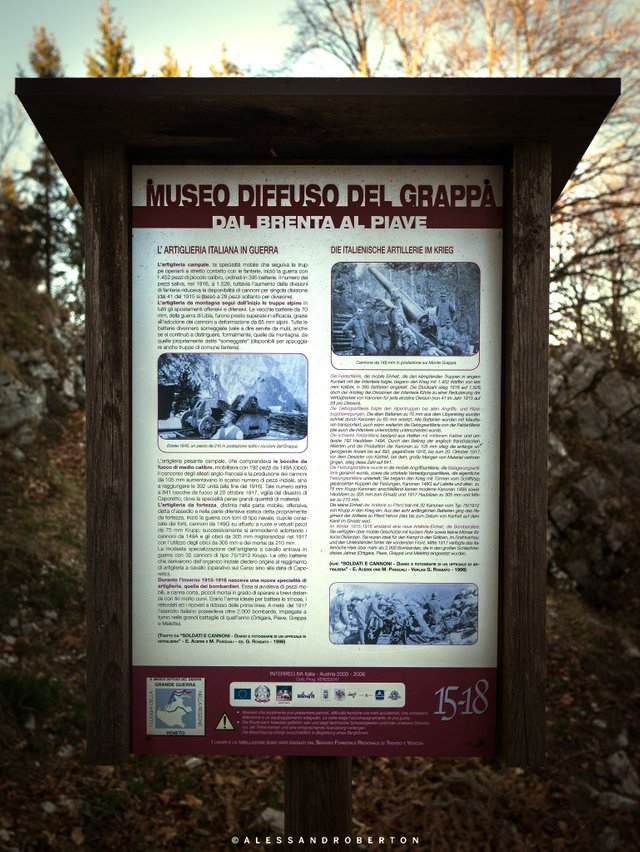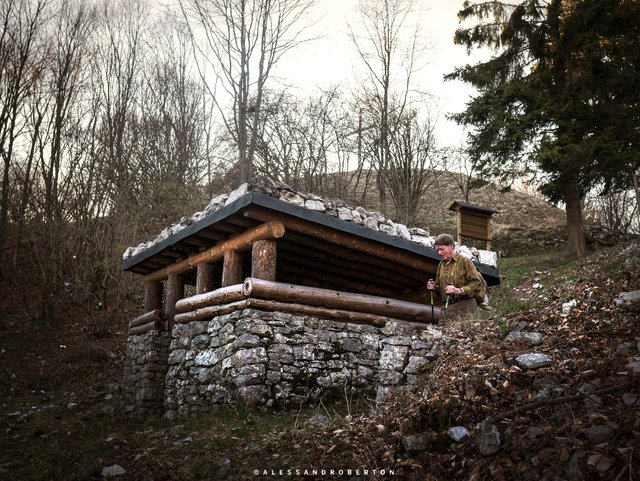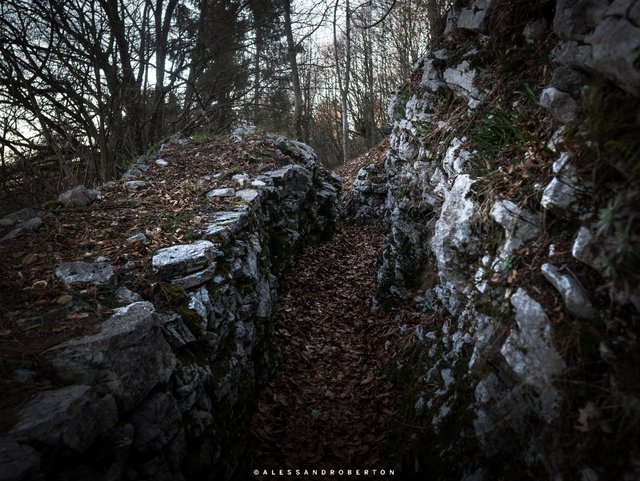 Look at how carefully these tunnels were built...
ITA
Guardate con che cura sono state realizzati questi tunnel...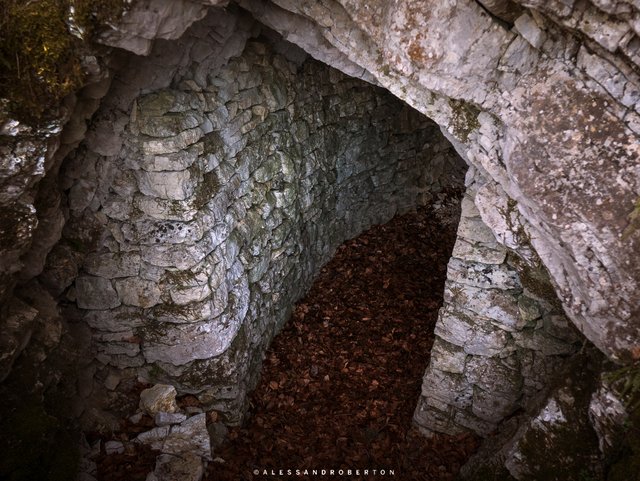 The tunnel branched off and led to spilled mountain opposites...
ITA
Il tunnel si diramava e portava a versati opposti della montagna...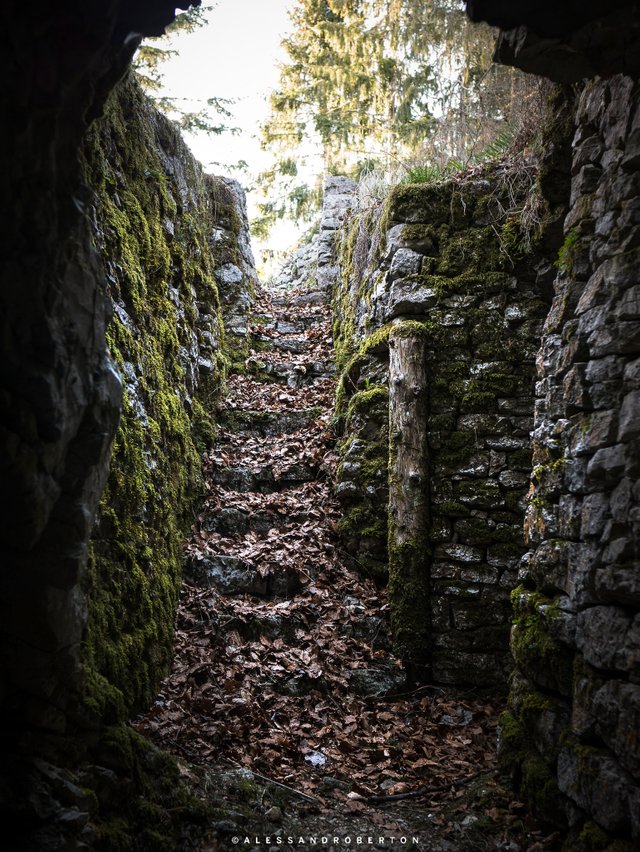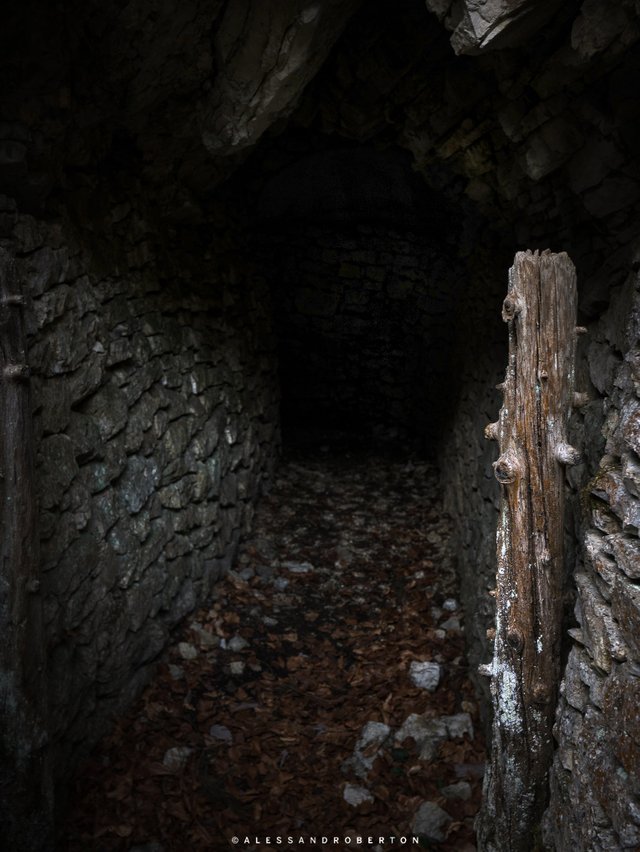 In this room the artillery was positioned, who knows what noise when they fired !! :-o
ITA
In questa camera era posizionata l'artiglieria, chissà che rumore quando sparavano!! :-o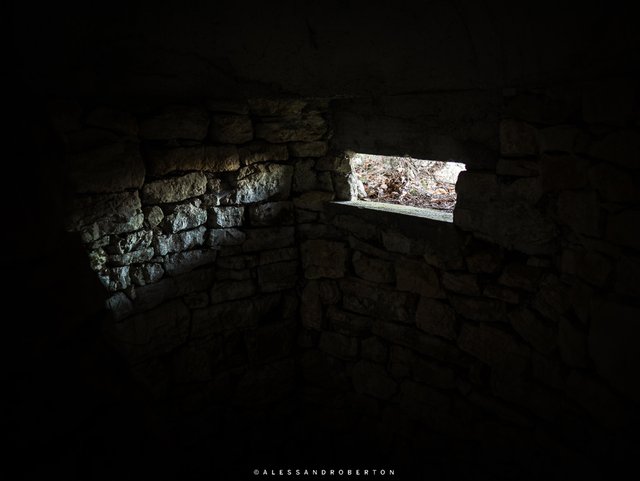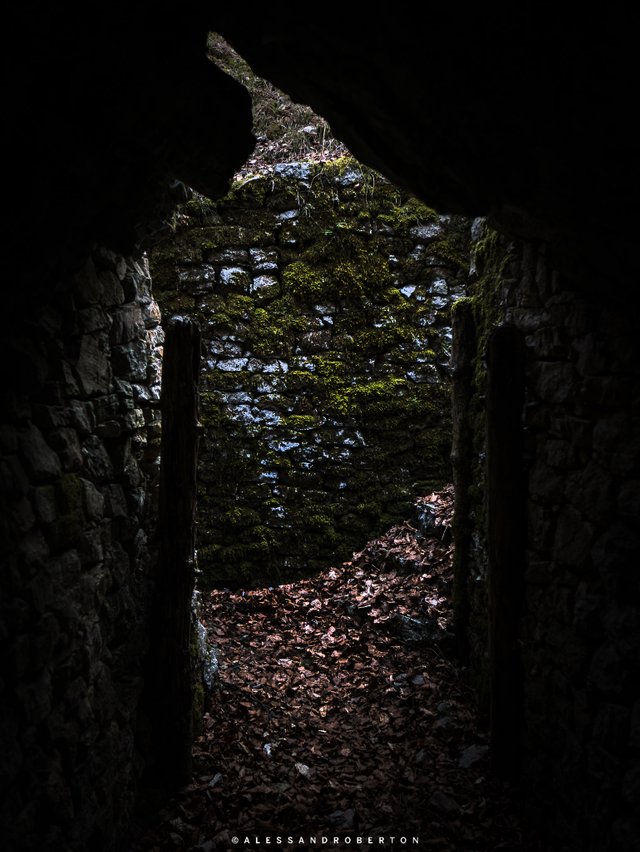 It was time to go and my dad checks an alternative route back to the car, a stroke of genius!
I was worried because the return route he had chosen we didn't know how it would have been, if it was practicable ...
The interesting aspect was towards suddenly it would be connected to the main road and therefore it would have been easier to follow it if it had gotten dark.
We agreed and we set off!
ITA
Era ora di andare e mio papà controlla sulla cartina un percorso alternativo per tornare alla macchina, un colpo di genio!
Io ero preoccupato perchè il percorso del ritorno che aveva scelto non sapevamo come sarebbe stato, se era praticabile...
L'aspetto interessante era verso ad un tratto si sarebbe collegato alla strada principale e quindi sarebbe stato pià facile percorrerla se avesse fatto buio.
Eravamo d'accordo e ci siamo incamminati!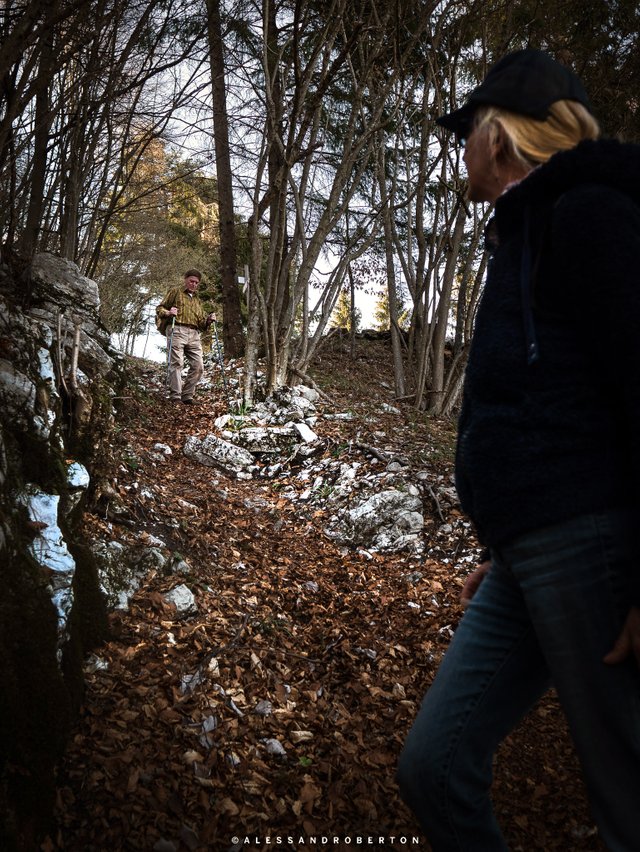 The path was beautiful, clean and really beautiful, we continued with pleasure.
ITA
Il sentiero era splendido, pulito e davvero bello, proseguivamo con piacere.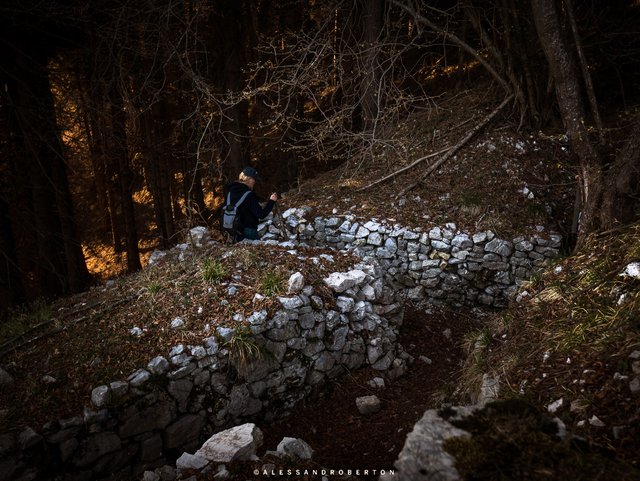 There were other tunnels, I decided to explore some...
ITA
C'erano altri tunnel, ho deciso di esplorarne alcuni...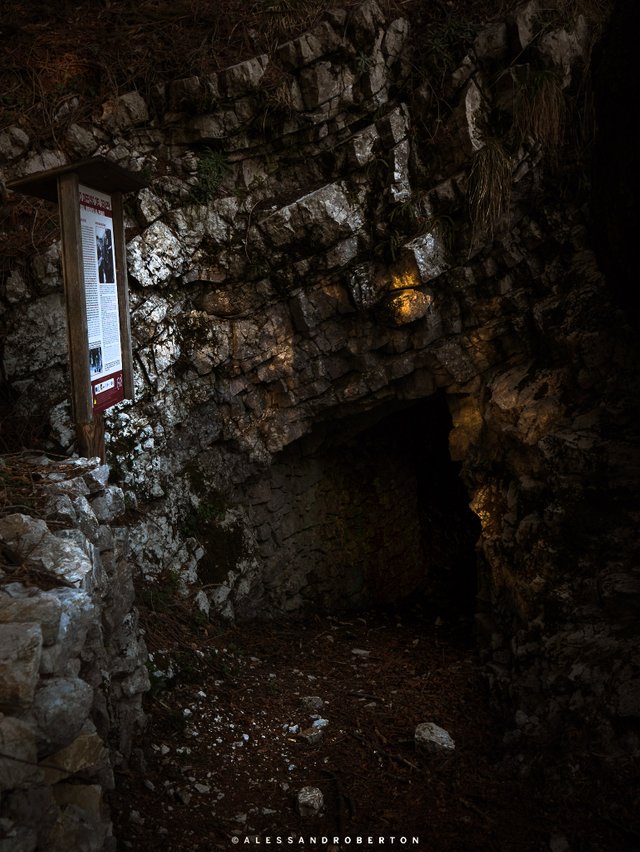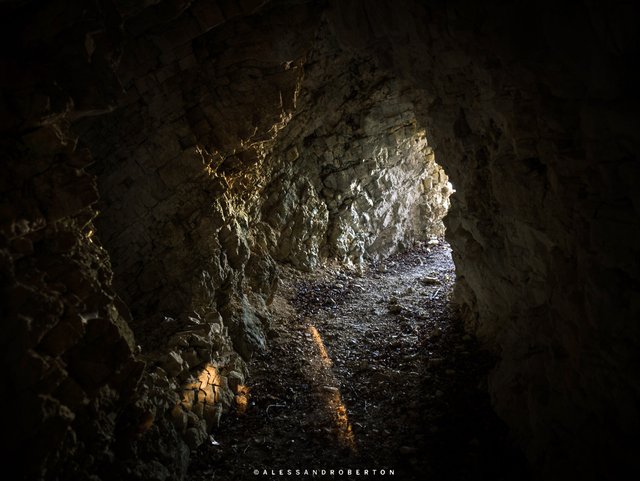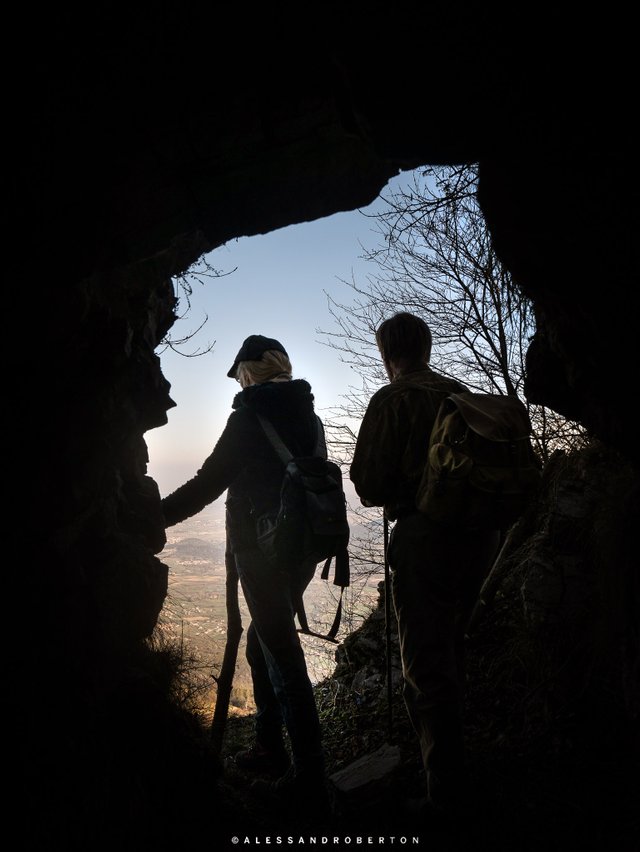 Incredible, really exciting to lean out of those windows carved into the rock and observe the landscape from above, 100 years after the great war...
ITA
Incredibile, davvero emozionante sporgersi da quelle finestre scavate nella roccia e osservare dall'alto il paesaggio, 100 anni dopo la grande guerra...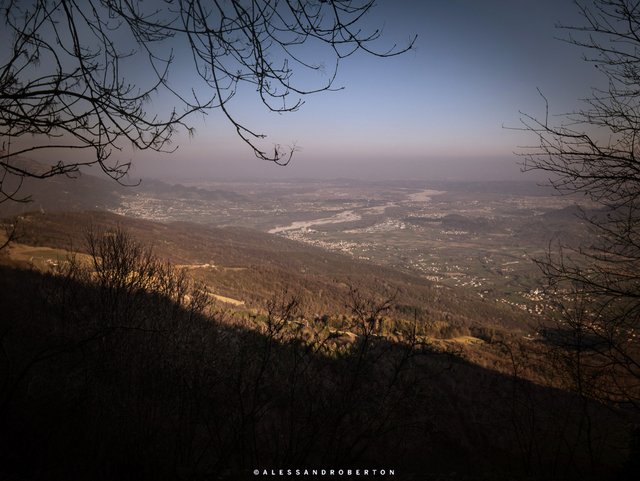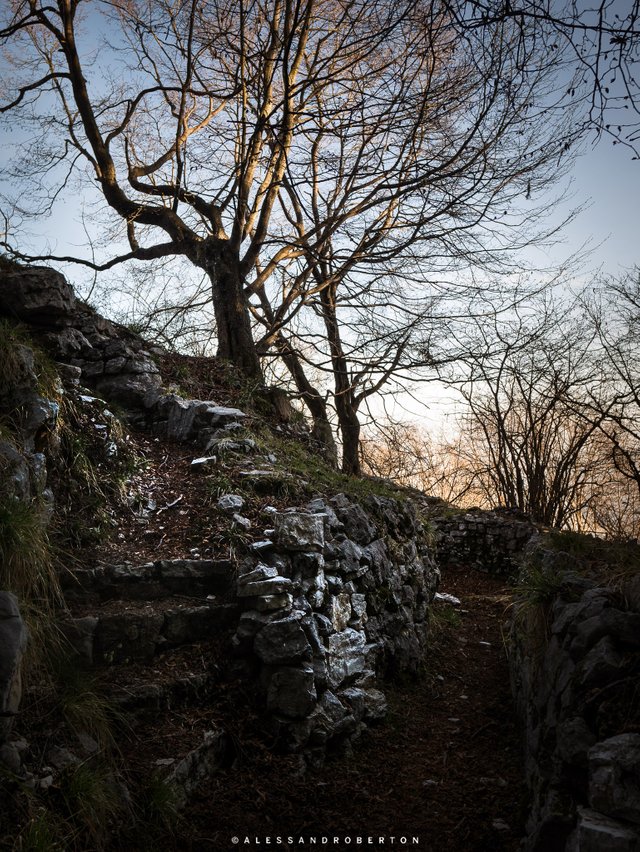 We walked inside a military trench... I later found out that it was called the Soldier's Path
ITA
Camminavamo all'interno di una trincea militare...sucessivamente ho scoperto che si chiamava Sentiero del soldato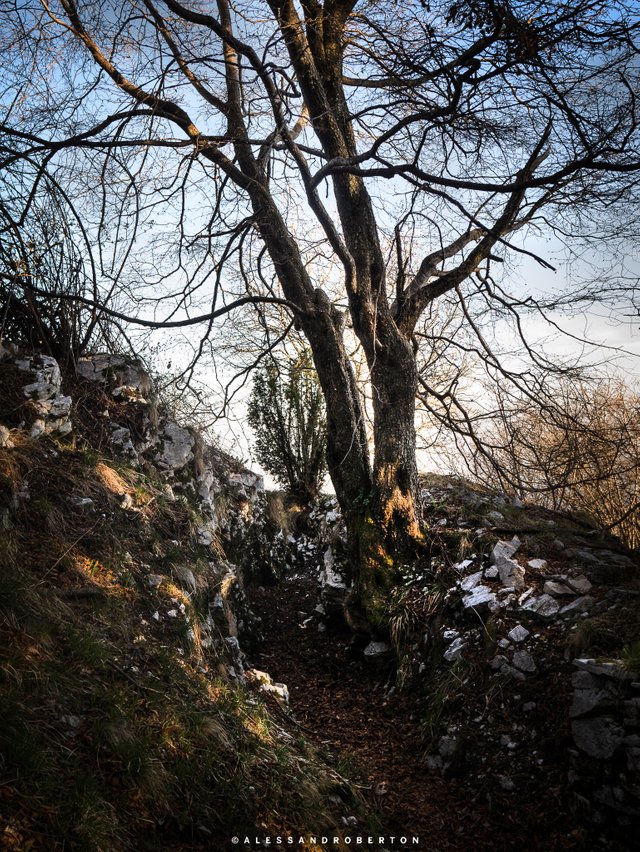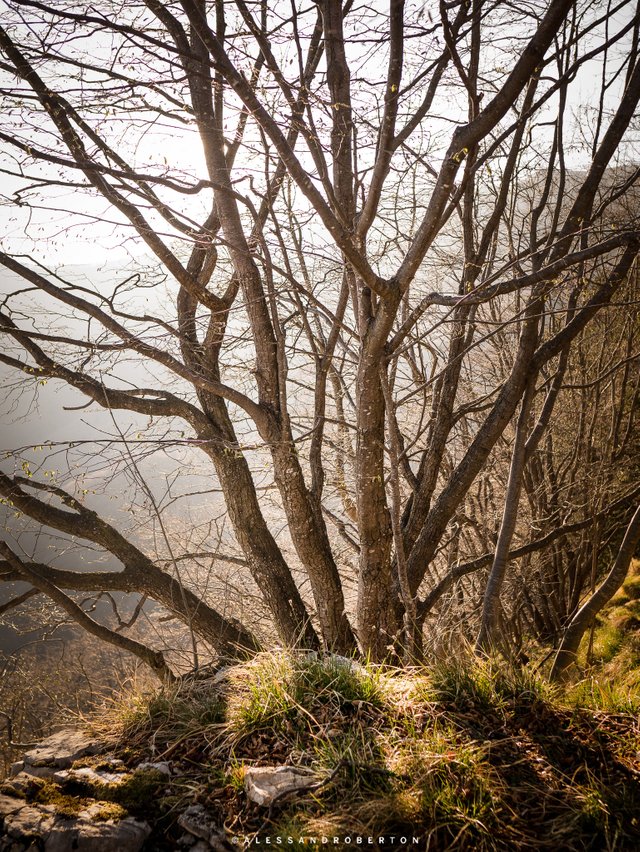 Then the trench is over and we are suddenly a bit dangerous, it was enough to distract ourselves for a moment to fall into the void! I was worried about my parents... but everything went well!
ITA
Poi la trincea è finita e siamo giunti ad un tratto un po' pericoloso, bastava distrarsi un attimo per cadere nel vuoto! Ero preoccupato per i miei genitori...ma è andato tutto bene!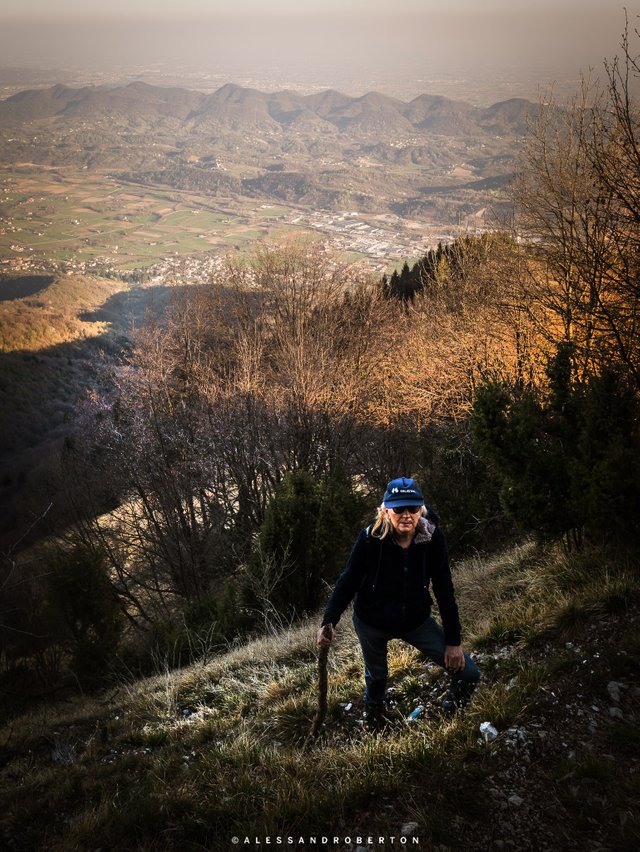 With a great sigh of relief we reached another trench section so we were much safer because we were sheltered.
The sun was setting and we were fine!!
ITA
Con grande sospiro di sollievo siamo giunti ad un altro tratto di trincea quindi eravamo molto più sicuri perchè eravamo riparati.
Il sole stava tramontando e stavamo benissimo!!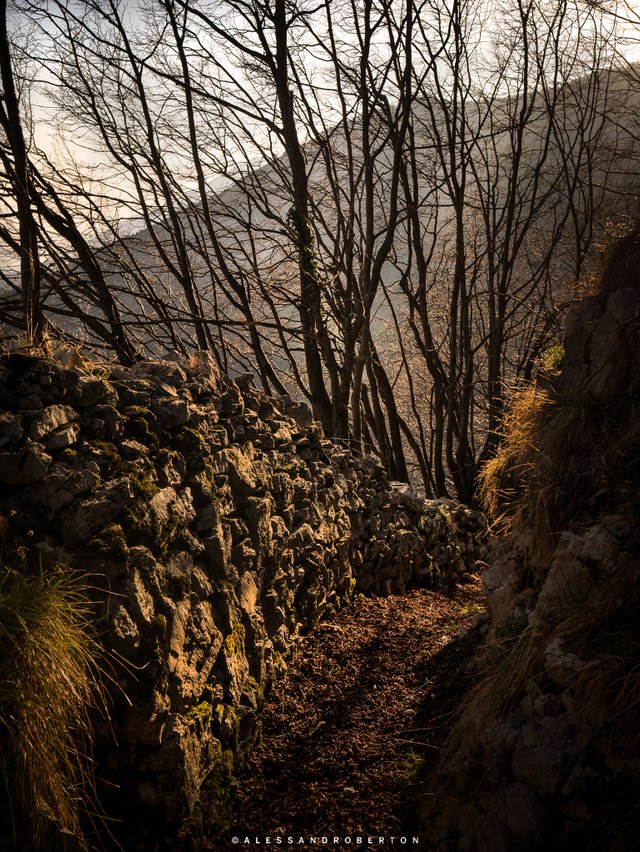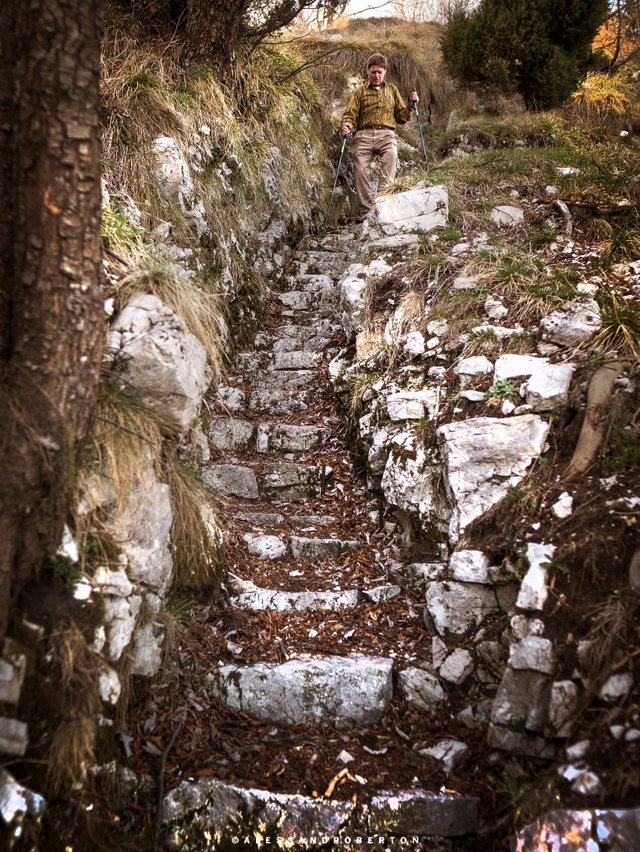 Among the stones laid by the soldiers had grown flowers and plants... almost a message of nature: do not make war!
ITA
Tra le pietre posate dai soldati erano cresciuti fiori e piante...quasi un messaggio della natura: non fate la guerra!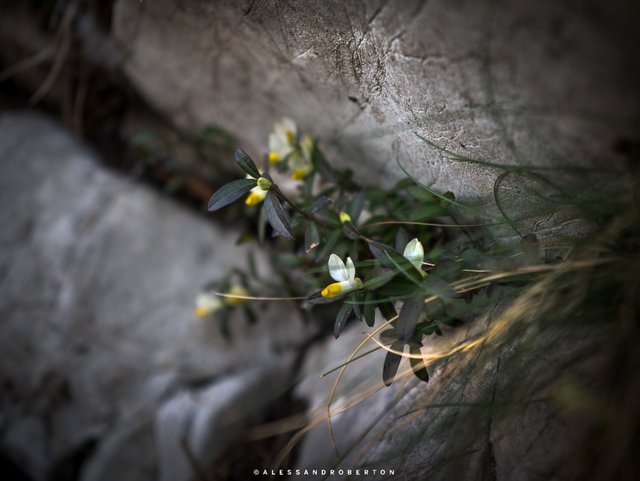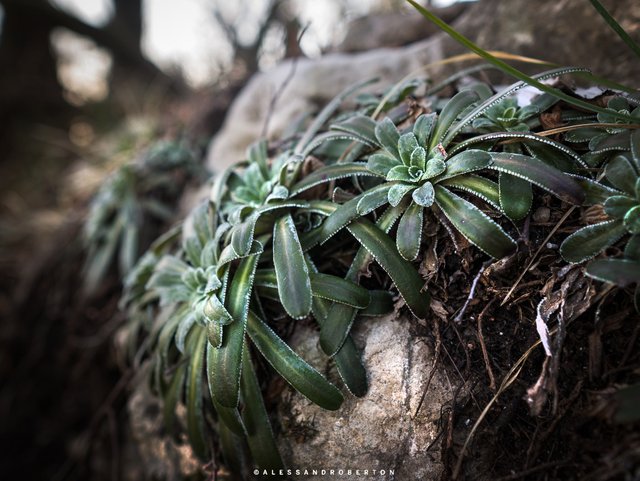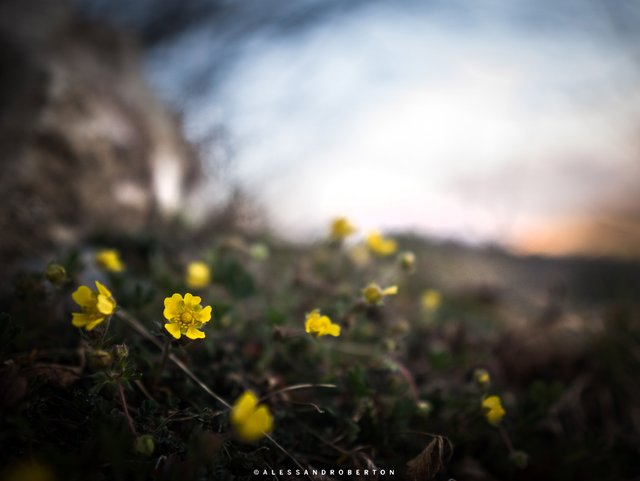 I did not believe it! We had arrived at the road!!
From then on it would have been a simple walk!!
ITA
Non ci credevo! Eravamo arrivati alla strada!!
Da lì in poi sarebbe stata una semplice passeggiata!!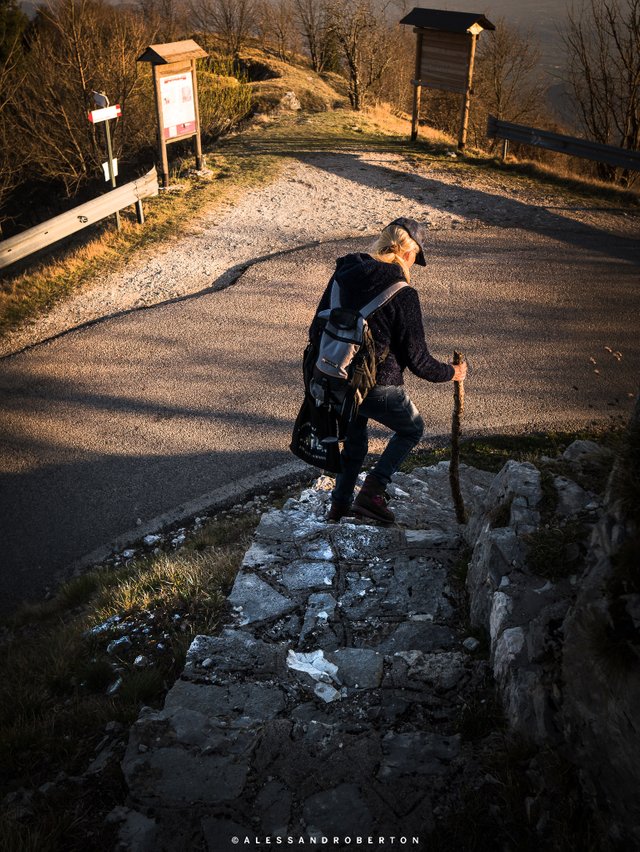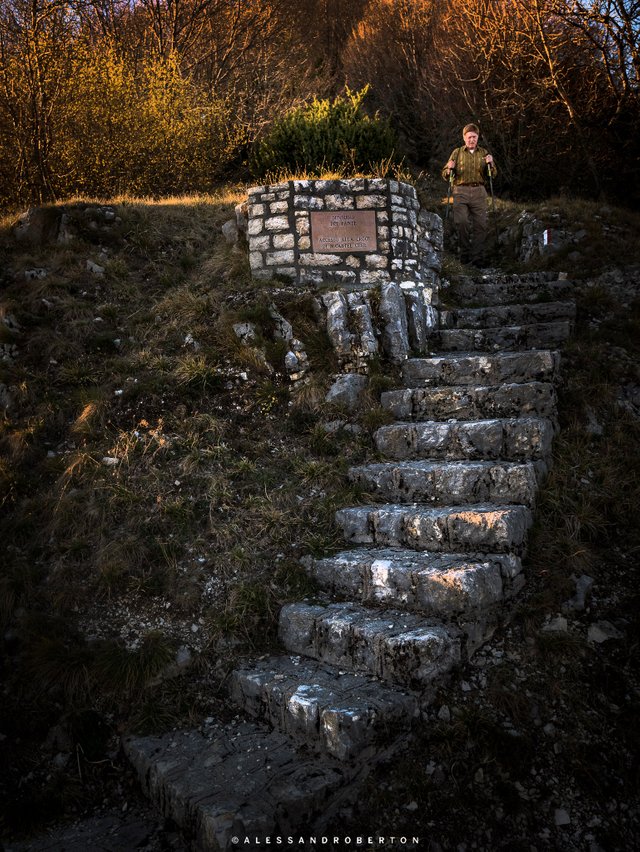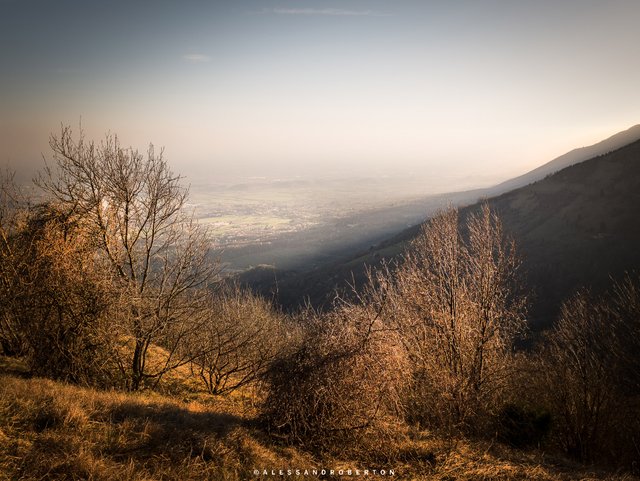 The trench that we had traveled continued and descended the mountain, but instead we walked the long asphalt road ... we were alone.
ITA
La trincea che avevamo percorso proseguiva e scendeva la montagna noi invece abbiamo camminato l'ungo la strada asfaltata...eravamo soli.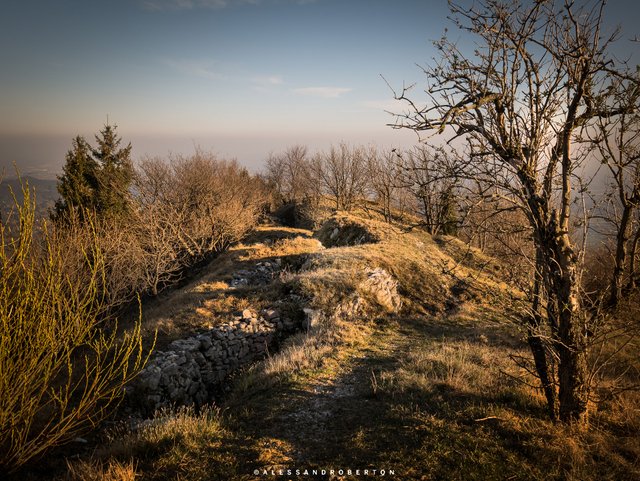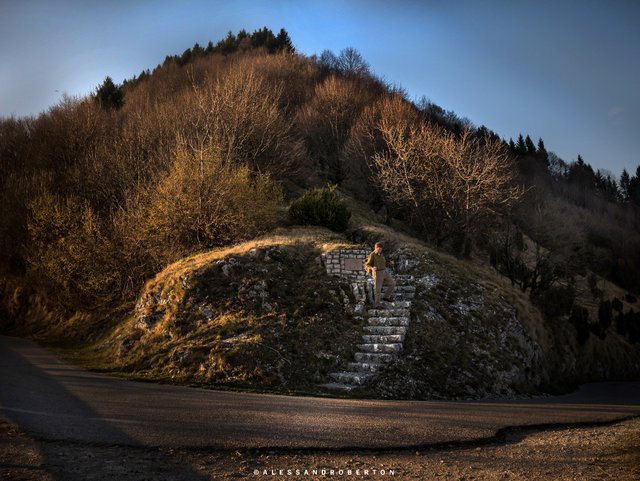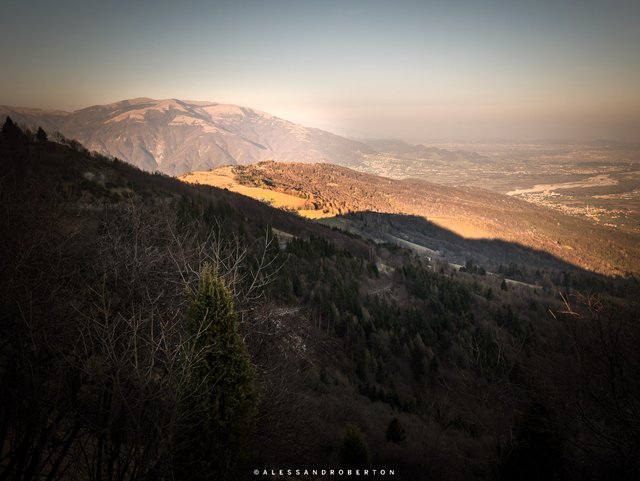 Walking down the street I felt safe and enjoyed the sunset that was looming.
ITA
Camminando per strada mi sentivo al sicuro e mi godevo il tramonto che incombeva.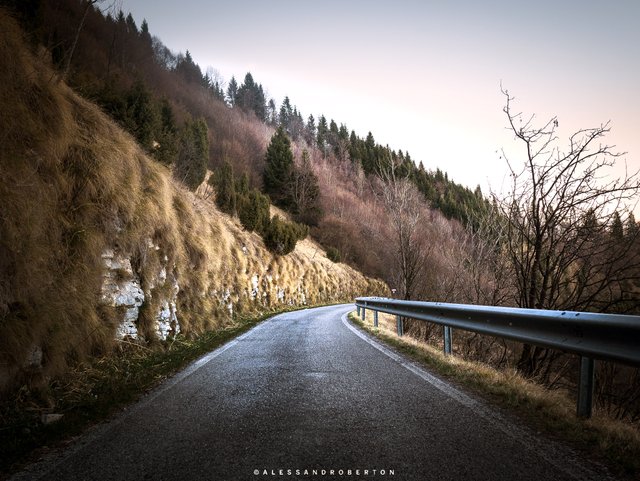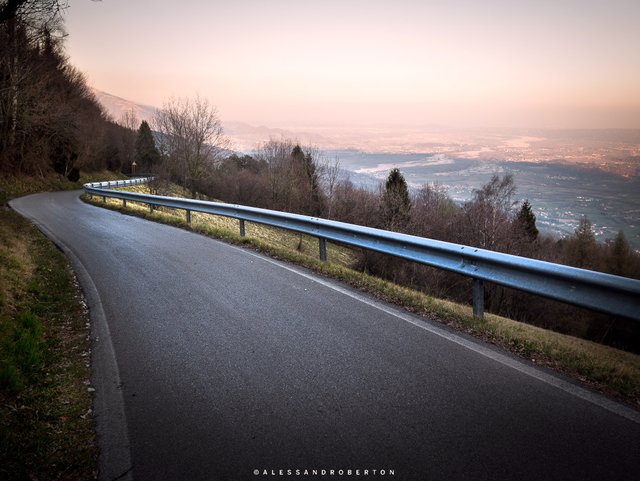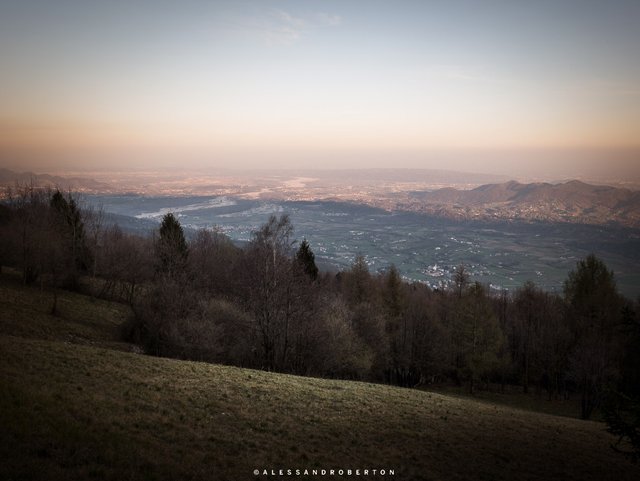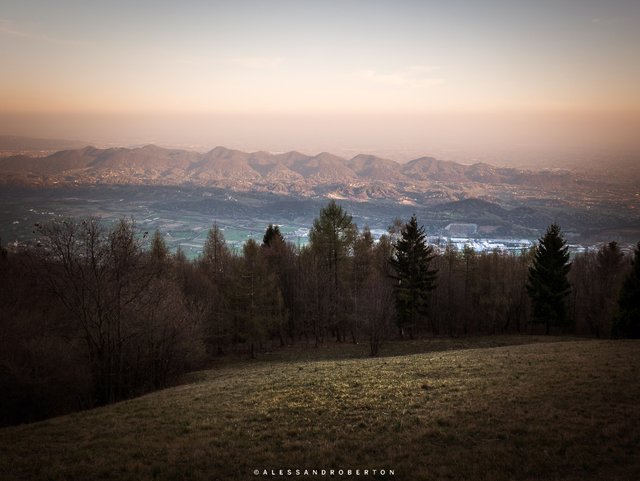 The scenery was a show, we were tired but happy.
ITA
Il paesaggio era uno spettacolo, eravamo stanchi ma felici.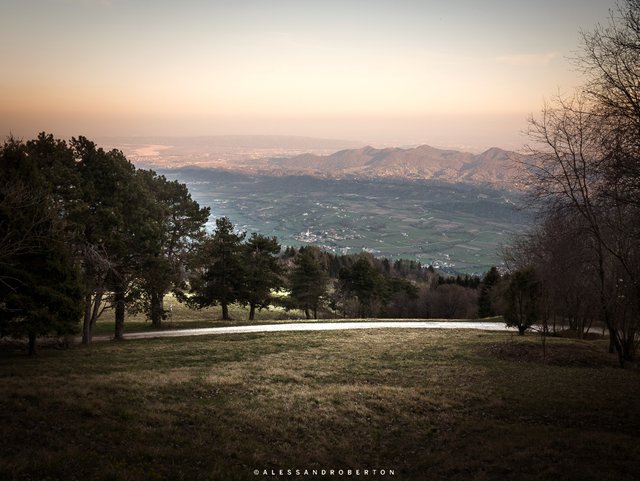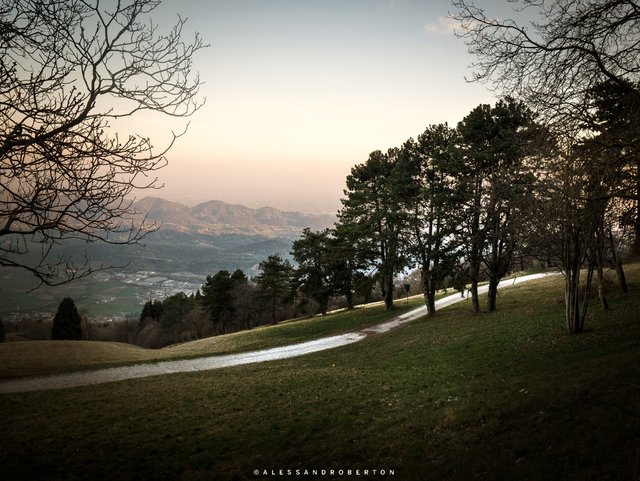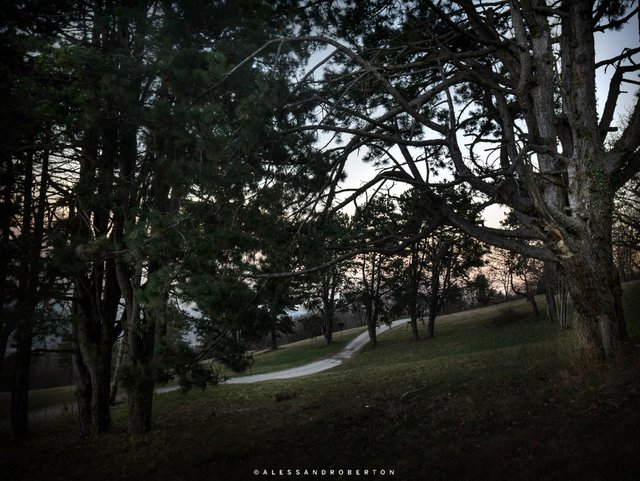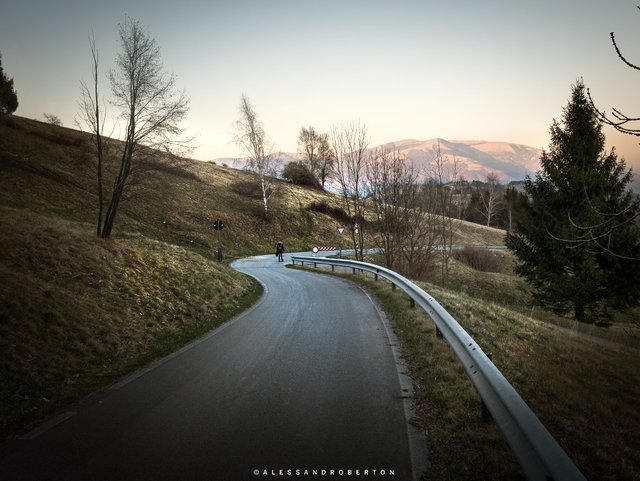 The sunset was not rosy but the landscape was the same fantastic.
There was no noise, only the light evening breeze...
ITA
Il tramonto non è stato rosato però il paesaggio era lo stesso fantastico.
Non c'era rumore, solo la leggera brezza della sera...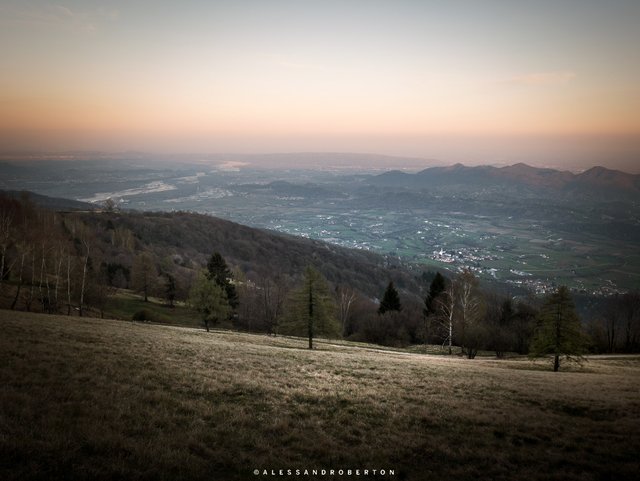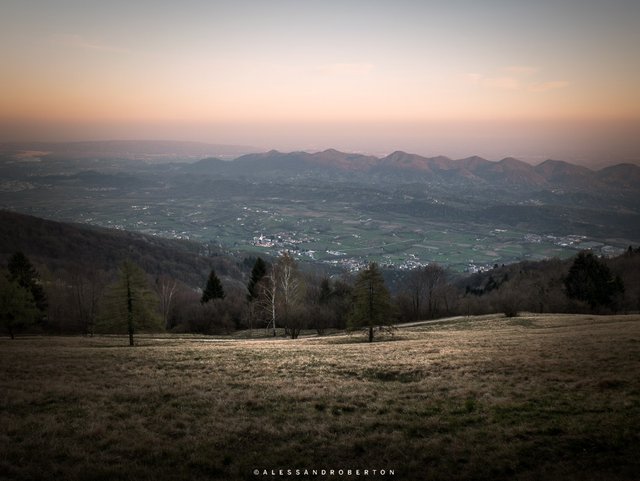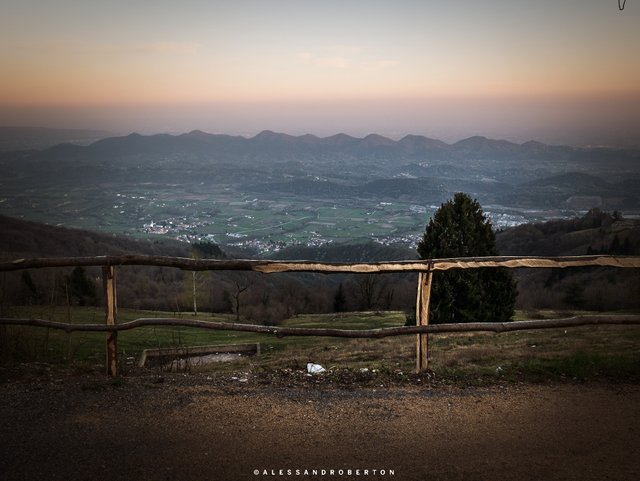 Tired but happy we were almost at the car. I am proud of my parents who went on a really challenging hike.
I know 30-year-olds who wouldn't have done it all and would have come back.
ITA
Stanchi ma felici eravamo quasi arrivati alla macchina. Io fiero dei miei genitori che hanno fatto un'escursione davero impegnativa.
Conosco ragazzi di 30 anni che non l'avrebbero fatta tutta e sarebbero tornati indietro.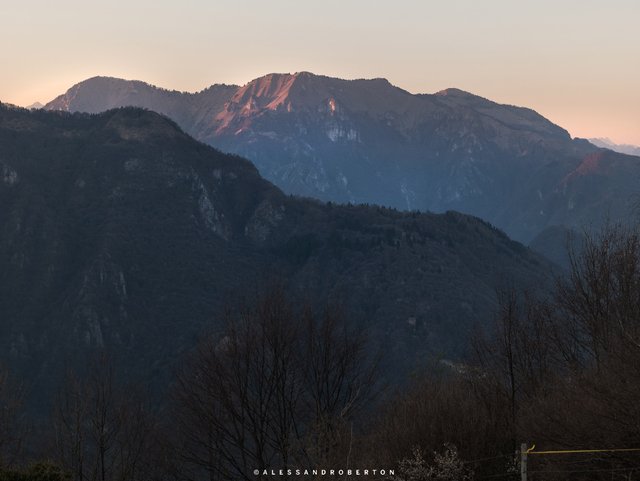 This post is really long, I thought that to make you live the excursion it had to be like this.
I'd like to know if you like this setting or if it's too long.
I'd like to know what you think in the comments.
I thank you for your patience, I wish you a good day!!
ITA
Questo post è davvero lungo, ho pensato che per farvi vivere l'escursione doveva essere così.
Mi piacerebbe sapere se questa impostazione vi piace o se è troppo lungo.
Mi piacerebbe sapere cosa nepensate nei commenti.
Vi ringrazio per la pazienza , vi auguro buona giornata!!