Oddly enough, the White Tiger is thought to have a slightly shorter life expectancy than the normal Bengal Tiger. Although there is no evidence of this in the wild, captive studies conclude that it is due to the White Tiger's mutated genes and to the inbreeding that is required to continue breeding the White Tiger in captivity. One of the biggest reasons for White Tiger's becoming rarer and rarer in the wild is the fact that they were often captured by the rich, who kept them as an incredibly exotic pet. The White Tiger is one of the most versatile and adaptable predators in the Asian jungle as they are not only incredibly quick and agile at running, but they are also very capable swimmers, allowing them to breech natural boundaries such as rivers and wetland.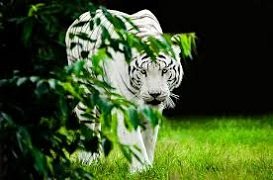 White Tiger Relationship with Humans
Since they were first brought into captivity, White Tigers have been interbred by Humans in a business that is morally questionable and purely profit based. Since then, this already rare animal is thought to have disappeared completely as there have been no confirmed White Tiger reports since the mid 1900s. Although it is simply a question of two gene carrying individuals mating, the fact that people have hunted them and taken over much of their natural habitat, means that the chances of this happening are not very high. There is an issue however, with increasing instances of Bengal Tigers actually entering Human settlements which causes problems between the Tiger and the villagers. Due to the fact that Tigers are becoming increasingly more vulnerable animals, it is illegal to shoot them and so they often return to the same village night after night.
White Tiger Conservation Status and Life Today
The White Tiger is a Bengal Tiger which is a species listed by the IUCN as Endangered and therefore severely threatened in its surrounding environment. Estimates of around 100,000 Tigers found in the jungles and mangrove swamps of Asia were made at the beginning of the 1900s, but today there are thought to be less than 8,000 Tigers in the wild, with around 2,000 of these being Bengal Tigers. There are no White Tiger individuals known to be found outside of captivity.