What's in my Camera Bag? A Photography Gear Guide!
Gear. Whether we admit to it or not, we are obsessed with camera gear as photographers. I get asked the "What camera or lens are you using?" question often enough that if I had a dime for each time I've heard it, I'll be able to buy the Sony FE 600mm f/4 GM OSS Lens!
As every other photographer will tell you, gear doesn't matter that much (and it's true!), but I would be lying to you if I didn't get excited about the thought of getting the latest and greatest Sony EF lenses.
I don't always get the most expensive gear you can find. I tend to be all more cautious in my purchases and always factor in the ROI of a gear purchase as well as the price to performance ratio.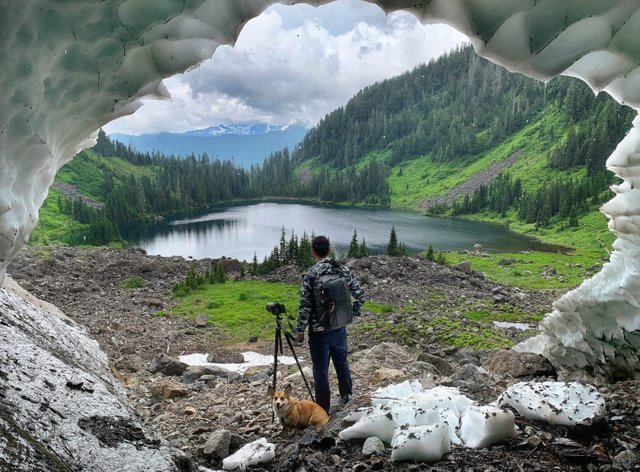 Backpacking with camera gear in the pacific northwest.
In short, you'll probably be surprised by my gear choices. It's catered to my personal preference and I would recommend that you get gear that will cater to your own style as a photographer.

Useful Camera Gear and Guide:
If you didn't find answers to any of the guides mentioned above or are just curious to see what gear I use, read on!
Camera Backpack
First, let's talk about my camera bag. I've had over a dozen dedicated camera bags over the years and my current one, the
Pygtech OneMo 25L Backpack
, is my favorite so far.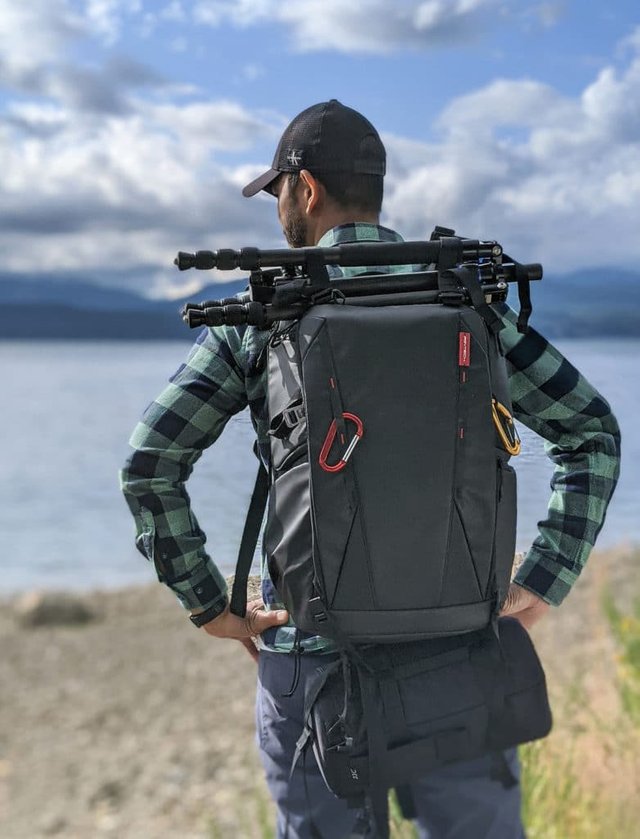 My OneMo camera backpack with the Tamron 150-600mm (on its lens pouch) attached.
I got this backpack because I've added a drone to my arsenal – the Mavic 2 Pro to be exact. The modular bag allows me to compartmentalize my gear to any set up I want.
The built-in pouch can house a drone or a point and shoot and converts into a shoulder bag for quick access.
The 25L size with multi-fold dividers can carry all the gear I need and can even carry my 16-inch laptop.
There's also a nifty expandable storage space that allows the bag to expand to 35L – it's useful for carrying an emergency tent, jacket, or whatever else you might think of.
The tripod can mount directly on top of the bag with a modular strap or you can strap your tent or sleeping bag on top with the various hooks and straps designed unto the bag.
The bag can fly with you wherever you go because it's well under the carry-on international size restrictions for a carry-on bag; in some cases, it can even qualify as a personal item (please check with your airline).

Here's what's in my camera bag:
Camera & Drone
I don't dwell too much on camera features. I prefer to invest in lenses. Having a versatile system that can use lots of different lenses is the most important criteria in my camera selection.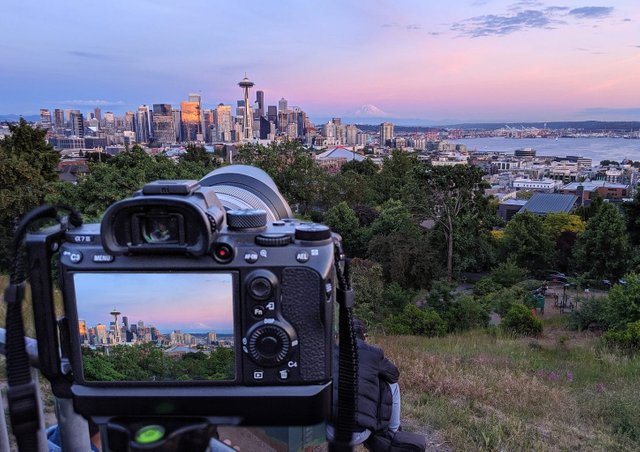 The Sony A7III is the main camera in my backpack.

Sony A7III
I've had the Sony A series since its second inception, much more improved this time especially the battery life. Read my guide above about Mirrorless cameras and why you should consider it.
One of the benefits is the myriad of lens adapters you can purchase to use other lens systems! As you will see from my lens choices most aren't even native Sony EF mount.
GoPro Hero 7 Black
My GoPro is a generation or two behind. I've found no need to upgraded the newer versions.
I attach this to a shoulder strap on my backpack for long hikes, to a body strap when I snowboard, bike, or go paddleboarding.
I love the versatility of the GoPro and its ability to be mounted on just about anything allows you to capture action/adventure at will.
This version has Image Stabilization the images don't come out blurry during fast sequences.
DJI Mavic Pro 2
I didn't get into the Drone game until this came out.
Professional quality imagery is the reason why I did. The Hasselblad camera captures details that can match my Sony A7III.
Excellent features like auto-stitch panoramas allow you to capture even more details surpassing 50-Megapixels or more.
The great thing about the drone is the ability to control the exposure values manually, unlike lower cost drones on the market.
Lenses
I have an unconventional lens collection. I have always favored using adapters to be able to use the glass I want. With a mirrorless camera like the Sony A7III, doing this is even easier.
Sony LA-EA4 A-Mount to E-Mount Adapter
This amazing contraption allows you to attach Sony A-Mount lenses to your E-mount cameras like the Sony A7III above. You can find Sony A-Mount lenses that are a fraction of the cost of a similar E-Mount lens. The autofocus and autoexposure work as well.
Tamron 15-35mm f/2.8 Di VC
This is my go-to Superwide angle lens. It's not a native E-mount lens, it's actually a Sony A-Mount that I use on the A7III via the LA-EA4 mentioned above. You would be hard-pressed to find a Superwide Angle lens for under 1k that's as sharp and as fast!
Tamron SP 150-600mm F/5.0-6.3 Di USD G2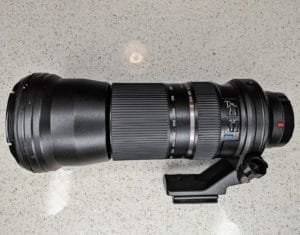 Tamron 150-600mm G2
This is not a native Sony E-Mount lens.
It's made for the A-Mount which can be used using the LA-EA4 adapter.
This lens is massive but a joy to use!
The E-Mount counterpart is the Sony FE 200-600mm, which would cost you half as much more.
You're giving up on fast autofocus so if fast-moving subjects is what you're trying to capture, I recommend going for the Sony instead.
JJC DLP-7 Deluxe Water-Resistant Lens Pouch
Great pouch for the Tamron 150-600mm, it has an independent shoulder strap which allows me to carry it by itself.
Otherwise, I attach it to the bottom strap of the OneMo backpack with the dual wrap-around strap system.
As mentioned, the Tamron 150-600mm is massive and very heavy, so I typically don't take it with me on long hikes.
It is, however, great for compressing scenes - great in the Pacific Northwest where you can include Mount Baker or Mount Rainier in the backdrop.
Sony FE 24-240mm f/3.5-6.3
The 24-240mm Sony is my walk-around lens. It's got great coverage and while it won't win MTF charts awards, it's plenty sharp and very versatile.
The best lens isn't always the fastest or the sharpest, it's the one you will use the most! If I'm going to have only ONE lens in my bag, this lens would be my pick.
Tripods & Stabilizers
I'm a bit of a tripod fanatic. It allows me to take things slower and more methodical with my photographic approach. I can study the compositions better while I'm not hand-holding the camera.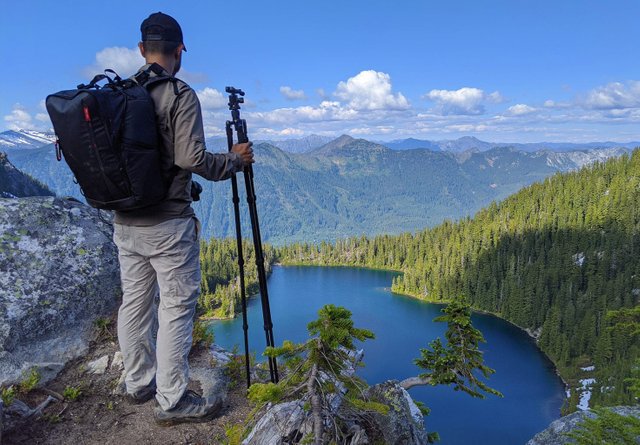 Tripods always go with me on photo trips

K&F Concept Aluminum Tripod w/ Ballhead
This one is a lightweight aluminum type tripod with flip-lock legs for fast set up. I use it some times for when I want to capture multiple angles of the same scene during fast-changing dynamic lighting. It's also very cheap and reliable.
Davis & Sanford TR654C-36 Traverse Carbon Fiber Tripod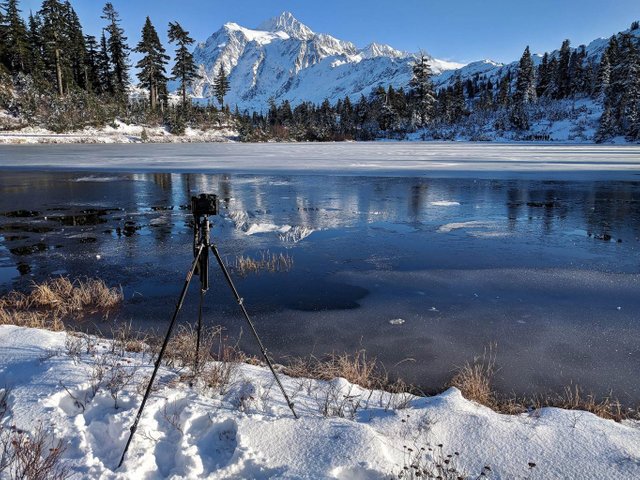 This tripod is my go-to for long hikes and travel. It's very lightweight and sturdy. Unlike the above, it's utilizing a twist-lock mechanism for the legs.
Davis & Sandford isn't a name brand you're likely familiar with but the quality and build are great – I've been using it for years without fail in and out of the sand, water, dirt, mud, snow, cliff, and everything else in between.
Filters
I always use a filter whenever there is an opportunity for them. Polarizing filters are a staple in my backpack.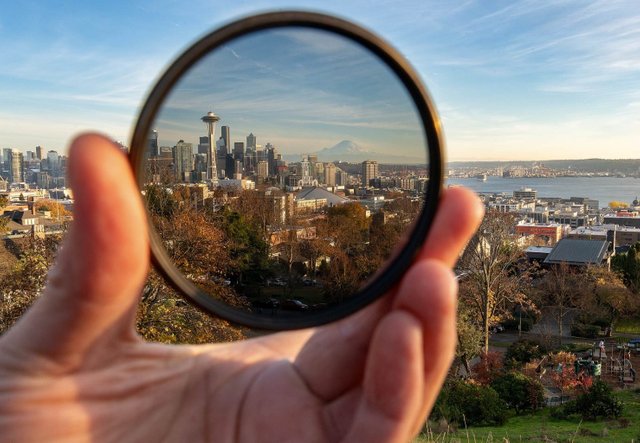 Circular Polarizer in action

Lens Filters for DJI Mavic 2 Pro Camera
One of the great features of the Mavic Pro 2 is the ability to attach filters to the camera. This filter set is amazing – it has polarizer and ND filters combined.
B+W 77mm ND 1.8-64X
This variable ND filter is useful for slowing down the shutter. Great for slowing down motion (like a waterfall) on clear and bright days. You can also use to get that surreal look from moving clouds, etc.,
B+W Circular Polarizer Kaesemann (Xtra Slim Mount)
Great polarizer that won't cause vignetting on wide-angle lenses. The glass is topnotch and won't degrade the image quality of your lenses.
Photo Editing Hardware/Software
My photo editing tools are fairly standard. However, my workflow might be a little different. I use Lightroom to do a majority of the editing and then do the final touches on Photoshop.
Lenovo Thinkpad P50
I know this Laptop is outdated and old, but it handles any intensive photo editing I throw at it. I've upgraded it to the max – 64 GB Ram, SSD Dual Drives.
The built-in Pantone color calibration is a godsend for photography - saves you lots of money from having to purchase a separate color calibration tool and software.
You should be able to get the newer models of laptop, just make sure it has the Pantone feature and can expand to 64 GB Ram.
Adobe Lightroom
Since 98 percent of my images are shot in Raw format, I use a raw editor and viewer. Lightroom is more than a raw file editor. It's also a catalog to keep track of your images. There's a slew of editing features built into the tool and for most photographers, it's all they'll ever need.
Adobe Photoshop
After doing some basic or semi-advanced edits on Lightroom, my images get further touch-ups through Photoshop. I personally like to work with non-destructive editing through layers - which Lightroom lacks.
Conclusion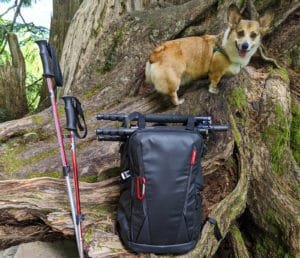 What's in my backpack, my gear choices, cater to my style and needs as a photographer.
I've gone through a bunch of cameras and lenses throughout the years and I'm sure it will continue to change as I progress.
I don't have a massive collection of lenses and gadgets like most photographers.
Every single gear I have gets nearly every time I go out of a photography excursion.
So far, I'm loving the OneMo backpack with its versatility and capacity. I also think it just looks darn cool, Lucky the Corgi seems to think so :)

What's in Your Backpack?
---
This post contains affiliate links that in no way influence the opinion of the article. If you purchase an item from one of the links you clicked on, I will earn a small commission that doesn't affect the price of the item.
---