The Best Mirrorless Cameras for Travel and How to Choose in 2019
With mirrorless cameras flooding the market en masse, it's hard to find one that's going to be perfect for taking with you on your travels. These remarkable modern cameras pack big image sensors into compact and lightweight bodies that compete with or even surpass any DSLR offerings. Since the technology has now matured and lens options have been steadily growing, switching to a mirrorless camera makes more sense now more than ever and finding the best Mirrorless camera for travel has become a challenge.

What Is A Mirrorless Camera?
A mirrorless camera, is as the name implies, lacking a mirror. It's simply a DSLR, which is to say a Digital Single Lens Reflex camera, without the mirror mechanism that makes the latter bulky. The DSLR design hasn't changed much since the inception of the Single Lens Reflex (SLR) film cameras of the past. The only different thing is the digital sensor that's fixed unto the camera that replaced the loading of film.
A "reflex mirror" sits between the sensor (or film for SLR) to reflect light coming through the lens into your "optical viewfinder" so you can see what your lens sees. When you press the shutter, this mirror flips up, and the light passes through the shutter curtain and into the sensor (or film). This extra "reflex mirror" mechanism is taken out the equation from the Mirrorless design making the camera less bulky and slightly lighter. This also means you can not have an optical viewfinder in a mirrorless camera since there's no device to reflect light to the viewfinder.
With mirrorless camera design, the sensor is exposed to the light while the shutter is open. This allows a digital preview of the through an "electronic viewfinder" or LCD. In turn, you see precisely what the image look like before you press the shutter. It even has the capability of reading the pre-exposure data and display a histogram. This also means that a Mirrorless camera does require more energy and battery power to run than its DSLR counterpart; in the past, it's been an issue to the Mirrorless design but has been primarily addressed with the newer cameras.
In all aspects, there is no difference between a Mirrorless Camera and a DSLR outside of the "reflex mirror" and manufacturers can place one the same sensor on both.

Why Pick Mirrorless Camera Over DSLR?
Size & Weight
DSLR camera bodies are relatively bigger and heavier, as they will need to accommodate the mirror and a prism. The body of a
Nikon D750
, for instance, is smaller than its predecessor the D850, but still a somewhat bulky at 3 inches deep before even mounting the lens. A mirrorless camera design is going to be smaller compared to a DSLR as it sheds the prism and reflex mirror. The Sony A6300 includes a body just 1.6 inches thick and weighs 1.75 lbs with its 16-50mm kit lens. The Mirrorless camera is almost as small as your common everyday point and shoot. You will be able to have more room in your camera bag, carry more gear, such as additional lenses, and enjoy the weight savings.
Picture Stabilization
No way around it, shaky hands result in blurry pictures, and the effects are even more magnified the longer the shutter is open or, the longer you zoom. Modern DSLR and Mirrorless cameras offer image-stabilization or anti-shake (IS) systems. However, both have different approaches to technology. Most DSLR systems offer the IS on the lens itself while with most Mirrorless cameras the IS is built into the body.
While the differences between these strategies of IS are minimal in terms of quality, the costs associated with it vary greatly. Lenses that have IS built-in are more expensive and if you want IS across all your lens collection, you will have to pay for each the feature on each lens. In contrast, you get the benefit of IS on Mirrorless cameras on all the lenses in your collection. That means saving more money in the long run.

Video Shooting
Due to their on-chip focus detectors, higher-end mirrorless cameras are usually better suited to video shooting. Mirrorless cameras such as the Olympus OM-D EM-10 Mark ii and the Sony A7R Mark II offers 5-axis image stabilization, which is a characteristic not found on DSLRs. This has prompted several pro videographers to change on high-end mirrorless cameras because of their smoother, less shaky footage. DSLRs can not utilize phase detection with up the mirror while recording video so that they must use the slower, less accurate, contrast-detection focus procedure. This contributes to the familiar blur look during video once the camera begins hunting for the correct attention.
Shooting Speed
Both DSLR and Mirrorless technologies can shoot at breakneck shutter speeds and catch a burst of images quickly. Except for a few high-end DSLRs, mirrorless cameras have a slight edge; The lack of a reflex mirror makes it simpler to take photos after photos. Although, Mirrorless cameras don't have an extra mechanism for reflex mirrors, most still use a mechanical shutter; where a camera lifts to expose light to the sensor. They also have the option of working with an electronic shutter, which means they can shoot quicker and more quietly.
To Summarize
Mirrorless cameras have the advantage of usually being lighter, more streamlined, quicker and better for video. When it was first introduced there were fewer lenses and accessories, but that has mostly been addressed. DSLRs have the benefit an optical viewfinder, but they are more complex and bulkier. If you're starting in photography without any investments on a particular lens system, the best route may be the Mirrorless route, and we're to show you the best Mirrorless camera for travel that suits your style.
Below, we break down the best mirrorless cameras for travel in 2019, from full-frame versions for professionals to lower cost options.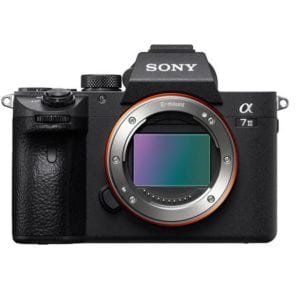 Sony Alpha A7 III
MSRP:
2198 US$ (Body only)
Sensor size: Full frame (35.8 x 23.8 mm)
Megapixels: 24MP
Weight: 650g (22.93 oz)

Pros:
693-point AF system
Uncropped 4K video
Double the battery life of the last model
Packs professional features at affordable price
Cons:
Limited touchscreen control
Not as weather-resistant as the Fujifilm's X-H1
No 10-bit video output like Panasonic's GH5s
Fewer megapixels than A7RIII
Despite being a "basic" model in the A-Series, the Sony A7 III is more than a capable Mirrorless full frame camera. It doesn't pack the most megapixels or take the speediest bursts, but its a well-oiled machine with a mixture of resolution, speed, features and price point make it an easy recommendation for travel photography.
In contrast to its predecessor, the A7 II, the Sony A7 III was upgraded in almost every way; when compared to other similarly priced Mirrorless full frame options, the A7 III is a cut above in several aspects. What else is there to say that probably every other photographer on the planet, who's held an A7 III, hasn't already said? It's one hell of a camera for the price point.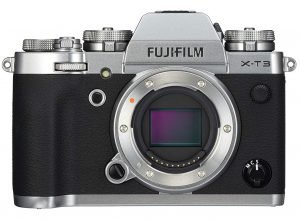 Fujifilm X-T3
MSRP:
1499 US$ (Body Only)
Sensor size: APS-C (23.5 x 15.6 mm)
Megapixels: 26MP
Weight: 869g (30.7 oz)

Pros:
Excellent 26.1-megapixel sensor
High-speed burst modes
Significantly improved autofocus
4K/60 and high bitrate video
Both microphone and headphone jacks
Cons:
Very sensitive to touch input
No in-body image stabilization
Could use a bigger buffer
Fujifilm's X-T3 is a fun to use and satisfying mirrorless camera that deserves top billing in the X-series. The exterior didn't change much from its predecessor, the X-T2, but Fujifilm's latest 26 Megapixel X-Trans IV sensor brings a lot of improvements to the table, especially in: autofocus (now across the whole frame), burst speed (up to 11fps mechanical or 30fps digital ), and movie (4k up to 60p with 10-bit internal recording).
On the other hand, there's still no built-in stabilization and has average battery life. Travel photographers, however, may see that the X-T series strikes the perfect balance of size, usability, and style, and while IBIS and a bigger battery might alleviate some issues, it would have made the camera body bigger. The X-T series is among the most satisfying to travel with especially with its attractively-styled, tactile controllers, small enough to pack, and delivering photos that are great out-of-camera that requires little post-processing. The previous X-T2 was already an excellent camera, and with improvements in autofocus, burst speed or video, then the X-T3 takes over the mantle one of the best all-around cameras for travel.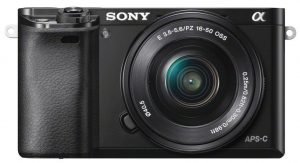 Sony Alpha A6000
MSRP:
648 US$ (Body only)
Sensor size: APS-C CMOS sensor
Megapixels: 24.3MP
Weight: 344g (12.13 oz)

Pros:
Incredibly fast autofocus
1fps burst shooting with tracking focus
Amazing high ISO image quality
Sharp OLED EVF
Tilting rear display
Inbody flash and multifunction hot shoe
WiFi with NFC
Downloadable camera apps
1080p60 video capture
High ISO performance
Great specification
AF speed
Very high resolution 24 Megapixel sensor
Cons:
Overly sensitive eye sensor
Slow start-up
EVF lags in very dim light
Lacks analog mic input
Some apps must be purchased
The LCD screen could be better specified
The laborious process to set a single AF area position
No touchscreen
Elementary Wifi remote control and no GPS tagging
Apps sometimes feel like reinstating features
No 3.5mm microphone jack
Missing leveling gauge
No miniature effect for movies
No silent shutter option
If you're looking for a Mirrorless camera that is great at sports and action shooting while being compact and also, delivers superb video, then look no further than Sony's Alpha A6000 series. There are three versions to this system, the original A6000, the much recent A6300 (which includes 4k video, weather-proofing and even better AF), and also the latest A6500 (which carries the A6300 and provides a touch-screen and built-in stabilization).
All three are great options, but if you do not require 4k video or weather-proofing, the original A6000 is tough to beat for value. It packs a 24 Megapixel APS-C sensor, electronic viewfinder, swivel screen, Wifi with NFC, 1080p pictures up to 60fps and a hot shoe/accessory mount into a tiny body. Most exciting of all is that the hybrid AF system which embeds phase-detect AF points across nearly the entire sensor area, letting it track fast-moving subjects wherever they may be. The A6000 might be the perfect all around travel camera if full frame isn't such a big deal to you.


Fujifilm X-H1 Mirrorless Camera
MSRP:
1299 US$ (Body only)
Sensor size: APS-C (23.5 x 15.6 mm)
Megapixels: 24MP
Weight: 673 g (23.74 oz)

Pros:
Tried-and-tested imaging pipeline
Body-based image stabilization
Super-fast focus on 14fps tracking
Dedicated AF-On button
24MP APS-C imaging
High bit rate 4K video
Cons:
Not a huge advance on the X-T2
Same price as some full-frame rivals
Not a true vari-angle LCD
Add-on grip required for top performance
Performance hasn't moved on from X-T2
The X-H1 is the new flagship from Fujifilm' the mirrorless X-series. It combines features from X-T2 with its 24 Megapixels, APS-C X-Trans III sensor and then adds built-in stabilization, a touchscreen, more solid build, and a larger grip. Besides all that, it incorporates enhanced movie features, a more detailed viewfinder, and then adds Bluetooth connectivity. The stabilization feature puts it up toe to toe with the A7 series and brings new usefulness to the current lens offerings.
Despite upgraded strong body though, the battery is a little underpowered, and the 4k movies are restricted to 15-minute clips; which can be resolved using optional booster grip. The sensor is a bit outdated at two years old, and it's also currently available on bodies half the cost. The X-H1 is an excellent travel all-rounder that may not be as great as it's competitors. If however you are invested into the X-system lenses, the X-H1 is perfect and one that is a joy to travel with, delivering exceptional quality out-of-camera with the new benefit of built-in stabilization.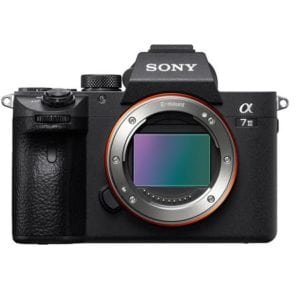 Sony Alpha A7R III
MSRP:
3375 US$ (Body Only)
Sensor size: BSI CMOS sensor
Megapixels: 42MP
Weight: 657g (23.2 oz)

Pros:
Hybrid stills and video shooters
Proven 42MP full-frame sensor
10fps image capture with tracking
Tilting touch LCD
Dual card slots
Cons:
Limited touchscreen control
No XQD card slot
Only one card slot supports UHS-II speeds
Lacks built-in flash
A little expensive
Sony's Alpha A7R Mark III is one of the most highly capable cameras in production. It delivers high-resolution stills, handles fast action, and can even film quality movies. Its Mark II predecessor might inherit the 42 Megapixel full-frame sensor. However, Sony's greatly improved the processing power to supply superb quality photos. The ability to shoot 10fps with confident autofocus makes the A7R Mark III astonishingly good at sports and also excellent for wildlife or events shooting even with its quiet shutter.
The battery life has been improved as well as the controls, equipped with a better viewfinder, double card slots and even has a touchscreen. The Wifi control also functioned well and complemented by Bluetooth for easy location tagging. The touchscreen could stand some improvements, and it would have been great to have 4k in 60p. But on the all in all, the A7R Mark III is an exceptionally high and remarkable adventure that will satisfy any budding travel photographer. Sony A7 III is our pick as best Mirrorless camera for travel today.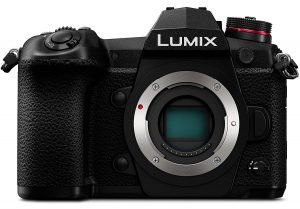 Panasonic Lumix DC-G9
MSRP:
1298 US$ (Body only)
Sensor size: Four Thirds (17.3 x 13 mm)
Megapixels: 20MP
Weight: 658g (23.21 oz)

Pros:
Excellent spec sheet
Superb value for money
Brilliant viewfinder
5-stop image stabilization
Superior Ergonomics
Cons:
Some may expect more than 20MP
Some Android users may want NFC
Large body (for an MFT camera)
ISO range could be broader
Burst rate has odd limitations
The Lumix DC-G9 is a high-performance camera that is a pleasure to use and travel with. The rugged weatherproof body feels great in your hands with excellent controls, there is an enormous viewfinder image, a fully-articulated touchscreen with a superb user interface, quick autofocus and burst shooting that may track action, very powerful built-in stabilisation, and high picture and video quality in the 20 Megapixel Four Thirds sensor that rivals the 24 Megapixel APS-C sensors on all but the highest ISO.
There is a composite High Res mode that can deliver better detail with the right subjects than other cameras with a much bigger MP count. Also, there is easy charging and power over USB, powerful wireless features attached by Bluetooth, and Panasonic's 6K and 4K photo modes that make it simple to shoot fast moments. There is little to complain except for the 10-minute video limit in 4k in 50p or 60p. For travel, the Lumix DC-G9 is exceptionally competitive at the $1298 price range.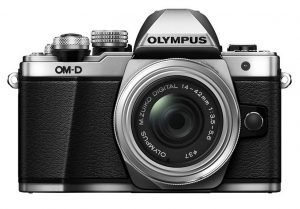 Olympus OM-D E-M10 Mark III
MSRP:
649 US$ (Body only)
Sensor size: Four Thirds (17.4 x 13 mm)
Megapixels: 16MP
Weight: 410g (14.46 oz)

Pros:
Decent 16MP images
Compact, solid build
Built-in EVF and flash
Raw and JPG capture
Wi-Fi
Detailed 4K video with excellent stabilization
Excellent JPEG engine
Cons:
Same sensor as E-M10 Mark II
Expensive
16MP starting to look a little dated
Minor update to the Mark II
The OM-D E-M10 III is Olympus' 16MP Micro Four Thirds Mirrorless camera. While 16 MP likely will not cut it anymore in the world of full cameras shooting past 40 MP, the Olympus still offers a few things worth looking at, especially for travel photography. For some, 16 MP is plenty, and the Olympus is just a little right camera to hold. It's got a solid finish, very compact, and shoots 4k with excellent IS.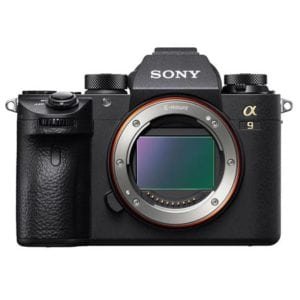 Sony A9 Mirrorless Camera
MSRP:
4498 US$ (Body only)
Sensor size: Full frame (35.9 x 24 mm)
Megapixels:
Weight:

Pros:
Shoots at 20fps with subject tracking
A full-frame 24MP image sensor
Electronic shutter eliminates blackout
Tilting touch LCD
Cons:
Pricey
Only one slot UHS-II compliant
Uncompressed Raw capture cuts speed to 12fps
The Sony Alpha 9 is Sony's first camera made aimed for professional wedding, action, and sports photographers. The A9 is a supremely confident
full frame
camera which successfully took on established high-end DSLRs and made Mirrorless the viable alternative to the established order. It can accurately focus almost everywhere on the frame and can shoot multiple bursts of 24 Megapixel images at up to 20 fps without making a sound, vibrations, and no viewfinder blackout either. The silent shutter, in particular, is valuable for shooting quietly at weddings and events but also helps on those quiet moments inside museums during travels.
The handling and ergonomics are so fantastic; it's easy to overlook that the A9 also sports in-camera stabilization, 4k movie, 1080p in 120fps, and powerful Wifi capability with Bluetooth. Sony also launched the A9 to debut better controllers with a much-improved battery life which plagued older models. It's not perfect, there are no Picture Profiles for a movie, the touchscreen needs to be improved, there are no built-in intervalometer or bulb timers, and still under-specked compared to some high-end DSLRs. But above all that, the A9 is an imposing camera than any travel photographer serious about having professional images should consider.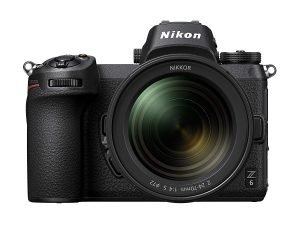 Nikon Z6 Mirrorless Camera
MSRP:
1997 US$ (Body Only)
Sensor size: Full-frame BSI-CMOS sensor
Megapixels: 24.5 MP
Weight: 675g (23.81 oz)

Pros:
High-resolution EVF
11fps burst shooting
Touchscreen interface
Fantastic handling
In-body image stabilization good for handheld shooting
Cons:
Limited native lens selection at launch
Single memory card slot
The screen only tilts (rather than fully articulates)
Battery life limited compared to a DSLR
The Nikon Z6 is one of two full-frame mirrorless cameras revealed by Nikon in August of 2018 and jointly launching the Z-system. It's fundamentally the same as its older sibling, the Z7, with the main contrasts being the sensor (24MP versus 46MP) and speed. The Z6 enters a proven and exceptionally competitive marketplace, aiming squarely at the Sony Alpha A7 Mark III and basically fitting many of its features as you would expect: the Z6 gives you a 24 Megapixel sensor with 273 embedded phase-detect AF points, built-in stabilization, a large high-resolution electronic viewfinder, 4k movie in 30p, 1080p video at 120p, a leaning touchscreen, 12fps burst shooting and Wifi with Bluetooth.
It's an impressive specification to start with, but one that Sony matches with its A7 III. The Z6 fights back with a potentially faster XQD slot, 4k over HDMI, a more detailed viewfinder and bigger screen, n span timer and time-lapse movie attributes, has arguably slightly better sealing, ergonomics, and menus, and the possibility of the full diameter lens bracket. It's a Nikon version of the A7 III and one that would perhaps one day challenge Sony's grip on the Mirrorless market. If you're just a creating a new system from scratch, maybe look somewhere else, but if you would like to use your already decent collection of F-mount lenses, the Z6 might just fit the bill.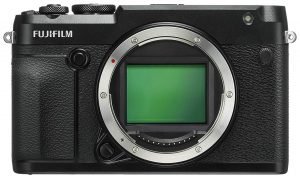 Fujifilm GFX 50R
MSRP:
4499 US$ (Body only)
Sensor size: Medium Format CMOS sensor (43.8 × 32.9mm)
Megapixels: 51.4MP
Weight: 775 g (27.34 oz)

Pros:
Image quality
Small size
Weather sealing
Solid build and handling
Traditional exposure controls
Size and weight
Cons:
Leisurely autofocus
No 4K video
Burst mode only 3fps
Contrast AF, not the fastest
A full lens system could prove pricey
If pixels determine the quality of an image, this is the camera to get. The Fujifilm GFX 50R is a 50-megapixel rangefinder-styled medium format mirrorless camera. It imparts the vast majority of its parts to the current GFX 50S, including the two its sensor and processor, however, re-organize them into a marginally littler and more affordable bundle. Furthermore, however, the GFX 50R gives a similar picture quality as its senior kin, the dealing with and controls make for an altogether different shooting knowledge.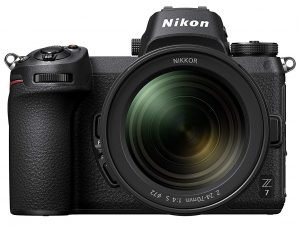 Nikon Z7 Mirrorless Camera
MSRP:
3997 US$ (Body only)
Sensor size: Full frame (35.9 x 23.9 mm)
Megapixels: 46MP
Weight: 675g (23.81 oz)

Pros:
High-resolution 45,7MP full-frame image sensor
90 percent autofocus sensor coverage
Tilting touch LCD
Superb electronic viewfinder
4K video
Dust and splash resistant
Cons:
Limited native lens selection at launch
Single memory card slot
Omits PC sync socket
Relatively shallow buffer depth
AWB can be neutral in daylight
The Nikon Z7 will essentially match the highly-respected Nikon D850 in resolution and noise and even dynamic range in all but the most extreme cases. The embedded phase-detect AF improves the movie taking experience and quality, especially in the full frame market to equal or top the competition. The Z7 can continuously focus well at its top rate of 9fps, but the lack of live feedback even at its low speed of 5.5fps with limited buffer means it's not as great to sports or action compared to its Sony counterpart.
One of the most significant downsides for the Nikon is the lack of dual card slots and a limited choice of "native lenses" for Mirrorless at launch. However, Nikon has a massive selection of lenses in the DSLR department, and the FTZ adapter does a great job of incorporating autofocus in recent Nikon DSLR lenses. This is a smart move by Nikon in facilitating the transition for existing Nikon users to Mirrorless (which they've been losing to Sony). If you are not dedicated to the Nikon system, perhaps Sony's A7r III is a better and cheaper alternative with a decent choice of native lenses at the get-go. Ultimately, the Z7 is an excellent start to the Z-system and one that we want to see more come off of Nikon's sleeve.


Canon EOS R Mirrorless Camera
MSRP:
2299 US$ (Body only)
Sensor size: Full frame (36 x 24 mm)
Megapixels: 30MP
Weight: 660 g (23.28 oz)

Pros:
Fully articulating monitor
10Bit output via the HDMI
Battery life
Great control customization
Dual Pixel AF with 5,655 AF positions
Cons:
Needs a joystick
No in-body image stabilization
Cropped 4K video
Single SD card slot
The Canon EOS R is a full frame Mirrorless camera which can impress and disappoint at the same time. On the plus side, it provides beautiful photos, has a promising new mount with two exotic lenses at launch, fantastic video autofocus, and the very best performance adapted EF lenses on a mirrorless camera. On the downside, there's no built-in stabilization, just a single SD card slot, and severely cropped 4k movie. If you are a faithful Canon owner though, the EOS R would be a great crossover to Mirrorless and is the best Canon Mirrorless camera to date.
Travel photographers will enjoy one of Canon's best sensors coupled with its exceptional color science, even while videographers will love the fully-articulated display and C-log using 10-bit output at a far lower price than a Cinema camera. It would make sense to EOS 5D owners or those with mid-range APS-C bodies such as the EOS 80D who are searching for an upgrade and transition to Mirrorless. As it is, the EOS R inevitably struggles to compete most cameras mentioned here.


Canon EOS RP
MSRP:
1299 US$ (Body only)
Sensor size: Full frame (35.9 x 24 mm)
Megapixels: 26MP
Weight: 485 g (17.11 oz)
Pros:
Newer users getting into full-frame for the first time, existing Canon users looking for a second camera body, anyone looking for a travel-friendly full-frame camera for casual use
Svelte, lightweight body, Fully articulating screen, 4K video, Aggressively priced
Compact body with a full-frame sensor, Vari-angle LCD, Integrated EVF, Quick, accurate autofocus, Macro stacking, and time-lapse tools, Wi-Fi, Attractive price
Cons:
The body feels small for big RF lenses, Loses the R's sensor shutter, 1.6x crop + no Dual Pixel AF in 4K, Miserly battery life
Small EVF, Low-cost native lenses not available yet, Inconsistent face and eye detection
4K video suffers from a heavy crop
The sensor shows a limited dynamic range
Small battery
No built-in flash
The Canon RP gives you the same 26 Megapixel sensor in the 6D Mark II, delivering great JPEGs out-of-camera, a fully-articulated touchscreen, microphone and headset, and Canon's industry-leading dual pixel AF for RF or adapted EF lenses, and produces good 1080 video. On the downside, the battery life is not as great, there's no built-in stabilization, no double card slots, and there is a raft of frustrating video limitations, like filming in 4k incurs a tight crop.
There are no high-frame rate options for slow movement and no 1080 at 24p. Another oddity, when you fit an EF-S lens, the 1080 options aren't available, leaving you with the only 720p if you desire dual pixel AF or 4k. This combined with the reduced resolution of 10 Megapixels when adapting EF-S lenses to the RP does reduce its allure for owners of Canon's APS-C DSLRs searching switch to Mirrorless. The EOS RP makes the most sense as an upgrade for owners of older Canon DSLRs, like the 5D Mark II, or earlier APSC models such as the 70D.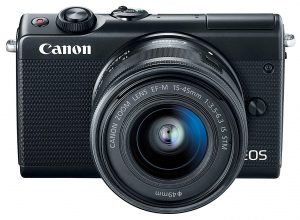 Canon EOS M100
MSRP:
449 US$ (Body only)
Sensor size: APS-C (22.3 x 14.9 mm)
Megapixels: 24MP
Weight: 302 g (10.65 oz)

Pros:
First-time camera buyers and beginning photographers interested in general photography
Fast and responsive autofocus
Small camera
Great image quality
Cons:
Full HD not 4K video
No electronic viewfinder
Few external controls
Canon's EOS M100 is directed at people who have outgrown phone photography. It's easy to use, very compact, great to take traveling, and also delivers better photos while providing enough space to grow. It is compact enough to slip in your pocket and along with the simple controls mean anyone can pick it up and start shooting right away. There is no built-in viewfinder, however, but the flip-up display makes up for it. The great wireless connectivity option makes it nearly as easy to shoot and share photos and videos as if you'd shot them from your phone.
It has an adequate selection of built-in effects, time-lapse films and great autofocus for stills and video. Beyond this, it delivers the same 24 Megapixel APS-C sensor as the sophisticated EOS M6, the same fast and precise Dual-pixel AF, 1080p movie, and reasonable 6fps continuous shooting. Recommended for travelers who want to upgrade from phone photography, also consider Panasonic's Lumix GX800 / GX850 and Sony's A6000 if you're planning to upgrade.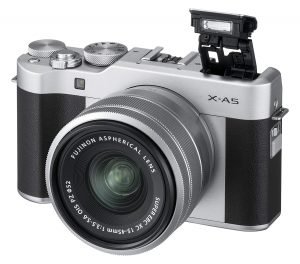 Fujifilm X-A5
MSRP:
499 US$ (Body only)
Sensor size: APS-C (23.5 x 15.7 mm)
Megapixels: 24MP
Weight: 361 g (12.73 oz)

Pros:
Sharp, top-quality images
Relatively inexpensive
A compact 15-45mm kit lens
Face / eye detection focus
Mic socket
Cons:
Bigger and heavier than rivals
Autofocus could be faster
Touch-screen LCD doesn't swing out to the side
Limited ISO range when shooting raw
Menus feel slow at times
The Fujifilm X-A5 is an entry-level mirrorless system camera aimed at vloggers and beginners but also great take along on travels. It is equipped with a 24 Megapixel APS-C sensor and usually paired with a zoom kit. The sensor has a hybrid AF system that works great for shooting stills and a little less confident on video. There is a touch screen that flips up to face forward for quick selfies plus an external microphone input, though unfortunately uses a non-standard 2.5 mm jack and the flash hotshoe is blocked while the screen is facing forward making it less convenient for vloggers.
It is advertised as having 4k, but it only works at 15 fps which isn't fast enough for smooth motion shots; it remains useful for some burst modes. The highlight of the X-A5 is Fujifilm's picture processing which is always one of the best in its class. With their X-Trans sensors, the colors pop without being too gaudy, and skin tones stay true. Travel photographers will be happy with this camera, but it should be pitted against the Sony A5100, Canon EOS M100, X-T100, and Olympus E-PL9 when making some shopping comparison.

There you go, we've covered some pretty awesome cameras on this list and you should be on your way to finding the best Mirrorless travel camera for you. Check out our take on the best
Sony E Mount lenses
for travel to accompany your Sony Full Frame. Perhaps you're looking for something a little more compact? Check out our pick for the
best Point & Shoot cameras for travel
!
WHAT DO YOU THINK IS THE BEST MIRRORLESS CAMERA FOR TRAVEL?
ORIGINALLY POSTED AT ALWAYS WANDERLUST - The Best Mirrorless Cameras for Travel and How to Choose in 2019