How to Choose the Best Point and Shoot Camera for Travel in 2019
So, what kind of camera should you carry for travel? Do you take travel photography seriously? If so, you're probably already familiar with all the full frame options or Mirrorless cameras out there. But if you're starting out or not serious about making money out of travel photography, then you should go for a point and shoot. There are many excellent digital point and shoot travel cameras in the market, packed with features that will never disappoint you. All have their pros and cons as the best camera to travel, depending on the type of trip you are going to make.

What to Look for In a Point and Shoot Camera for Travel?
There are a few factors that you need to consider when purchasing a new travel camera. Compact and portable: Most travel cameras are quite portable. Their dimensions do not usually exceed several centimeters and thanks to their retractable lens technology; they have very flat bodies that even fit in a portfolio.
Very simple to use: Point and shoot cameras are a type of camera that is designed to be "Human proof", and usually all that is required to achieve a good photograph is to point and press a button. The cover photo, for example, is taken with a point and shoot camera. You don't always need full frame bodies or expensive DSLRs to get great results.
The size of the optics is another crucial point to consider when looking for quality in the image. It is true that today even the tiny lens of cell phone offers 12 megapixels of resolution; however, the quality of an image captured through a good size lens allows the entry of light in abundance and also possesses an excellent distance to the sensor (to define different planes of sharpness). An objective of at least 35 mm is always infinitely better than a tiny lens placed millimeters from the camera's sensor.
Our list of good compact point and shoot cameras for travel: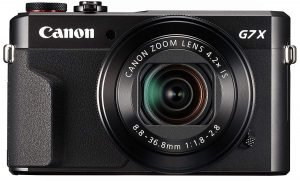 Canon PowerShot G7 X Mark II - Best Overall Point & Shoot Camera For Travel
MSRP: $699.99
Sensor: 20.1
Lens: 28-84 mm
Weight: 7.3 oz
Pros: Excellent features come with a slim design
Cons: Lacking in more advanced camera features

Why It Rocks
The PowerShot G9 X Mark II has a spectacularly slim design, which makes it suitable for your pocket size. It also offers a full manual mode, in addition to the shutter and aperture priority modes, which makes it a great compact for those with some photographic experience, or who wish to obtain it. However, everything is controlled through the touch screen on the back; Experienced shooters can find it easily, compared to the dials they are used to.
In other places, there is much to like. The G9 X Mark II can be controlled via Wi-Fi or Bluetooth; The latter is slightly kinder to the camera's 1,250 mAh battery. And the 3-inch and a million-pixel touch screen monitor looks great and is easy to use.
The performance is excellent, especially for the price. You can shoot a little more than eight frames per second in both JPEG and RAW; If you want the autofocus to be re-evaluated after each shot, the speed drops to just over five frames per second. The video is only 1080p, instead of 4K, but the quality is excellent, and you can shoot at 50 fps for slow-motion shots. In general, it is a great camera for those who want top-level still images and the ultimate in portability.


Panasonic Lumix TZ200/ZS200 - Best Compact
MSRP: $799
Sensor size: 20.1
Resolution: 20.1
Lens Reach: 26-390 mm
Weight: 11.9
Pros: Very compact and more comfortable to carry around
Cons: Pricier than other cameras

Why It Rocks
When you travel and do not want to be weighed with something heavy and cumbersome, a compact camera can be the ideal tool for the job. However, the quality of the image can often be damaged when shooting with tiny, tiny sensors. Cameras like the TZ200, which have a larger sensor than an inch, represent a kind of country house that offers a good compromise between image quality and portability.
Traditionally, cameras with one-inch sensors have been a bit tarnished when it comes to zoom capability, but, again, the TZ200 offers a good compromise, giving you a 15x optical zoom to play. Other functions are also super useful, such as 4K Video and Photo, the ability to charge via USB (excellent when you're on the move) and wireless connectivity via Bluetooth and Wi-Fi. The image quality, although it is not on par with a DSLR camera or without a mirror, is still outstanding, and considering that it should fit in your pocket, there is not much more you can ask for.
In addition to the automatic point-and-shoot options, you also have the opportunity to take manual control and shoot in RAW format, making it ideal for both beginners and those with more experience. It could be said that the camera is a little expensive compared to some of its competitors.


Canon PowerShot ELPH 180- Best Budget
MSRP: $109
Sensor size: 6.17 x 4.55 mm
Resolution: 5152 x 3864
Lens Reach: 28–224
Weight: 4.44 oz
Pros: Offers great affordability for its price
Cons: Incapable of 4k video or photos

Why It Rocks
The PowerShot ELPH 180 camera, slim, elegant and easy to point and shoot, this PowerShot offers you portable quality thanks to 8x optical zoom with ZoomPlus 16x, Smart Auto and instant HD videos; with just the push of a button you can record great HD 720p videos) effortlessly in MP4 format.
Enjoy images with great detail and exceptional quality thanks to the 20.0 megapixels and its DIGIC 4+ processor. The Face Detection technology allows you to effortlessly photograph groups of friends, while the automatic zoom helps you select the best frame with the touch of a button. It's a reasonably compact camera, with good reaction and fast shooting, you have it ready to work instantly, but you get the quality of a mid-range cell phone photograph, you record video with a resolution of 720. It's a camera that can go with you to where you want but does not wait for more for the price; you get what you pay for.
Compared with products of a similar price, this camera offers better functions, among which the video recording stands out, in cameras it is not very important but once in a while it is good to have something to record with, and for the price that is It is offering us a simple, multifunctional camera and also a competitive price.

Sony RX10 IV - Best Premium Point & Shoot Camera For Travel
MSRP: $1,700
Sensor size: 20.1 type 1.0 sensor
Resolution: 5472 x 3648
Lens Reach: 125-12,800
Weight: 38.7 oz
Pros: High sensitivity, great features an incredible performance
Cons: Easily one of the most expensive cameras on this list

Why It Rocks
The price of the RX100 VI is not for the faint of heart. Still, if you want the best pocket house and do not want to compromise, it's a fantastic option. The Sony RX100 series, now in its sixth iteration, has proven to be very popular among enthusiasts looking for a type of camera for travel or to always have with you. Every time a new version arrives, it brings the latest and greatest in compact camera technology, and the Mark VI is no exception.
Joining the larger 20.1-megapixel one-inch sensor (more than the average) is an 8.3x optical zoom, which gives you a very flexible 24-200mm equivalent, all in something you can easily tuck into your pocket. It should be noted that you also get a high-resolution viewfinder and a touch-sensitive tilting screen.
The approach is fast and impressive, and you can shoot at incredible 24 fps. It really is a pocket powerhouse. But with more than a thousand dollars, you will really need to love it. If your budget is more conservative, take a look at some of the older RX100 models, which vary in price.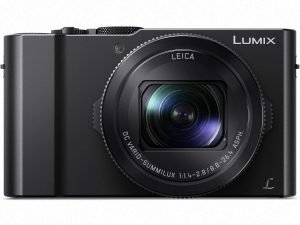 Panasonic Lumix LX10 - Best for Video
MSRP: $699
Sensor size: 116 mm2
Resolution: 20
Lens Reach: 24-72mm
Weight: 10.93 oz
Pros: Features and performance are excellent for video capture.
Cons: Slight learning curve to use

Why It Rocks
The Lumix LX10 is a model that promises high performance (such as video and 4K photo), manual control and image quality, all of it in an attractive and very compact body. As almost always we analyze a Panasonic camera, first of all, it is necessary to place it in context since this is a firm that is not limited to renewing its cameras without further ado. Instead, it prefers to launch new models that often open new ranges of products constituting a comprehensive and diversified catalog.
As we have been saying, the Lumix LX10 actually has a very compact size, although when it is picked up quickly, it is appreciated that it is not a simple, compact one; both for its weight, relatively high for the size, and for its finish.
Its size allows you to keep it in a pocket as long as it is big (it hardly fits in the jeans) and the fit of the pieces seems excellent except the cover that houses the HDMI and USB charging connector that in the case of the unit tested does not it finished closing as it should. This is something that we attribute to the fact of being a very early unit, but that we cannot avoid mentioning (not so much as criticism but as an aspect to be improved). We also think that the sheets that cover the lens can be improved when we turn off the camera and that they look like something flimsy.
Of course, that would be the case if we see the camera from the point of view of a professional or an advanced user looking for a compact with manual controls to always carry over. If on the contrary, we see it from the point of view of an amateur "with possible" and who do not want a giant camera, surely the quality offered by the LX10 is more than enough.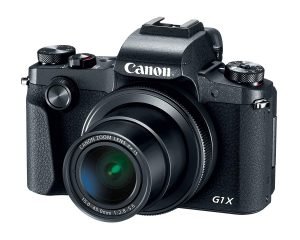 Canon PowerShot G1 X III - Best Prosumer Point & Shoot Camera For Travel
MSRP: $999
Sensor size: 22.3 x 14.9
Resolution: 6000x 4000
Lens Reach: 24–72 mm
Weight: 14.07 oz
Pros: Highly advanced features and settings great for manual photography.
Cons: Maybe too advanced for the average user

Why It Rocks
It is possible that this interesting camera is not as fit for the pocket as the others listed, but it is the only one here that has a real sensor size DSLR. On top of that, you have a 3x optical zoom, which may not be as flexible as a superzoom but still gives you a lot to work with in most situations. Like the DSLR in its operation, as well as in its sensor, the G1X Mark III has all the manual control you could want, as well as shooting in RAW format.
There is also a decent viewfinder (albeit a bit small) and a touch-sensitive touch screen. There are a couple of drawbacks, such as video limited to Full HD and quite short battery life, but, especially if you're already a Canon shooter, having a miniature digital SLR camera is a big draw.
However, the price is also an essential factor: you will be coughing the best part of a great to have in your hands one of these beauties. However, it could be just the camera you have with you at all times, making the value go up just a touch.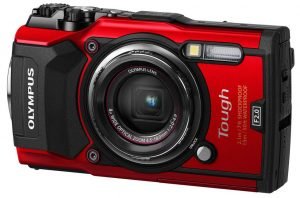 Olympus TG-5 - Most Rugged
MSRP: 449$
Sensor size: 12 MP1 / 2.3
Resolution: 4000 x 3000 pixels
Lens Reach: 100-12,800
Weight: 8.8 oz.
Pros: Very well-built and durable good for adventure seekers.
Cons: Not as compact or as user-friendly

Why It Rocks
If your idea of a relaxing vacation includes doing something other than climbing mountains, snorkeling or, well, resting on the beach, then a camera like the TG-5 could be on your street. It has a decent sensor with a 4x optical zoom (25-100 mm) that produces excellent results in dark conditions under water. It is also shockproof and dustproof.
A lot of other features also make it attractive, such as built-in Wi-Fi, 4K video, a Pro capture mode and the ability to shoot in RAW mode. It is a complete model that attracts both beginners and enthusiasts who share the desire to shoot in conditions with which their mobile phone could have difficulties.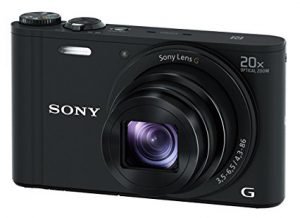 Sony WX350 - Best Zoom
MSRP: $268
Sensor size: 1/2.3 type (7.82mm)
Resolution: 4896 x 3672 pixels
Lens Reach: 4.3 - 86.0mm
Weight: 5.8oz
Pros: Great 20x digital zoom
Cons: Small digital screen

Why It Rocks
The WX350 is a fairly old model now, but do not jump to discount it, especially because it's available at a cracking price. Start getting closer to the WX350 and soon you will see why this camera deserves a place here. From its widest configuration, it reaches an astounding 35mm 840mm equivalent, substantially longer than the giant lenses seen at the edges of a Premier League football match on a Saturday afternoon. That makes the
WX350
more than competent for wildlife photography and sports, and there's a decent manual mode, including aperture and shutter priority, for expert photographers to choose if they wish.
The Sony offers a digital screen and a scroll wheel on the back, with another dial in the upper right corner, making it quick and tactile to control. The list of functions is also well stacked: you can record 4K videos at 25 fps and connect to your phone via Wi-Fi and Bluetooth. The digital monitor compensates for its lack of tactile ability by offering great flexibility: it can fold down, to help shoot above things, or turn all the time to look forward to selfies.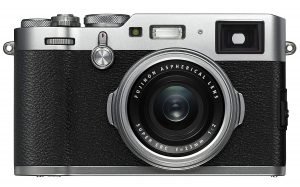 Fujifilm X100F - Best Rangefinder
MSRP: $1299
Sensor size: 23.6 x 15.6 mm
Resolution: 24
Lens Reach: 35 mm
Weight: 16.54 oz
Pros: Has a great rangefinder for taking stunning photos
Cons: Lens focus may be a bit slower

Why It Rocks
Its design remains unmistakable and is one of its main positive characteristics. It is a unique camera, of classic aesthetics, with its unmistakable hybrid viewfinder and its compact Fujinon 23mm f2 lens. In this X100F this section remains unchanged, although we find slight changes inherited from his sisters X-Pro2 and X-T2.
The backside has been simplified by reducing the number of buttons, now more accessible with just one hand. The reproduction of colors is really surprising. The X10F continues to provide high-quality capture, the sensor performs at a high level, now with more speed and improving noise control. As always, the reproduction of colors is really amazing, and among the best, we can find (at the level of the most advanced professional cameras). The dynamic range is excellent, with great performance and is appreciated in the flexibility and versatility of the RAW files in the development. And in terms of performance at high sensitivities, it remains at a high level.
The X100F is an excellent combination of retro design, now much better ease of use and with the best image quality and speed of all generations. One of those cameras well thought for photographers, so that those who like to have great control of all aspects. Of course, it is not an especially cheap camera and its concept is not for all tastes, it is a particular camera (with a fixed and non-interchangeable focal) that does not disappoint and provides excellent results especially for urban photography, reporting and of travel, which is where we find more and better prepared.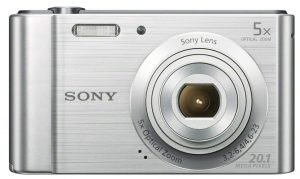 Sony DSC-W800 - Best Bargain
MSRP: $85
Sensor size: 6.17 x 4.55 mm
Resolution: 5152 x 3864
Lens Reach: 26–130 mm
Weight: 4.41 oz
Pros: Extremely cheap in a compact body good for first-time buyers
Cons: Limited functionality such as a lack of a digital screen

Why It Rocks
This is a simple, compact digital camera. Cameras of this type offer a good relationship between size and characteristics. More sophisticated functions are lost in favor of simplicity because the end user expects a device that can take good pictures with the push of a button.
With everything it is necessary to emphasize that it has known how to maintain its chief virtues, becoming an advanced compact to take into account. Of course, it is a different compact, perhaps not very versatile for any type of user. But the ideal for the most demanding, for those who do not mind the absence of zoom and value a goal of superb quality and design and sizes perfect for street photography or reportage. Small, discreet but with great results.
The lens has an equivalent focal length of 26-130 mm with a 5x zoom. The minimum focal length of this lens is suitable for taking pictures of landscapes, groups of people or panoramic views; The zoom is quite versatile and allows to make portraits or close-ups at moderate distances if necessary.


Ricoh GR II - A Solid Point And Shoot Camera For Travel
MSRP: $800
Sensor size: 23.7 x 15.7 mm
Resolution: 4928 x 3264
Lens Reach: 28 mm
Weight: 8.85 oz
Pros: Good functionality and performance make it a solid point and shoot camera
Cons: Autofocus not as great as other cameras

Why It Rocks
The Ricoh GR II is an advanced compact travel camera that is worth taking into account the abundant and tough competition of the current market in this range of cameras. Faithful to its history and tradition, this model of compact sober on the outside but powerful in performance for the most demanding is not a best-selling camera in the European market, but we have not wanted to forget about it, and we have analyzed its benefits and behavior. It maintains a very restrained size, with a slim body and solid construction but without renouncing its lightness.
The GR lens of 28 mm and f2.8 is another of its strengths. Ricoh continues to maintain its commitment to a fixed focal lens that is what gives its particular personality to the camera. It moves away from the most polyvalent bet of the competition that offers bright and quality zooms. The Ricoh GR has fast autofocus. It works well in good light situations and with a little more delay with scenes with little contrasted or less brightness. We do find that it is one step below other compact travel cameras, even some simple ones. There is room for improvement, although as we indicated, the result is not bad in most situations.
The dynamic range is remarkable, with RAW files and also with JPEG. We get very valuable final files without having to resort to post-processing. Although this may seem improper for a self-respecting photographer, the truth is that anyone looking for a guarantee, simplicity and an immediate workflow in this camera seems like a very valid solution. In short, an advanced compact, different and with which you can achieve great results, without forgetting that it is a tremendously stimulating camera by design and quality.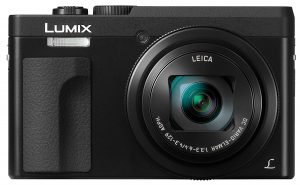 Panasonic Lumix ZS70
MSRP: $399
Sensor size: 24-720mm f/3.3-6.4
Resolution: 5184 x 3888
Lens Reach: 125-12,800
Weight: 11.7 oz
Pros: Ability to shoot 4K very good at this price range
Cons: Can get laggy and the viewfinder is tiny

Why It Rocks
Many people loved the original Lumix, which had a large four-thirds sensor in a small body that was ideal for traveling. The image quality was fantastic thanks to the much larger than the average sensor, while also having a good range of exposure options for those with different degrees of experience. After waiting for what seemed like a time, but it was more like four years, Panasonic finally updated its model by the end of this year. The ZS70 is more an incremental update of its predecessor than a generalized revision but brings in some new features interesting.
There is a new touch screen, a series of new 4K photo options to help you capture moments of seconds, additional creative shooting modes, plus the ability to charge the camera via USB (always useful when traveling).

We hope you've enjoyed reading our list for the best point and shoot camera for travel. If you want a good way to improve your photos with your travel camera of choice, then pair it with a
good travel tripod for under $100
.
DO YOU OWN A POINT AND SHOOT TRAVEL CAMERA?
Originally Posted at Always Wanderlust - How to Choose the Best Point and Shoot Camera for Travel in 2019