A GUIDE TO THE TOP 15 BEST CAMERA BAGS AND HOW TO CHOOSE IN 2019
Any photographer, whether professional or amateur, considers his equipment to be the most prized possession. Keeping it safe is his priority especially when traveling. To have a piece of mind, the best camera bag you can find for travel is essential to protect your travel camera and equipment.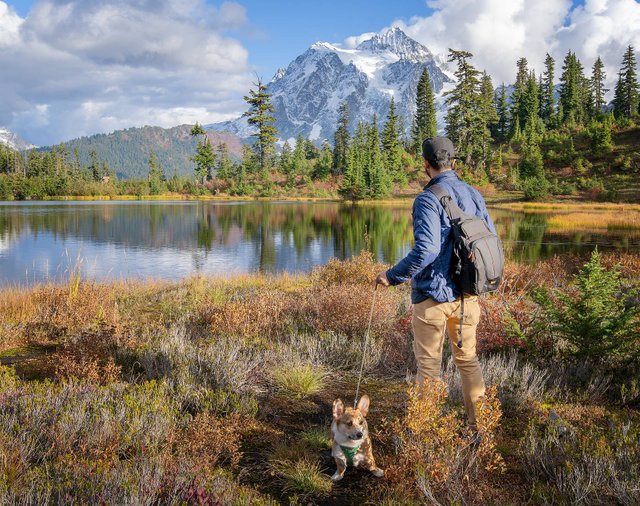 With a myriad of camera bags in the market, which one should you go with? A backpack? A messenger bag? The choices can be daunting.
But worry no more!
We have gathered a list of the best camera backpacks that can help you keep your equipment safe anywhere and anytime.

Types of Camera Bags
Any travel photographer knows that a good camera bag is equally as important as the rest of their photography gear. Camera bags shield sensitive camera electronics and fragile lens glass from shocks, weather elements, and even would-be thieves. If you are seriously getting into travel photography, then you need to make a substantial effort on finding the ideal camera bag that can withstand the rigors of travel and protect your gear.
You have to ask yourself a few questions. Are you a casual photographer who needs something simple? Do you travel frequently and want maximum security for your photography gear? Maybe you like the convenience of a rolling bag? Or perhaps you like to go deep into the jungle with all your camera equipment in tow?
No matter what your needs or taste is, there's a travel camera bag out there that's a fit for you, and we are here to assist you in finding it. Below are the main varieties of luggage outlined within this guide.

Padded Inserts:
These can be useful to protect your camera or lenses from shocks. Can be helpful if you don't want to carry special photography specific bags. You can stow away your gear in any bag.
Camera Holsters:
Great for a single camera and one lens, usually a wide-angle/telephoto zoom. It's often combined with other camera bags or regular
travel backpacks
for convenience. Our editor
Waist Belts:
Some photographers prefer accessing gear around the waist.
Shoulder/Sling Bags:
Shoulder bags are the most common bags you can find. Some designs allow you to easily switch positions from back to chest, enabling easy access to the camera like the
Case Logic DSS-103 Luminosity
pictured on the cover photo.
Backpacks:
These allow for the most flexibility and carrying capacity. You can practically fit your camera equipment and even laptops on some designs and much more. It is ideally suited for photographers who tote gear like drones, laptops, and the whole kitchen sink.
Roller Bags:
If you're carrying a lot of gear and not planning to climb mountains, then roller bags might be for you.
How to Choose the Best Camera Bag
An excellent camera bag ideal for travel is characterized by numerous features that will create or break photography equipment. Travel photographers should think about aspects like substance, size/weight, capability, discreteness, safety, and ergonomics to choose the ideal camera bag.
Protection
The primary purpose of a camera bag is protection. The insides should be full of padding and foam inserts. Your equipment should fit snug and shouldn't rattle or move around when you move. There should be dividers and barriers that can be adjusted to fit your gear. You should pick a camera bag that has the right compartments to fit your specific equipment. Ideally, it should have pockets to hold extra gear or other incidentals and seal them from the elements.
Storage/Access
You're going to need a camera bag that is big enough to house all of your gear. Smaller messenger style bags will have the ability to accommodate a tiny mirrorless or compact camera with an extra lens or two while larger camera backpacks will be better suited to full-frame DSLRs with a full set of lenses.
It's good to figure out just how much camera gear you have to carry and decide how large of a bag you need. Being able to get your equipment at will in a cozy manner is also worth considering. Is it going to be such a hassle for you to take off your bag and take your camera out every single time you want to have a photograph? Would you need an extra holster or small messenger bag?

Size/Weight
Dimensions and weight play an important role in determining What constitutes a good travel camera bag. Depending upon the grade of the design and materials, a tote may or maybe not be too heavy or use space effectively, and you also might want to think about whether it is carry on compliant. Nobody wants to carry around an overly awkward bag or one that wastes space.
Weight is influenced by the amount and type of substances used. Particular materials mentioned previously, such as leather or yarn can be more substantial, but they provide excellent protection and, if used responsibly, may contribute less to overall mass. If a bag is made poorly and contains a lot of excessive materials, its weight can rise and for no wonderful reason.
Again, if there's a lot of surplus materials used, the size will increase. On the other hand, if every tiny cloth is used Properly and the arrangement is sound, the bag will probably be more streamlined and Offer decent protection.

Other Things To Consider
Customizability
Most camera bags have accessories to expand on their functionality. These additions might be possible thanks to extra straps, flexible interiors, special adapters, and/or more found on the bag. The more choices you have when it comes to being able to add accessories, the additional that you're going to have the ability to pack and the better prepared that your luggage will be. Understand precisely how much it is possible to change your trip camera bag when buying one.
Ergonomics
Like all camera gear, a camera bag is only useful if you use it. How easy is it to access your camera and lenses? The design should be intuitive. You have to take into consideration how easy it is to use the travel camera bag before you buy it. Start Looking for multiple entry points and features, like a layout Layout, which allows for quick and easy access to your equipment. Take note of special incidentals, like the zipper and buckle efficacy, which may play a significant role in getting the tote despite their personal perceived insignificance.
Material/Construction
You want a camera bag that's constructed with the finest materials possible take a few knocks during travels. Some bags are made from synthetic and weatherproof material. Some are built like Kevlar - the same stuff they use on bulletproof vests. Most bags though are likely made of canvas, or a derivative thereof. Canvas bags are cheap enough to make, and the material is durable enough to withstand the weather; some
4-season tents
are made with canvas, and they can power through a blizzard.
Leather is also a fantastic material that's used quite frequently in the construction of camera bags. Leather camera bags are often expensive, and for a good reason, leather is excellent at protecting from the elements. There's also faux leather made from vegetable or synthetic materials; these aren't as good though, so be careful about your choices.
Regardless of what you choose, the camera bags on this list are the best of their kind.

Price
Expensive doesn't always mean better. You might be paying for the name of the brand or prestige. That's important for some people but there are some diamonds in the rough out there, and we're here to help you find those. Generally speaking, you get what you pay for. However, with the variety of camera bags out in the market, some manufacturers are forced to slash their prices to stay competitive.
Now that you know what to look for in a Camera Bag let's go over our picks of the best camera bags for travel in 2019.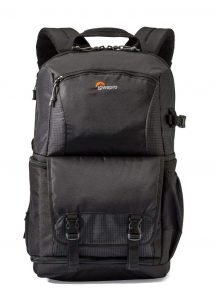 1. Lowepro Fastpack 250 AW II Backpack
Protection: A
Storage: B
Access: A
Size: B
Protection:
The product comes with a built-in, all-weather AW cover that keeps it protected against the harsh weather. Protecting the cameras against weather conditions is essential for any photographer as cameras are expensive and require the utmost care to avoid any damage.
Moreover, the product has CradleFit storage compartments which mean your camera and laptop is fitted inside it and won't move around. If there is a space left on the sides in your camera bag, then chances are your camera will move inside it and there is a possibility that it will get damaged.
The straps of this bag are durable. Furthermore, you can make use of the waist belt that comes with it to move around quickly.

Storage:
The product has three storage zones that can accommodate not only your camera but your laptop and other accessories too. The space at the top of the bag can store your communication gadgets such as mobile, tablets, mic, earbuds as well as other necessary items such as keys and wallets.
It also has a stretch-mesh side pocket where you can fit either your water bottle or the camera tripod. The bag can fit a DSLR such as Nikon D810 with its lenses attached to it as well as 2 or 3 extra lenses, laptop, and other small gadgets.

Access:
The product has a bright interior, meaning you can see inside it even when visibility is low, this way you won't be able to drop any essential items while searching for something else.
The side access, as well as the quick strap removal, can help you access your items quickly on the move. It weighs around 3.96 lbs, which makes it easy to carry around in your travels. You can also loop it around your on-wheel suitcases with the help of the straps because of its weight and size.

Size:
The bag can fit a laptop of 15 inches, and its internal dimensions are 11.42 x 6.10 x 10.83 inches. The camera compartment has the same dimensions as the bag's interior dimensions.
If you are looking for an all rounder bag that attends to all your needs as a photographer in some way or another, then the LoweproFast pack 250 AW II Backpack is the best choice possible.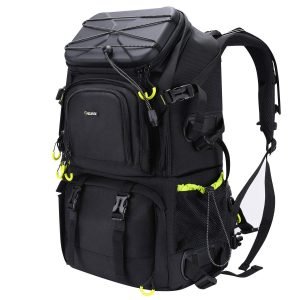 2. Endurax Extra Large Camera Backpack
Protection: A+
Storage: A+
Access: A
Size: A+
Protection:
The bag protects against harsh weather as it comes with rainproof cover. It can also withstand sand, dust and saw.
If you have fragile or sensitive items, then you can fit it in the PVA armored compartment that is hard and can provide protection against sudden drops or falls.
It is important to note that since the product is made for those who are always on the move or go to difficult places, it has adjustable shoulder straps as well as comfortable and ventilating back padding. It can also be worn as a shoulder bag, and the straps can be adjusted according to your needs.

Storage:
The product can fit a 15.6 laptop as well as a DSLR with different size lenses. It is essential to know that the bag has two adjustable compartments that come with adjustable dividers that you can move and remove to fit your needs.
It has an organizer pocket where you can keep your items like keys, wallet, cards, pens, etc.
Access:
As mentioned above, the bag is easy to carry around as it is designed to accommodate someone who is always on the move. The bag is well- protected, and that's why you cannot access your camera in a swift motion. Even then, this bag provides better accessibility than most of the other camera bags.
Size:
It can fit a laptop of 15.6 inches, and its dimensions are 23 x 13 x 9 inches. This size indicates how this backpack is larger than the most camera bags. If you are fond of living a life on the edge and are always on the move, then this product is perfect for you.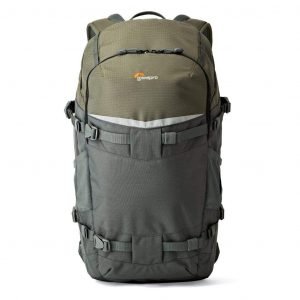 3. Lowepro Flipside Trek BP 450 Camera Backpack
Protection: A
Storage: A
Access: A+
Size: A
Protection:
The product protects against the weather as well as sudden drops and falls. Lowepro is known to feature CradleFit, MaxFit, FormShell, UltraCinch and DryZone technologies. All of these provide maximum protection against every potential safety hazard.
Storage:
The bag is truly a blessing for people who do not want a bag dedicated solely to the safety of their camera but want one that can be easily used during their travels. It can not only fit your camera and lenses but also things like a compact tripod, travel gears and other accessories that you can fit in the front pouch and side mesh. It is important to note that the bag can provide a 10-inch tablet or solar panel only.
Access:
Lowepro has always been keen on providing better and easy access to your items as it has a front opening which you can access without putting down your backpack.
Size:
The product has a total of 21L capacity with interior dimensions of 10.2 x 6.7 x 12.2 inches. Though the bag is extra-large and can fit several traveling items with your camera, it still might not be able to fit your laptop.
This backpack is for those who do not just want a camera but need an all-rounder bag that can also accommodate their essential traveling gear.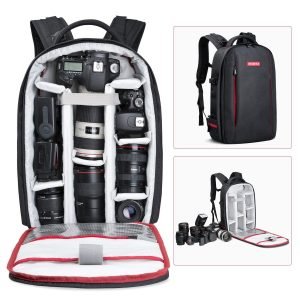 4. Beschoi Waterproof Camera Backpack
Protection: A+
Storage: A+
Access: A
Size: A
Protection:
The backpack is waterproof and made up of durable nylon material that has foam underneath. It can withstand harsh weather and unfortunate drops. The zips are anti-theft as you can use a small lock with it as well as attach it with your luggage while traveling.
Storage:
This backpack is truly the best choice for professional travel photographers as it can accommodate a DSLR camera plus 2-3 camera lenses as well as a tripod or monopod with shoe-mount flash. There is also room for a 10-11 inch tablet and other additional accessories.
Access:
The product weighs around 1.90 lbs. Which makes it easy to carry around as well as the shoulder straps and the side pockets can hold lenses and pods respectively that you can access on the go.
Size:
The backpack can only hold a tablet, and most of your photography equipment as the bag's interior dimensions are 12.2 x 9.4 x 5.3 inches. This camera backpack is best for any photographer as it can efficiently fit most of their photography equipment and keep it safe.
See The Beschoi Waterproof Camera Backpack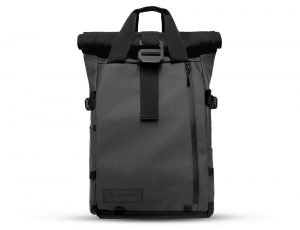 5. PRVKETravel and DSLR Camera Backpac
Protection: A+
Storage: A+
Access: A+
Size: A
Protection:
The camera backpack is made up of water-resistant cloth and ballistic nylon that makes it weather resistant. The zippers are also water-resistant, so there is no risk of water getting into your bag, and your bag's content is safe even during the most torrential downpours.
Storage:
The camera bag allows not only room for your camera and eight additional lenses, but it can fit your tripod (when folded) well enough with items like water bottles on its sides. You can also remove compartment partitions to turn it into a regular travel bag. Moreover, it also has rainfly and accessory straps for storing additional items.
Access:
This bag has truly made accessing your backpack's components easy as it has three points of access such as Quick Side Camera Access, Lay-Flat Clamshell opening, and Adjustable Roll Top.
Size:
The backpack size is 20 x 15.5 x 8 inches which can fit almost all of your photography equipment but not your laptop. It can only accommodate small tablets of 10-11 inches so anything exceeding 19 inches won't fit in it.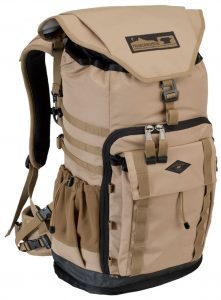 6. Mountainsmith TANUCK 40L
Protection: B
Storage: A
Access: A+
Size: A
Protection:
The bag is also known as T.A.N which means "Tough as Nails" as the bag is made up of sturdy and durable material that protects against extreme weather and torrential downpours.
Storage:
The bag can fit a laptop with a 17-inch screen as well as your essential camera equipment such as a DSLR and additional lenses.
Access:
This bag is genuinely best for capturing the world on the go. It has removable top lid clips that you can attach to D-rings on the shoulder strap to safely carry your camera while on the move.
Not to forget, it has side panel webbing that comes with custom attachment as well as side compression straps that again help you in storage and provides you with easy access to your go-to camera equipment.
Size:
The product dimensions are 25 x 17 x 8 inches that can fit your laptop and photography equipment and the side pockets, and webbings can hold your water bottle and camera pods. If you are habitual of taking pictures on the go and do not like to sit down to access your equipment, then this backpack is made for you.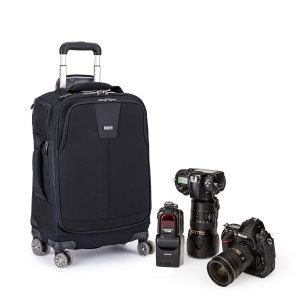 7. Think Tank Airport Roller Derby Rolling Camera Bag
Protection: A
Storage: A+
Access: A
Size: A+
Protection:
This Airport travel carry-on is designed to protect your camera equipment by using durable material and foam paddings in its structure. It fits almost all international airlines' carry-on requirements. Designated compartments for laptops and cameras are padded and provided with necessary protection in the form of durable material. TSA approved zipper locks are there for the main compartment as well as combination locks for the laptop pocket to maximize security.
Storage:
It has a sufficient space that can fit tablet, laptop, 2 DSLRs (1 gripped and the other being the standard one) with lenses as well as additional 6 to 7 zoom lenses. It can store a 15-inch laptop and a 10-inch tablet, as well as 2, gripped DSLR with additional zoom lenses and tripods.
Access:
Since the camera bag is designed for long air travels, so there are not many options available for quick accessibility, but you can still reach your equipment with ease. It is significant to note that the bag has speedy wheels that can easily change direction due to its multiple rolling positions which help you save your physical energy. The bag is not provided with multiple access points as it will increase the risks of damage and theft.
Size:
The bag's size is 17.7 x 21.6 x 29.5 inches is more than enough to house plenty of your photography equipment. Buy this carry-on for easy travel during long airport flights. The bag's dimensions are 17.7 x 21.6 x 29.5 inches which explains why it can accommodate so much equipment. If you travel a lot and are habitual of taking your camera equipment with you, then do buy this carry-on as it can fit most of your gear easily.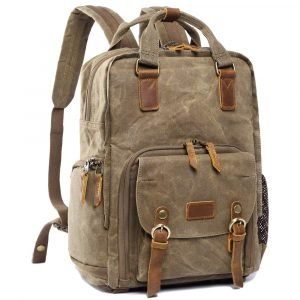 8. S-ZONE Waterproof Waxed Canvas Camera Backpack
Protection: B
Storage: A
Access: B
Size: A
Protection:
The bag is made up of a high-density waxed canvas that is stitched expertly to hold your equipment safely even in rainy conditions.
Storage:
The bag's compartments are divided in such a way that you can store your camera at the bottom and space above can accommodate your daily belongings. It can hold your camera, 14-inch laptop, and other accessories in different compartments.
Access:
The camera bag is not as accessible as the rest of the backpacks mentioned above and resembles a regular backpack more. You'll have to put it down or place it somewhere to gain access to gear.
Size:
The bag's internal dimensions are 16.5 x 11.8 x 6.3 inch, and anything exceeding this won't fit in it. It can be considered as a cheap alternative of those expensive backpacks. It can be used in daily travels and provides sufficient storage and protection.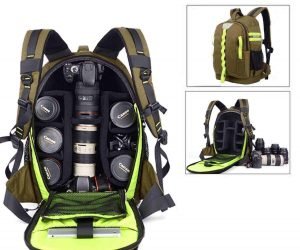 9. Abonnyc DRLBP-CZ Waterproof Anti-shock Backpack
Protection: A
Storage: A
Access: B
Size: B
Protection:
The bag is made up of a strong and durable Oxford material that is resistant against abrasion, extrusion, and water. It has deluxe padding at the back that protects your equipment when you are on the move. It's waterproof and is built to for withstanding shocks.
Storage:
It has customizable dividers for your equipment as well as side tripod and bottle storage.
Access:
Unlike some camera backpacks mentioned above, this bag doesn't provide several access points.
Size:
The bag's size is 18.4 x 11.8 x 5.7 inches and weighs around 3.57 pound. These numbers can help you understand whether the bag is fit for equipment or not. It's a cheaper camera backpack, but it can still do what is expected from it efficiently.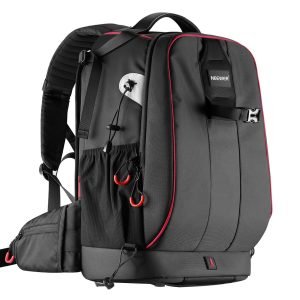 10. Neewer Pro Camera Backpack
Protection: A
Storage: A
Access: B
Size: A
Protection:
It is made up of waterproof polyester and nylon that is stitched skillfully to avoid wear and tear while traveling in extreme conditions. Moreover, it comes with anti-theft locks and memory foam technology which helps to protect your LCD screens from cracking.
Storage:
The bag can accommodate standard DSLR cameras such as Nikon and Canon as well as zoom lenses, DJI Phantom 1,2,3 professional quadcopter, and other accessories.
Access:
There are not many access points, but there are side pockets where you can put items like umbrellas and tripods that can be easily accessed on the go.
Size:
The backpack's size is 14.2 x 12.2 x 9.4 inches that can fit a fair number of your photography equipment safely.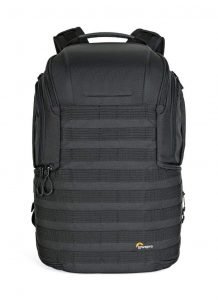 11. Lowepro ProTactic 450 AW Camera Backpack
Protection: A
Storage: A+
Access: A+
Size: A+
Protection:
The product comes with a built-in AW weather cover that protects your gear from the harsh weather. Furthermore, ActivZone technology helps to protect your body and provides ventilation. It is essential to mention how the CradleFit technology helps to protect your laptop and other equipment by engulfing it like a second skin.
Storage:
By making use of UltraCinch,
CradleFit
and MaxFit technology, you can make the most of the available space. UltraCinch helps to fit in tripods, and other long equipment on the sides as well as MaxFit accommodates most of your equipment as you can adjust the space by moving dividers.
Access:
The camera bag comes with four access point from left, right, back and top opening.
Size:
The bag's dimensions are 12.52 x 7.80 x 17.32 inches that can conveniently fit your laptop, cameras, tripod, and other accessories. This bag is truly the best among its comrades in terms of storage, protection, size, accessibility and more importantly in pricing.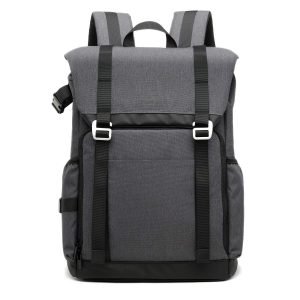 12. BAGSMART Camera Backpack with Laptop Compartment
Protection: A
Storage: A
Access: A
Size: A
Protection:
The bag uses 800D water repellent polyester material that is padded throughout to protect against sudden drops and tears.
Storage:
It can accommodate one DSLR without a camera hood as well as 3 to 4 additional lenses and a 14-inch laptop. All these compartments are well padded to provide an extra layer of protection. Aside from the above-mentioned items, it can also fit accessories like keys, batteries, and cards as well as camera pods in the side pockets
Access:
It has front and back access.
Size:
The product's external size is 12.2 x 17.9 x 7.1 inch that means internally it can fit only a 15-inch laptop and other items similar to its size. This product is affordable, durable and efficient for daily use.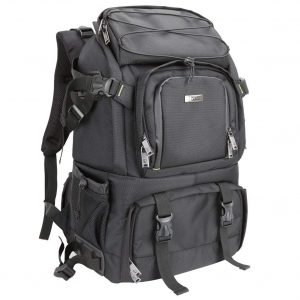 13. Evecase Extra Large DSLR Camera Daypack
Protection: A
Storage: A
Access: A
Size: A
Protection:
This bag has no rival when it comes to design and style as it uses authentic leather for its body. A rain cover is included for rainy days.
Storage:
It can fit your camera, lenses, your laptop, and a few other accessories while still maintaining its slim design.
Access:
It can be accessed from the top and back. A 15-inch laptop can be inserted from the top and a 13-inch laptop from the back, showing the difference in size if these two points are used for access.
Size:
The bag's size is 12 x 10 x 19 inches (304.8 x 254 x 482.6 mm) which makes it a convenient camera as well as an everyday travel bag with its stylish snaps and padded interior. If you are looking for an everyday bag that doesn't only look stylish but is also spacious, then this should be your pick.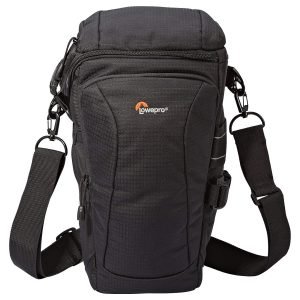 14. Lowepro Toploader Zoom 75 AW II
Protection: A
Storage: B
Access: A
Size: B
Protection:
The bag has an All Weather Cover that prevents rain, dust, saw and from harming your equipment.
Storage:
It can accommodate a single DSLR with lens and some small accessories.
Access:
It has quick over the top access, and you can wear it three different ways that are either around your body, waist or at your back. This bad is made for quick access to your gear.
Size:
Its dimensions are 7.48 x 7.80 x 10.63 inches meaning it is smaller in size compared to other bags mentioned so far. This bag is made for quick trips and comfortable travels so it can accommodate only a few things which makes it easy to carry around.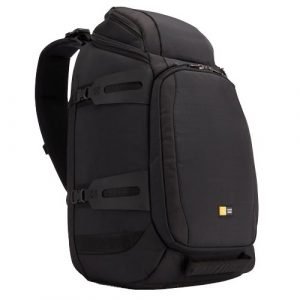 15. Case Logic DSS-103 Luminosity
Protection: A
Storage: B
Access: B
Size: B
Protection:
Weather hood protects the bag from rain and the elements which can then be tucked away when not in use. It's reasonably well padded so your camera gear can take a few tumbles or so while inside the bag without being damaged.
Storage:
It can accommodate a single Mirrorless Camera or DSLR and some small accessories. It can even stow a small tablet.
Access:
Transform bag from a sling to backpack by simply adjusting the strap to preferred way. You can access the camera and your gear without taking the bag off your body. The bagFront zippered organizer panel with slip pockets and pen loops provides easy access to small items such as a notebook, wallet or keys
Size:
Dimensions: 11.4" x 9.5" (w) x 18.7" (h). This is a medium sized bag able to carry a DSLR with an attached lens and maybe an extra lens or two. There's a top compartment that can handle extra accessories.
Bottom Line
Regardless of the type of camera bag you own or will own and no matter the size, there is an ideal one to keep your expensive camera gear protected from harm. Again, protection is key when picking the right camera bag and then from there work your way towards the ergonomics of the bag.
We hope you've enjoyed reading our list and armed you with the knowledge to pick the best camera bag for travel. Whichever you choose, we're sure you will have the pleasure of using that camera bag on your travels.
Now that you have a cool camera bag, check out our take on the best travel tripod, the best mirrorless camera for travel, and best polarizers!

WHAT YOUR PICK FOR THE BEST CAMERA BAG FOR TRAVEL?
Originally Post at Always Wanderlust -
A GUIDE TO THE TOP 15 BEST CAMERA BAGS AND HOW TO CHOOSE IN 2019