The Beast on High Heels
Even dogs started to hate this never ending rain, pretty much as hard as I do, and you can see their fur is protesting loud. Mine is perfectly fine because for a few weeks I have a set of wheels to go around town, and keep my skin dry through the massive rains that we have.
No, I haven't bought myself a car, and I don't even plan to do so very soon, because I live in a small town and getting around is quite easy, walking or biking... I do have friends with multiple cars and one of them is lending me one of his for sometime.
He lives in Sweden and wanted badly to have an SUV at home, so we can go on the hills near by, pull boats out of the water, be able to hang a trailer when something heavy needs to be carried, and so on...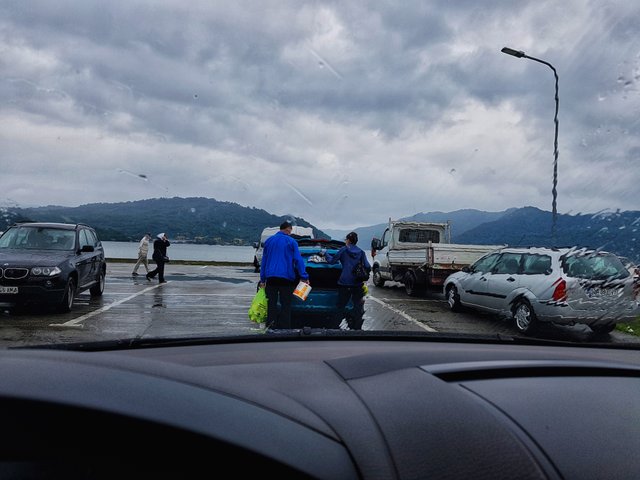 Hence he sent me this Volkswagen Touareg V6 TDI, to take care of it and keep it in shape till he comes home, and who would say NO to such an offer...?! Not me of course. I love cars and although haven't owned too many I drive em with pleasure and still keep in touch with what's new.
I have to admit that I only had regular cars, and this Touareg is quite massive. The engine is the mid option from its generation, a 3.0 TDI with 225 HP and 500 NM torque, and a diesel consumption a bit spicy for my taste... Considering that I drive it mostly in town and surroundings I doubt it goes under 15 liters pe 100 KM. Tell that to a Tesla owner... :)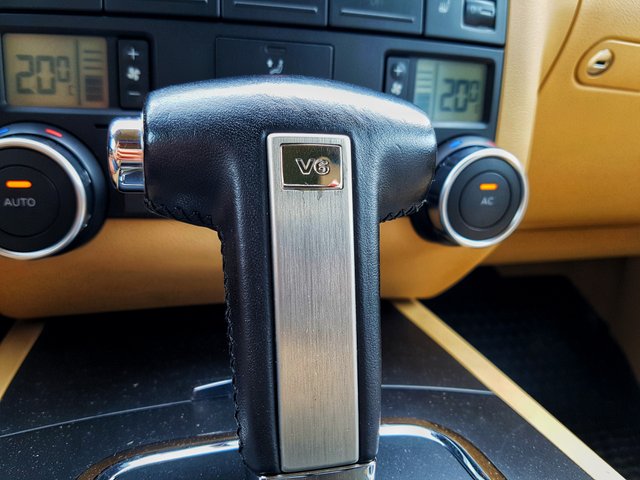 Now as much as the consumption is not budget friendly the looks of it is simply gorgeous, in my own eyes of course. It's bold, heavy, floats like a cloud on the street, and although the design might be outdated in the eyes of some, it looks pretty neat to me.
I don't like sharp lines too much like the new ones have, and still consider that cars produced between the early 2000's and 2010 are some of the most reliable ones and are wearing suits that are still pleasant to the eye. Have a look at a BMW M3 E46 and you'll know what I meant.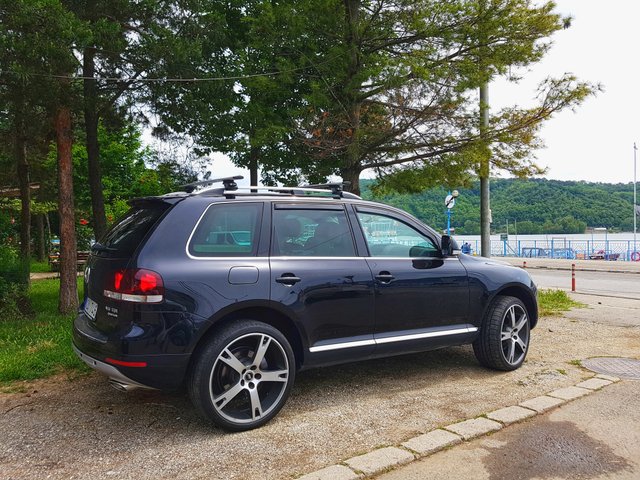 Lets talk about rims a bit. As you can see them in the pic above, they're quite big... These are 22" wheels from ABT, a famous Audi and Volskwagen tuner and as much as I love how they look on the car, they're actually not too comfortable, but not something to complain either. You kind of feel more bumps than you should, and always need to pay attention where you step on bad roads.
It has two more sets of wheels, but the ones of 17" are too small in my opinion, however worthy of some off road tires, and the 18" ones are wearing winter tires on them. Overall the car looks good, drives nice and feels comfortable, you have plenty of room and a good ride, but it's too expensive to daily drive it.
For occasional drives it's OK though. Having a DPF mounted on, as being an European car, means that I'll have to take it out of the town pretty soon, so the filter will be able regenerate. This is about it for my post today, wish you a great and sunny Thursday and see you to the next one!
Thanks for attention,
Adrian