Recently I went to Shizuoka, Japan. This area is famous for Fujisan. I spend a couple of nights in a place called Mishima. The city on its own isn't exactly famous. However, it is conveniently located at a major regional train station (with highspeed rail - shinkansen stop) and is the gateway to the Izu peninsula and it does have a few beautiful parks I wish to share.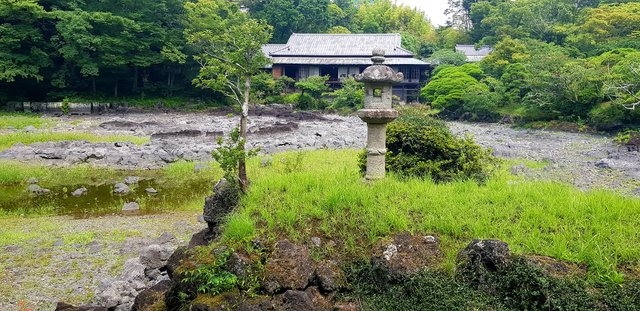 This is the Rakujukan Imperial Village built around 130 years ago.
Shizuoka is also a region famous for growing green tea and wasabi. Actually, the green tea likes growing on slopes, but the wasabi likes growing in ravines. There is a peninsula called Izu, it is the large peninsula in Japan immediately south of Mt. Fuji. Mishima is where you get the train south to Fuji and next to where you get the train north to Gotemba. It is on the main train line across Honshu.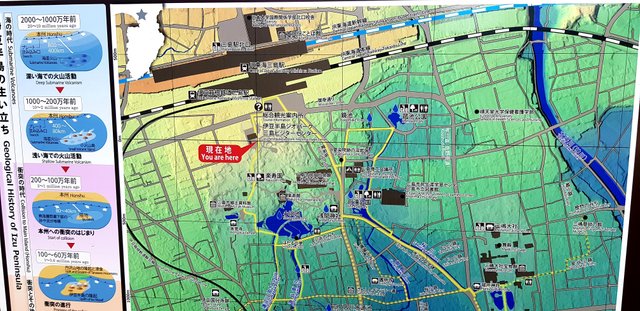 There were two city parks I visited near Mishima Station which together are called Izu Peninsula Geopark - Mishima. Rakujuen Park is the larger of the two. Then across the street is a place called Shirataki Park.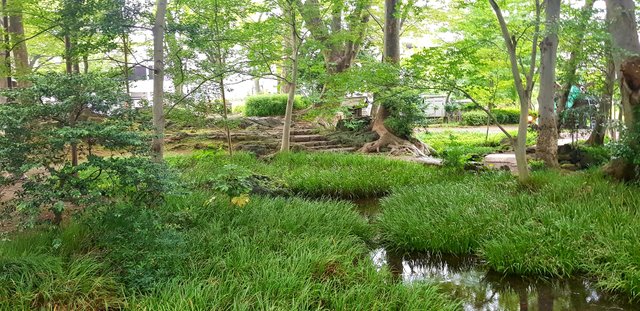 I went to Shirataki Park in the evening when I arrived because the other park had just closed. Shirataki Park doesn't close. It was raining when I went which is alright because I had already checked into my hotel and didn't have luggage. Also, I was prepared for rain since I knew it would rain.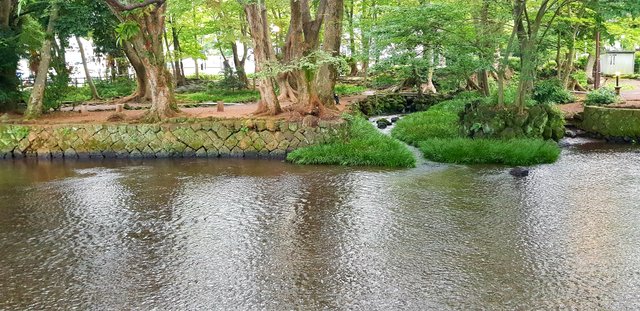 Shirataki Park has a unique feature. You can walk in several of the rivers and streams. They are less than 10cm deep so it isn't really a problem. Who needs a bridge when you can ford the river? According to the park since this is a Geopark. This means the rivers and streams are natural for the most part and it isn't just a tacky feature.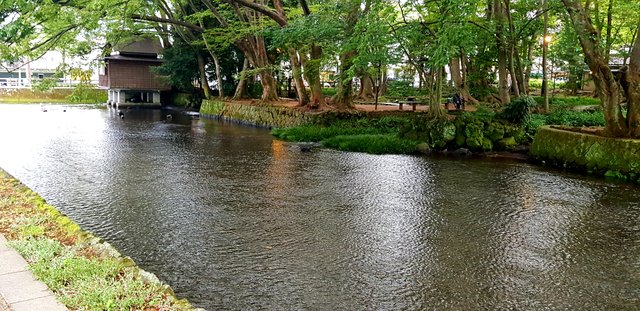 Obviously, I got my feet wet. I also walked around a little. It was fun because there were ducks in the stream. In most areas, it was actually too shallow for them to swim, lol. I crossed the larger stream and had a look at the neighborhood.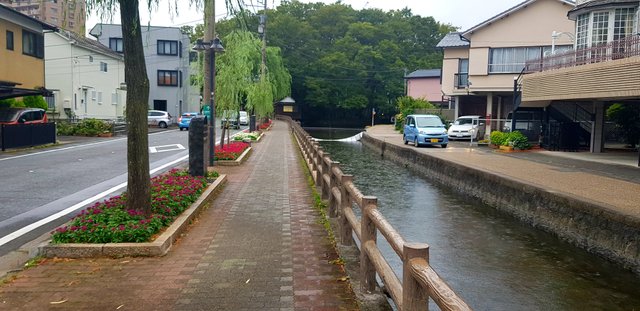 It is a very pretty neighborhood and I am a little envious of the residents to live in such a neat area. There were so many little streams and rivers. Unfortunately, they are more like ditches than canals. However, from what I hear there is usually water running in them so they aren't just pits. It did make for a unique feature where every house seemed to have a bridge for a driveway. I guess it's like a moat? Anyway, after that point, it started raining much more and I was hungry so I went to eat.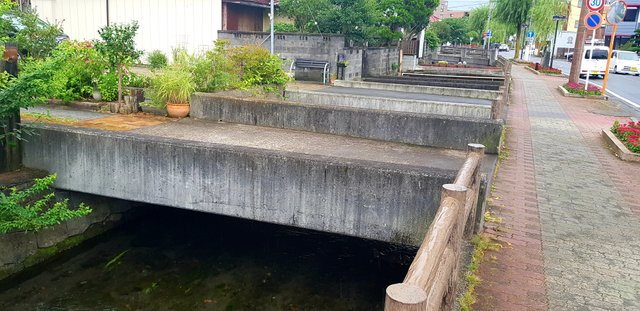 I visited Rakjuen Park a couple of days later when I had time during the day. It cost 300 Yen to enter. I never have a problem with paying a reasonable fee ($3) to enter a beautiful place. There is a small zoo and a children's park, then there is Rakujuen Park. Rakuten Park is the natural and rustic part. It has Sengenjina Shrine, Kohmaike Pond and Rakujukan Imperial Villa.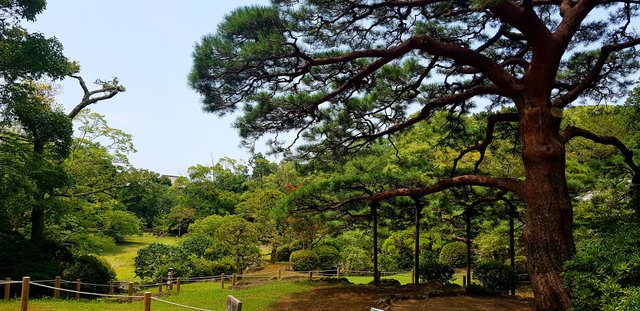 There were a lot of nice landscapes in this park given its small size. Actually, that is one thing I always noticed about Japan. The parks are extremely well kept. The land is so precious, you don't waste it on something ugly. Also, I think littering in Japan is extremely looked down upon and people pick up garbage they see continually because I've hardly ever seen trash anywhere except in a drinking district late in the evening.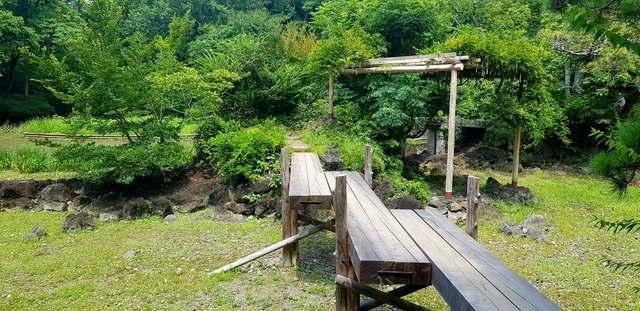 Unfortunately here the pond was dried. Apparently, this natural landscape was formed around 10000 years ago because of a huge lava flow, so the pond is natural and will drain depending on the season. It's nice though to see a dry pond and I had my fix of water features in the other park across the street. There were the occasional puddles. Also, I could see the bridge piers and the unusual bridge designs.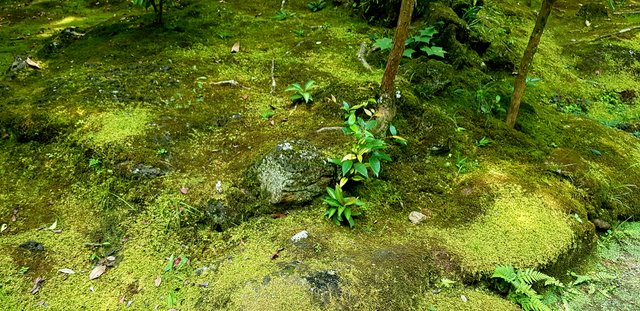 The forest floor here was really mossy. I saw a lot of reptiles and little animals in this park and that doesn't include the zoo. Maybe I'll feature some of them later as I don't want to distract from the flora. This is a natural garden and not some sculpted rock or flower garden. It's unique and traditional.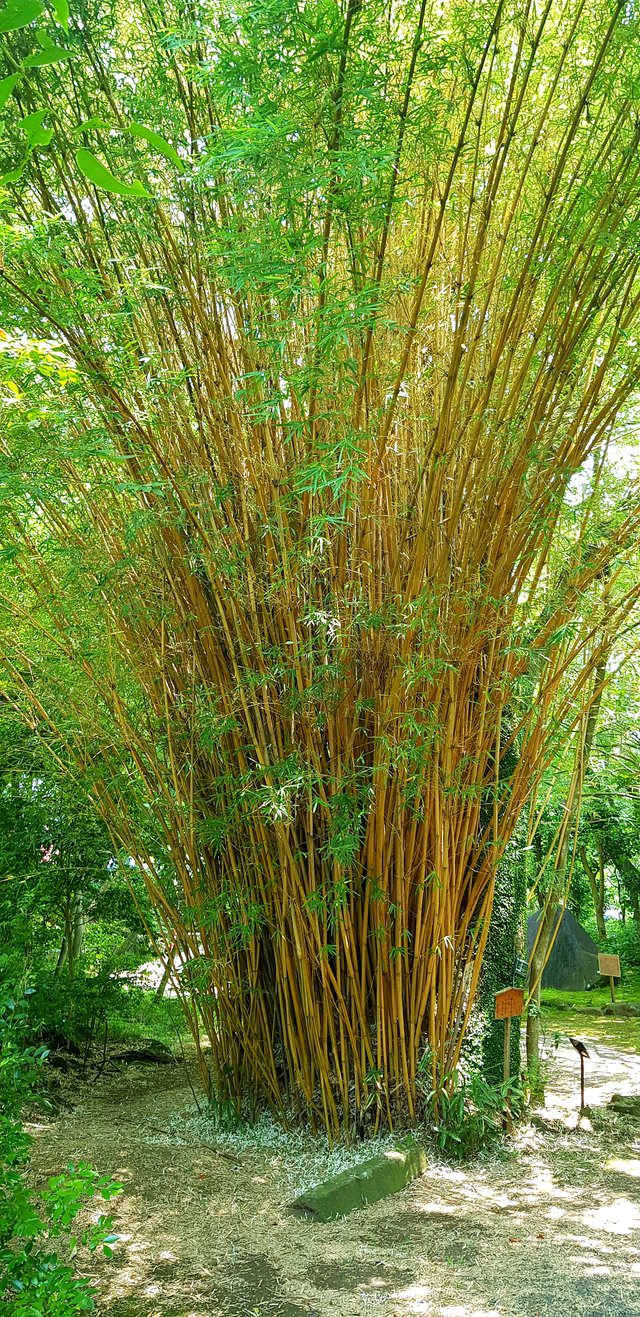 The last thing I saw was this giant patch of bamboo. This is what happens when you restrict where bamboo can grow and just have it fill in as densely as possible. At first look, I thought it was a strange tree. I really want one of these in my Japanese garden when I have one.