Fuji X-T2 + 10-24mm f/4 | 1/80 sec. | f/4 | ISO-200
---
Hello Steemians, Its been a while!
Believe it or not, I'm actually writing this blog from my small hometown in South Africa where I have returned to for the first time in almost 2 years. I will be travelling around South Africa for the next 1 month and I'll be sure to upload some fun and interesting content for you all during that time.
The other bit of great news is that I have recently been selected as part of the @SndBox cohort 2 of content creators! They are a fantastic Steemit based organization which helps to incubate and develop creators on the platform, and I cannot wait to grow with their influence :)
---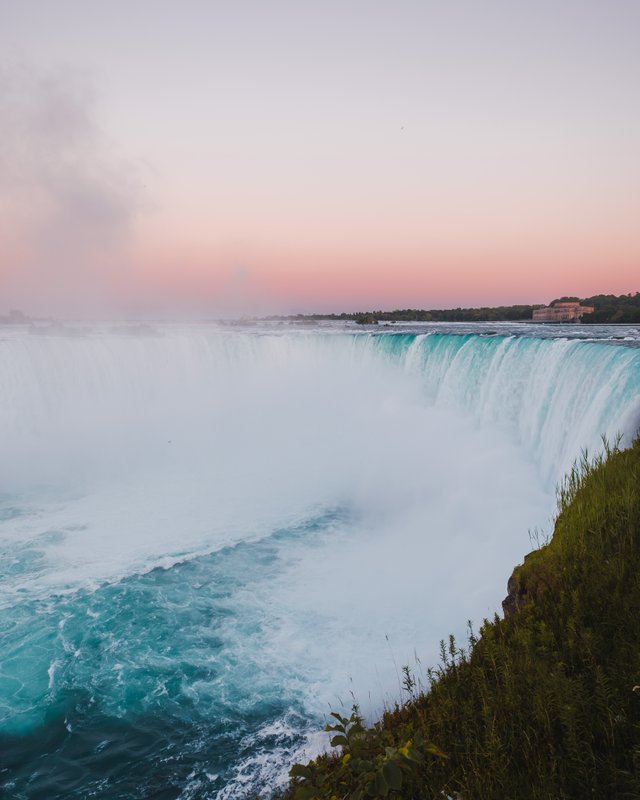 Niagara Falls - Ontario, Canada
So as some of you may know, I recently had the pleasure of embarking on a two week road-trip around Eastern Canada with my Aunt and cousin from Kenya. Our first leg of the trip led us towards the historic town of Niagara on the Lake and after some light wine tasting, we rushed ourselves towards the world famous falls in hope of catching a good view around sunset.
As the picture to the right shows, we timed out trip perfectly, and while the sun had already set behind some hills directly in-front of the falls, the horizon behind the falls lit up with colour allowing me to take some beautiful pictures. Below is one of my favourites!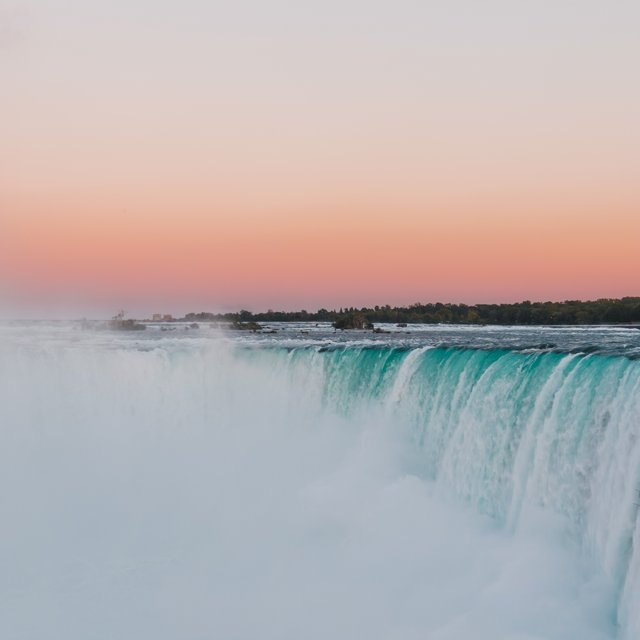 ---
One of the most staggering feature of the falls, in my opinion, was just the sheer amount of water that was flowing over them which you could hear from miles away. This is clearly shown (above) by the semi constant cloud of mist which gushed up from the bottom. This made for a bit of an oxymoron as the mist made for beautiful photographs, but also wet anyone who ventured within 500m of the falls themselves.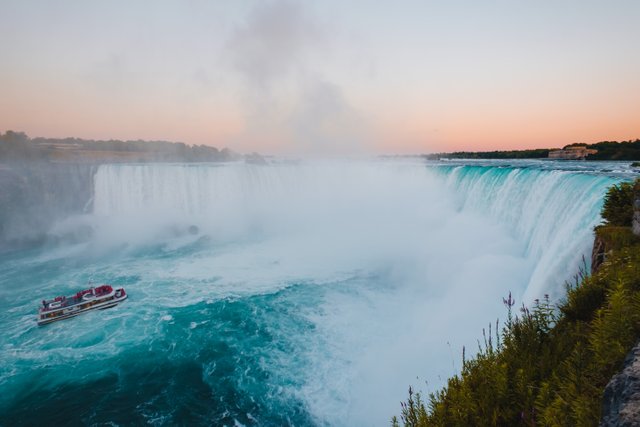 Speaking of the mist, while we were at the falls, we also managed to witness the famous "Maid of the Mist" boats which trek their way all the way up to the falls for the brave tourists on them. I must say though, you need to know what you're getting into before steeping onto that boat because I doubt you'll see much more than the thousands of gallons of water which are smashing into your face as you get close to the falls haha.
In the end though, our brief visit to the falls was definitely enjoyable and I would recommend you to check it out if you have a chance one day. I will just warn you, the area doesnt get the Tourist Capital of Canada for no reason, and you will have to be forced to contend with tens of thousands of tourists enjoying the view with you. But then again, what famous tourist sites arent like this these days?
---
Thank you for popping by and checking out my content and I hope this finds you all having a lovely week!
Until next time,
Tristan