History of the Gouden Bodem [BLOG]
The Gouden Bodem (roughly translated this means Golden Ground or Good Ground)
The boat was build in 1903 in Waspik / Brabant - Netherlands on the ship yard Ruitenberg (this yard dont exist anymore) as a freighter. The 1st name was Excelsior. In 1920 the fitted a motor into the vessel... so it was actually sailing for 17 years without a motor... (I find this quite amazing)
In 1916 the boat was in Antwerpen / Belgium and it was used as a part of a flooting ponton bridge during the war times...
This is actually a photo of this bridge: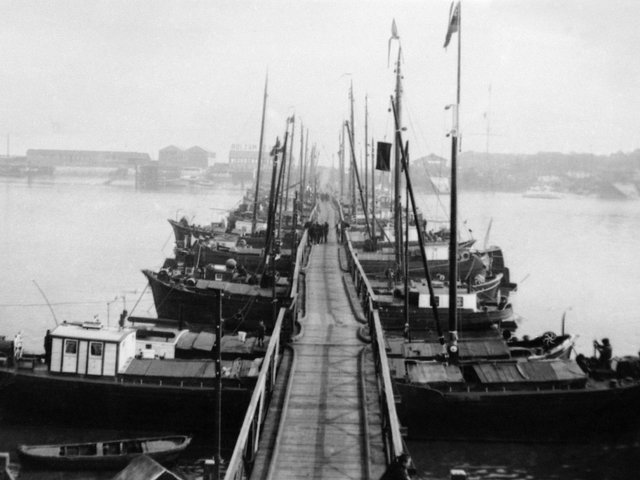 As far as I could reconstruct the history of the GB it was used from this time on as a residential boat till 1977 till Chris Wustenburg bought the boat and brought it back home to the Netherlands.
Chris did rebuild the ship and used it as a sailing vessel - later as a charter boat (chartering means: you take some people on a cruise). Chris did sail races as well and in 1980 he did won a pristine race in the Netherlands... The GOBO can go fast! He also renamed the ship to Gouden Bodem.
In 2003 the boat was bought by Meent Land (you can see him below) and since this time he sails the boat from Harlingen as a charter vessel. By far the funniest episode in these years happen in German waters 13 years back... just look for your self. Nothing happen and as the flood came back, the ship got free with some help and sailed further.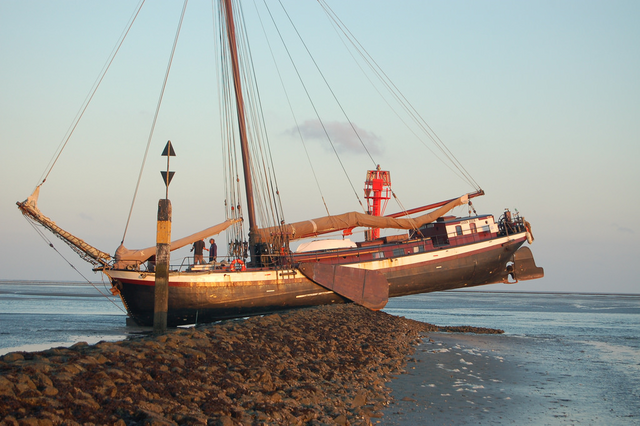 There are endless stories to tell, but I do save them for another time :)
Ship stats
| | |
| --- | --- |
| Ship type | 1 mast clipper - gaff rigged |
| Build in | 1903 |
| Lenght | 24 Meter |
| Width | 5 Meter |
| Draft | 1.10 Meter |
| Mast height | 22 Meter |
| Weight | 63 Ton |
| Motor | Ford - 155 HP |
| Sails | 3 Sails (Jib - Fok - Main) |
| Extra sails | 2 Sails (Water Sail - this is below the boom | Storm fok) |
| Cabins | 6 |
| Showers | 3 |
| Toilets | 3 |
Photos I took over the years
This was actually the 1st photo of the Gouden Bodem - Back then I was sailing on another vessel... well the GOBO doing a tack :)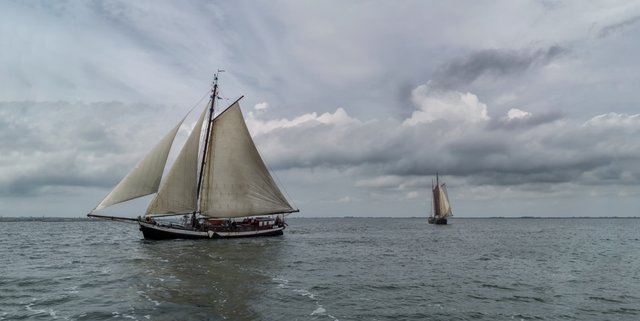 It was one of these moody days, we anchored and I did chill a bit on the chilling on the Jibboom (this is 6 meters long)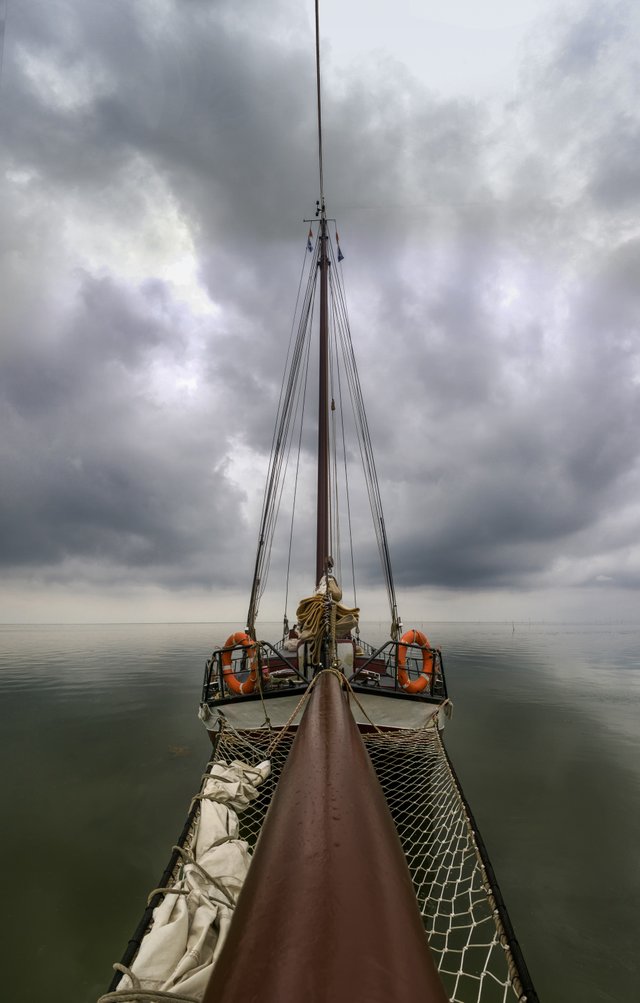 Sometimes when there is too much wind we decide to go sailing though the canals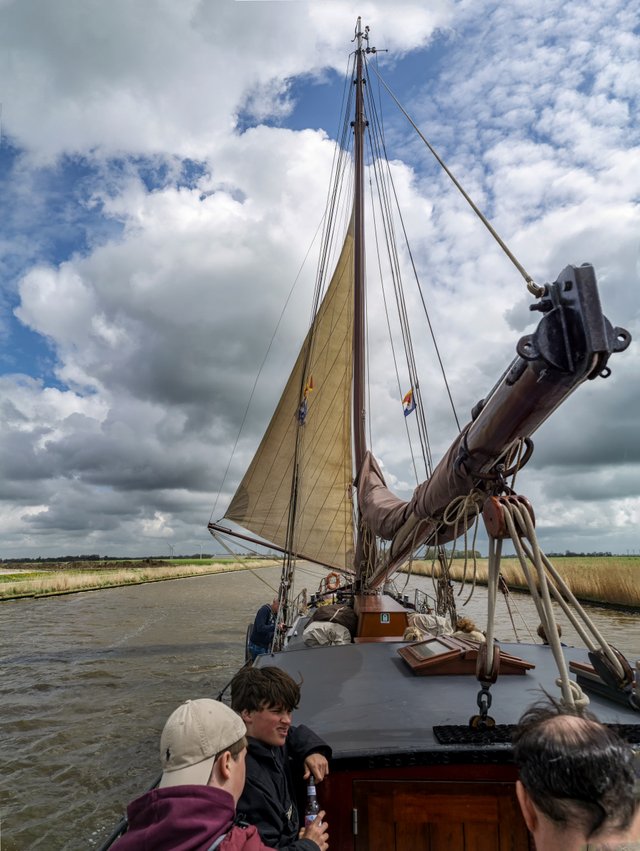 And of cause the vessel needs to get from time to time out of the water, doing some repairs and paint jobs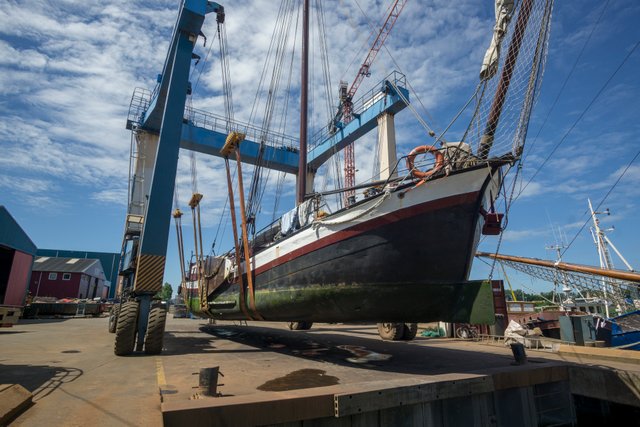 The Gouden Bodem at the home harbor in Harlingen / Netherlands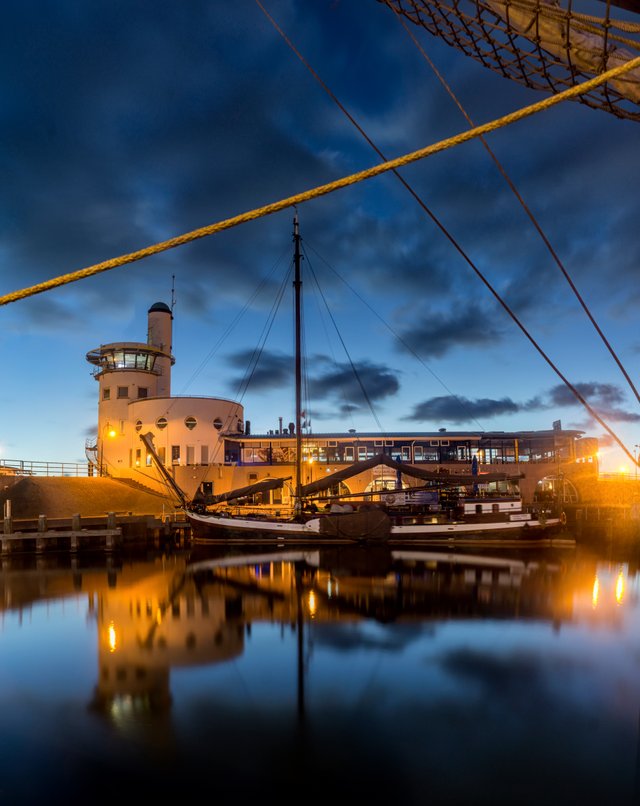 Since this boat is a flat bottom vessel (it has no keel) we do falling dry from time to time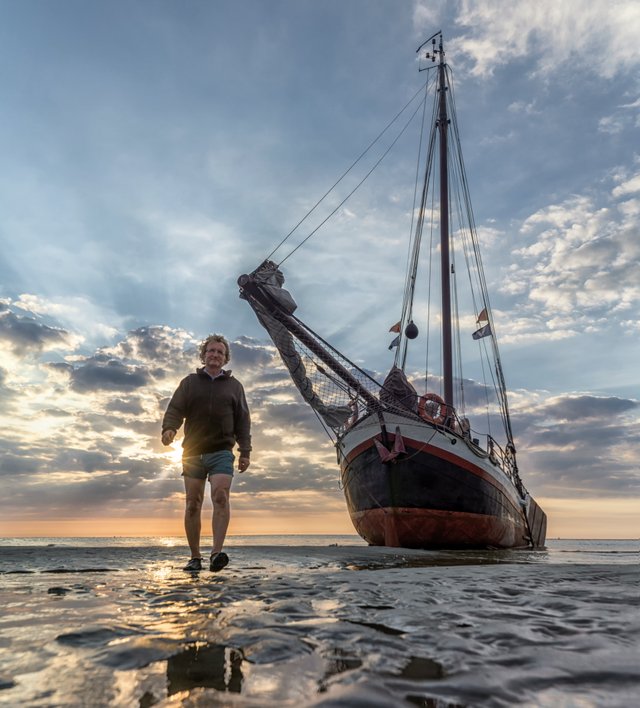 This is how the deck looks from my cabin after heavy rain, I love this shoot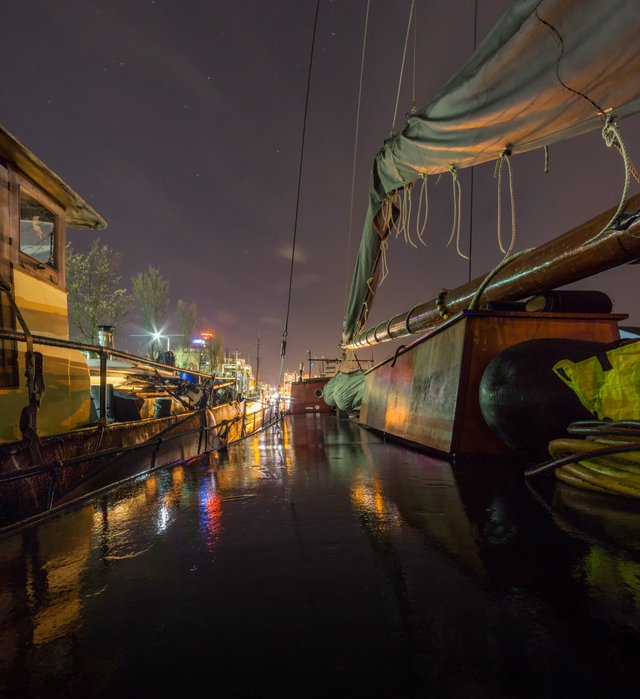 Sunset at sea with the Jib boom in the frame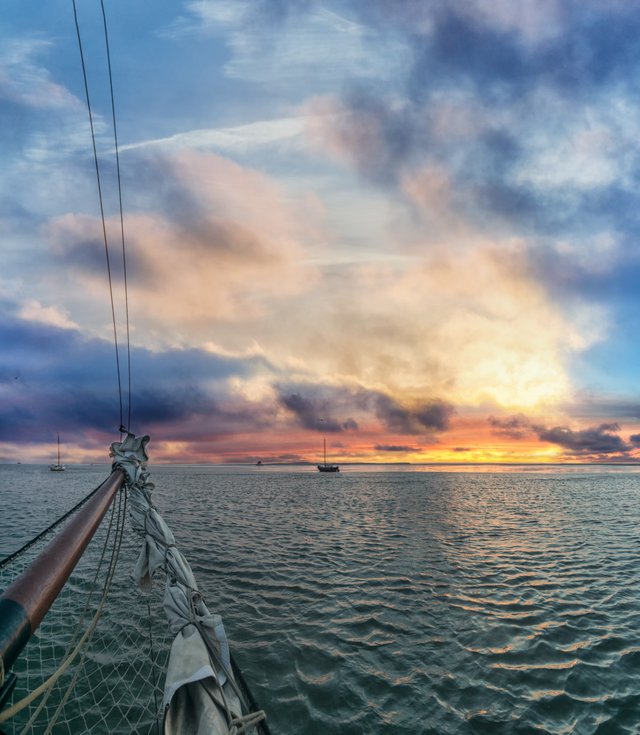 I took this photo about 3 weeks ago when we put the boat to the shore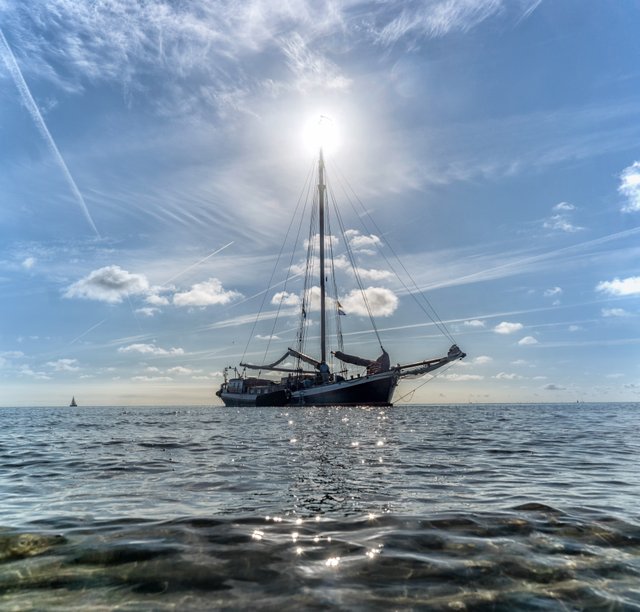 For this class of ship, the Gouden Bodem is quite luxurious... there is a big place where people can eat and chill, 3 showers, 3 toilets and 16 beds
And of cause we go though a lot of looks ;)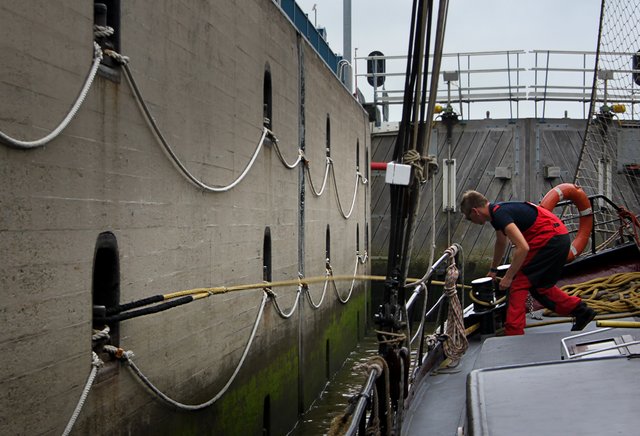 another skipper sails sometimes on the ship as well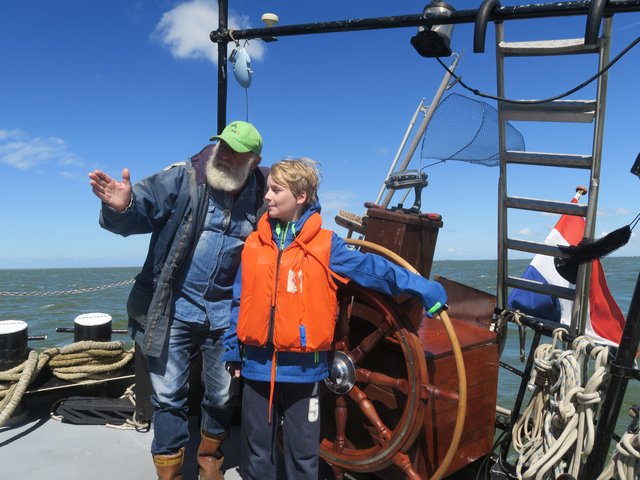 This is the owner / skipper (I call this Photo - Follow my lead)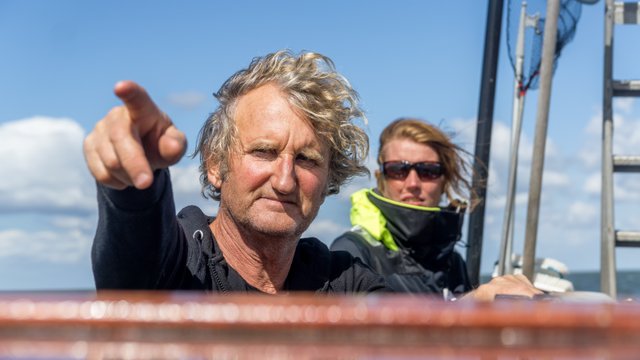 Meent can be a very funny guy :)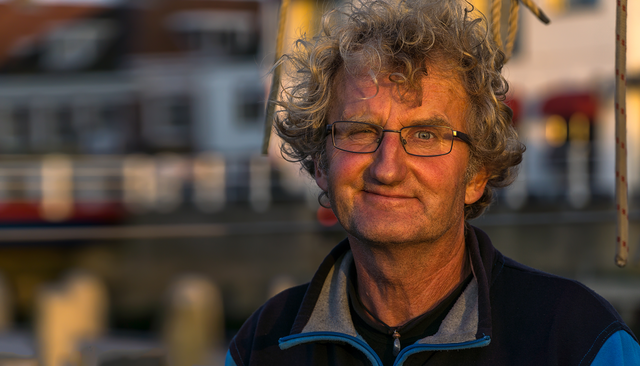 And last but not least - I sail as well ^^