On 6 June I gave a lecture on Street photography.
The interesting thing is that when I start my preparation for a lecture, I never know what the end result is going to be. Just as a photo, it needs to develop.
After several days of sifting through my street photographs and ordering them in logical groups, the title emerges as "Themes in Street Photography". The lecture coincided with a photo walk which took place (unfortunately) the prior Sunday morning in the Maboneng Precinct in Johannesburg. I said "unfortunately" in brackets as some of the participants of the photo walk could have benefited from the lecture before going on the photo walk.
Here is one of the photos I took on the photo walk: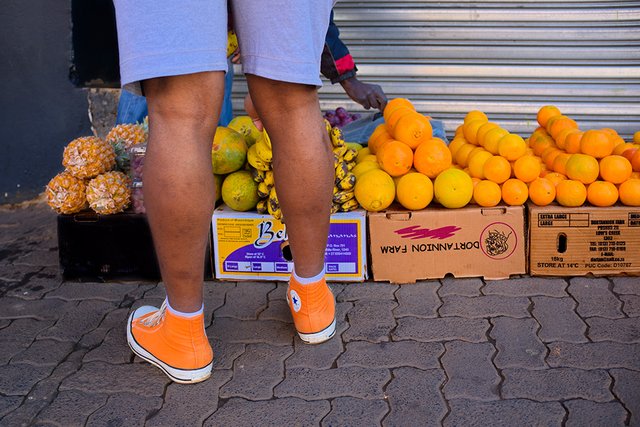 After taking this photo I decided to include the theme "Colour" in my lecture, and then search for a few more street photos in which colour played the major role.
Here is a screen print of the main menu of my presentation: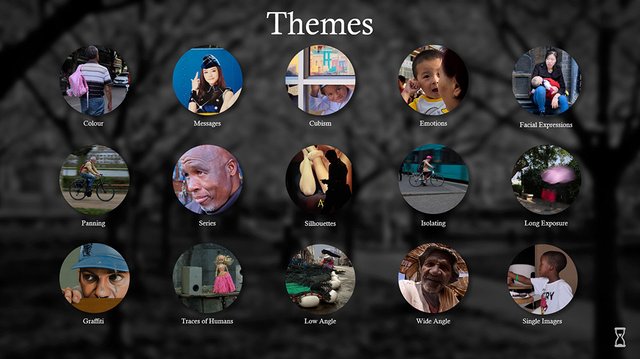 As you can see, I started the lecture with Theme 1 being "Colour"
(From the thumbnails, you might recognise some of the themes that I previously shared here on Steemit.)
Maybe it is important to give a heads-up of how I see street photography; I am very much in sync with Larry E Fink when he defines Street photography as a branch of fine art photography that—traditionally—records un-posed scenes in public places.
If one looks at the Street Photography Masters of yesteryear, it becomes clear that their street photography was much more than just a walk in the street and randomly pointing a camera at people or things and pressing the shutter button. It was indeed as if it was pre-meditated and in some cases almost a set-up (setting the scene) and then waiting with patience for unsuspected people to walk into the scene unknowingly becoming the "actors" of the Street Photographer's next photo.
The modern street photography trend is missing this element of fine art planning and execution to lift the photo from just a snapshot to something with recognisable composition elements or clever social commentary without words.
Let me take my first theme Colour to show how it may become the conscious theme of the Street Photo.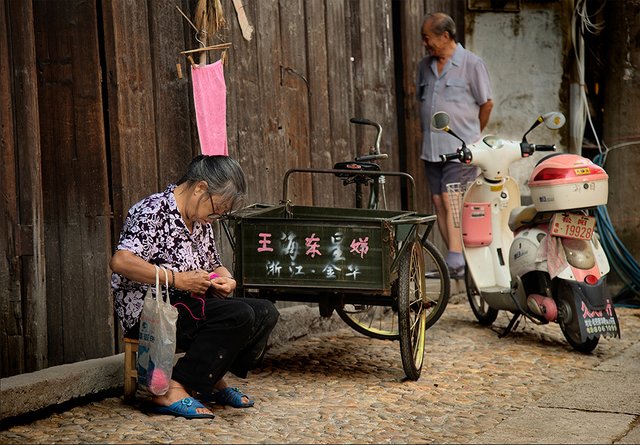 Passion for Pink
Colour is a very strong and dominant composition element in any photography, and even more so in Street photography. (I am of the opinion that many modern street photographers prefer to photograph in monochrome in order to remove the complexity of colour in their composition.)

It is very true that
"If colour does not enhance your composition, it detracts from it"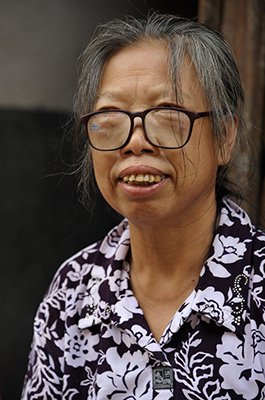 I came across this _Passion for Pink_ lady in a small village near Lishui in the Zhejiang province and instantaneously knew that the repetition of pink is the dominant composition element. Have you ever seen somebody so in love with a colour that everything around the person as a touch of that colour, from the colour coded motorbike; to the handkerchief above her head; through the crochet work she busy creating; to that final touch of a pink hand-painted message on the delivery bicycle.
After taking the photo she became aware of me and the candidness of the scene was lost. Luckily I already had the photo. I then went closer and had a conversion (with my limited Chinese) with her and managed to also take a posed portrait of her - those glasses on the tip of her nose is further emphasising her eccentric outlook on life.
Searching through my photos, I found that yellow is a theme that seems to work well.
While waiting for Xiaoyi outside a supermarket one day, I noticed some yellow road cones and secretly wished that somebody with yellow clothes would walk past them to complete the repetition of yellow as a composition element.

Remember: Patience is a Virtue
After about 20 minutes I was rewarded for my patience with a lady under a yellow umbrella walking past.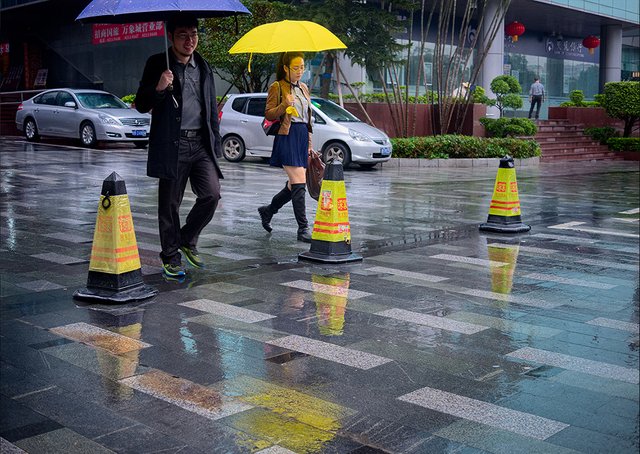 A Splash of Yellow
In the last photo I want to share, yellow is also the main composition element that enhances this specific scene.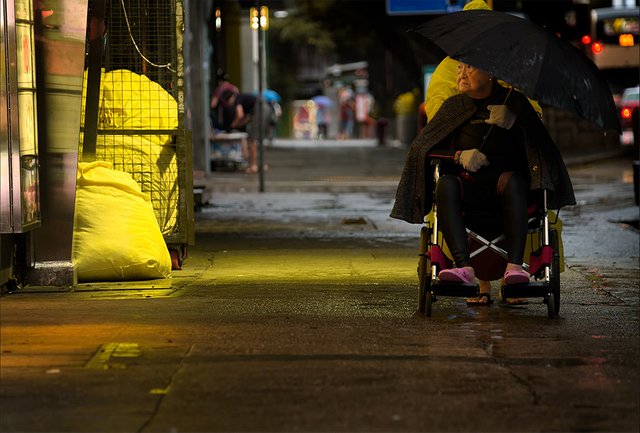 Speedo Lady

I used this photo in a
previous post
but this time I just want to talk about the use of yellow in the photo.
It was an early Saturday morning and the only people on the streets (or sidewalks) were the shop owners and workers preparing for the days business ahead. I noticed some workers carrying these bales and dropping them off in front of a shop - right below some yellow lights. The yellow lights changed these ordinary bales into something very "in-your-face". I photographed them but it was more just as a record photo of something I want to remember.
It was then that I noticed the approaching wheelchair lady, pushed by her companion wearing a yellow raincoat... All I had to do was wait for them to pass by the bales, and as luck would have it, at that moment the lady in the wheelchair looked at the bales.

Composition completed!
If you are a Street photographer, next time you go out on a Street Photography shoot, remember that Street Photography is a branch of fine art photography and make a conscious effort to look for colour as a theme for a street photo.
This is my entry in the #streetphotography weekly challenge.