noch etwas aus dem Harz | still something from the Harz Mountains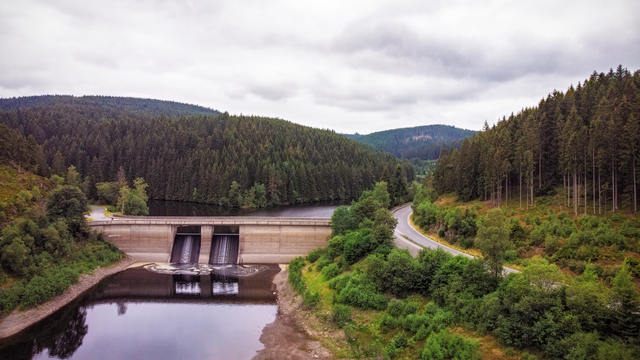 Heute möchte ich noch ein weiteres Foto aus meinem Harzurlaub nachreichen. Es handelt sich um eine Vorsperre der eigentlichen Okertalsperre.
Die Okertalsperre ist eine Talsperre bei Altenau im Harz im niedersächsischen Landkreis Goslar. Ihr von der Oker durchflossener Stausee, auch Okerstausee genannt, hat bei Stauziel 2,25 Quadratkilometer Wasseroberfläche und einen Speicherraum von 46,85 Millionen Kubikmeter Wasser.
Das Bild habe ich mit einer DJI Mavic Air aufgenommen.
Ich wünsche noch einen angenehmen Sonntag.
---
Today I would like to hand over another photo from my Harz holiday. It is a pre-barrage of the actual Oker dam.
The Oker dam is a dam near Altenau in the Harz Mountains in the district of Goslar in Lower Saxony. Its reservoir, also called Okerstausee, has a water surface of 2.25 square kilometres and a storage capacity of 46.85 million cubic metres of water.
I took the picture with a DJI Mavic Air.
I wish you a nice Sunday!