| V E N E Z U E L A |
No, this is not a post about politics and economy. It's a photography blog. But to get you into the concept of the photo I have to give you a little insight of what's going on over here.
---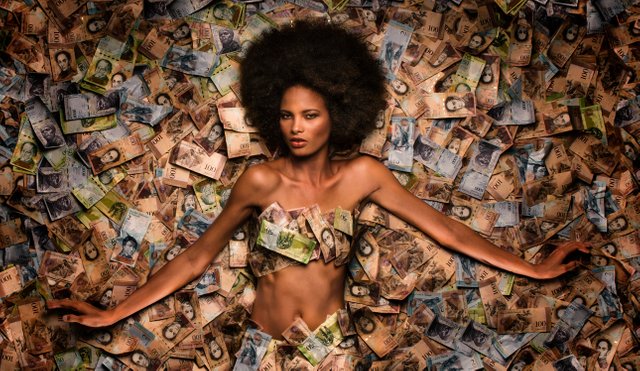 Venezuela basically went into a hyperinflation. More like a super Sayayin hyperinflation. Our highest bill was worth like 3 cents. Just so you get an idea, the bills were worth more in paper than the value itself. The "brilliant" solution the government had to the problem was taking away 5 zeros and printing new bills. No comment . . .

Like I said, I'm just a photographer and I'm not going to make a long post about everything that is wrong with my country right now, so if you are interested in understanding a bit more, I really recommend this article
---
So now to the concept of the photo. This was our final project to the illumination workshop. First idea of the team was to recreate a movie scene. We had movies in mind like "Inglorious bastards", "Clockwork Orange", "Pulp Fiction"...

There was a huge production and team work behind this photo. If you guys know me by now, you know how emotional and passionate I am. And to me photography has to evoke emotions. So I told my team to recreate the movie with a situation we are living as a nation. Having in mind it was a perfect excuse to send a strong message of protest. This is when "American Beauty" came in. Everything came into place with what we were living in the moment. Maduro announced the new economical measure the day before we did the photo.
You really gotta see all the details in this one, click to view in large.
The hardest part was coming up with the concept. Now we had to produce it. First thing was getting the right model. Venezuelan women don't have a stereo type cause we have a mixture of cultures that make our women so unique, but for this specific photo we wanted a dark skinned girl to contrast the bills and make it look more "latin". Second part was getting all the amount of bills that we needed. Wasn't really that hard because no one wanted worthless bills. I think that amount of cash could have probably bought you a cup of coffee.

The hard part was getting the camera on top and tightening it to the steel girder. The lens we used had a manual focus so someone had to get on a long stair, go all the way up and set the focus. After we did a couple of test shots with all the flash lights in place, we used a control remote to trigger the camera.

Obviously I had to do some photoshop to add more bills around her. Like I always say, the processing is a really important part of the end job!
---
And now some behind the scenes of the whole process
---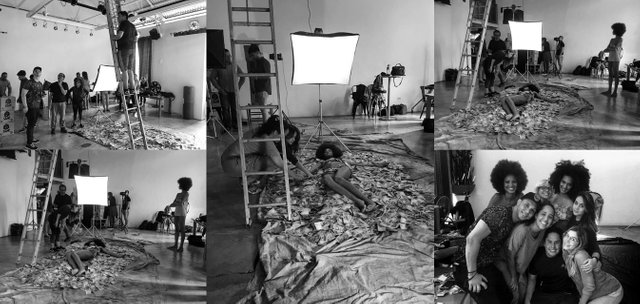 ---
The team
---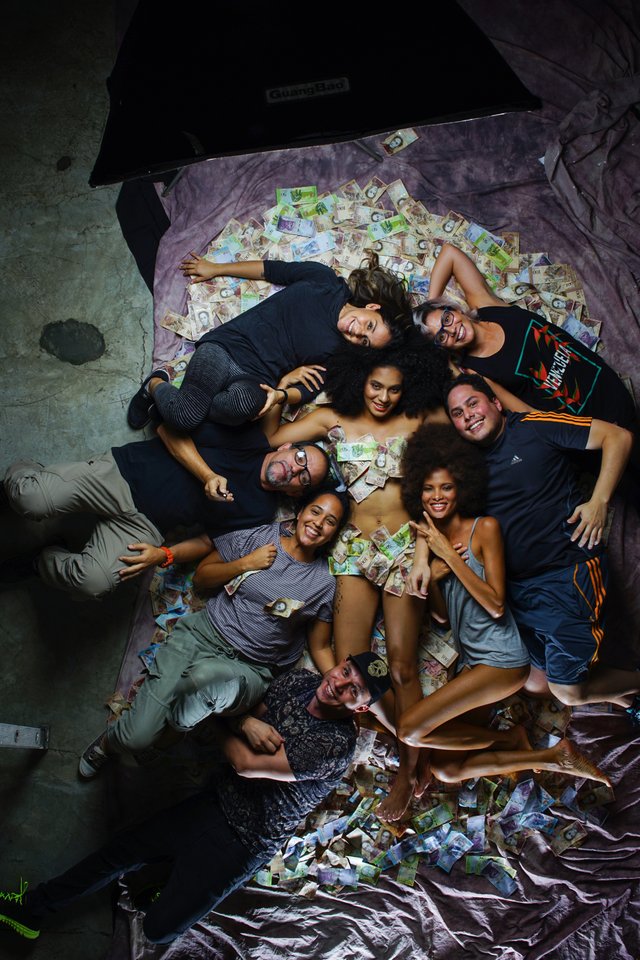 ---
Concept and photography:
Gaby Oráa, Natan, Xenia Mateos, Yul Terán

Teacher: Walter Otto
Model: Yelitza Veloz
Makeup: Laura Chaves
Post production: Gaby Oráa

Roberto Mata photography school


We had a big discussion into to what title to give the image. At the end, we decided to leave it without a title, cause I think it's strong enough to speak for itself. I am curious though to know what you interpret from it.

---
All images are copyright © 2018 Gabriela Oráa. All rights reserved.



Gabriela Borjas Oráa - Passion for Photography
Instagram  |   Facebook   |   Twitter