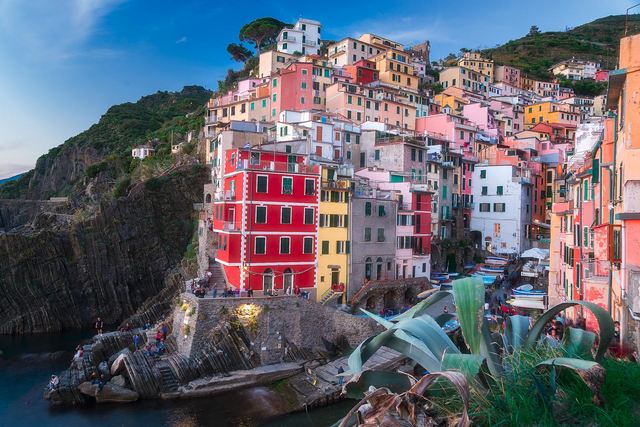 Click on image to view larger
---
The Amazing Village of Riomaggiore in Italy
Riomaggiore is one of the villages of Cinque Terre in the La Spezia region of Italy. This isn't the first time I've visited the Cinque Terre. I was here in 2013 but only visited Vernazza. I was so impressed with how easy it was to photograph the place that I had to come back. This time I made sure I visited all 5 of the special villages.
This village sits adjacent to the ocean just like Vernazza. There's a footpath here called Via dell'Amore and it connects Riomaggiore to Manarola. I stayed at a hostel here but only for a night, it was a bit expensive.
You can stay at a neighboring town outside the Cinque Terre and it's much cheaper. You just have to take the train into the area, which is frequent and convenient.
Have you been to the Cinque Terre?
---
| | |
| --- | --- |
| Category | Landscape |
| Exposure | Manual exposure, 1/20 sec, f/8, ISO 100 |
| Camera | Sony A7II |
| Lens | Sony FE 24-204 mm |
| Filter | Polarizer |
| Location | Cinque Terre, Italy |
---

"Travel is fatal to prejudice, bigotry, and narrow-mindedness." - Mark Twain
All photos are taken and articles are written by Adonis Villanueva of Always Wanderlust unless otherwise stated.


GET UP TO 2X YOUR VOTE VALUE - Steem Follower
GET MORE FOLLOWERS - Steem Engine
---
Twitter Page, AlwaysWanderlust
Facebook Page, AlwaysWanderlust
Instagram Page, AlwaysWanderlust
Website, AlwaysWanderlust.com
© 2017 AlwaysWanderlust.com All Rights Reserved