Worship the ball of light! Mid exposure lens swapping with some assistance from Michelangelo...
During my lightpainting journey of discovery (or trying to figure out how the hell it was done!) I discovered that I could use an iPad screen as a source of light. So a quick scout around and I found Michelangelo's Creation of Adam painting and set about adding it to a lightpainting shot.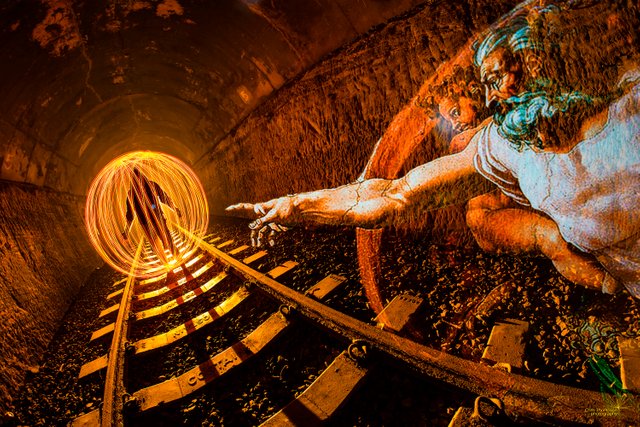 Firstly for the image on the iPad, I cloned out Adam and other stuff to make a black unexposed space within which to add more light. I then exported the resulting image to an iPad and took the tablet with me to this abandoned railway tunnel in Nottinghamshire.
For the second part of the image, I used a Samyang full frame fisheye lens and set up my LP buddy, @neilru in position. I fired a Godox strobe from the back of the frame to make Neil in to a silhouette. I then moved to the spot where Neil is stood and spun a www.denissmith.com.au/ Ball of Light tool.
Once I was happy with the second part I set about putting both elements of the shot together in one photographic exposure. First I shot the image on the iPad and replaced the lens cap without ending the exposure. I then swapped lenses and tripods to point down the tunnel and set the flash off and spun the orb. It took a few attempts to cure my OCD when spinning orbs but Neil was very patient! Ended the exposure, job done.
This image was created in one photographic exposure with a Sony A7 camera, a Sony Zeiss 16-35mm and a Samyang 12mm fisheye lens. You should definitely check out Denis Smith's www.denissmith.com.au/ Ball of Light tool, a cracking piece of kit always in my bag and built like a tank!
Another example of a Ball of Light: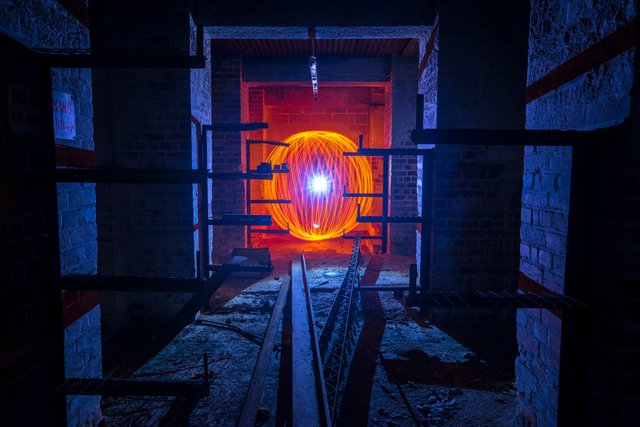 I am by no means the best in the world at spinning orbs on account of the fact that I have three left feet: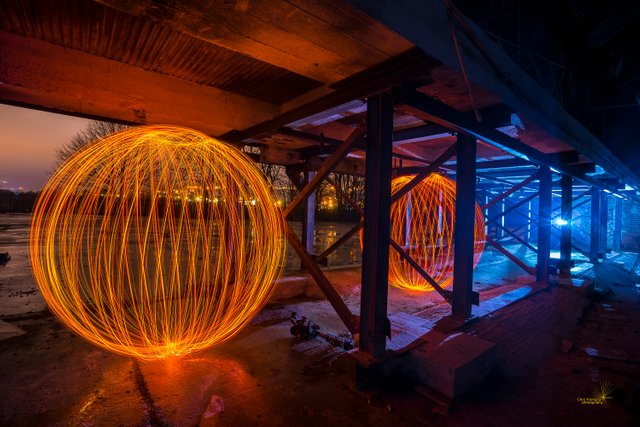 About me: I usually specialise in shooting lightpainting images but occasionally dabble in urbex and artistic model photography. I'm always on the lookout for someone to collaborate with; please don't hesitate to get in touch if you'd like to create art.
Social media:
https://www.facebook.com/fastchrisuk
https://www.flickr.com/photos/fastchris/
If you'd like to see more light painting on Steemit then give @lightpaintershub a follow and you'll be introduced into the wonderful world of light painting.