I made a post recently about evil and how it is an illusion to separate people. https://steemit.com/philosophy/@ungratefulchump/evil-is-an-illusion
I would like this article to be a rebuttal towards @stan 's arguments about Evil. I specifically want to point this topic towards his comment, "God is saying there IS evil. I'm going with His opinion. :)"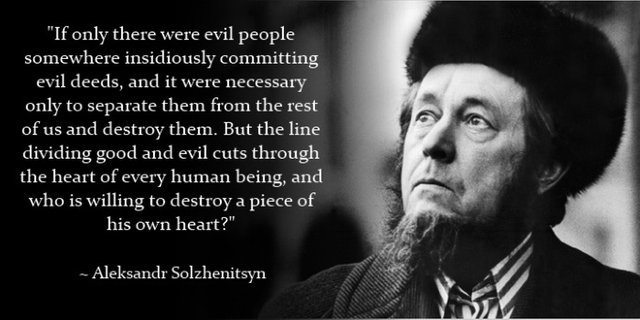 I believe that there isn't evil unless we believe there to be evil. Everyone grows up in different environment. Every parents has different beliefs. Do we blame children for believing those beliefs? Do we blame the parents from learning it from their parents? Where does this cycle end? If God is with us, do you picture him telling people who is evil? Do you picture him spreading this evil and pushing people away?
We distance ourselves from the people we consider to be evil. We call them evil and ostracize a group of them for thinking the way they do. We are all humans trying to make sense of this world we have ended up on. Do you really think it is beneficial to tell ourselves that a certain group of people who have been told who is good or bad all their lives is our enemy? I believe that we all misunderstand each other if we think anyone is the root of evil.
Evil is created by our lives. By our politics, by our regions, by our cultures, by our religions. Politicians tell us that Isis is destroying our values, that mexico is the root of our issues, that Trump really is the worst human being alive. But do you think any of that means evil? We all have emotional responses to these topics, and I am not saying I am on any side. I just want to make clear that we use Evil as a tool. We point our issues at someone. We say that they are the cause and we must change them to make us comfortable.
Evil has been used as a tool to spread fear and unite people against others time and time again. Some more blunt like the holocaust and their blaming the problems on a group (s) of people. But anyone who wants a rise of power must seek change, it seems to often to blame someone for the change not taking place and lashing out against them.
Even the worst crimes have a reason. And usually it is due to people being outside of the "Norm". People are born serial killers, they aren't born criminals, they aren't born hated by society. But we create that. We create a world where we judge people. We create a world where we tell people that you are wrong and this is right. We create a world where we remove these evil people from our society because they don't fit into our puzzle. But something isn't right, these people weren't born evil, they were born within the Norm. But they change into this so called evil we define. And instead of addressing the issue that made them fit outside of our Norm, we move them even farther and tell them they are wrong.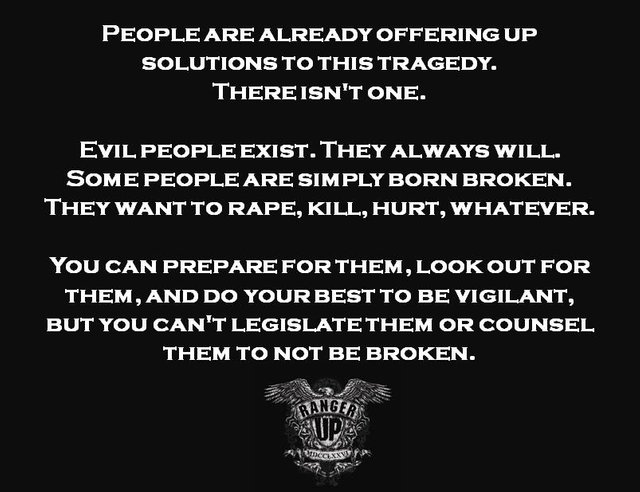 I put this picture, because I believe this is how some people want to treat evil. "But you can't counsel them to not be broken." Instead of even trying to help these people who we consider sick and evil, we instead believe the best way to handle them is not even bother trying and remove them from our world. It seems people forgot, there is logic in these situations. People don't just break down and ruin society. There are reasons, shouldn't we remove the reasons and try to move towards a world with less broken people?
I believe that we should try and picture a world that doesn't have these preconceived notions that there are evil people all around us. If there is a differing opinion we can learn from those people, and make positive change so that everyone can live better together. It is impossible today with our current politics and religions, and other barriers. But if we all try to work together, I believe even just a few lives can be changed. And if we ever do achieve this, I believe we can break huge walls and move everyone further without wars, fights, and separations between each other. We are humans, all of us. Everyone is evil to some standard out there.