This Dave Grohl quote shows why music is able to bring us together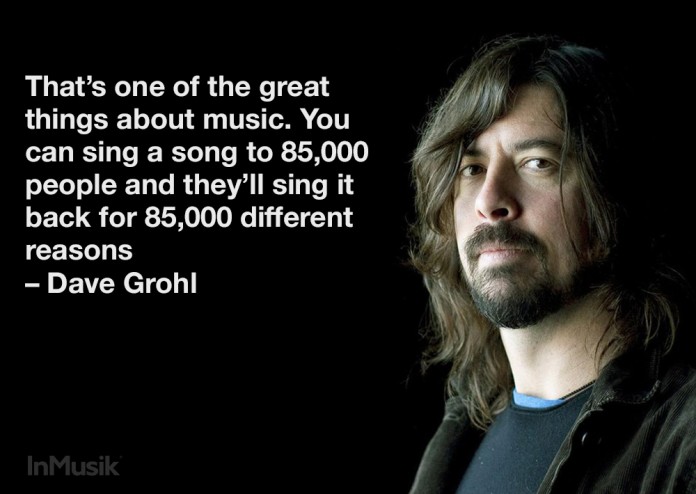 A Spectacle of Spectacles
We're all watching the same show with different glasses
Each pair constantly changing with the light through them passes
Born with a fresh pair, brand new,
We don't always get to choose what our glasses do
Others will bend them, straighten them,
Sometimes polish, or even break them
And once changed they can never go back
Just wabi-sabi your best to Kintsugi the crack
We'll forget that our glasses look differently,
And others might not agree with what we see
So try to try on other's glasses too,
And glimpse the world as others do
You might see a dent and say, "Hey that's like mine!
We're not so different you and I"
All seeing something different watching the same show,
We all feel the same things about the lives only we know
Music shows us our shared emotions in our different lives
How extraordinary it is that every human has never had the same life as another, yet our lives have so much in common. We've all been hurt, happy, confused, and in and out of love. We all fight battles and everyone has one and lost. Shared burdens are easier to bear, and shared joys are multiplied. Music has incredible power to express emotion. It gives words more gravitas and melodies need no translation. I don't need to know what happened in your past to make you who you are. All I need to know is that right now you are feeling the same as I am about an entirely different experience. Thanks to music we can share an emotion without sharing an experience, and that is awesome.
Be mindful of your glasses and the effect you have on others,
NJM