Peterson vs. Žižek: Is Capitalism the Garden of Earthly Delights?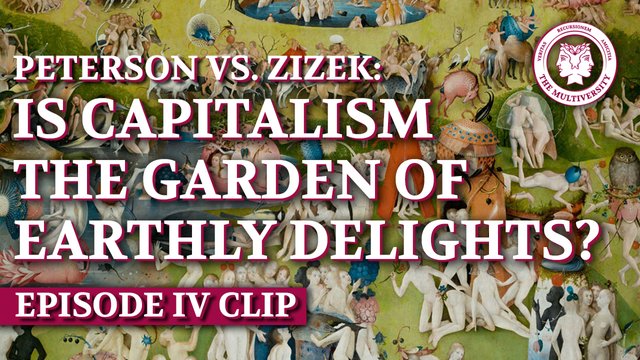 The Multiversity goes in with a scalpel to tease out what Slavoj Žižek's main message might be, drawing on his recent debate with Jordan Peterson. Is he justified in believing capitalism will fail? And does his argument hinge on the commodification of culture, the erosion of the protestant work ethic, the problem of the commons, or some combination thereof?
The discussion moves to an analysis of the garden of earthly paradise from Dostoevsky's Notes From the Underground, where he discusses how in a perfectly abundant world, man would become an agent of destruction. We compare Peterson and Žižek's differing interpretations of the allegory, and how we might avoid the dangers it warns of.
Watch the full episode - Jordan Peterson vs. Slavoj Zizek: The Wrestling Match That Turned Into A Hug
---

Who we are
The Multiversity Project is a podcast for higher dimensional education. Join your hosts Arielle, Chris, Kurt, and Katy as we explore philosophy and the multiverse, and uncover the strangeness within.
Please connect with us
The Multiversity Project Website
The Multiversity Project Facebook
The Multiversity Project Instagram
The Multiversity Project Twitter
The Multiversity Project Telegram group
The Multiversity Project YouTube
The Multiversity Project Hyperspace
The Multiversity Project Steemit