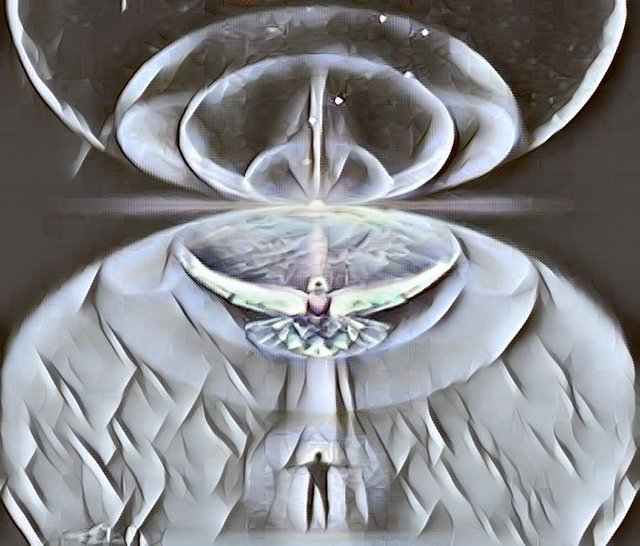 We as human beings - as well as all other living beings - have ultimately been created by our creator .
The purpose for our creation, and the creation of the omniverse, is co-creation with our creator.
Have you ever been so depressed - that you have questioned the existence of everything?
Kind of like - why does anything exist in the first place if life is so hard and so painfull.
The reason existence exists is because of the idea that expansion is better than non-existence.
Because non existence didn't exist (as it was literally nonexistence) - no possibility for change or advancement - for expansion - existed.
Thus, the all permeating thought that was self realization entered into this void ; cultivating the energy that is existence.
This energy of existence grew into its perfected state as all attractive potential - all power.
It grew into what is known as The ALL - or mother / father / God.
However, while completely content - The ALL lacked purpose.
It was - but that wasn't enough.
It needed to be needed.
It needed to expand - to be all it could be.
Through this yearning desire - it expanded itself into the sunship
It birthed itself first into the first virgin firmament - then into angels that then seeded planets - elevating life to a state of sentient evolution.
These angels , and the life they hath birthed, are co-creators with the most high God - The ALL.
This co-creation is the entire purpose of all existence.
We as suns of the most high GOD are to go forth with that divine spark - and create.
We are to create by the volition of our own free will.
What purpose is more meaningful?
---
Thank you for reading.
We appreciate your sustained attention
If You Appretiate our Work, then please ,Don't Hesitate To Follow, Upvote, Share, Resteem ANd Donate !!
You can donate via PayPal @
paypal.me/Neophytan1
or via any of the following crypto currencies;
Btc : 15eD9fQFM12bUwboeyTTuDfWoM1Xf65AKb
Bread : 0xcc8b8c69e2e53d5b23bcf1ace532ae91480e9401
Btc cash: 15eD9fQFM12bUwboeyTTuDfWoM1Xf65AKb
Btc gold : GgGxEpK99VfW7y18ayvs9toLPdtTRzSqFJ
Cardano DdzFFzCqrhsgdPQL9D8hEqFuBbr7wBdtwEx9RLkoHXtGdk9MS54Ji6ZeQj91LTYfy71qYV6vDQcSxHorsu7FyV3z7HGYDktzVcDa2yK4
basic attention token
0xcc8b8c69e2e53d5b23bcf1ace532ae91480e9401
basic attention token
0xcc8b8c69e2e53d5b23bcf1ace532ae91480e9401
XMR Deposit Payment ID
03ef8e9ecba0ea2520763e243d06afc4acfab333bfe7f35b0c0784f1e5572a1f
XMR Deposit Address
44tLjmXrQNrWJ5NBsEj2R77ZBEgDa3fEe9GLpSf2FRmhexPvfYDUAB7EXX1Hdb3aMQ9FLqdJ56yaAhiXoRsceGJCRS3Jxkn