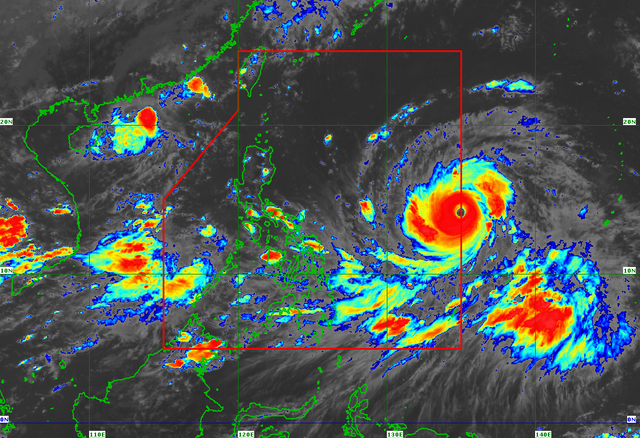 Today i wanted to share this very important news about our country, Philippines . The typhoon named 'Ompong' is not yet considered as a super typhoon as of the moment by our Philippine Atmospheric, Geophysical and Astronomical Services Administration (PAGASA) , the weather authority of the Philippines, even this typhoon already is inside Philippine Area of responsibility. Its current movement is westward direction with speed of 20 kph and is said to be the strongest typhoon that will affect the country so far.
According to the news i've just watched earlier , typhoon Ompong will have its possible landfall on Saturday on extreme northern Luzon part of the Philippines and expected to be declared as super typhoon signal number 5 with a maximum sustain wind of 220 kilometers per hour. This type of typhoon is said to have the ability to washed away big trees , can destroy big houses . So the people from Batanes and Ilocos have already started to prepare for the said typhoon since yesterday.
At the moment of writing , it's starting to rain here in my area , Cavite,Philippines. And tomorrow Thursday we are also advised about heavy rainfall , and it will have like 4 meters seawaves on Cagayan Valley area . Then on Friday , we can expect super heavy rain fall with 10 meters seawaves in Batanes area . It has als been announced on the news that class suspension will start tomorrow on the following areas : Ilocos Sur , Ilocos norte , Cagayan Abra, Apayao, Apalit Pampanga .
This expected typhoon Ompong would bring huge seawaves , strong winds and super heavy rain , that again, can destroy houses , take down big trees and cause land slides. So let's all prepare for this by getting ready all our to-go bags , ourselves and please help us all pray that there will beno casualties and that everyone will be safe . Am hoping that this typhoon will just melt itself so no destructions will happen in the country. I know GOD will protect us all.
Much Love,