Hello New Company and Goodbye to the world of Unemployed!
It has been almost a week since I posted and I do have a lot of things going on lately.
First is my website https://puritostories.xopus.io/ is no working anymore hence I cannot create a blog post on that. It has been I think one of the factors why I began to sway away from writing.
Since I am focusing on that niche and I don't have any access to it anymore then it is kinda frustrating.
---
Aside from that I recently landed a job in an office nearby ( 1 hour travel)
(Yes malapait parin sya for me since ang dating office ko ay 2 to 3 hours travel)
I applied in First Source Alabang 2 weeks ago and praise God that I did pass the interview and all of those stuff.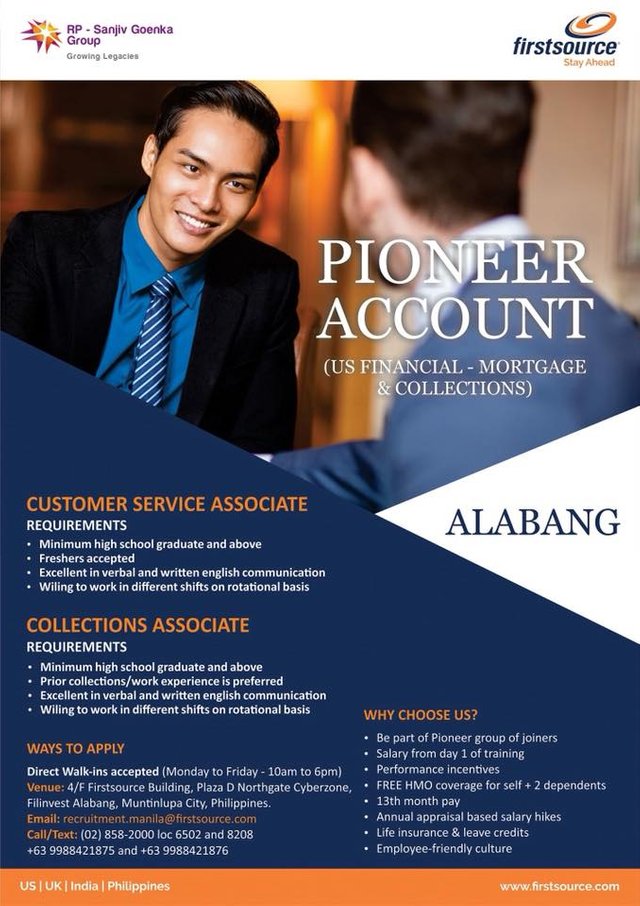 Been applying for a new job since the price of STEEM is not that high compared to when I started. I already lost confidence that time and I even told myself that if I will not be hired that day then I will apply next month to Makati or other locations.
I already tried the other companies in Alabang so my options are limited already and I can somehow get the point of the interviewer on why I wasn't hired that time.
(Sino ba naman ang gustong maghired ng call-center hopper diba dapat yung employee na pangmatagalan)
I cannot say that the process of the interview is easy and I cannot also say that it is hard.
(Kanya-kanyang pakiramdam yan mahirap naman na sabihin ko madali lang ang interview ko tapos pag may nagpunta para magpa-interview tapos mag rely dun sa info ko balikan ako at sinabing FAKE NEWS yun and vice versa)
I went to their office at around 3:00PM after a devastating interview with a different company. Since I am already in Alabang why not go apply to other centers already right plus if I will delay that then my funds would not be enough I guess for another round of trip to Alabang the next day.
(Second option ko lang kasi si First Source kasi nga maliit ang offer nila compared to other BPO's tsaka kailangan talaga magtipid ngayon kaunti lang ang budget pang -apply)
The staffs are really nice that is something that I did like about them and the transition of the process is quite fast.
(Kaunti lang ang applicants that day na nag-apply ako recruitment starts at 12:00PM tapos ends at 5:00PM)
The Process:
Initial Interview
Exam
Final Interview
Disclaimer the experience may be different from others pero ayan lang ang process nila kaya mabilis lang ako nakauwi with the J.O.
Initial Interview:
The interview started with just asking for my name etc. then the previous work experience. Since the company is looking for people who will be joining the program for their Collections Campaign it is my time to shine.
(Pabibo mode ka dapat talaga dito, like i explain mo yung ginawa mo sa previous process mo at ano ang mga roles mo the other center na pinanggalinggan ko before First Source hanggang tell me something about yourself lang di na tinanong ang skill set na meron ako so doon palang natanggap ko na ligwak ako sa unang round)
After the pabibo moments the interviewer mentioned the offer that they have and it was low compared to the others that I have worked with. But I told myself, I am already okay with the offer that they will be giving to me.
(Hello ito ngang steemit na di na ako nag-eearn and other jobs na pinag-aaplyan ko na walang naioffer back aarte pa ba ako? Tsaka that time I really felt that the job was for me hindi sya mabigat sa kalooban and parang nagku kwentuhan lang kami nung interviewer ayun natapos ang interview at binigyan nya ako ng tip na ayusin ko daw yung tono ng boses ko. Masyado daw jolly at baka isipin ng OM na di daw ako seryoso sa pag-aapply ko)
Exam:
ANG HIRAP NG EXAM!
The exam is one of the toughest exam that I had because of the following.
The exam is written
(Inabot ako ng 2 hours para sa pagsasagot ng essay at pagsusulat ng email. Good thing friction pen ang gamit ko ang dami kong erasures dun sa email composition. Pag nasanay ka na sa copy-paste template maiintindihan mo na mahirap mag compose ng impromptu na email tapos Inglishment pa.)

No grammar checker.
( Grammarly is my best friend so ang hirap bes talaga.)

No cellphones and no calculators
(Tapos since walang calculator at di computerized mano-mano ang computation from MDAS ( Multiplication, Division, Addition, Subtraction) hanggang sa pagkuha ng square root at mga discount discount tapos kph . Napaisip nga ako anong konek ng square root at kph sa pagiging kolektor.)
Final Interview:
The interviewer was quite busy that time she was the manager of the whole line of business so she didn't asked for the personal details anymore. She just asked me about the stuff like what am I doing for the past 1 year and I told her that I am doing steemit.com and trying to learn about other stuff online.
(Mas naramdaman ko na para sa akin yung job nung sinabi nya na I want my agents to learn more about mortgage and you need to study in advance about laws per state. Sympre di naman ako pwede mag assume pero ganun eh I just told her na medyo pamilyar na ako sa mortgage stuff. Gawa nung account ni purito plan ko mag tackle about mortgage din since konekted sya sa collections and finances)
---
So there! That is the reason why I was quite away been busy working with the documents in the government like Philhealth, Pag-ibig and BIR plus the pila butI will still be around since I am also working on a project for @scholarsph as part of the Scholarship Committee.
---
So this is my final week of being a Home Based person hahaha. Btw I am part of the Batch 1 of the account for Mortgage so the chances of being promoted and other opportunities is bigger. I do plan to stay here in the company for a long time already until I am not passing the metrics or until they kicked me out since I already experience the hardships of being unemployed for a year and the hardships of applying for a job.
Thats all!
( *Wala na namang sustansya yung blogpost na to hahaha *)