Marinduque Island is often overlooked by foreign tourists which makes it the perfect place if you don't like touristy destinations. Some local tourists visit the island on weekends and holiday, well aware of the island many treasures. Marinduque has a lot to offer, the vegetation is lush and the beaches white-sanded. It will please everyone's taste, with many interesting tourist spots and activities available such as trekking through scenic landscapes, refreshing waterfalls, warming hot springs, adventurous spelunking, and picture-perfect island hopping.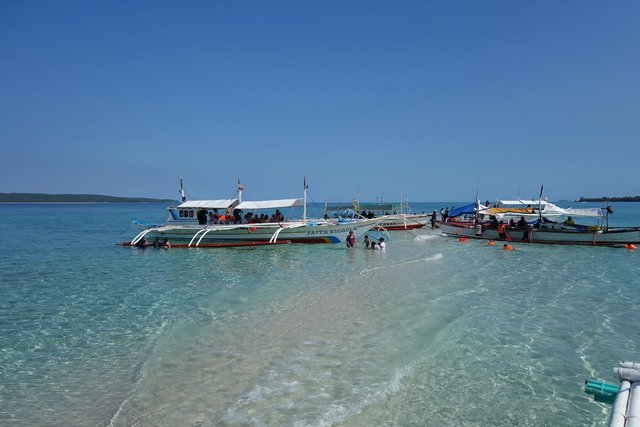 Here are some of Marinduque best tourist spots :
Paadjao Waterfalls
The most famous waterfall in Marinduque, Mogpog is the perfect place to escape from the heat. There are several pools large enough to swim and it's usually quiet during weekdays. You can even get a free massage, sitting on the rocks under the strong stream.
There are only two jeepneys per day doing the trip from Mogpog and back. You might want to hire a tricycle.
Marinduque hot spring and resort
As most islands in the Philippines, Marinduque is volcanic so you can visit some hot springs. Surrounded by nature, the resort is really nice and worth a stop if you're not too hot. They have some cabins and you can also camp there. Spending a night could be fun as the hot springs are more enjoyable at night time. Take a warm bath and just gaze at the stars.
There are a couple of pools there, some can even be rented privately. To get there you'll need to go to Buenavista and then hire a tricycle. The entrance fee is 50 pesos.
Poctoy White Beach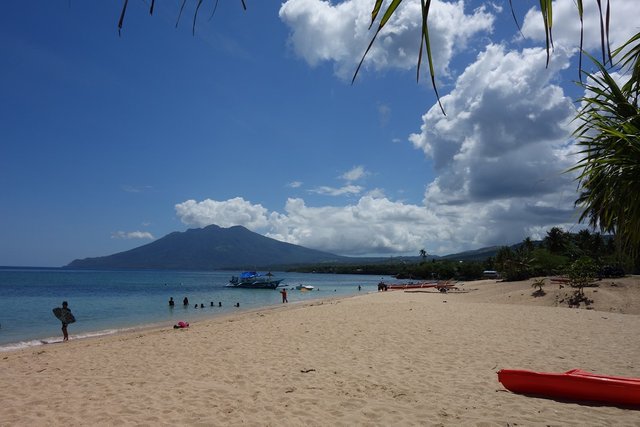 By far the most beautiful beach on Marinduque, Poctoy White Beach is the perfect place to swim and enjoy the sun. Frequented by locals during the weekends, you'll find some peace and quiet during the week.
To get there you can take a jeepney from Santa Cruz or Torrijos. The last trip is around 5 pm. From the beach, you can hire a boat to take you island hopping to the Tres Reyes Islands: Baltazar, Malchor, and Gaspar. There are some nice snorkeling spots as well as beautiful white-sand beaches.
Maniwaya island and island hopping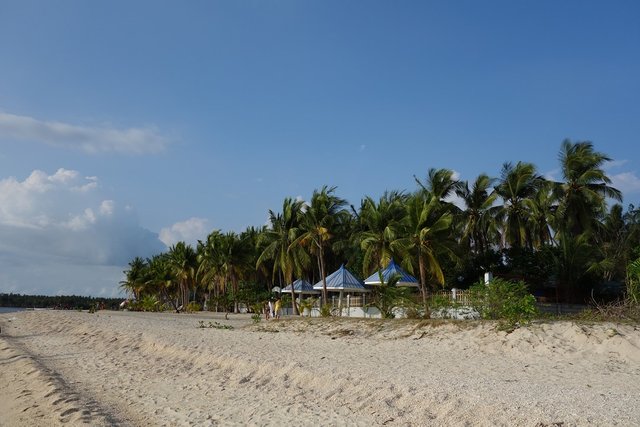 The island hopping on the east coast of Marinduque is really nice. You can either get to Santa Cruz pier in the morning and rent a boat for the day, or take a passenger boat to Maniwaya Island. There's a daily boat leaving at 11 am, sooner if it's full. The fare is 80 pesos. The return trip is at 7 am the next day. They also have a boat coming from General Santos directly to Maniwaya.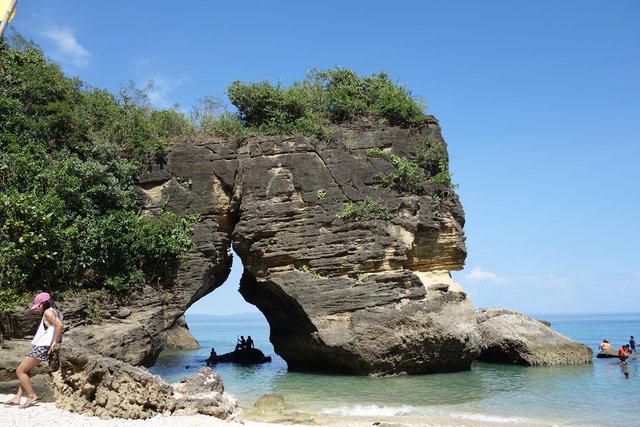 Maniwaya island has a beautiful white-sand beach and surprisingly a lot of accommodation options, mostly tents. Another surprise, it's pretty crowded with local tourists, especially during weekends and holidays. You'll easily find a boat or a group to join for island hopping if you're not a large group. The island is a lot of fun, and Filipinos are usually really friendly, so if you're solo traveling you won't get bored there.
Marinduque Wildlife Sanctuary
Two areas in South Marinduque have been declared protected and the community is now organizing trekking through this area. Several levels and distances of treks are available. A guide is mandatory and the price varies according to the trek you choose to do. You can also arrange to camp there.
The views are amazing, the landscape impressive and you might spot some birds such as hornbills.
For more info, check out their facebook page.
Bagumbongan Underground River Cave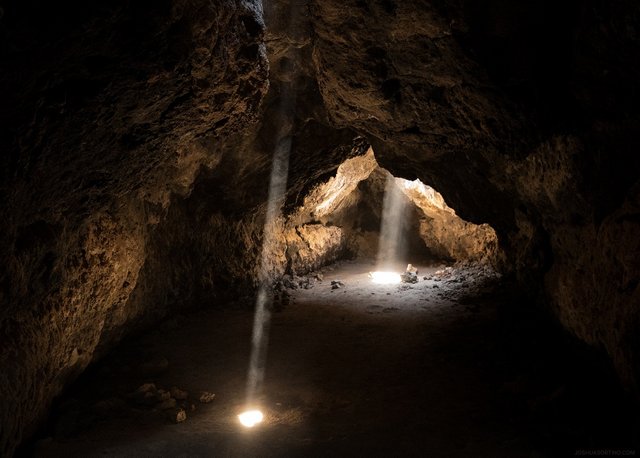 This 2 kilometers deep cave is for true adventurers, you'll have to crawl, you'll have to hike and you'll have to get wet. A lot of fun if you like to get down and dirty. Visiting the cave through and through takes about 4 hours. Another option is to only visit half of the cave and then go back on your steps.
You can take a jeepney from Santa Cruz to get to the cave.
Entrance fee: 300 pesos – mandatory guide included
If you don't like « extreme » caving, you can visit Ka Amon Cave in Bonliw and Tarug Cave in Bocboc. For both, you'll need to arrange for a guide to accompany you, but visiting these caves is way much easier than visiting Bagumbongan.
Don't miss the Mariones festival
Each year, during Easter week, Marinduque holds its famous Mariones festival celebrating the life of Longinus. He was a Roman soldier who wounded Jesus during the Crucifixion. Jesus' blood healed his blind eye. He converted and was later executed.
Most of the celebrations are held in Boac. Everyone is disguised as a Roman centurion and one of the major events is the chase of Longinus around the city and nearby fields.
If you cannot make it to the festival you can check out the Marinduque National Museum. They have a collection of Moriones masks as well as some explanations about the festival and its history. You can also visit Dick Malapote Workshop near Magpog. He's one of the most famous Mariones costume makers and has been at it for more than 25 years.
How to get to Marinduque
There are daily boats leaving from General Santos and Lucena. Getting around Marinduque by public transportation is not easy, I recommend renting a motorbike in Lucena and taking it on the ferry, I'm not sure you'll easily find bike rentals in Marinduque, especially for a couple of days.
Disclaimer: none of the content in this post infringe copyright laws or steemit terms of service. I fully own the website juliearoundtheglobe.com. If anyone has a doubt about that he/she can contact me directly via my website.