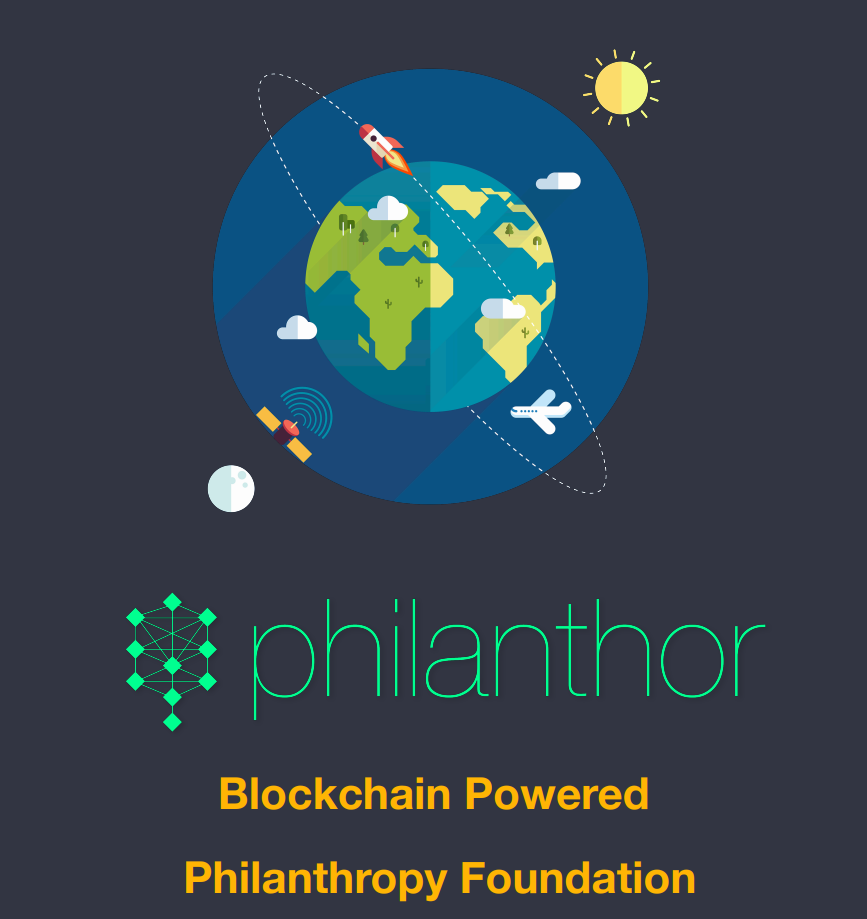 This year there was an anonymous $56 million worth of bitcoin donor by the name "Pine". He donated 5057 Bitcoins to 56 charity organizations who had applied through his Pineapple fund project. His donations were transparent in the blockchains distributed ledger which he later published in his website.
With this idea in mind, blockchain distributed ledger technology can be used to improve charitable organizations processes by improving their reputations. There have been bad reputations in charitable operations where charity organizations are being accused of spending donors' funds in organizations management and overhead payments instead of spending on programs.
By integrating blockchain transparent systems, charitable organizations can bring back the confidence missing and lead to improved charitable involvements.
Pineapple fund is an example of the rise of cryptocurrency donations, through the use of smart contracts donors will be able to manage and monitor their donations creating transparency in the process and accountability.
One of the blockchain projects making this a reality is Philanthor, a charitable project powered by blockchain technology with its own economy controlled by its native token to add the missing features in charitable processes by making it possible to manage, track and processes contracts using smart contracts. Philanthor is uniting charity organizations and donors through the use of blockchain technology in order to optimize operations and foster accountability and transparency in charitable operations.
Philanthor: Philanthropy on Blockchain.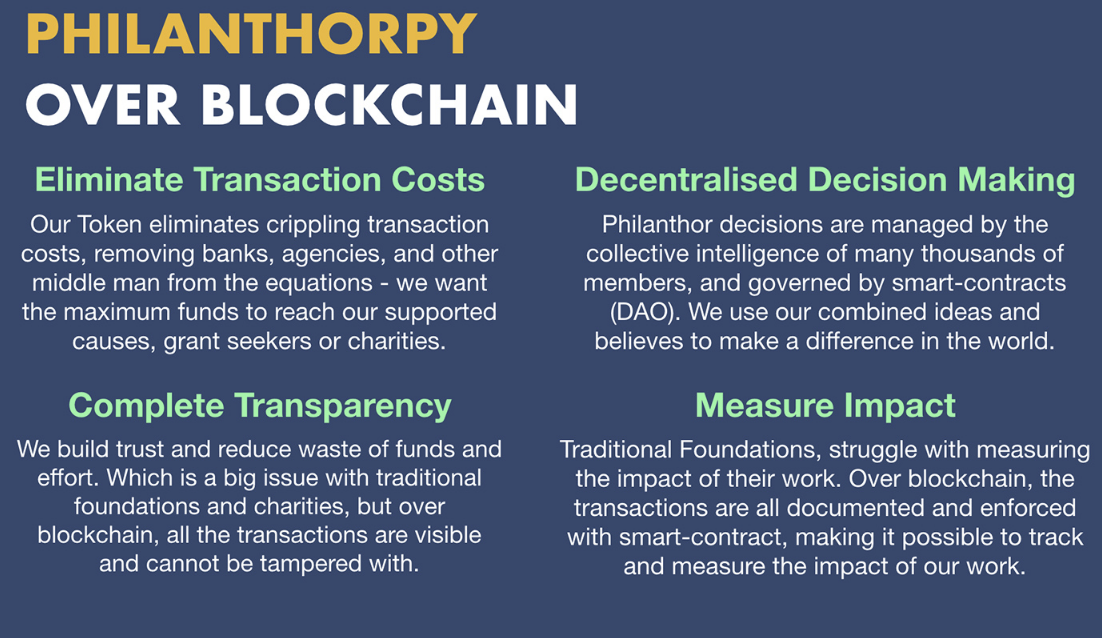 Philanthor is a decentralized charitable project that plans to unite the community with a shared belief of improving humanity towards a common good. The community through collaborations unite towards on improving humanity, the collective skills and resources will allow the decentralization of charitable processes enabling long term and sustainable solutions towards emergencies and global crises.
Philanthor uses blockchain technology features such as smart contracts to processes resources and allow transparency in its processes in an autonomous manner. Philanthor economy is controlled by its native tokens that will allow cross border touch of charitable activities without the high costs of cross border transactions and Intermediaries.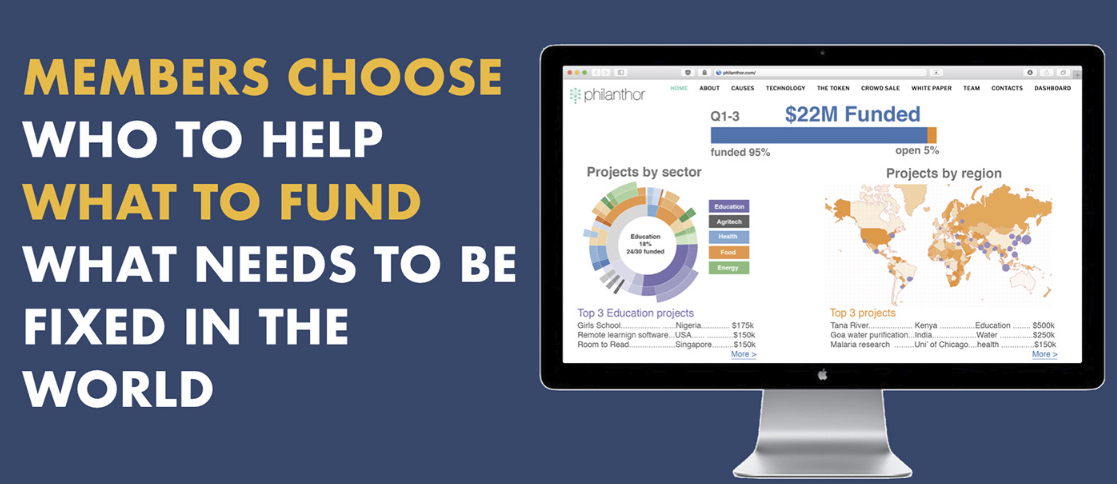 Through a decentralized approach the community will be able to control the use of funds based on consensus agreements, through this system the integrity of charitable programs is justified through the majority rule.
Philanthor: The Causes We Support.

Philanthor is uniting the community with charitable organizations towards a common cause of decentralizing the good work of charitable events, Philanthor will focus on the main areas of focus which are education, food, energy, health, water and technology.
Through the collaboration and collective of individuals and using technology towards making this an easy and applicable business model that is geared towards giving back.
Philanthor: The Technology.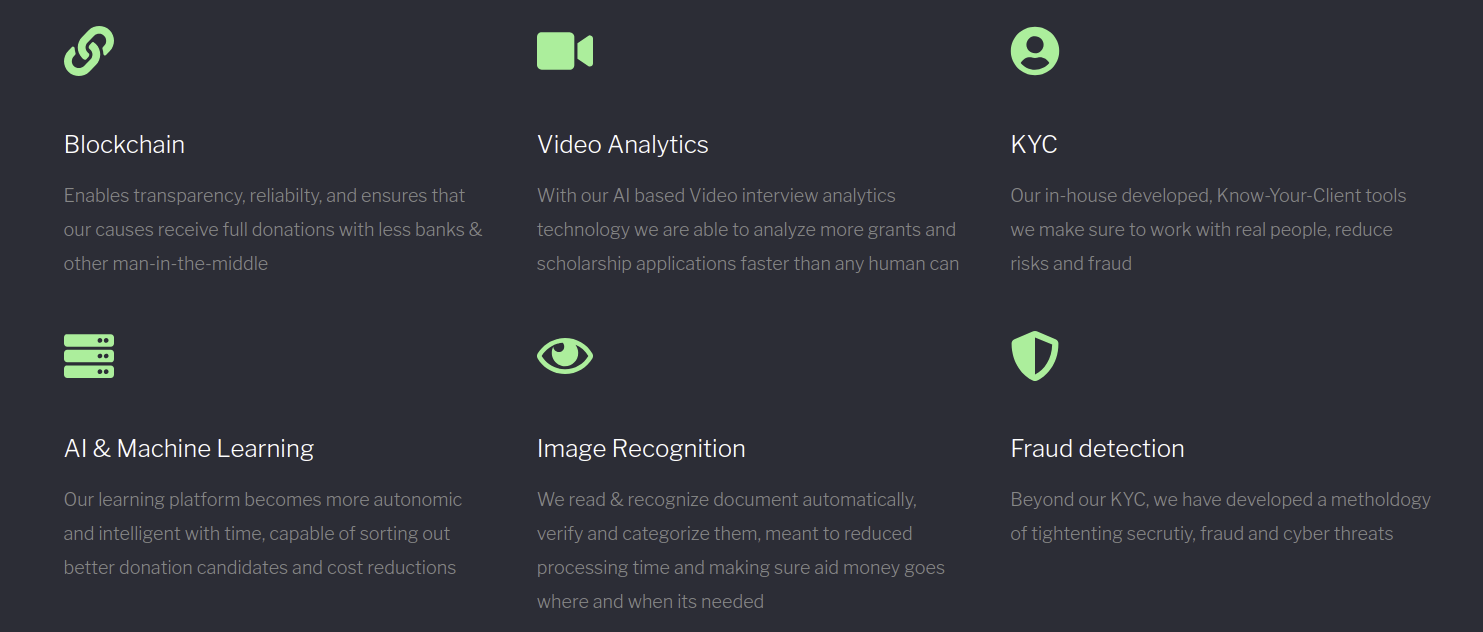 Philanthor will be powered by blockchain technology and artificial intelligence, the team has worked on the product for more than 18 months and its main goal is to optimize charitable events through transparency and accountability of donor resources.
Through the use of blockchain technology, Philanthor will be able to verify user's identity before they use or benefit from the platform, this will improve charitable operations and minimize cases of ghost transactions that increase risk and fraud.
Philanthor platform through the use of blockchain technology and machine learning will be able to minimize fraud through the use of tracing how donations are changing hands and through the validation of the processes in the distributed ledger to increase transparency, security and minimize resources diversions from intended projects.
Philanthro will use Video analytics to allow processing grants and scholarship applications through smart contracts automatically processes. The automation of charitable processes will allow smart processing of charitable resources in areas that needs fast reactions such as emergencies and crisis.
Philanthor's donation PTH token.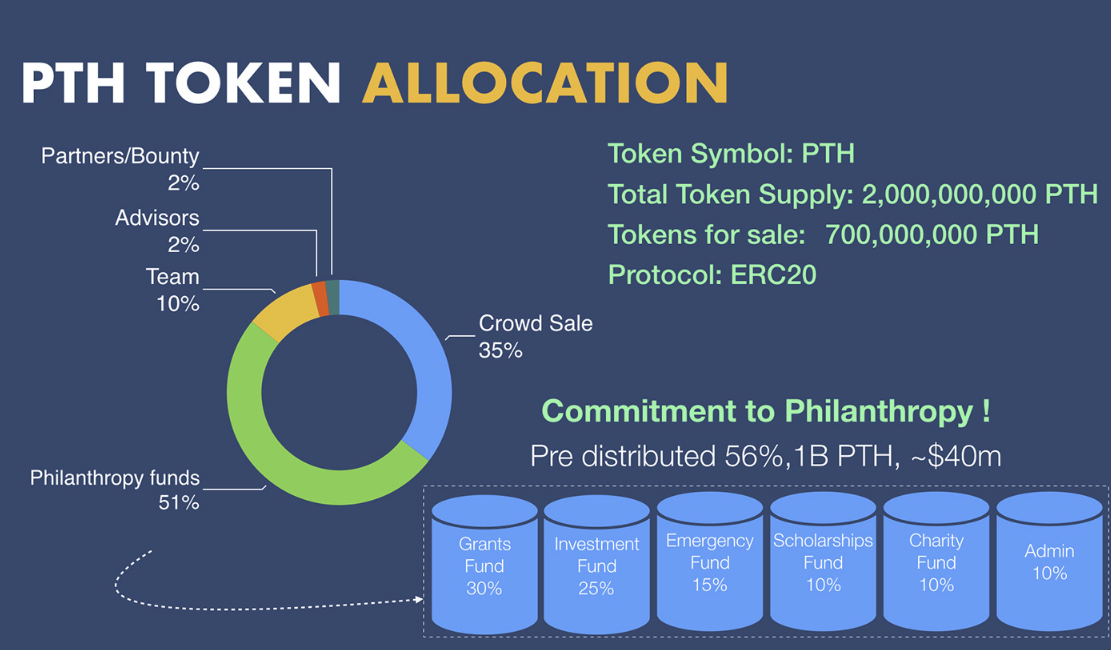 To enable a decentralized economy and allow processing of smart contracts, Philanthor will be fueled by its own token called the PTH Tokens, This are ERC20 tokens that will enable processing of transitions to be automated and easily tracked through the use of distributed ledger technology, the tokens will be also used in the processes of community involvement in voting for use of funds among other cases such as charitable events funding where the intended purpose of PTH tokens is reduce transactions processing.
Specific uses of Philanthor platform in philanthropic could include the following, among others: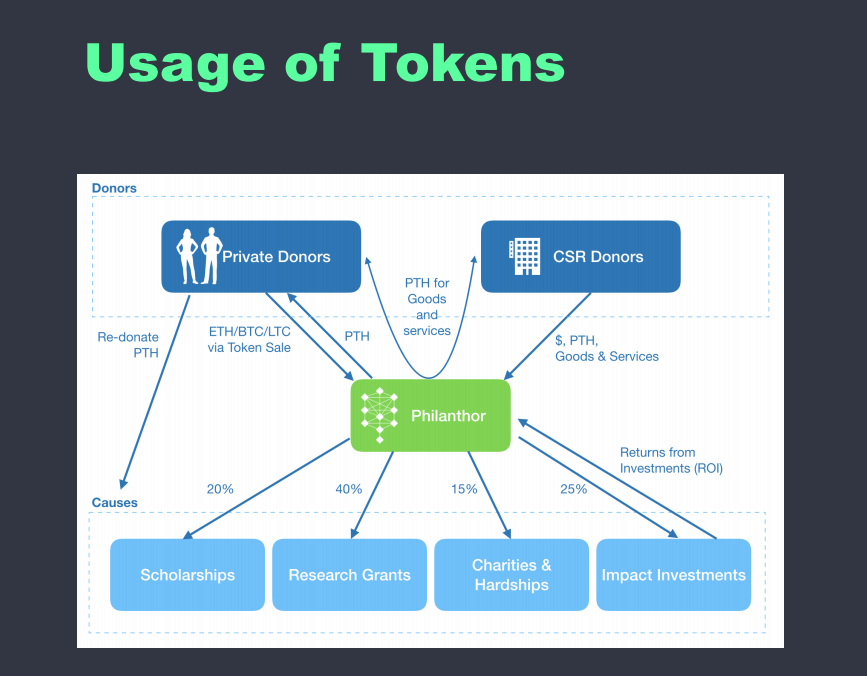 Through the use of blockchain, artificial intelligence and machine learning Philanthor will allow charitable operations to be tracked and monitored thanks to blockchain technology. This includes grants, scholarships and donations resources.
Through the use of reporting of charitable where records are stored in immutable storages, organizations and donors will be able to collect and analyze charitable activities and their impact in success.
Individuals and organizations will be able to monitor the use of their resources, to avoid the misuse of donor's resources which might be diverted to overhead operations instead of their intended use.
Conclusions.
The optimization of charitable activities and operational processes by charitable organizations such as Philanthor will help promote cryptocurrency charitable activities. The use of smart contracts to automate the processes and distributed ledger technology promotes transparency and integrity which is the philosophy of the cryptocurrency community.
Philanthor is also giving back the powers to the community to decide on the use cases of the donation's resources, since the community understands the root problems Philanthor will be able to optimize charitable activities.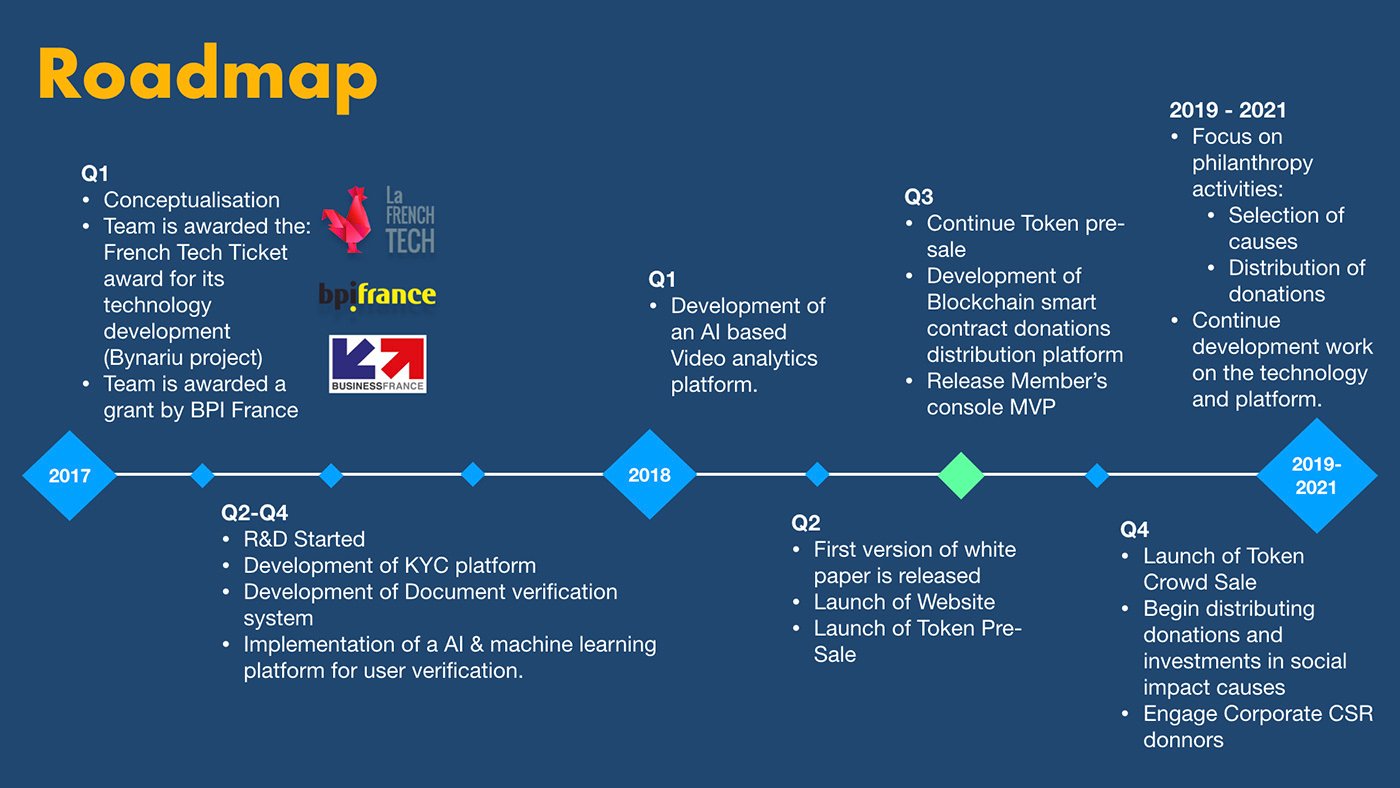 Philanthor is instilling back the confidence in charitable giving, to join the movement and learn more about Philanthor project, please check the project website, whitepaper and social media pages in the reference section below.
References.
Website: https://www.philanthor.com/
White Paper: https://www.philanthor.com/assets/whitepaper.pdf
Bitcointalk ANN Thread: https://bitcointalk.org/index.php?topic=4580512
Telegram: https://t.me/joinchat/De8h0A2tROb6LWfKRnQPrw
Twitter: https://twitter.com/philanthor1
Facebook: https://www.facebook.com/philanthor/
Medium: https://medium.com/@Philanthor
---
Author: jamesndungu1
BitcoinTalk Profile: https://bitcointalk.org/index.php?action=profile;u=1856049