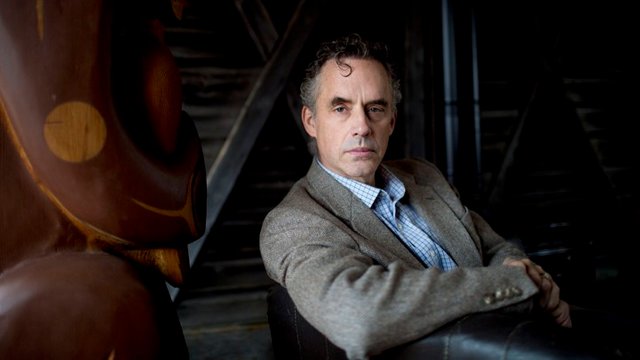 The blowback against my report on my evening with Jordan Peterson was immediate. Suddenly I was being told to defend his every utterance, and, more commonly, every misguided claim that is fully unsupported, as if I had somehow endorsed his every passing thought and favored making his brain the one to rule the world. Absurd. My report only chronicled what I saw and experienced that made me grateful that he is today's most popular public intellectual, capable of drawing paying crowds night after night to hear his thoughts on history, philosophy, psychology, and the meaningful life.
My major enthusiasm came from what his presence implies politically, or, rather what it does not imply. He is not feeding the flames of division; on the contrary, he is inspiring people to look not at political forces but within to make a difference. In this way, his voice can make a mighty contribution to building a new paradigm for the future out of the failed paradigm of the past.
It's a genuine difficulty for those of us who have worked for and celebrated a dramatic shift in media, ideas, technology, and politics. We are getting that and it is glorious. The old ruling class – led by the legacy clerisy – is dying at all levels and in every way. We should celebrate this every day. It's the collapse of one paradigm and the beginning of something truly new, more decentralized, more full of opportunity for everyone.
But people like the current president and the rightist brand of statism he represents, are seizing the moment, taking advantage of it, nationalizing it, trying to channel the collapse of one paradigm into something just as centralist, authoritarian, and dangerous to human liberty and progress. They are leading people who have lost faith in one kind of politics into yet another kind of politics that seems different but is just as destined for failure, with huge costs along the way.
It's never been more necessary than now for a genuine liberal spirit to assert itself in favor of individualism, limits on power, free trade, free speech, freedom of association, ownership, choice, equal freedom for everyone, and all the other virtues of the liberal order.
And this is precisely why we should be grateful for every voice of sanity out there, and Jordan Peterson has emerged at the top, drawing attention to personal responsibility, celebrating freedom, defending core Enlightenment values, and a turn away from identitarian political struggles toward peaceful cooperation.
As for Peterson himself, his lecture celebrated the free economy, the advance of human rights, the diminution of war, the spread of knowledge, and he warned against outsourcing your happiness to states and political causes. He was glorious in describing the sources of evil in 20th-century totalitarianism. He was brutal in his condemnation of collectivism of all sorts. Now, people are telling me that I'm wrong: he is too conservative, he seems to push gender binaries, he has doubts about some pillars of modernity, and so on.
Fine. Yes. I'm not looking for heroes, gurus, or saints. I'm looking for voices of sanity to influence the culture away from taking yet another dive into the hell of collectivism, nationalism, racialism, egalitarianism, or whatever else you want to call it that drives more power to the center, away from us and toward them. It is extremely urgent RIGHT NOW to stop this, and use this paradigm shift for good and not evil.
I have no doubt in my mind that Jordan has contributed mightily to this cause. We need thousands of others to join the struggle for sanity, not as foot soldiers in some leader's army but as individual voices of integrity who can speak truth against the virus of mob politics.