Welcome to PESOS Token on a Steem Blockchain
Welcome to PESOS Token (https://PESOStoken.com) a cryptocurrency for everyone and ready to serve the decentralize network of Steem community. The PESOS Token is based on Steem Decentralized Platform on a blockchain network which means you can hold and secure your tokens or other cryptocurrency assets on Steem Engine compatible wallet.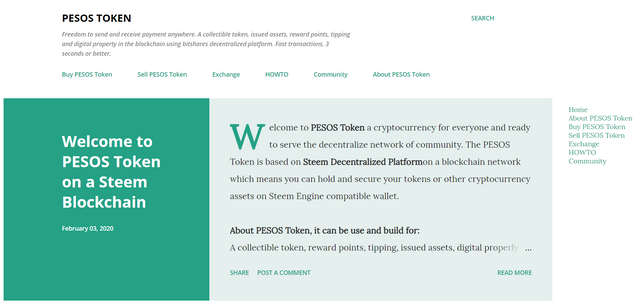 About PESOS Token
it can be use and build for:
A collectible token, reward points, tipping, issued assets, digital properly and use to learn cryptocurrency finance.
A decentralized network to issue a digital currency. You control and manage your own token.
Fast transactions confirmation, 3 seconds or less.
Token is not-mineable to save energy. You simply join our community to earn your points or use market exchange to buy or sell a token.
We are building communities using PESOS token.
Steeming.com is a social media platform where everyone gets paid for creating and curating content. It leverages a robust digital points system, called PESOS, that supports real value for digital rewards through market price discovery and liquidity.
Keep checking, we will introduce other communities that will use PESOS token.
Thank you.
PESOS Token
---
Posted via Steeming.com