PESOS Token - Building one community.
We started working using Steem-Engine.com services to run our own PESOS token. During this process, we have some questions for the improvement of our community. The PESOS token will be the primary cryptocurrency to use within https://Steeming.com website and other network of websites targeted entrepreneurs, hobbies, gamers and investors that will be joining the steem blockchain.
The SSL installed to the website? This is a MUST feature for obvious security reasons. Enabled.
Banning users optional. Hopefully it will not be used in our community. In progress.
How to use or assign the title like "Official", "Founder", "Curator", beside the name of the poster? In progress.
Claiming PESOS token is automatic? Yes, when you use tags e.g. pesos, steeming, and others it will be added to your wallet. You will be able to see it through Steeming.com and other SE websites/wallets.
Earning through posting, upvoting, commenting and buying/selling in exchange.
Development hook to expand our community reach.
Running a website will not survive its operations by using PESOS token alone. We need to put ads on it, add services and other revenue sources to operate independently. In this way, our future growth is stable.
Start using https://Steeming.com to start earning your PESOS token. We will update our main website https://PESOSToken.com for this update.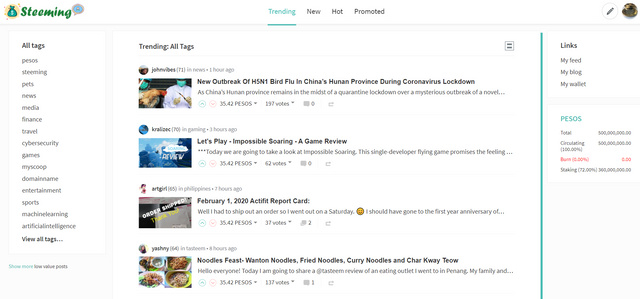 Source: https://que.com
We are just starting this project, stay tuned!
Thank you.
@Pesos
https://PESOSToken.com