One of my favorite principles of Permaculture deals with the innate qualities of elements to a system, and the relative interpretation of whether these qualities are 'good' or 'bad' or whether that really matters at all. But let's start by looking at these peculiar terms: 
Are We Talking About Ecology Here?
Integration has been sort of a trendy word when I was a kid growing up in Germany (it still may be), usually in dealing with immigrants. It was a way Germans could feel good about welcoming foreigners and making them feel accepted, by correcting their grammatical mistakes, or teaching them German cultural norms, such as throwing the green glass in the green container, and the brown glass in the brown one (but not between 12:30 and 2:30 p.m.). Segregation on the other hand brings to mind pre-1960s US, with restrooms and classrooms for whites and non-whites... But what does all this have to do with building and using natural ecosystems? 
A Blessing or a Curse? 
Due to our cultural upbringing we tend to see the world in monochrome: things are either good or bad (for us, that is). The bees and butterflies landing on our flowering fruit trees? They must be good. Although their primary motivation is food, at the same time their pollination work makes a nice harvest possible. But those slugs chewing through your seedlings? They must be bad, leaving a wake of destruction behind, though their effort is motivated by the same hunger. As a result, we are predisposed to wanting to eliminate everything that we consider bad: we exterminate the wolves that might prey on our sheep, we shoot the hawks who might get too close to our chickens, we poison our land with pesticides, herbicides, and fungicides, until nothing is left but our sad, lonely crop plants, dripping with poison. Okay, we had a good reason for going organic, right?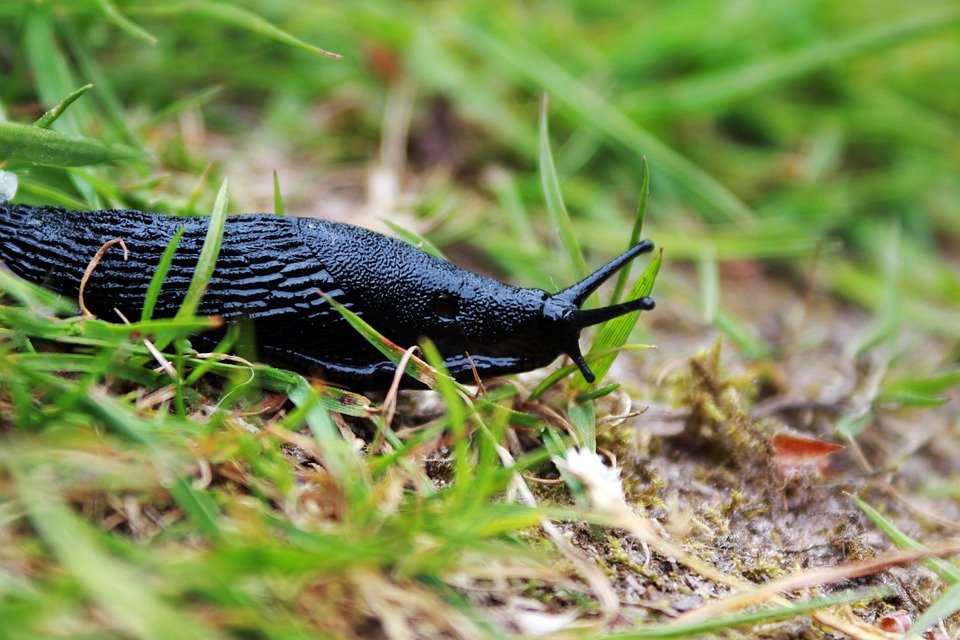 What About Those Slugs, Though?
Instinctively, our immediate reaction was to think of beer-traps, lime-rock barriers, or other nifty, non-poisonous ways of killing them, trapping them, or at least keeping them far from our premises. Was I right? But how about going the other way, and inviting them into our gardens, to become integrated elements in our ecosystem. 
Invite the Slugs? Into My Veggie Patch? How Crazy Do I Look??? 
That's exactly how adherents of Permaculture seem crazy to the rest of the world, especially after explaining that they intend to put those slugs to good work in their gardens. What is it that slugs do? How can they be useful for the garden? Well, for one thing, they provide food for creatures that directly benefit us, such as ducks. Hence the famous Mollison quote:
"You don't have a snail (or slug) problem, you have a duck deficiency!" 
And this characteristic alone is worth treating the slug as an integral part of the system. Sure, the ducks could survive without them, but what about the slugs? How else would you keep them in check?  Because if they are there, they will be around. And if you have poison-free delicacies growing, it's like an open invitation to a non-stop-buffet. Like it or not, they are already part of a system, so we better make sure they fit into our design equally well. 
Other Ways to Integrate:
Of course, this is just one example of integrating an element into our system. If you don't have predators, invite them in, by building shelters such as piles of rocks for snakes, or bundles of sticks for carpenter wasps. You could also ensure they have a diverse diet, by planting lots of flowers which invite many insects. These in turn will invite their own predators. Though in practice, good hiding places are a lot harder to come by than food, so a good shelter is a great way to integrate. Another approach is planting sacrificial crops, such as eggplants for potato beetles. They will migrate from your potatoes (and the whole surrounding area) to feast on their eggplants. Occasionally, a well chewed-up eggplant full of beetles can be tossed to the chickens, who will love eating both. Of course, each element and each characteristic is unique, requiring a unique solution, making a clever design a bit of a challenge. Spraying poison on the the other hand doesn't require much thinking.
Integrating Characteristics 
This principle of integration can be applied not only to elements, but also their qualities. Let's say somebody wants to take a bath every day. Now, one could go ahead and highlight all the wastefulness of such a practice, but if that individual insists on it, there is no way they can be happy without their daily bath. So how can this preference be integrated into the system? By setting it up in a way that resources (water, energy, gray-water) are not wasted. If there is sufficient rainwater, for example, heated by the sun, and after the bath the warm water passes through a heat-exchange before irrigating plants... sure, let the guy have his daily bath. Why not? 
Social Integration
Since Permaculture is not just about the permanence of agriculture, but culture in general, the same principle should be applied to other less favored elements of the social realm. Who am I talking about? The rednecks down the street, the satanists upstairs, the spammers I keep running into online, people who don't support the president, people who support the president …  you name your favorite group you'd be happier without. What can you do about them? Best advice: treat them like the slugs in your garden. Realize that they are unlikely to change or go away, no matter how hard you try. Think of all their characteristics, their inputs and outputs, and accept them the way they are. Now find a way to connect these qualities to other elements in the system. If you do well, everyone is going to be happier, and previous disagreements will seem ridiculous in retrospect. 
Here are the posts I've written about some other Principles of Permaculture: