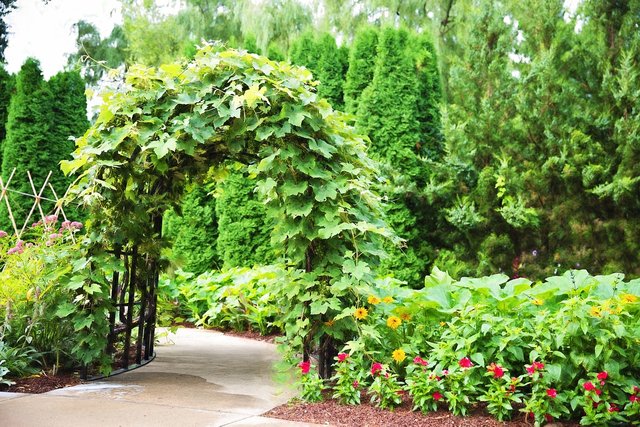 Do you have limited space? Do you think you can not produce enough to feed yourself? Read. This. Post.
Gardening is just awesome, especially when you do it for your food self-sufficiency.
Photo above shows how a pathway gate trellis can be used to grow grape - better to plant grape than something you can not eat or what can be even poisonous - yes, this is usual in some gardens, just because it is nice! Always, think twice before you choose to plant something - is there an edible plant I can use for my trellis, decoration or fence?
If you think twice, you will soon end up with a garden which will feed you as you enjoy your garden walk.
Edible gardens are one of the most wonderful ways on how to collect energy, turning nutrients, sun and water into something what can feed you, your soulmate, your kid or even your neighbor.
You do not need much to start.
Your acreage can be very limited.
One of the principles of permaculture is stacking in space, as we have already discussed.
Stacking in space is a way how to achieve golden ratio of 80/20 and is a vital part of intensive system.
It is a nobrainer that nowadays, commercial agriculture is used to fertilize as much as possible to receive more and more yields from the same area.
But if you tend to be self-sufficient and maybe sell leftovers, or even make your living by farming on a small scale, the intensive gardening system inspired by permacultural principles is the right way to go. We are not talking here with buzzy word organic food - because the only healthy one is food produced within natural mantinels.
Actually, you can grow your own food on a small acreage using vertical gardening.
Vertical Gardening Samples
Flower Pots
One of the easiest ways on how to try vertical gardening is to get few flower pots - the biggest one, big one and smaller one. Simply fill up to 1/2 the biggest one with soil, then add the middle one to 3/4, fill it and add the last one on top, keeping it stable.
Rain Gutters
More complicated but more productive is rain gutter system.
Make "A" stands from timber with stable posts on each side and install rain gutters on both sides, being holded by the stands. Such as A standed rain gutter grower can yield you many crops you can eventually sell because you will have leftovers.
How such a rain gutter system looks like? Check out The Plant Charmer, a guy who turned it into his living money job.
Trellis

Utilize Trellis systems to grow better your berries, tomatoes, cucumbers, pumpkins..
Let beans hang around - get a high bar, attach several cords to one of the bar ends, dig the second one into ground and stabilize it with the cords such as radio masts are stabilized. Then, plant your beans near to the cords. Let it climb. Or create a horizontal trellis using two well-founded bars, then add ropes in between. Looks like wineyeard ones and are perfect for heavier crops. In Spain, these are used for large-scale tomato planting. But of course, these greenhouses are NOT a good sample of sustainable gardening!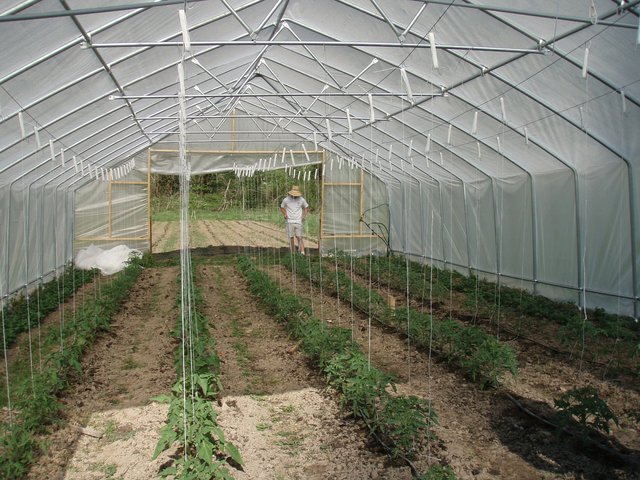 Source: Pixabay.com
Use Bags
Growing bags, or old bags in which feed for dogs is packed up, are great way on how to start growing your potatoes, saving space and labour. The best practice follows:
Roll up the bag, just like condom is rolled up before you use it :)
Make a small nest made of nice and your straw
Put old potatoes nobody will eat, they should have some sprouts already
Cover it with about 10cm of straw once again, but cover it nicely
Wait till the plant goes above the level of straw
Once it is about 10 cm higher than the straw level, roll the bag a little bit and add more straw
Repeat the process so the plant can grow up, allocating more potatoes in your bag
Happy&easy harvesting! Put the straw into compost
This way, your potato yields can be satisfactory and even fantastic. And you do not need a field at all, actually this kind of vertical gardening can be used even on a balcony of your flat, if you tend to become an urban gardener ;)
Do you want more examples, photos and step-by-step tutorials?

Support us here or on our Patreon to receive extra content.
You can follow us on Instagram.

Or buy a weekly healthy eats inspiration on Fiverr.
Follow us for more articles.
Thanks for reading and happy gardening!
Because somebody helped us (maybe @nextgencrypto, but for sure others as well!) to get $5 SMD for this article, we have improved it.
The more will come again if you will find it useful!
If not, we will anyway improve as we will take photos ;)