insect in a bottle (1)
My village people live from wages to mine gold. The mine is near small town. The land is far from fertile. So, wander is the only option other than mining gold. I prefer to migrate, go far from my hometown. Mining for me is sort of. Live for days at the mine site, which is three hours away from my village. Cold inland. Deadly disease is ready to lurk. Sleep in makeshift tents. A week later go home. At night, some of them sat in coffee shop.
The stone is crystal green. As wide as an adult's palm, it weighs less than one kilogram and is seven centimeters thick. If the stone is flashed from the surface, the flashlight will penetrate to its depth to the other surface. At that time, Saleh, my brother, claimed to see a creature in it, which was none other than a beetle. The thick green specks combined with green crystals are the motive. Beautiful. I feel like I don't believe.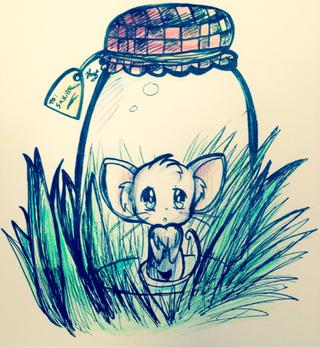 Source: https://api.paigeeworld.com/post/543a8a89ccf473b636ed92a5/bottle-kawaii-cute-notebook-animal-drawing-by-sakillrain