Card stats on New promos and Summoners
Promos used to be Alpha leveling rules now the new ones are BETA so we fixed that
We also show the correct stats for summoners

PRICE DISCOVERY RENTAL MARKET:
AKA: Showing presently rented cards
This is perhaps the most important change we did.
It really helps owners and renters understand pricing.
Both owners and renters are still trying to figure out the value... so we think this tool will help.
It also shows owners where are biggest needs are.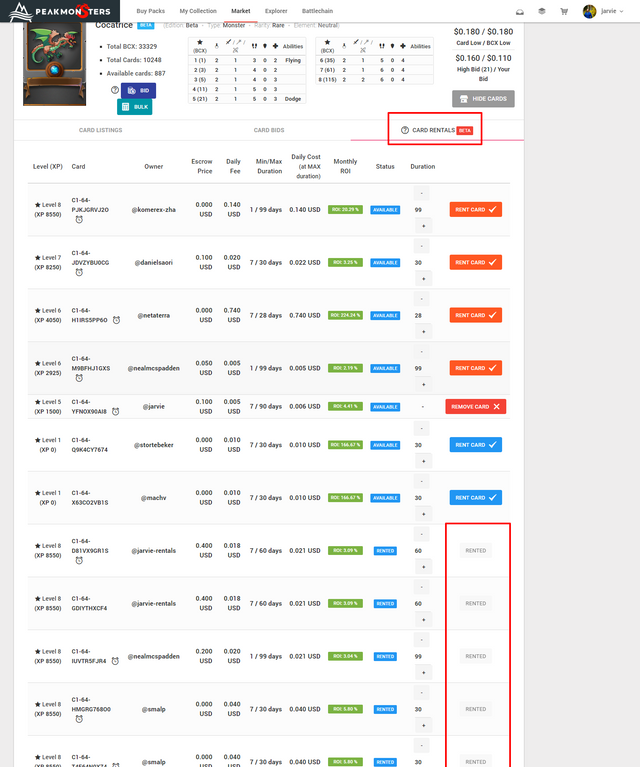 ---
IN NEED OF:
NEUTRAL MONSTERS + ORB CARDS + LEG SUMMONERS
Those are the easy ones to spot that we need more available in the market.
EXAMPLE: Only 3 elven cutthroats above level 7 have ever been listed (I don't count those wanting 20% monthly roi... maybe they don't know it's monthly and think it's yearly APR)
In any case all 3 of those cutthroats are presently under contract.
---
HOW TO READ PRICE DISCOVERY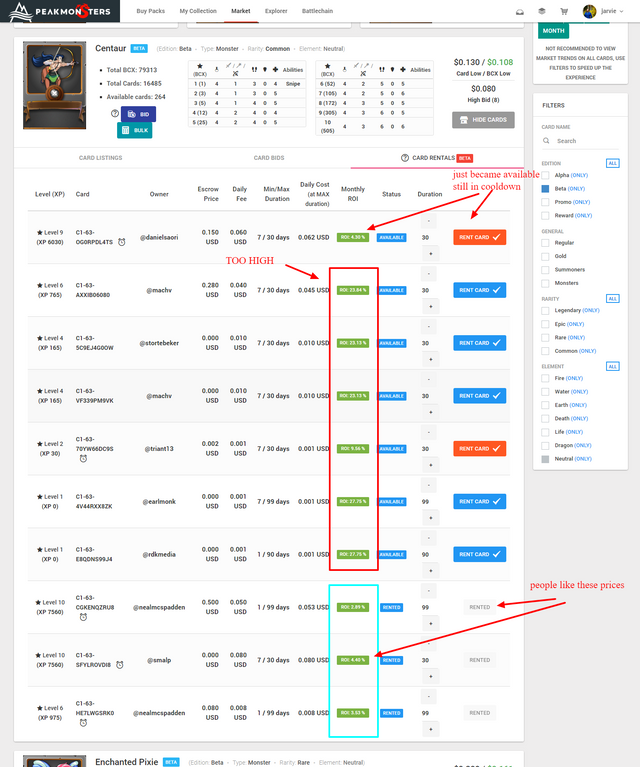 NOTE: this is MONTHLY roi not yearly. If you're thinking in terms of APR and setting it to 20% you'll be disapointed.
---
NEW DEFAULTS FOR RENTALS
For owners we set the default in the UI to 14-30 but you can now change to up to 180 days.
For renters we set the default in the UI to the owner's max ... you see people don't change the number that often.
KEEPING TRACK
Peakmonsters has always been a champion of keeping histories of your actions on the markets. You get a history of purchases, bids and of course rentals.
In your PROFILE section we have details about what you are renting and what you have rented out. You can now filter ONLY ACTIVE.

ENDING CONTRACTS
You can also see the card name inside of the RENTAL CONTRACTS tab.
You can revoke a contract from BOTH for rent and rental contracts tab.