MONSTER RENTAL MARKET + Huge UI changes
We have officially launched the Beta of our card Rental Market.
This was the long time dream of @aggroed and many other Hodlers of cards: How to make residual income from the mass amounts of cards they have while also making higher levels of the game more accessible to more players.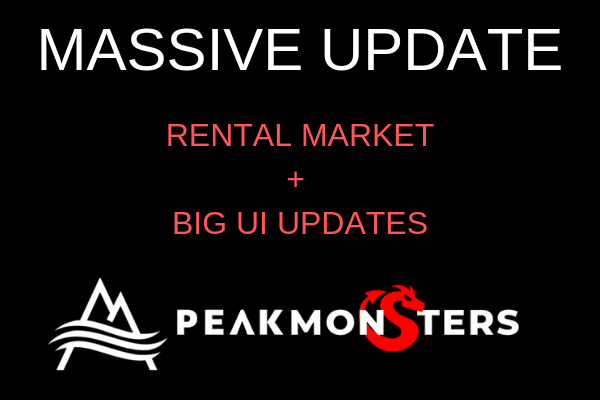 Spread the news, share the post... rental market only works if we let renters know there are cards ready to be rented.
BUT FIRST THE UI CHANGES...
COLLECTION UI CHANGES
Now you can quickly see information like
Cooldown
Who the owner is of the card you're delegting/renting
Who has the card you have delegated/rented
Whether or not you are renting or trying to sell a card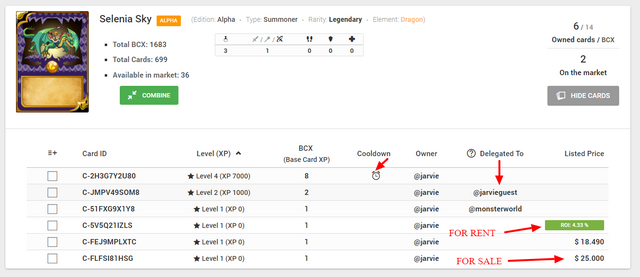 UI TRANSACTIONS
I think you'll find some incredibly useful UI changes we've done inside the COLLECTION page making things easier for
Transfers
Delegate / Un-Delegate
Selling / Remove from market
Renting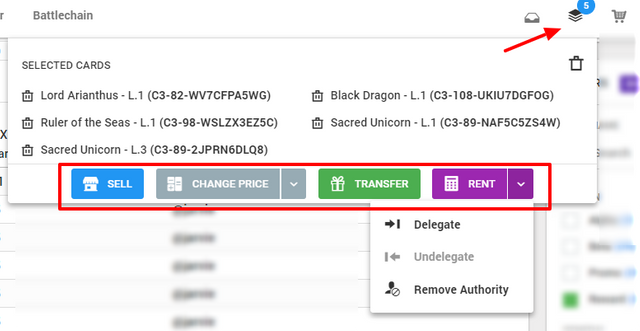 LOOK CLOSER
Look at that image there are lots of cards from all different monsters.
This is the first time an interface has let you mix and match card types and level etc and do transactions like transfer or sell.
We are testing it out with 25 at a time but plan to expand it.
What does this mean?
You can transfer your entire collection in a fraction of the time as before.
No more opening a monster and doing an action and then leaving to open another monster and repeat.
OTHER UPDATES
In the market over-combined cards will be capped in their effect on price by bcx
We now have everything listed to 3 decimal places.
This means you can list your card for sale at 5.2 cents for example
We also removed the "Battles" page that was always "Coming Soon" if any programmer wants to host a game using these cards on our website and partner with us... let us know.

Now to the thing some of you have waited for since SteemMonsters began... a RENTAL MARKET.
BETA RELEASE OF RENTAL MARKET
We are calling this a beta release because there are still plenty of tools we think we could add to make the rental experience better and better. However being the first of it's kind we wanted to get a feel for how the users decide to use the market.
@asgarth and myself @jarvie stand ready to for you to inform us of any confusion, spelling mistakes or bugs.
We are both traveling a bit coming up so we'll happily take your requests and use them to help improve for the next release which will likely be next month. (keep in mind any errors or confusions will be fixed right away)
MONTHLY ROI % STAT
We added this as a good generic stat to help you compare cards.
Here's how it's calculated
((((Max days * daily fee) + escrow / 2) * (30 / max days) )/ Estimated Card Value)
Some Items on our to do list already:
Transactions above 25
Bulk open all panels for all monsters
(that's an API call for each card you're viewing)
More sort-able columns in profile
Some filters
(we'd love to know what filters are most important to you)
Bulk Canceling of rentals.
Stats to show how much rental commitments you have outstanding
Rent cards in batches
Smart re-listing
Right now when a contract finishes it goes back into the market at the same price.
We can make that smarter
IF user base is big enough we could even consider renting full decks/teams
HEAVY USAGE?
I don't think anyone really knows how much rentals will be used. Meaning we don't know how many players would like to rent cards. Will it be hundreds? Will it be just a small handful?
Some of the future development we do will for sure be based off of how many people out there actually want to rent.
INCENTIVE TO MARKET
What we love is that rentals gives incentive to owners of cards to go out there and market the game because they now have a product they can make residual income from.
Users also have a way to quickly delegate tons of cards in a fraction of the time as before. (outside of rentals) This should also help expand the player base. I estimate it would take about 5 minutes to delegate a full set of cards to your friend with the delegation tools.

SUPPORTING PAGES
RENTAL CONTRACTS
This is for owners and renters to see details about contracts.
Shows you all contracts you have open and those you have had in the past including some details about the contract.


FOR RENT
This is only for owners wanting more info about cards.
Shows you all the cards you have set up to rent. You can cancel contracts there.


CREDITS
We want to make sure you have a proper history of every transaction in and out of your account.
Not just for rentals but also deposits and withdraws.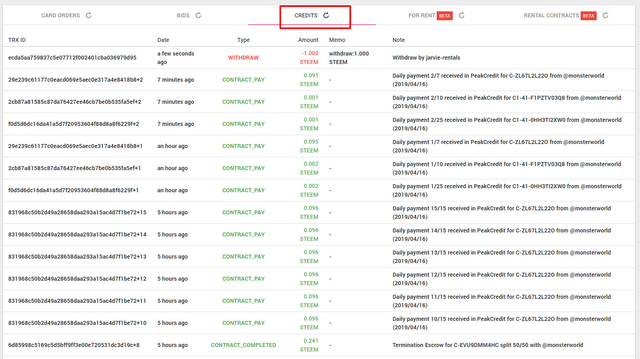 WHAT IS THE TERMINATION ESCROW?
It's easy to understand a daily fee and limitations on how long you can rent.
Now to explain the beauty of the escrow.
The termination escrow represents safety and confidence and stability of the contract.
It's a trustless tool... meaning you don't have to depend on anything else this economic tool keeps people honest or has a built in penalty to compensate a break of a contract.
This escrow is completely optional but I think you'll find that it's going to a lot more useful than you expected.
###HOW THE ESCROW WORKS
The renter puts in the escrow amount which peakmonsters keeps "in escrow"
The escrow is split 50/50 at the end of a successful contract
If one side leaves the contract early there is a penalty.
The contract length is decided by the renter given the constraints decided by the owner.
The penalty is that the person breaking the contract looses their 50% of the escrow
In essence no escrow means there is no penalty for leaving early
A failure to have enough funds for the daily contract constitutes the renter breaking the contract.
ROI numbers calculate the 50% of escrow already into the number.

FAQ ABOUT RENTALS
How long are the installments of a contract?
Daily. Meaning at the beginning of each 24hrs the owner gets paid.
What happens after the contract ends?
It goes back into the market place automatically
Why are some listings empty of rentals?
Because the cards have either all been rented out... or it's early for the market and we should wait for more people to start listing. (takes time to populate a market)
How do users pay for the rentals?
All payments to owners and from renters are done through the Steem/SBD peakcredits
What is "PeakCredits"?
It's steem or sbd stored on our accounts and at any time you can deposit or withdraw it.
How to deposit PeakCredits?

Why use PeakCredits?
Because we do not have any of your keys, nor will we ever ask for them, and this lets us move money where it needs to go without you having to be online to sign an active key transaction with keychain or steemconnect. Your balance is safely protected by the need to have keys to your steem account.
Do you have a documented history of transfers?
So glad you asked. YES we have a list of all purchases, all deposits, all withdraws and all rental related payments.
What else is PeakCredits used for?
We use it for the bid market.
We also give away money with our profit sharing program via peakcredit.
There's no need for it to be a token because it represents actual steem and sbd and is 1:1
What is Monthly ROI?
It's the percentage of the card value that is recieved with 30 days of rentals.
How is ROI calculated?
(((Max days * daily fee) + escrow / 2) * (30 / max days) )/ Estimated Card Value)
YEARLY vs MONTHLY
Technically you could just multiply the monthly roi * 12. And get what a percentage you'd earn back in a year of renting.
What is ECV-L?
It's an internal number that calculates BCX Low Price * BCX of that level of card (not the actual level of that card)
So if you have a 10bcx beta legendary that BCX level is actually 5
How much do you charge to use rental market?
We take 5% of the daily fee and/or the escrow payment (not total escrow just amount being transfered to owner)
However the minimum amount we will take is .001 steem or .001 sbd for obvious reasons.
So if you charge too little that percent may be higher.
Why did you create the rental market?
We believe it will help bring in new users to the game
Also introduce new users to our website.
We think it will improve the volume on the market
And improve prices on the market.
There is a possibility that this exceeds our wildest expectations and even turns a profit.
Also we did this because our users really wanted us to create it. So here's to you all!
HELP PAGE - ON OUR SITE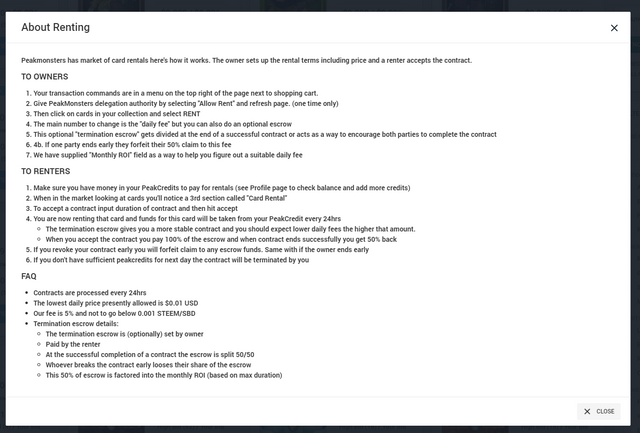 A big part of this project is education. So if you have help for us in that department we'd love to hear it.
Here or on discord https://discord.gg/54RJ5C4