Weekly Summary of PCHAIN AMA on 28/8/2018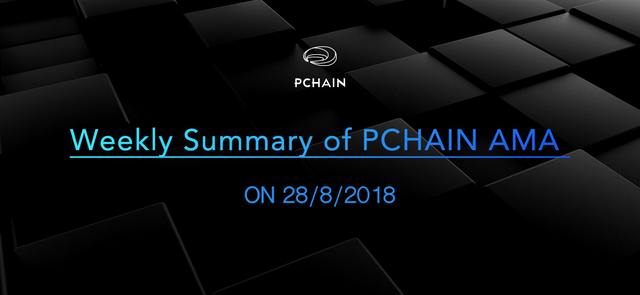 We have finished the weekly AMA with Dr. Feng Cao on the telegram on Aug 21. Thank you for your participation and support. The following is the summary of the AMA.
Part 1: Technology Questions
Q1: Regarding the panda supernode, do you have plan to increase the number of nodes for those who hold 500k pai or less. At this point, it looks like the favor to be selected is for whale.
A1: YES,for main net it will be. Currently, mainly for executive super nodes. so the requirement is a litter high. however,If we compare it with other super node plan,it's much no longer the whale's game as very often their requires 300eth equalvent tokens.
Q2: Are you working to achieve 1 million TPS?
A2: If we adopt the same machine of EOS PCHAIN can be 1million tps or higer by our current algorithm. Another thread of PCHAIN with PDBFT2.0 is in prototype. Current result is very promising.
Q3: For highly anticipated testnet with great tps achived so far, does the team have any marketing plan to have pai more exposure, or team will wait untilt the mainnet to have marketing activities? thank you.
A3: We will make everyone knows PCHAIN test net launch with our marketing partner. You will see.
Q4: With current number of supernode like 100, any precaution and security measures to prevent the 51% malicious attack. Some use double validation to increase security etc....
A4: We have PANDA dynamic mechanism with blind signature tech to avoud 51% attack. In addition. the advantage of PDBFT can avoid long term attack which can't be avoided by all pos and pow.
Q5: When testnet starting, Pchain make update of Github?
A5: We will open source step by step.
Q6: Had testnet been launched?
A6: Technically, it's already running. We will show it to everybody in the launch event.
Q7: In testnet you have working dapps?
A7: In testnet 2.0 or in the middle of testnet 1.0 and 2.0 we will put some interesting dapp game on it.
Q8: When you starting testnet 2.0?
A8: Not finalized. Maybe around Nov.
Q9: What is the change from testnet 1.0 to 2.0?
A9: In testnet 1.0, we have 3 key features, multichain, pdbft, PANDA. In test net 2.0, we will have smart data, pdbft 2.0 and a new secret feature, which is a new design out of our current whitepaper
Q10: Do you think it is the best way to keep decreasing staking rewards by half? Would it be useful to program rewards that way that when not many nodes want to stake, you incentivise them to stake by increasing rewards, when there are enough nodes,
A10: it's a dynamic process,at very beginning the number of rewarding token is relative high and the token price is relative cheap. as time going on less token will be mined while the token price will increase
Q11: There are many platform projects out there, hope pchain is well aware of the competitors and have a great plan for marketing and development so pchain can attract great many dapps out there. Hope pchain will come out on top.
A11: We are fully confident our great tech can attract a lot of interesting dapp.
Q12: Guys who build DApps are not fooled by fanciful websites. They're techies to the core.
A12: Agree. They are like to see real tech and show me the code.
Part 2: Marketing Questions
Q1: As of now, are you satisfied with the reputation of pchain in China and beyond?
A1: In fact, PCHAIN is very respectful as a solid tech project with great innovation. it's world class. As my last twitter just our testnet 1.0 we can generate over 8 patents and 3 top conference papers.
Q2: Is it possible for Pchain, that maturing custodial services like Coinbase and Bakkt, will already list or examine Pchain after a testnet release? It's probably to early for that, but i think much hype will come from these developments in the coming months.
A2: Yes. good suggestion. We are contacting with 3rd party to prepare for an evaluation.
Q3: When will you release the updated logo?
A3: Yes. We are still seeking for new logo design. We will keep our original logo before new one.
Q4: Is still planned to have testnet launch event in Korea?
A4: We will have online testnet launch event with AMA to get more people involved in.
Q5: Are you concerned with China banning access to 124 or something crypto exchanges?
A5: Not too much. In fact, i think CHINA just want to avoid potential finanical risk. it still enourage blockchain tech.
Q6: Are LD Blockchain, mentioned in PCHAIN ecosystem pic, associated with LD Capital?
A6: No direct relationship. It's a partner of PCHAIN in Financial Blockchain.
Q7: Will you be looking to get it on to other exchanges. Maybe kucoin or others that are more easily accessible for most.
A7: Yes. we are in the process of some exchanges
Q8: Who is main competitor of Pchain as of now?
A8: Ourselves for sure.
Q9: All exchanges is speculative for poor project. IMHO need great project (I hope PCHAIN is great), exchanges after.
A9: Thanks. Why not pchain itself as a distributed exchanges?
Q10: Meetups, bla-bla-bla and others marketing issues is not important if PCHAIN have great coders team and fastest product of market. Make testnet, mare stream, show the code on Github.
A10: Every partner talked with our team is getting interesting on pdbft. especially their CTO :)
— — — — — — — — — THE END — — — — — — — — —
Thank you for reading!
PCHAIN will hold AMA with Dr. Feng Cao on telegram every Tuesday from 10 pm to 11 pm (Singapore time). See you next week!
Join PCHAIN's ever growing community at the following links:
Telegram 1: https://t.me/PCHAIN_org
Telegram 2: https://t.me/PCHAIN_org2
Telegram(Chinese Community): https://t.me/PCHAIN_CN
Telegram Announcement Channel: https://t.me/PCHAIN_org_ann
Medium: https://medium.com/@PCHAIN
Steemit: https://steemit.com/@PCHAIN
Reddit: r/https://www.reddit.com/r/PCHAIN_Org_Official/
Twitter: https://twitter.com/PCHAIN_org
Founder/CEO's Twitter: https://twitter.com/jeff_fengcao