PCHAIN (PAI) Weekly Progress Report (27/10/2018–2/11/2018)
Welcome to PCHAIN weekly report.
We would like to present you with our latest progress update. Please read below for a rundown of some important things that have occurred last week.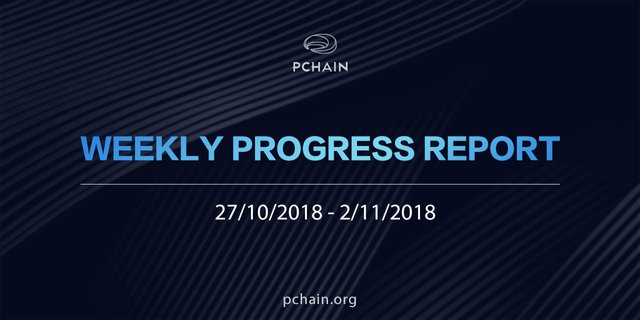 Development Progress
Maintain PCHAIN TestNet 1.0 for testing
Keep adding test cases and test the new version of PCHAIN
Finish refactoring the process of balance transferring between child-chain and main chain, start debugging
Finish coding for the enhanced PDBFT consensus, start debugging
Finish refactoring the P2P module of PCHAIN, start debugging
Investigate solution for cross-chain transaction
Keep improving the auto-test framework
PCHAIN News
India may become the next important market for PCHAIN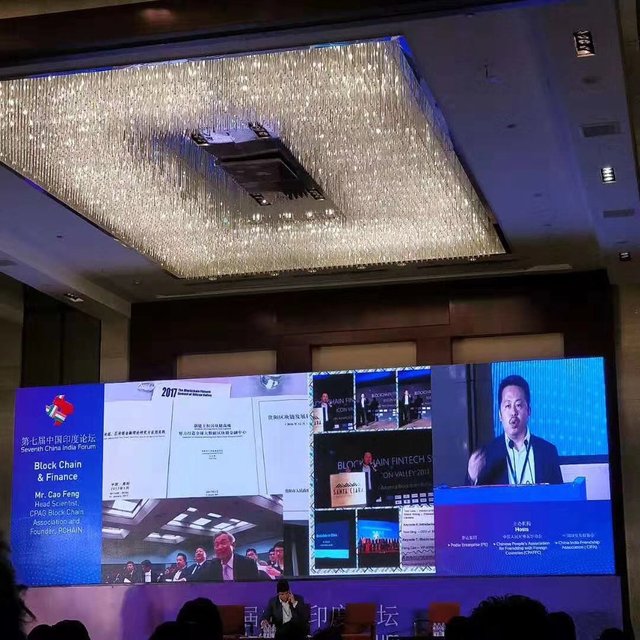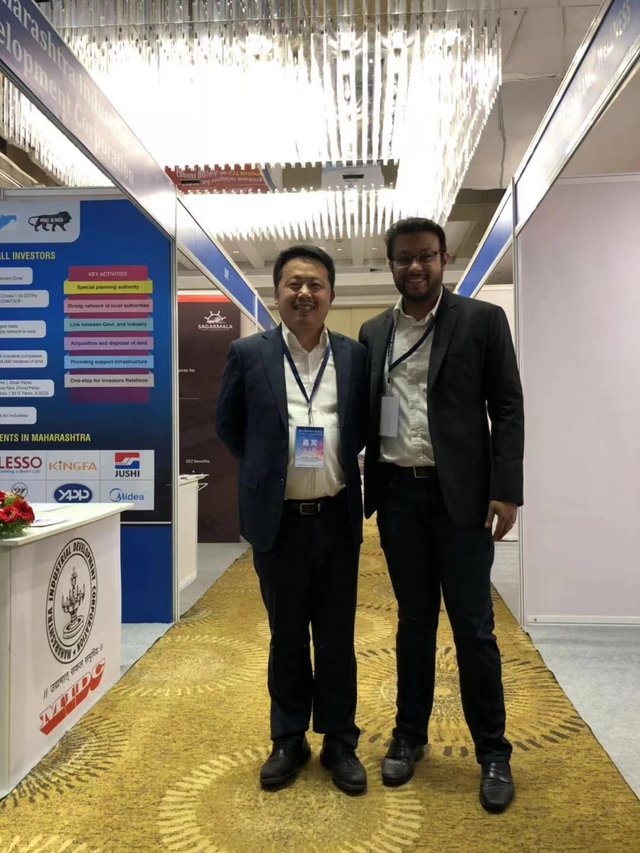 Last week, Dr. Feng Cao, founder of PCHAIN, was invited as the only Chinese representative of blockchain to attend Seventh China India Forum in Poona,India. He delivered a keynote speech on the development of blockchain and received a lot of feedback from many well-known Chinese and Indian companies, they have had a hot discussion on this topic.
It is understood that since the launch of the China India Forum in 2012,it has closely followed the theme of the times and the development opportunities of China and India.It has continued to focus on economic and trade development, investment cooperation, cultural exchanges and tourism promotion.China India Forum has established a communication platform between the government and enterprises and became a important mechanism for promoting pragmatic cooperation between China and India. The participation of all industries has continuously enhanced. India will also become the next important market for PCHAIN.
PCHAIN is invited to attend the China Lithuania Economic Cooperation Forum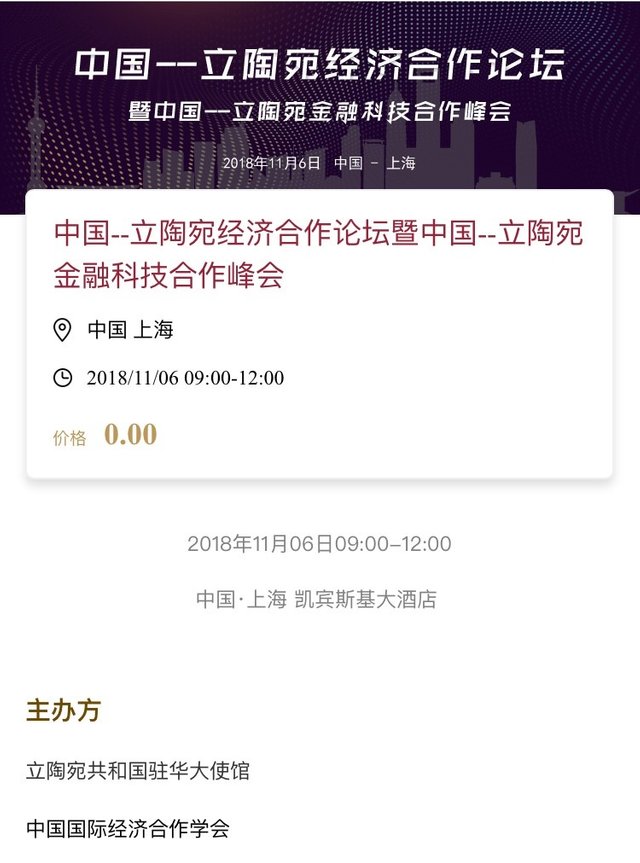 On November 6th,2018, the China Lithuania Economic Cooperation Forum and the China Lithuania Financial Technology Cooperation Summit will be held in Shanghai. Dr. Feng Cao, founder of PCHAIN,will attend this forum as Chinese representative of blockchain. This summit has invited President of the Republic of Lithuania-Ms.Dalia Grybauskaite, the head of the Chinese Ministry of Commerce and the Minister of Economy of the Republic of Lithuania to attend. At the same time, the globally focused China International Import Expo has also been highly valued and expected by Lithuania. The Lithuanian Minister of Economy said that Lithuania's economic development benefits from free trade, and the Import Expo provides an excellent opportunity for free trade.
PCHAIN is in the BLOCK October Ranking TOP 5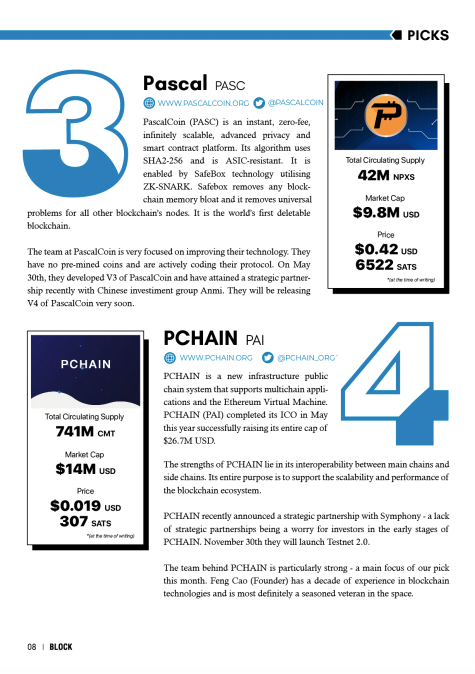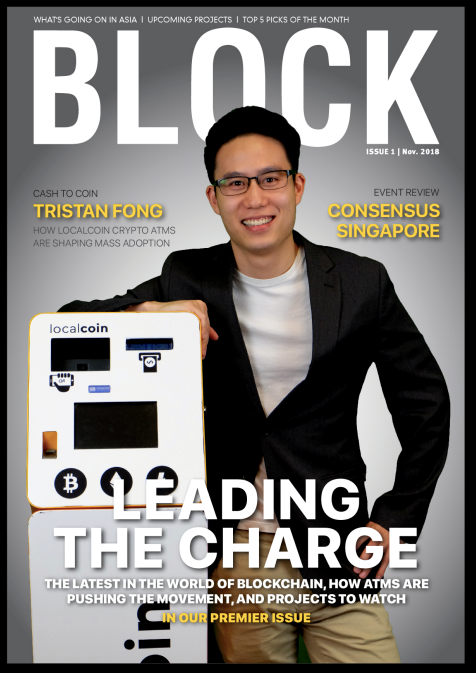 At the end of October, BLOCK picked PCHAIN as Top 5 project of the month. BLOCK is a magazine aiming to provide news, commentary, and information on the blockchain space in an easily understandable manner. Thanks all media platforms for your support and recognition of PCHAIN. Just look forward to the launch of PCHAIN TestNet2.0!
PCHAIN PANDA Plan to increase PAI on November 21st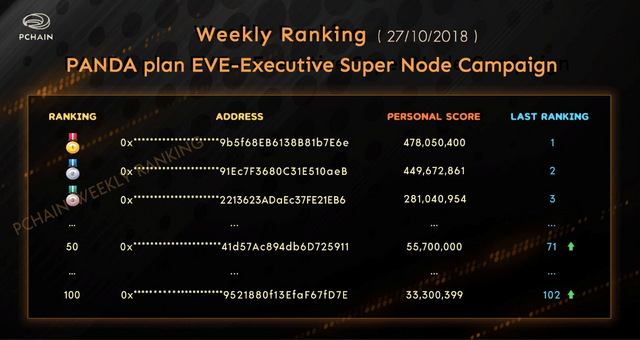 PCHAIN PANDA plan was officially closed on October 20th . There will be one chance to increase PAI from November 21st to November 22nd .
Note:
If you increase your PAI between October 20th and November 20th ,it won't be counted as personal scores.If you decrease your PAI in this period, your personal score will return to 0.
Personal ranking website: https://supernode.PCHAIN.org/ranking.html
Welcome to learn PCHAIN at:
Telegram 1: https://t.me/PCHAIN_org
Telegram 2: https://t.me/PCHAIN_org2
Telegram (Chinese Community): https://t.me/PCHAIN_CN
Telegram (Russian Community): https://t.me/PCHAINRussia
Telegram Announcement Channel: https://t.me/PCHAIN_org_ann
Medium: https://medium.com/@PCHAIN
Steemit: https://steemit.com/@PCHAIN
Reddit: https://www.reddit.com/r/PCHAIN_Org_Official/
Twitter: https://twitter.com/PCHAIN_org
Founder/CEO's Twitter: https://twitter.com/jeff_fengcao