PCHAIN & UDAP Achieved Strategic Partnership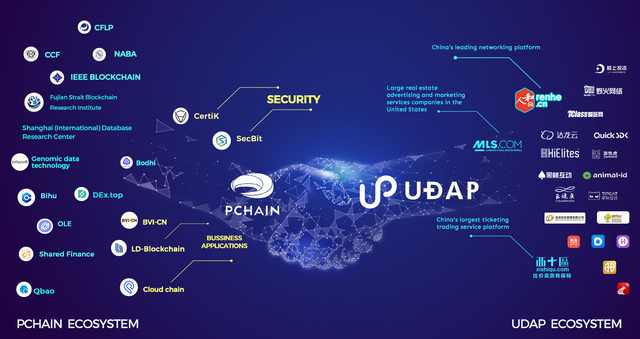 PCHAIN has reached a deep strategic partnership with UDA, which is dedicated to the middle service of blockchain asset management. PCHAIN will play an intelligent data intelligent contracts, cross chain, chain blocks, such as chain technology advantage, combining UDAP constructed generic, decentralized block chain among assets life cycle management service layer, let more third-party fast implementation block chain business applications fall to the ground, the common building block chain of large-scale application of sustainable ecological system.
About UDAP
UDAP is a generic, decentralized blockchain asset lifecycle management intermediate service layer. UDAP provides middleware services that are lacking in the current blockchain infrastructure. Third-party application developers can quickly access the underlying chains like ethereum without knowing the technical details of the underlying blockchain, and complete the transformation from the Internet business model to the card economy model. At present, UDAP has reached strategic partnership with more than 20 partners, such as MLS.com, xishiqu.com, renhe.cn and others, and obtained investments from several institutions, including Yuandao Capital, JIC Capital, UniValues Associates, KI-YEAR Capital, Direction Capital and RBC.
About PCHAIN
PCHAIN is the world's first native multi-chain system supporting EVM, with original PDBFT algorithm, unified knowledge graph and smart data Oracle mechanism. PCHAIN is committed to support non-native Token smart contract calls and solve problems like improving blockchain performance, smart contracts loop not closed, too dependent on external data. It will make large-scale industrial applications of blockchain smart contracts possible.
Join PCHAIN's ever growing community at the following links:
Telegram 1: https://t.me/pchain_org
Telegram 2: https://t.me/pchain_org2
Telegram(Chinese Community): https://t.me/pchain_CN
Telegram Announcement Channel: https://t.me/pchain_org_ann
Medium: https://medium.com/@PCHAIN
Steemit: https://steemit.com/@pchain
Reddit: https://www.reddit.com/r/Pchain_Org_Official/
Twitter: https://twitter.com/pchain_org
Founder/CEO's Twitter: https://twitter.com/jeff_fengcao