Instruction for Testnet Token (tPAI) Distribution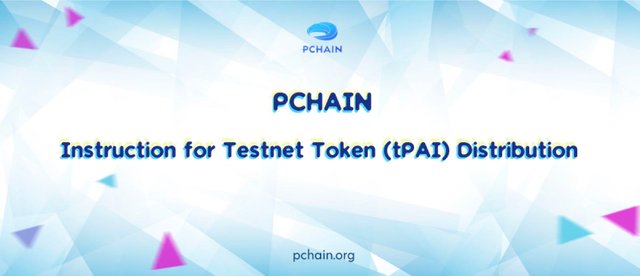 Go to https://testnet.pchain.org/ and generate a new account on the "Wallet" tab

Save your private key somewhere to access your wallet/account later. If you lose your private key, you will lose all your tPAI. We will not be able to recover it for you.

Retweet this post, like and comments
The post link : https://twitter.com/pchain_org/status/1040589835977732098

Register your wallet here
(https://docs.google.com/forms/d/e/1FAIpQLSd2yjHped3fjVauxSKDFA56D-MFjhx45TF05nIMqQRbDZMHiA/viewform) to receive your tPAI. Follow the steps to put in your valid email address, PCHAIN testnet wallet address (for interacting with the testnet) and Twitter sharing link.

Wait for the distribution from PCHAIN. We will distribute testnet tokens (tPAI) every day around 6 PM SGT from September 15th, 2018 to September 30th, 2018.

Welcome to invite your friends to join our testnet.
Notes : If you have missed the PCHAIN Testnet1.0 live launch , you can click here:
PCHAIN live Testnet1.0 Launch video :

PCHAIN Testnet1.0 Demo :