Pay It Forward: Week 8 Entry
This is my first entry to @thedarkhorse's Pay It Forward curation contest. I was honored to be featured a few weeks back by @ecid, so now it is my turn! Find out how to participate here.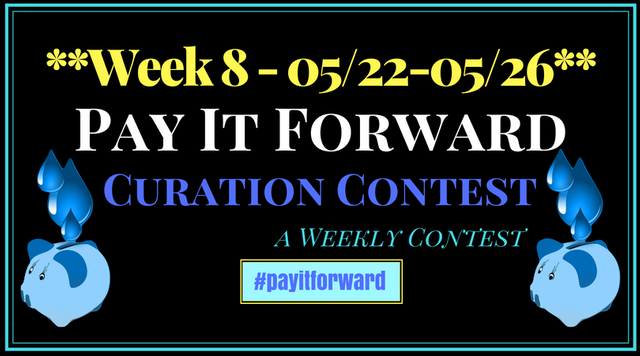 Nick Hans is a farmer from New Mexico, who recognizes that building a Steemit account is much like establishing a farm. He plays guitar and writes about cultivating 1000-year-old seed varieties.
https://steemit.com/farming/@nickhans/these-seeds-are-thousands-of-years-old-and-that-is-a-beautiful-thing-to-think-about
I was introduced to Nick's work through the @greetersguild. He seems like a promising new Steemian, so hopefully I snagged the chance to feature him before anyone else did.
Isabel Storey is a published author from Australia. She writes about writing, life, health, and higher level topics such as levels of perfection, and how you decide when (or if) you should quit. I encountered her through the comment thread of another post, talking about the challenges of learning to use Steemit and calling herself "too old" to learn Discord.
I followed to her blog and discovered (1) she is considerably older than me, and I too get overwhelmed by Discord so my respect goes up immediately, and (2) I quickly become curious about this intelligent, articulate, and spunky lady, and I want her to succeed on Steemit. I am reminded of my aunt, who I now might have to invite to the platform. Here's her most recent:
https://steemit.com/ulog/@isabeldorastorey/my-ulog1
So I joined nearly 9 months ago, then went inactive for a while. I had to scroll way back to see who I interacted with early on, and the first gesture of genuine support I found was this: https://steemit.com/contest/@themarkymark/win-500-steem-power-for-4-weeks-in-my-get-shit-done-contest
** Edit * I neglected to include a recent article if you'd like to pay forward some votes or comment love, here's one that may also save your life! https://steemit.com/technology/@themarkymark/saving-my-new-mix-tape **
I didn't win the delegation, but participating in the contest got me to refocus on some challenging work in a way that was fun and rewarding. I also found helpful info on his blog that helped me understand Steem and Steemit, learned what a witness was, and began to use my vote. I may have gone inactive on Steem later, but in the interim I managed to revive the business I was mapping out in that G-S-D contest of his.
I'm grateful for this and the work he does to make Steemit an awesome place to be.
There are many runners-up for the title of who helped or encouraged me early in my Steemit experience, so I hope to do this theme again.