Buy Paxos Standard (PAX) Stablecoin at Flyp.me Instant Crypto Exchange — No Account Required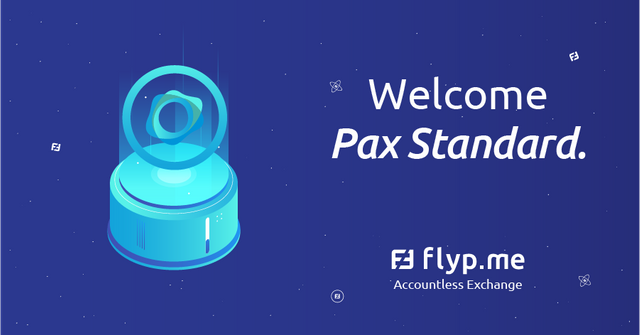 Stablecoins are all the rage at the moment as decentralized finance lifts the tide on most digital assets. However, if you're buying a stablecoin, you want it to be trustworthy.
That's where Paxos Standard (PAX) comes in. As, quite possible, the most regulated stablecoin available today, you can rest assured that it is well and truly 1:1 backed by real assets.
Now, you can get your hands on PAX at Flyp.me accountless crypto exchange. Flyp.me makes it easy to buy PAX with your favorite cryptocurrencies — all without requiring time-wasting verification procedures.
Jumping on a wallet full of PAX is essential for today's decentralized finance landscape. Here's how you can buy PAX stablecoins instantly and without an account at Flyp.me.
Go to Flyp.me — select the cryptocurrency you will use to exchange, then enter your PAX wallet destination address and the amount to be exchanged.
Enter a refund address for the cryptocurrency wallet you are exchanging from (ie. if trading with ETH, enter an ETH wallet address).
Send cryptocurrency to the Flyp.me transfer wallet address.
Boom! Flyp.me will automatically & securely send PAX to your destination wallet.
To protect you and your digital assets, Flyp.me is built to protect your security while enabling you to join the decentralized finance movement. No private keys are ever required when you use Flyp.me instant crypto exchanger!
There are quite a few stablecoins out today — what makes PAX global currency special? Here's what you should know.
Paxos Standard Is a Stablecoin With Deep Credentials
Tether (USDT) catches a lot of heat for being unforthcoming about whether it is well and truly backed 1:1 by USD in reserve.
Paxos Standard, in contrast, is very transparent about their financials, something that is both refreshing and done as a commitment to stay on the right side of strict compliance measures.
Rather than hold their backing dollars in reserve in offshore accounts, the Paxos Standard team has chosen to keep reserve funds domiciled in FDIC insured US accounts that are regularly audited by third parties.
This deep commitment to regulation in the public eye has helped the PAX stablecoin gain a reputation as a trustworthy digital asset for instant, global transactions where volatile cryptocurrencies fall short.
PAX Stablecoins Are a Global Standard & Are ERC-20 Compatible
Here's the brilliant thing the Paxos Standard team did when developing PAX stablecoins — they built the digital currency on Ethereum's blockchain.
They must have seen the #DeFi revolution coming because Ethereum is now the de facto home base of tomorrow's financial institutions and technologies.
So, if you currently hold Ethereum or any other Ethereum-based digital asset, then your PAX stablecoins will work seamlessly in the same wallet.
Pretty convenient, right?
All that's left is to load up on PAX stablecoins to protect your crypto market gains without leaving the blockchain. Exchange PAX and much more at Flyp.me, the world's most trusted instant crypto exchange that never requires an account to use.
About Flyp.me
Flyp.me is the professional tool for instant crypto trading. There is no registration necessary and no hidden analytics tracking you. Moreover, Flyp.me does not control users' funds, so your private keys are not at risk of being held on third-party services.
Flyp.me currently supports over 30 cryptocurrencies and is continuing to add more: Bitcoin, Ethereum, Zcash, Augur, Litecoin, Syscoin, Pivx, Blackcoin, Dash, Decred, Dogecoin, Flyp.me Token, Gamecredits, Peercoin, Aidcoin, 0x, Vertcoin, Basic Attention Token, BLOCKv, Groestlcoin, DAI, Power Ledger, Enjincoin, TrueUSD, Cardano, Storj, Monero, Maker, TetherUS, DigiByte, USD Coin, MANA, Enigma, Aragon, Chainlink, REN, and now Pax Standard.