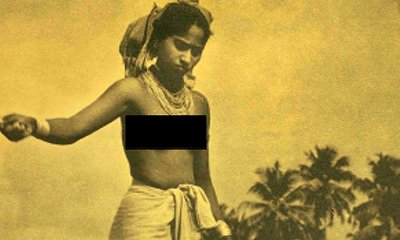 In modern times, we know about different types of taxation. Income Tax, Value Added Tax, Import Tax, Export Tax etc. But there was a time when women's breasts were covered, but they had to pay taxes! Only a woman could have covered her chest with her clothes. Not long ago, this practice was practiced in the Kerala region of India in the nineteenth century.
There was a part of the present Kerala, then the state of Travancore. In this state, the lower caste Hindu women had to give their breast with their breasts to cover their breasts. It was called 'Mulakkaram' in the local language. In order to disrespect the lower caste people, it was decided that the upper caste Hindus The majority of the lower caste people were also lower. So it would not have been possible to give the said nipples to them. As a result, they had to keep their chest open with breast.
In the racist society, it was thought that the right to wear clothes would be only 'upper caste' people. Not only that, at the time, there was a need to wear ornaments for everyone and to have a mustache for men irrespective of the male and female emigrants. Women had to keep their books open in front of high-rise men. It was seen as a sign of gentlemanhood. The dress was then a symbol of wealth and nobility. Moreover, since the lower caste people could not pay the tax, so many of them would have been left unpaid. The king always had a loan at all times. In this way financially low-income people were suppressed.
Many people think that in the modern era, when the European countries ban Muslim women's burqa and hijab with the sake of their society and culture, their racist mentality flourishes. Europe has not abandoned racist thinking in clothing for 200 years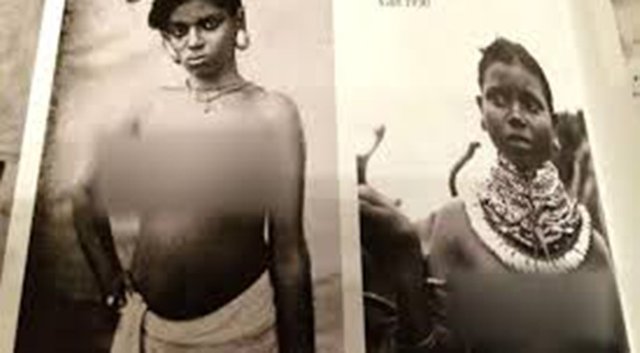 However, Samuel Mattier wrote about his breast cancer in his book 'Native Life in Travancore'. In the book, he mentioned more than 110 types of taxes that were then introduced in those times. At that time, Christian rule was in Kerala. And the Christians and Brahmin women could only cover their breasts with a kind of blouse like a blue jacket.
There were also several revolts against repressive systems. These revolutions are called series, 'Chanar Revolt'. Christianity's churches and houses were burnt down in these rebellions. Low-rate women openly start to wear blouses. Finally, the British governor of Madras has to intervene. After two consecutive orders, the ban on the upper part of the body of women was lifted.
The symbol of this revolution against feminism is considered a woman named Nangeli. This woman had protested against breastfeeding by cutting her breast. Although this story of Nangali is not historically proven, there is no doubt that the major revolt against Breaker was done.
Nangeli was a resident of Kerala's city of Kerala. According to the story about her, at the age of 35, this woman was a beautiful girl. But his family was poor. The family had to go out every day to earn money. But Nangeli was not ready to keep the book open. As a result, a lot of money gets accumulated.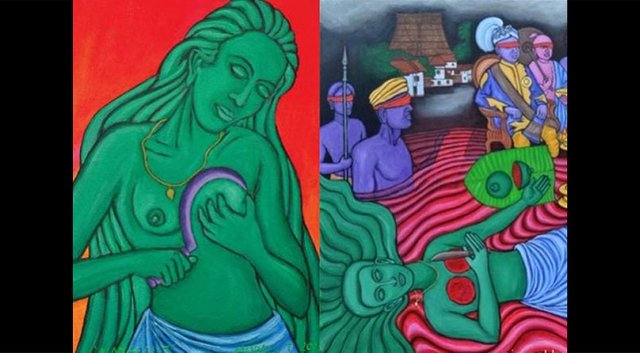 At one stage, his family went to pay tribute to the people of Raja. But it was not possible to pay this money. One day he was waiting for the tax collectors to light a lamp by spreading a palanquin on the floor. After finishing his prayer, he cut his breast two. In the hand of the tax collectors handed over them. Nangeli died in the end. Her husband also committed suicide by hanging herself on her chest.
India's painter T. Murli has highlighted Nangeli on his canvas. Those pictures drawn from Acrell have created anger in Indian Brahmins. He has also been criticized.
But Murali said, "Everyone in Cherthala knows the story of Nanglie. The history of his fearless self-sacrifice has been present in the face of people over the years. "Still, women in many places of India are not allowed to enter the temple. Movement against it requires that many rights activists of the country

Posted using Partiko Android