Announcing the Partiko Delegation Plan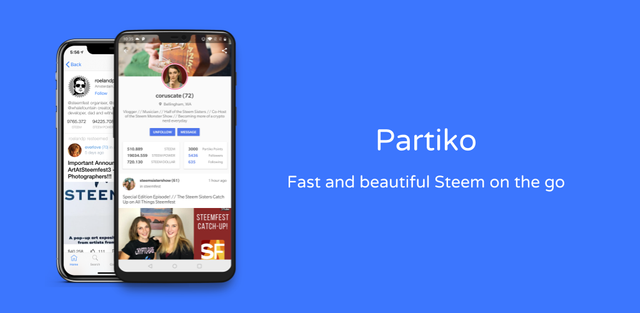 Hello Steemians and Partiko lovers,
Since Partiko officially launched the Android and iOS app in May, we have received so much support from the Steem community! It has been so much fun building a great app for such a supportive community, and 2018 is just a beginning!
With very limited resource and Steem Power, Partiko is already trying its best to give back to our community! Since May we have given out over 30,000 free upvotes to Partiko users and over 300 SBD as reward. In fact, according to @boddhisattva's recent report, Partiko is already giving out the top 3 number of upvotes to support countless Steem users!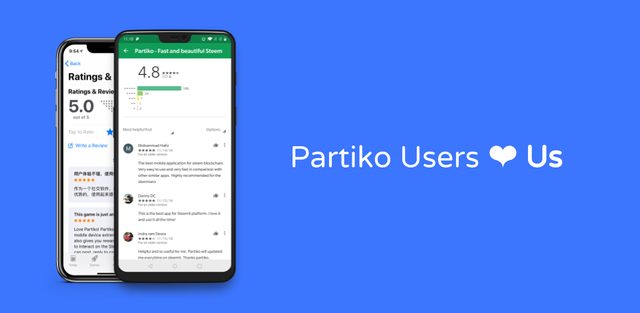 Partiko has also managed to deliver a world class user experience to Steem users, and we recently announced Partiko Messaging to help Steem users stay more closely connected! At Partiko we really enjoy building great products and being able to make our users' lives easier is always at the core of our culture.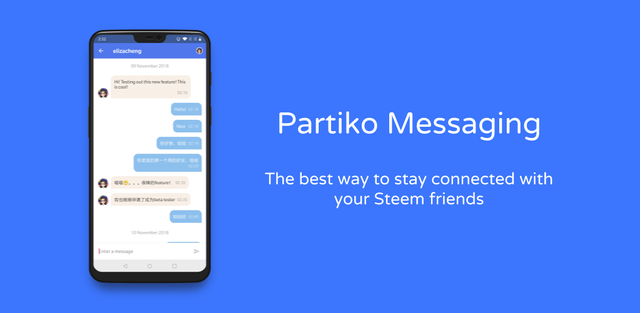 To continue to support more Steem users, to increase the value we can give back to the Partiko community, and to continue to build the best mobile interface for Steem and bring more non-Steem people onto Steem, we need your help! And that's where the Partiko Delegation Plan comes in!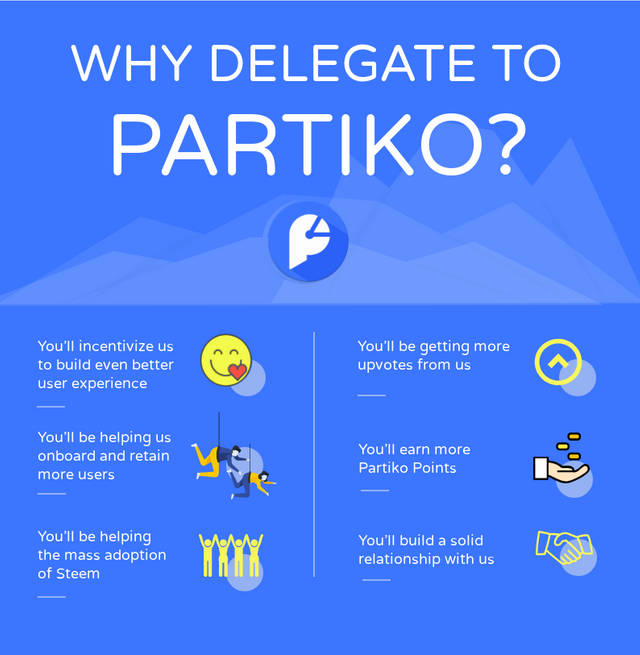 Get Upvotes and More Partiko Points by Delegating to @partiko
The total cap for our delegation plan is 1,000,000 SP, and we plan to achieve that through multiple rounds of delegation. We are announcing round 1 today with a cap of 100,000 SP for @partiko, and here are the details: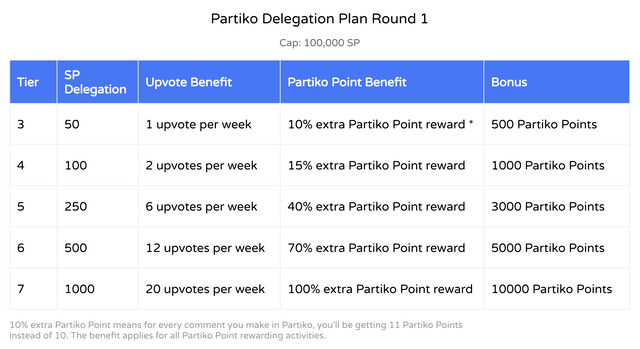 Partiko Points can be used to
Redeem Partiko Points for upvotes
Pay for Partiko Messages when messaging people who are not following you
Convert into Partiko SMT once SMT is available
We prefer you to make posts using Partiko, but you are still eligible to receive upvotes when you are not posting through Partiko.
We are adding new ways to earn more Partiko Points soon, so now is a perfect time to secure your Partiko Points benefits!
Note: The upvote benefit will remain the same for the next round of delegation, but the Partiko Point benefit will likely to decrease. If you cease to delegate, you won't be eligible for the delegation benefits any more until the next round.
Partiko Roadmap Going Forward
With the support we'll be getting from you, we feel obliged to be transparent and share Partiko's vision and roadmap, so that you have a clear idea on how your delegation is helping us and the entire Steem ecosystem.
Q4 2018: Partiko Delegation Plan, Partiko Messaging for iOS
Q1 2019: Wallet, SMT integration
Q2 2019: Build better onboarding experience
Q3 2019: Marketing, Steem and Partiko promotion, Partiko Delegation Plan round 2
Q4 2019: Partiko Exchange
2020: More exciting plans to come!
Be Sure to Check @partiko's Steem Power Before You Delegate
Please remember to check @partiko's SP before delegating, and be sure to stop delegating once @partiko's SP has reached 119,787 (our current SP is 19,787), or we will not be able to implement the benefits for you!
Check our SP in Partiko or on steemd
When Will I Start to Get Upvotes and More Partiko Points?
The upvote and Partiko Point benefits will take place within one week from the moment the round 1 delegation cap has been reached. We will constantly keep you updated about the delegation progress!
What If I Want to Delegate More?
Talk to us! We're more than happy to learn your needs and let's try to figure out something meaningful as your benefit! You can send us a Partiko Message for free if you use Partiko Android, or you can leave us a comment or join the Discord server!
Big Shout Out to Our Early Supporters!
Without having announced the delegation plan, many amazing Steemians have already showed support by delegating to us. These amazing individuals are:

Since they are early delegators without us even announcing the plan, we will treat their delegations as twice the amount when implementing the benefits for them. THANK YOU early supporters!
Delegation Links
To make your lives easier, we have included the delegation links down below:
Delegate 50 SP
Delegate 100 SP
Delegate 250 SP
Delegate 500 SP
Delegate 1000 SP
Download Partiko and try it out!
If you haven't used Partiko, now is your perfect chance to download! You can:
Download the Android version on the Google Play Store.
Directly download the Android package here. SHA 256 checksum: 32648472c43fe62e10ebeec7553fce4744eae914d1ed0015b895c2188d62daa0.
Download the iOS version of the App Store.
Together, let's change the world.
Onward and upwards,
Partiko team
Posted using Partiko Android