Hello steemians,
Today we're pleased to announce Partiko, a beautiful Steem Android client we've been working on lately.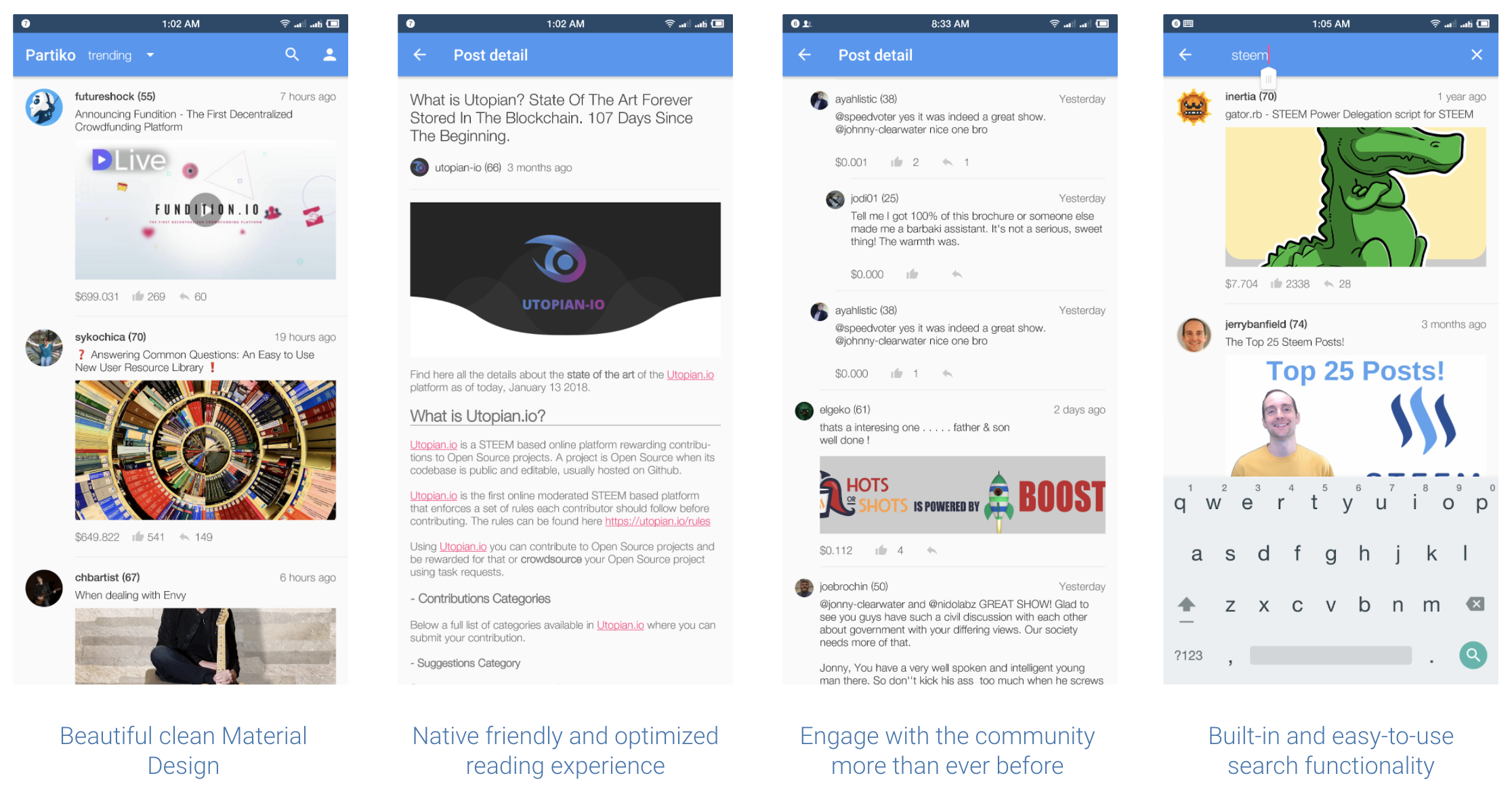 Who we are?
We're a group of people who are fascinated by how Steem is such a practical blockchain project at this moment, its unique nature of decentralization and censorship resistance, and its potential to reshape the human society. We have learned about Steem for a very long time and have mostly been reading the content rather than publishing articles. Over the past year the whole Steem community have taught us so much about cryptocurrency and decentralization in general, and we couldn't be more thankful for that. We don't own any Steems, and we don't think that should stop us from participating the community in a more proactive way and helping make it better.
@crypto.talk: Designer and Android application developer, educator at https://bit.study
@aiyuqingshujun: Back-end engineer and server architect, crypto trader
@laoda: Full-stack engineer, blockchain enthusiast
Why building another Android client?
As professional product people, the first thing after looking at the steemit.com website is to check and see if there's a mobile client. We've noticed a few very good ones like eSteem, but the more we use them, the stronger we feel that there're are still a few things we could add to them:
Pure native Android experience with Material Design
Steemians are the coolest people in the world, and we deserve a faster and better looking app
Better search experience
Search is a crucial feature to a content platform, and we're working hard to make sure it's seamless and easy to use
More functionalities
Rather than just viewing and publishing articles, Steem as a open platform allows more possibilities for more functionalities. To give you an example, one of the ideas that's on our roadmap is tipping the author, which is often seen on traditional content platforms as a stronger way of showing appreciation than voting, and can be introduced to Steem in a purely decentralized way
Why the name Partiko?
A beautiful app deserves a beautiful name. We are really big fans of "p" words, they stand for potential, possibility and prosperity, which are exactly what we think Steem is. The word "partiko" is transformed from "particle", which means "getting paid by writing article".
Where can I get the app?
We're still in the early stage of beta testing and the best way to be among the first people to try it out is to join our Discord channel:
Please do not trust anyone who's sending you the app, the only source of truth is the announcement channel. When we send the app we'll also send you the hash so you can always verify by yourself.
How can I contribute?
Have new ideas to make Partiko better? Want to be part of our dev team? Any form of contributions are welcomed! Our discord channel is still the best way to reach out to us:
Is it open-sourced?
Since we're at such an early stage, the source code won't be available just yet. That being said, we deeply understand the power of open communities and will certainly open-source it for more contribution when the code is more ready.
Roadmap
Our next step is to test the app and get as many feedbacks as possible to iterate and make it better. Some features that currently don't exist which we'll certainly add to the following iterations are but not limited to:
Posting articles
Resteem articles
Tipping the author
Better profile page with more info
Following users
Wallet
We hope you enjoy the app and let's make Steem and the world a better place!
Onwards and upwards,
Partiko Team