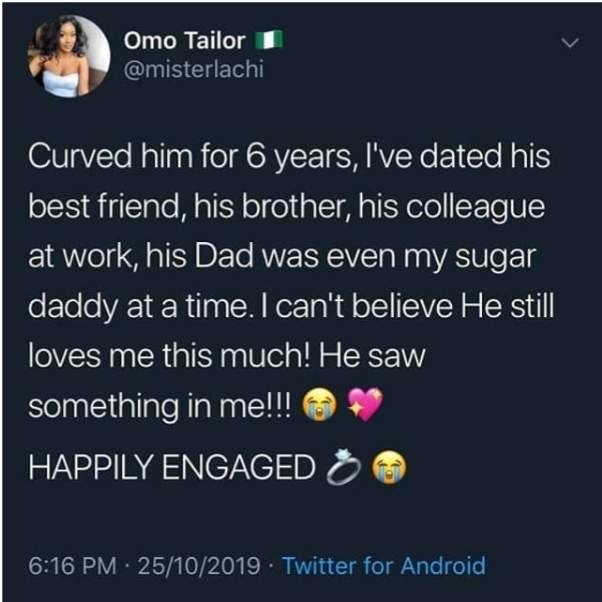 ---
I came across this on Twitter and I can't help but air my own view about it. I am trying to be as neutral as possible so I won't come out all attacking the guy without knowing his reasons.
I can't question his choice because he is obviously seeing what I am not seeing or can't see, but I can't make this decision. I won't, especially in a world setting as this. I can't be looking over my shoulder everytime my dad, best friend or brother visits and I can't ask them not to.
Who knows the special bond they shared together that would always make her to be at their beck and call everytime they make advances? Nah! I am strong but this is a whole new level for me.
For me, I think he might be planning something drastic against this lady in order to disgrace her but then, maybe he is not. Maybe he genuinely loves her, who knows.
As for the lady, I think she shouldn't have accepted the proposal and she should have thought about this for a while before making that decision. Weigh the options beforehand.
There is a lot at stake to this and this is a problem for the future. There are some lines you should never cross but then, I hope this doesn't end in tears when something challenges their relationship and it becomes traceable to what either the father, brother or the best friend must have done with her.
This is a whole new level and I have tried to explore other reasons for this, but if he really loves her as she made this sound, then he has a whole new level of love and strength of character too. Massive respect to him for that, but this is beyond me. I can't deal.
---
Thank you for your time.
---
My pen doesn't bleed, it speaks, with speed and ease.
Still me,
My tongue is like the pen of a ready writer.
Olawalium; (Love's chemical content, in human form). Take a dose today: doctor's order.
Posted using Partiko Android