World Cup Schedule Russia 2018
The 2018 World Cup has entered the semi-finals. Four teams, Croatia, England, Belgium and France have secured themselves to the 2018 World Cup semifinals.
Many people hope the games in the semi-finals of the 2018 World Cup this took place fiercely, especially the French duel Vs Belgium.
Duel France contra Belgium will take place at the Saint-Petersburg Stadium on Tuesday (10/07/2018) or Wednesday morning GMT.
2018 World Cup Semifinals: France against Belgium will be the second battle for the 74th time in all competitions.
From previous meetings, Belgium successfully won 30 times, while France only pack 24 victories.
Below is the schedule of France vs Belgium in the 2018 World Cup semifinals.
Schedule
Wednesday, July 11, 2018
01.00 am, France vs Belgium
Saint-Petersburg
Other Semifinal
Thursday, July 12, 2018
01.00 am, Croatia vs England
Luzhniki Stadium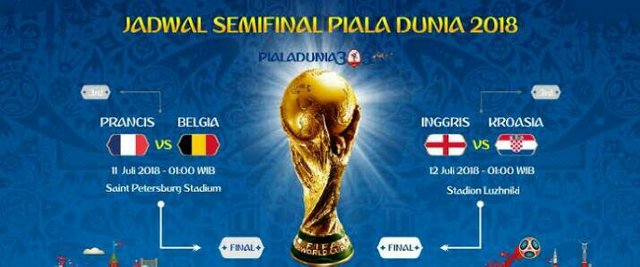 Posted using Partiko Android