Hello everybody,
This is my entry to the contest of @marblely week 22, My Favourite Dessert.
My favorite dessert is Fruit Salad!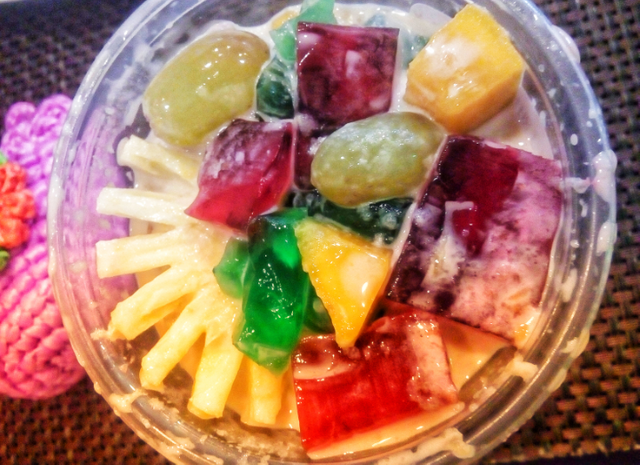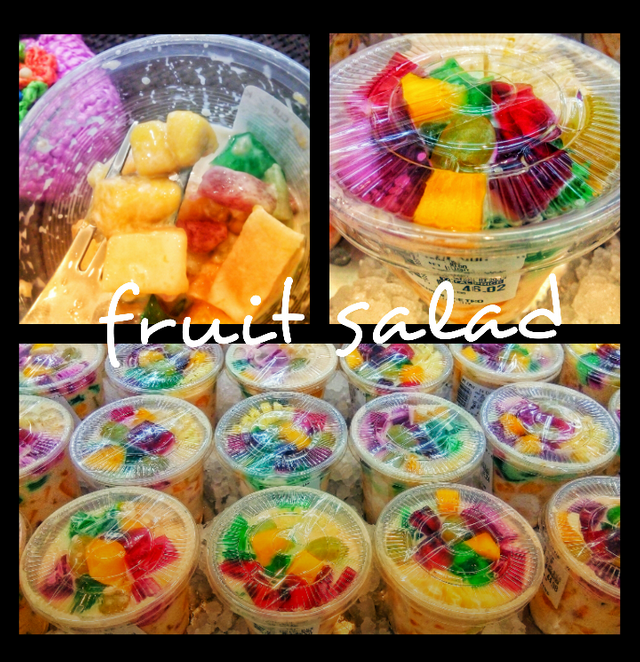 I bought the salad at the SuperMetro Mall just near our place, due to our situation that we are always out.
Everyday this is available at the grocery section of the mall, but I usually buy about 7:30pm for it is buy one take one time. Before I ask why even it is almost closing time of the mall why still many shoppers coming in, hmm...I now know it is because of the buy one take one promo.
Actually I knew about this promo when one night past 7 pm I bought papaya, then the customer said, "just wait for the buy one take one promo, you will pay the less cost."
Wow! I brought assorted fruits that night.
The fruit salad combination are pineapple slice, papaya, grapes, banana, melon, apple, pears, jackfruit and red/green gelatin, condense milk and nestle cream.
I think it is more practical to buy from the mall than make my own fruit salad. So costly if I buy all the fruits.
Thankful they prepare fruit salad for consumers, with 47.00php per glass it is cheap already to eat this varieties of fruits an advantage like me who loves to eat cold fruit salad.
Thanks for dropping by...
Manifesting: "I AM... NOW, HEALTHY AND FINANCIALLY ABUNDANT, So be it, So it is."
This is an Invitation to join #ccc for Guaranteed 👍 Daily Income 💵 and Payout 💸 for Newbies (2.0) 🐟 🐜 🐛 in #ccc 👣 and Follow 👣 the Honor Code 🏅 - the Creed (Conditions and Limits Inside)
AND
the latest update <<< please click to read.
Always grateful to @mers and @otom for sharing the goodness of Steemit!
As well as @ankarlie and @annelaurie
Including @mermaidvampire helping planktons to level up tru her games and @plankton.tokens
And, @zephalexia for her #up-gage challenge.
Posted using Partiko Android