Who is not sad when he is in love but ultimately left behind? Who is not hurt if our loved one finally chooses to leave? Love often gives us happiness, but it often gives us sadness. Here are some motivational sentences for those of us who are left behind by our loved ones:
Happiness Is More Important
When left away, we are often sad, but we have to express it even though we sometimes feel it. Let him go looking for his happiness, because the happiness of the people we love is more important even though his happiness is not with us.
A Reason
He was brought in for a reason, he was kept away from our lives because of a reason. Believe me, when he comes he becomes the reason for us to be happy, but when he is abandoned, he is also a reason to mature us.
Let Him Go
If we love someone and he chooses to go, then let him go, because if he returns, then he will be ours, but if he does not return, then he is not for us.
Never be sad if you are left by someone you love, because all there must be wisdom to decorate our hearts. Hopefully useful and keep up the spirit.
Regards @arifmunandar05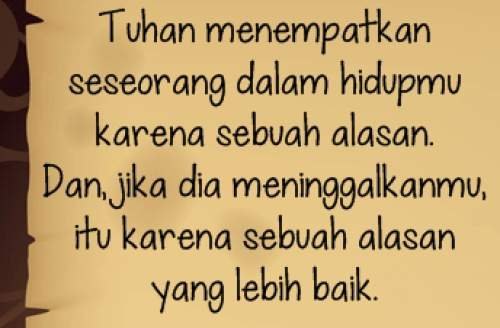 Posted using Partiko Android