Upvotebuilders Weekly Report - 40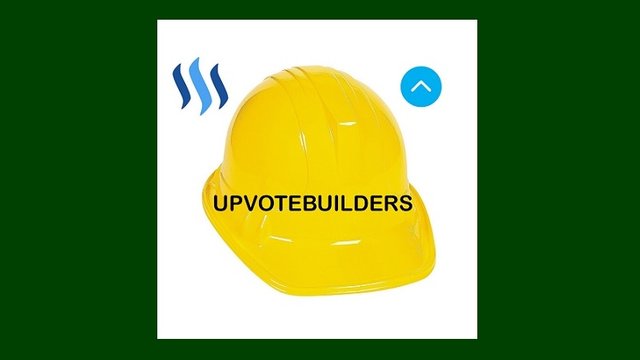 Hey UpvoteBuilders,
I would like to thank everyone that has posted a comment as regards the closing down of @upvotebuilders. I appreciate your words and will forever be grateful to you all. I had mentioned in my last post that I wouldn't want to waste my time, energy or resources as regards responding to the downvoter or dragging issues with anyone because it is obvious the system allows these things to happen and I don't want to fight a system I didn't create. The blockchain managers know about what is happening and I feel non action is a sign of approval to continue, so I wouldn't want to act in a way that seems I am fighting the system.
I respect all your views and just to let you know I didn't just wake up and take this decision to discontinue the group. I had been contacted some months back and I have been watching the trend, my major concern was that I didn't want these actions to affect smaller accounts and we have a lot of them as they make up close to 50% of our membership..
My focus for now is the process of closing down and not fight back as that will require additional efforts and commitments which I do not have the energy for. If you have followed the trend you will observe that it starts with one down voter, then a collection of downvoters and then your post becomes hidden or the reward is very low.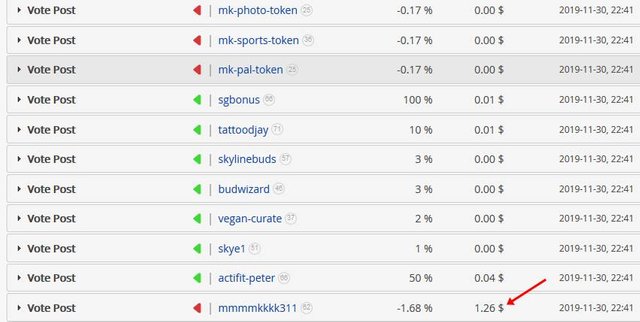 When our group post was downvoted by -$1.26, it definitely will make it invinsible because we don't even earn a dollar on our weekly post.


But when it was discovered it was a closure post, the downvote was reversed so that the world can read it. For me it is not a win or lose thing, I have done my part to help members of this blockchain but obviously some users don't feel it is the right thing so we need to move on.
I am focusing on other areas now and hope we can all do the same. I would like to say a very big thank you, yes, I can't stop thanking you guys because you rock. It has been great reading you post and knowing as much of you as I could. I will do my best to continue following up on as much of you guys as I can.
Power Down And Other Income
Weekly power down has happened and has been distributed to all members.
You can see details in the tables below, thank you: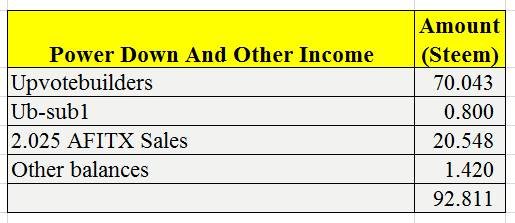 PDI-Table A


PDS-Table A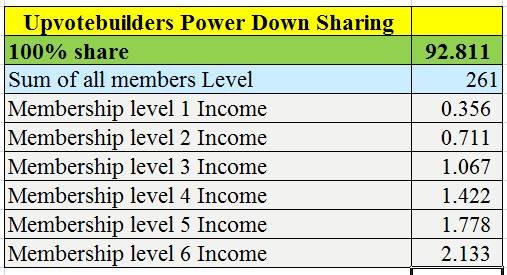 PDS-Table B
If you were wrongly placed in the membership level please let me know in the comment section below and I'll verify and correct any error.
Steem-Engine Tribe Token Status
Please find below our collection of Stakeable tokens in our Steem-Engine wallet.


Steem-Engine Tribe Token Status
Membership Audit And List
To finalize the closing down of @upvotebuilders, I had to do a membership audit to know our true numbers as at the time the last post was publised. Again, I thank you for your delegation while we were still active but it is ok to undelegate your SP from upvotebuilders. Thank you.
The members listed below are the ones that will be receiving the weekly power down and tribe token sales income going forward.
@steemturbo, @antobrige, @mhm-philippines, @j85063, @ojukwu, @atongis, @shikika, @emergehealthier, @bengy, @tattoodjay, @practicaleric, @actifit-peter, @cflclosers, @grizzabella, @paramimd, @davedickeyyall, @el-dee-are-es, @lyann, @incubot, @definethedollar, @mariannewest, @preparedwombat, @pouchon, @evernoticethat, @jayna, @fiicjames, @cwow2, @kaelci, @arunava, @alvin0617, @minloulou, @honoru, @robertyan, @foodiecouple, @ketcom, @cryptospa, @boddhisattva, @sgbonus, @costanza, @morningshine, @also.einstein, @byebyehamburgers, @theb0red1, @annepink, @silvertop, @elizabethbit, @runridefly, @nuagnorab, @flaxz, @anttn, @d00k13, @frankvvv, @happyphoenix, @krevasilis, @alokkumar121, @treodecimo, @moghul, @onealfa, @improv, @everrich, @profquax, @anroja, @tulwave, @pwny, @jockl, @playdice, @rankmeupclub, @wakeupkitty, @thisisawesome, @pet.society, @fleur, @blueboar3, @fredkese, @desyfit, @aekraj, @hashzone91, @jorgebgt, @rebe.torres12, @bntcamelo, @khan.dayyanz, @priyanarc, @sp-group, @pjansen, @ookii, @velvetlacey, @kharma.scribbles, @rosauradels, @necho41, @cryptoprima, @ninahaskin, @trevorlp97, @justlee87, @dailyspam, @rajib2k5, @shortsegments, @glastar, @trydice, @wongbraling, @tiffany4ever, @bilpcoinrecords, @moeenali, @mushanov, @kggymlife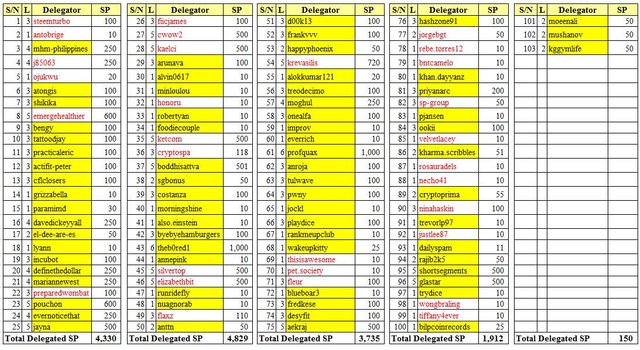 I am very sorry about the bright colour, they just indicate who has and has not undelegated.
I am grateful for your time as a member and hope for the best for all members as we move along.