SONICGROOVE: The Air-Drop is happening Right Now!
Well, not RIGHT now as I'm typing this, but it's in progress as this post goes up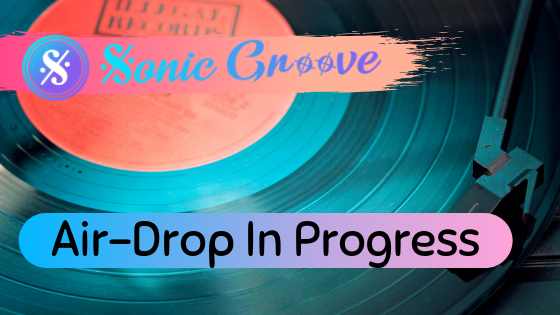 We're doing this by hand, and it's a slow process
What we're doing for this tribe is a little bit different. We're dropping by hand as staked to a very small group of musicians and audio artists. As these go, we will probably miss a few people. If you are a musician, and don't receive a drop let @isaria know and she can double check your account.
How much of these free tokens do I get?
We're dropping 1k to each account to get you started with curation and whatnot. These are being dropped pre-staked, and that's why we're doing it by hand.
What happened to the tokens on the market?
They're currently off the market. Why? Because we're going to try something a little bit different. There will be no sell wall, what there will be are cheap miners. The more miners you invest in, the more SONIC you'll have the chance to get. This is one way that we can ensure that the pool we set for market actually gets used in the market. We want to reduce waste and honestly a large sell wall that never gets touched is a waste.
Who is on the drop?
Here comes the part where I tag a ton of people and some get angry, some are excited, and some are never going to check.. Anyway: Here's the list:
@acousticsteveo
@aidarojaswriter
@aleister
@alexworld
@alfredmusic
@amberyooper
@atomcollector
@bethwheatcraft
@breakoutthecrazy
@bryandivisions
@bushradio
@carlgnash
@carlos1612
@carlosgu
@cellomusic91
@cinelonga
@circleofdeath
@cityofstars
@clubfungus
@contrabourdon
@creativetruth
@danieldedosd2
@darrenclaxton
@davenavarro
@davidcentenor
@davidfar
@dearw
@deeanndmathews
@djlethalskillz
@donatello
@drakernoise
@dreamrafa
@dreemit
@drewley
@drewsmusic
@drumoperator
@dustinseth
@edmundocentenor
@edprivat
@edwardstobia
@elbrujo
@elderson
@elisonr13
@esthersanchez
@ethandsmith
@eugelys
@gaborockstar
@grapthar
@guifaquetti
@harrisonmir
@heaterville
@hilladigahackles
@honeycup-waters
@iamevilradio
@icondark
@ilazramusic
@inthenow
@ivan.atman
@jazzresin
@jgvinstl
@jonmagnusson
@joseacabrerav
@juanmolina
@junkfeathers
@kayclarity
@krazypoet
@laritheghost
@lastravage
@lefthouse
@lk666
@lucybanks
@mariajruizb
@marian0
@maximilianoflute
@maxipiano
@mayneth
@melbookermusic
@melissakellie
@meno
@mfxae86
@minuetoacademy
@montanacellist
@montycashmusic
@nakedverse
@newenx
@nickyhavey
@nupuls
@onemedia
@organduo
@orlandogonzalez
@partitura
@paulobassman
@pechichemena
@pedromrmourato
@purapapita
@roman.musica
@sadheaven
@salvadorhr18
@samprock
@sequentialvibe
@seveaux
@sickshark
@silentscreamer
@skaarl
@skycorridors
@solarphasing
@soundlegion
@soundwavesphoton
@spotlight.artist
@steevc
@taphophilia
@tarotbyfergus
@termitemusic
@theatreofdelays
@theturtleproject
@thomasrobertgent
@toddjsmith1979
@tombalistreri
@tygertyger
@vachemorte
@verbal-d
@wav-dr
@wethepatsies
@whymonkey
@wilins
@wolfnworbeikood
@yidneth
@ylich
@yusaymon
@uwelang
@kpine
@carrieallen
@chrisroberts
---
If you don't see your name on the list, don't fret. Contact @isaria. But first: MAKE SURE YOU ARE A MUSICIAN OR AUDIO ARTIST. Please don't waste our time if you're not.
We will be moderating the SONICGROOVE tag hard and will have no issues with flagging and/or muting accounts.
We're still waiting on the front-end to be ready and will be found at https://www.sonicgroove.net
Thanks! We're looking forward to leading the way for Musicians into the future! We have big plans and look forward to making this platform the place to be for music!