With So Much Going On, What Do I Write About?
Another month has gone by since I made a post on the blockchain... where is the time going?
Things have just been really busy. I thought I'd get some time over the winter to make some good posts, but that didn't seem to happen at all.
Not that it was much of a winter here in Nova Scotia. Maybe that had something to do with it. I don't think the temperature got lower than -15°C and there was only enough snow to get out skiing one day. After spending 5 years in Quebec with regular days at -35°C, winters here just don't compare - not that I'm complaining.
Another reason I can't seem to get a post out is that there is just too much happening to sit down and focus on a single topic. Do I post about rewiring @davidkingns's sailboat and other boat projects I've been working on? Do I post about building raised bed garden boxes? Do I post about 3D printing projects? What about all the vegies I started? I've also got some marijuana plants started that I wouldn't mind posting about. To sit down and write about any of those things means I'm not actually working on those things and I don't seem to have time to 'write' and 'do' at the same time.
That's just personal topics above. On top of that we've got markets crashing, cryptocurrencies crashing, steem takeovers, new blockchains coming, deadly viruses, quarantines... basically the world may be ending.
I'm not too worried about it, though. The world always seems to be ending.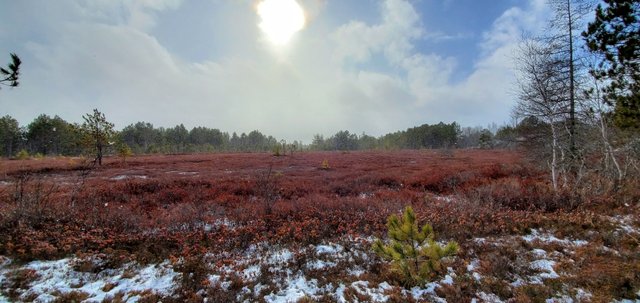 Sun snowing in the back trails.
In a few days, I'm sure we'll all be trying out Hive and trying to earn Hive Power. Maybe that will give me some motivation as Steem really hasn't been that inspiring lately.
I've got a new drone on the way, which could be here this week, but most likely is delayed because the bank thought it was wise to freeze the transaction because of suspicious activity. That might give me some motivation to post as well.
The Mavic Mini just came out and is 1g under the weight for regulations while still packing a punch on features and taking it easy on the wallet. With a 5km range it sure beats the 100m range on my current drone. I can't wait to give it a flight over the valley where I live.
I guess this completes my post about everything and nothing.
Until I find time again.