Ready?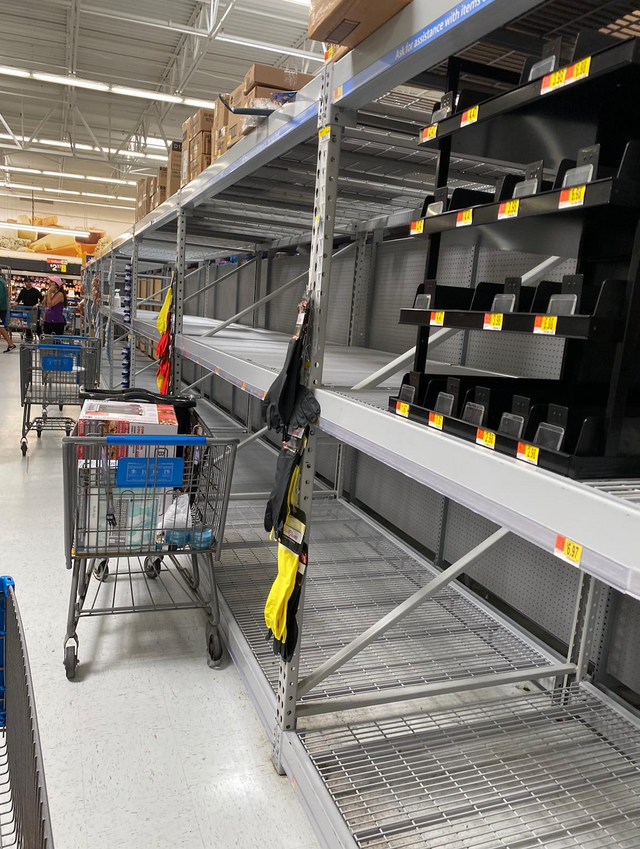 It seems as if a perfect storm has been brewing and only within weeks, many communities will be undergoing a huge change in their lives. For some, it will be the first time in their lives that they have been subject to the uncertainty and volatility that could be seen in the coming weeks. I have to admit that I was very concerned as I was in the middle of a big change for myself and the family as we were in the process of selling our home and relocating to another. Any additional "hiccups" in our process could have been a disaster which had me at the edge of my seat any sleepless every day. Luckily, we are now past that uncertainty as we are now settled in our new home.
However, change will continues for us and many others in the coming weeks. I have been recommended to stay home for work and my daughter will be also coming come for school this coming week. Travel has been cancelled until further notice and many other normal situations have changed. Routine trips to purchase basic needs have become adventures of random luck to find them. This is not a surprise for many locals here as we are prone to catastrophes like Hurricane which also push many to hoard supplies to prepare for the worst.
Given my experience in these situations of emergencies and my risk management way of life, I started to buy supplies weeks before this had stated to gain traction elsewhere. I was holding off because of the pending move from one home to another but time was becoming a risk so we loaded up on food and supplies about a month ago. As the concerns were delayed, I continued to add to my supply each week as items continued to become available. That continued until this week as my visits to supermarkets and the pharmacy started to show aisles of missing items. While masks and hand sanitizers have been gone for weeks, now basic need items like toilet paper and water were gone or very limited.
Given what I have been seeing this week, I am surely not heading back to any stores soon. Instead, the family is getting ready to stay at home and get used to being around each other most of the time. For us, the benefit of moving into a new home brings the sense of discovery and adventure as we learn are way around the community and the home. We have a great backyard and if the weather continues as it has been, there will be great opportunities to be outdoor in the coming weeks. The facilities are also pretty great but we will probably steer clear of them given the recommendation of "social distancing" that has become prevalent from experts.
We still have a lot to learn with the upcoming challenges. Many are nervous which is understanding given that this is a lot of science that many do not know about. With the amount of inconsistent information available if we are not careful, it will not be surprising if panic sets in although I hope it does not get to that. However, like I normally do with any risk, it is better to be ready and not need it than need it and not be ready. There are many ways this can go but prioritizing the things that are most important is the best approach; keep your families safe.

Discord: @newageinv#3174
Chat with me on Telegram: @NewAgeInv
Follow me on Twitter: @NAICrypto
The following are Affiliate or Referral links to communities that I am a part of and use often. Signing up through them would reward me for my effort in attracting users to them:
If you are like me and interested in continued personal growth, invest in yourself and lets help each other out by leveraging the resources Minnowbooster provides by using my referral link
Start your collection of Splinterlands today at my referral link
Expand your blogging and engagement and earn in more cryptocurrencies with Publish0x! Sign up here!
The best new browser to protect your privacy while still being faster and safer. Try the Brave Browser today with my affiliate link here: https://brave.com/wdi876
Try the Partiko Mobile app to engage while on the go with my referral link
Get started on the latest game on the blockchain Drug Wars by signing up here!
If you select one of my above referral links, I will sponsor a @steembasicincome SBI in return. Let me know if you do so in the comments below!

DISCLAIMER: The information discussed here is intended to enable the community to know my opinions and discuss them. It is not intended as and does not constitute investment advice or legal or tax advice or an offer to sell any asset to any person or a solicitation of any person of any offer to purchase any asset. The information here should not be construed as any endorsement, recommendation or sponsorship of any company or asset by me. There are inherent risks in relying on, using or retrieving any information found here, and I urge you to make sure you understand these risks before relying on, using or retrieving any information here. You should evaluate the information made available here, and you should seek the advice of professionals, as appropriate, to evaluate any opinion, advice, product, service or other information; I do not guarantee the suitability or potential value of any particular investment or information source. I may invest or otherwise hold an interest in these assets that may be discussed here.